Vortex
Vortex Front Steel Sprocket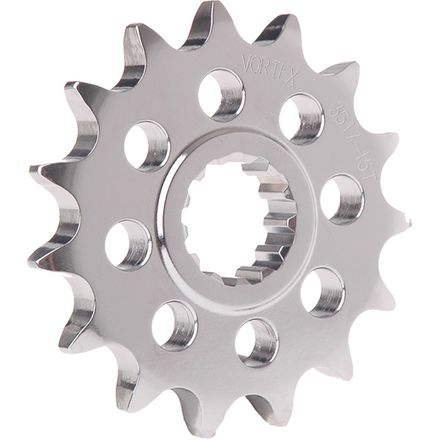 Vortex Front Steel Sprocket
---
15% Off - Save up to $5.99
---
5 Star
11
4 Star
0
3 Star
0
2 Star
1
1 Star
0
Write a Review
Write your review and you'll automatically be entered in our monthly drawing. Include an image or video to DOUBLE your chances to win!
Write Your Review
2 months 13 days ago
Meriden Connecticut.
Great buy
It fits right easy to mount. No issues so far!
Over 5 months ago
Forest Grove, Oregon
Great replacement
Bought to replace worn front on a 2008 r6, fits great and helped change my gearing!
1 year 6 months ago
Whitinsville,Northbridge,MA,USA
Front sprocket
Perfect fit easy instillation
1 year 7 months ago
Toledo, OH
Vortex Sprocket
Installed fine, to cold out to test the bike and see what difference this may have made.
1 year 9 months ago
Las Vegas, NV, USA
Works great
love vortex strong and looks good
2 years 6 months ago
Niceville, FL, USA
Strong product
The sprocket fit perfectly and was relatively easy to install. The steel sprocket should hold up to the rigors of a 1000cc motorcycle. I'm very happy with this so far as I changed my gearing and the folks at motosport told me exactly what I needed to accompany this sprocket. Good buy and excellent response from this sprocket and the people at motosport. Went with a 530 kit for longevity and steel sprockets and I'm very glad to have had the help of the people at Motosport to help me gauge chain length and accompanying parts
Over 3 years ago
Southern Alabma
Good Quality!
Good sprocket! The quality is fairly high, and even after 7,900 miles on one front sprocket it looks like it has many thousands of miles left on it. Changed out stock gearing (Vortex front still) to a -1 and couldn't bring myself to toss out the "old" sprocket as it had way too much life left! Barely showed wear.
Phan
Q: Hello, I have a 2014 suzuki gsxr 600. Im looking to buy a front sprocket -1 teeth with stock pitch (525?) .Online has contradicting information. Im unsure what is the stock sprocket teeth count. I see it shows 15 and 16. Can you clarify?
Tyler Gearhead
3 months 4 days ago
A: Based on the OEM Parts Fiche stock count is 16 and a 525 pitch, there is a link below.

https://www.motosport.com/motorcycle/oem-parts/suzuki/2014/gsxr600/transmission
See all bikes that this part fits...
| Product Variant | Manufacturer Part # |
| --- | --- |
| Silver / 520 / 15T | 3487-15 |
| Silver / 520 / 16T | 3487-16 |
| Silver / 520 / 17T | 3487-17 |
| Silver / 520 / 18T | 3487-18 |
| Silver / 530 / 16T | 3504-16 |
| Silver / 525 / 16T | 3528-16 |
| Silver / 525 / 17T | 3528-17 |
| Silver / 525 / 18T | 3528-18 |
| 525 / 15T | 2910-15 |
| 525 / 16T | 2910-16 |
| 525 / 17T | 2910-17 |
| 525 / 18T | 2910-18 |
| 525 / 16T | 2912-16 |
| 525 / 15T | 2917-15 |
| 525 / 16T | 2917-16 |
| 520 / 16T | 3202-16 |
| 520 / 14T | 3240-14 |
| 520 / 15T | 3240-15 |
| 520 / 14T | 3270-14 |
| 520 / 15T | 3270-15 |
| 520 / 16T | 3270-16 |
| 520 / 17T | 3270-17 |
| 520 / 18T | 3270-18 |
| 520 / 14T | 3271-14 |
| 520 / 15T | 3271-15 |
| 520 / 16T | 3271-16 |
| 520 / 17T | 3271-17 |
| 520 / 14T | 3272-14 |
| 520 / 15T | 3273-15 |
| 520 / 16T | 3273-16 |
| 520 / 14T | 3283-14 |
| 520 / 15T | 3283-15 |
| 520 / 16T | 3283-16 |
| 520 / 14T | 3288-14 |
| 520 / 15T | 3288-15 |
| 520 / 15T | 3289-15 |
| 520 / 16T | 3289-16 |
| 520 / 17T | 3289-17 |
| 520 / 14T | 3370-14 |
| 520 / 15T | 3370-15 |
| 520 / 15T | 3481-15 |
| 520 / 16T | 3481-16 |
| 520 / 17T | 3481-17 |
| 530 / 17T | 3504-17 |
| 530 / 16T | 3509-16 |
| 530 / 17T | 3509-17 |
| 530 / 18T | 3509-18 |
| 530 / 15T | 3516-15 |
| 530 / 16T | 3516-16 |
| 530 / 17T | 3516-17 |
| 530 / 15T | 3517-15 |
| 530 / 16T | 3517-16 |
| 530 / 16T | 3520-16 |
| 530 / 17T | 3520-17 |
| 530 / 18T | 3520-18 |
| 530 / 14T | 3521-14 |
| 530 / 15T | 3521-15 |
| 530 / 16T | 3521-16 |
| 530 / 17T | 3521-17 |
| 530 / 15T | 3523-15 |
| 530 / 16T | 3523-16 |
| 525 / 15T | 3660-15 |
| 525 / 16T | 3660-16 |
| 525 / 14T | 2908-14 |
| 525 / 15T | 2908-15 |
| 525 / 15T | 2912-15 |
| 525 / 14T | 2921-14 |
| 525 / 15T | 2921-15 |
| 520 / 14T | 3211-14 |
| 520 / 15T | 3226-15 |
| 520 / 16T | 3226-16 |
| 520 / 17T | 3226-17 |
| 525 / 15T | 3227-15 |
| 525 / 16T | 3227-16 |
| 520 / 14T | 3257-14 |
| 520 / 15T | 3257-15 |
| 520 / 15T | 3258-15 |
| 420 / 15T | 3264-15 |
| 520 / 14T | 3273-14 |
| 520 / 16T | 3288-16 |
| 530 / 18T | 3516-18 |
| 530 / 17T | 3517-17 |
| 530 / 18T | 3521-18 |
| 530 / 17T | 3533-17 |
| 530 / 18T | 3765-18 |
| 525 / 17T | 2912-17 |
| 520 / 16T | 3258-16 |
| 520 / 17T | 3258-17 |
| 520 / 15T | 3272-15 |
| 520 / 13T | 3370-13 |
| 520 / 18T | 3258-18 |
| 520 / 16T | 3272-16 |
| 520 / 14T | 3275-14 |
| 520 / 15T | 3275-15 |
| Silver / 525 / 16T | 2908-16 |
| Silver / 525 / 14T | 2909-14 |
| Silver / 525 / 15T | 2909-15 |
| Silver / 525 / 16T | 2909-16 |
| Silver / 520 / 14T | 3209-14 |
| Silver / 520 / 15T | 3209-15 |
| Silver / 520 / 16T | 3209-16 |
| Silver / 520 / 16T | 3275-16 |
| Silver / 520 / 15T | 3291-15 |
| Silver / 520 / 16T | 3291-16 |
| Silver / 520 / 17T | 3291-17 |
| Silver / 520 / 12T | 3370-12 |
| Silver / 525 / 15T | 3567-15 |
| Silver / 525 / 16T | 3567-16 |
| Silver / 525 / 17T | 3567-17 |