Vortex
Vortex F5 Rear Sprocket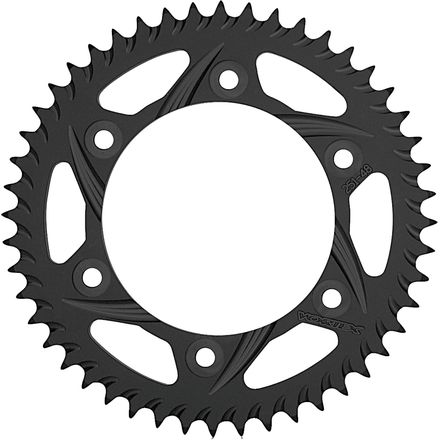 ---
15% Off - Save up to $11.24
---
5 Star
1
4 Star
0
3 Star
0
2 Star
0
1 Star
0
Write a Review
Write your review and you'll automatically be entered in our monthly drawing. Include an image or video to DOUBLE your chances to win!
Write Your Review
1 month 1 day ago
Forest Grove, Oregon
Perfect replacement
Bought for my r6 to alter gearing and replace a worn chain. Would buy again!
Q: This sprocket fit on my Kawasaki Z250 2014 dual Cylinder Bike?
I'm interested with this Vortex F5 Rear Sprocket, but doubt if this fit on my bike, I have a Kawasaki Z250 2014 (dual cylinder) bike. Im going to order if this fit on my bike, highly appreciated response on this query due to i need also the chain and front sprocket after confirm
MotoSportExpert
1 year 10 months ago
A: All products sold on MotoSport.com are for US models only. We unfortunately do not have product fitment for non-us models. Fitment for non-US models cannot be guaranteed.
See all bikes that this part fits...
| Product Variant | Manufacturer Part # |
| --- | --- |
| Black / 520 / 40T | N/A |
| Silver / 520 / 44T | 193A-44 |
| Silver / 520 / 45T | 193A-45 |
| Silver / 520 / 46T | 193A-46 |
| Silver / 520 / 47T | 193A-47 |
| Silver / 520 / 41T | 193AK-41 |
| Silver / 520 / 42T | 193AK-42 |
| Silver / 525 / 42T | 193K-42 |
| Silver / 520 / 43T | 245AK-43 |
| Silver / 520 / 48T | 251AK-48 |
| Silver / 530 / 40T | 427K-40 |
| Silver / 530 / 44T | 427K-44 |
| Silver / 530 / 45T | 427K-45 |
| Silver / 530 / 46T | 427K-46 |
| Silver / 520 / 45T | 491AK-45 |
| Silver / 520 / 40T | 526AK-40 |
| Stealth Black / 520 / 46T | 491AK-46 |
| Black / 520 / 41T | 193AK-41 |
| Black / 520 / 42T | 193AK-42 |
| Black / 525 / 42T | 193K-42 |
| Black / 520 / 43T | 245AK-43 |
| Black / 520 / 48T | 251AK-48 |
| Black / 530 / 40T | 427K-40 |
| Black / 530 / 44T | 427K-44 |
| Black / 530 / 45T | 427K-45 |
| Black / 530 / 46T | 427K-46 |
| Black / 520 / 45T | 491AK-45 |
| Black / 520 / 40T | 526AK-40 |
| Black / 525 / 43T | 252K-43 |
| Black / 525 / 44T | 252K-44 |
| Black / 525 / 45T | 252K-45 |
| Black / 525 / 46T | 252K-46 |
| Black / 525 / 47T | 252K-47 |
| Black / 530 / 42T | 427K-42 |
| Black / 530 / 43T | 427K-43 |
| Black / 520 / 41T | 435K-41 |
| Black / 520 / 42T | 435K-42 |
| Black / 520 / 43T | 435K-43 |
| Black / 520 / 44T | 435K-44 |
| Black / 520 / 45T | 435K-45 |
| Black / 520 / 46T | 435K-46 |
| Black / 520 / 47T | 435K-47 |
| Black / 520 / 48T | 435K-48 |
| Black / 520 / 49T | 435K-49 |
| Black / 520 / 50T | 435K-50 |
| Black / 525 / 45T | 435CK-45 |
| Black / 525 / 47T | 435CK-47 |
| Black / 530 / 40T | 436K-40 |
| Black / 530 / 41T | 436K-41 |
| Black / 530 / 42T | 436K-42 |
| Black / 530 / 43T | 436K-43 |
| Black / 530 / 43T | 438K-43 |
| Black / 530 / 44T | 438K-44 |
| Black / 530 / 45T | 438K-45 |
| Black / 530 / 46T | 438K-46 |
| Black / 530 / 47T | 438K-47 |
| Black / 530 / 48T | 438K-48 |
| Black / 530 / 49T | 438K-49 |
| Black / 530 / 50T | 438K-50 |
| Black / 530 / 41T | 452K-41 |
| Black / 530 / 42T | 452K-42 |
| Black / 530 / 43T | 452K-43 |
| Black / 530 / 44T | 452K-44 |
| Black / 530 / 45T | 452K-45 |
| Black / 530 / 46T | 452K-46 |
| Black / 530 / 47T | 452K-47 |
| Black / 520 / 39T | 452AK-39 |
| Black / 520 / 40T | 452AK-40 |
| Black / 520 / 41T | 452AK-41 |
| Black / 520 / 42T | 452AK-42 |
| Black / 520 / 43T | 452AK-43 |
| Black / 520 / 44T | 452AK-44 |
| Black / 520 / 45T | 452AK-45 |
| Black / 520 / 46T | 452AK-46 |
| Black / 525 / 39T | 454K-39 |
| Black / 525 / 40T | 454K-40 |
| Black / 525 / 41T | 454K-41 |
| Black / 525 / 42T | 454K-42 |
| Black / 525 / 43T | 454K-43 |
| Black / 525 / 44T | 454K-44 |
| Black / 525 / 45T | 454K-45 |
| Black / 525 / 42T | 526K-42 |
| Black / 525 / 43T | 526K-43 |
| Black / 525 / 44T | 526K-44 |
| Black / 525 / 46T | 526K-46 |
| Black / 525 / 47T | 526K-47 |
| Black / 520 / 41T | 526AK-41 |
| Black / 520 / 42T | 526AK-42 |
| Black / 520 / 43T | 526AK-43 |
| Black / 520 / 44T | 526AK-44 |
| Black / 520 / 45T | 526AK-45 |
| Black / 520 / 46T | 526AK-46 |
| Black / 520 / 47T | 526AK-47 |
| Black / 520 / 48T | 526AK-48 |
| Black / 530 / 40T | 527K-40 |
| Black / 530 / 41T | 527K-41 |
| Black / 530 / 42T | 527K-42 |
| Black / 530 / 43T | 527K-43 |
| Black / 530 / 44T | 527K-44 |
| Black / 530 / 45T | 527K-45 |
| Black / 530 / 46T | 527K-46 |
| Black / 520 / 44T | 528AK-44 |
| Black / 520 / 45T | 528AK-45 |
| Black / 520 / 46T | 528AK-46 |
| Black / 520 / 47T | 528AK-47 |
| Black / 520 / 48T | 642AK-48 |
| Black / 520 / 50T | 642AK-50 |
| Black / 520 / 44T | 193AK-44 |
| Black / 520 / 45T | 193AK-45 |
| Black / 520 / 46T | 193AK-46 |
| Black / 520 / 47T | 193AK-47 |
| Black / 525 / 44T | 193K-44 |
| Black / 525 / 45T | 193K-45 |
| Black / 525 / 46T | 193K-46 |
| Black / 530 / 41T | 251K-41 |
| Black / 530 / 42T | 251K-42 |
| Black / 530 / 43T | 251K-43 |
| Black / 530 / 44T | 251K-44 |
| Black / 520 / 41T | 251AK-41 |
| Black / 520 / 42T | 251AK-42 |
| Black / 520 / 43T | 251AK-43 |
| Black / 520 / 44T | 251AK-44 |
| Black / 520 / 45T | 251AK-45 |
| Black / 520 / 46T | 251AK-46 |
| Black / 520 / 47T | 251AK-47 |
| Black / 530 / 45T | 251K-45 |
| Black / 520 / 36T | 211K-36 |
| Black / 520 / 37T | 211K-37 |
| Black / 520 / 38T | 211K-38 |
| Black / 520 / 39T | 211K-39 |
| Black / 520 / 41T | 211K-41 |
| Black / 520 / 41T | 245AK-41 |
| Black / 520 / 43T | 491AK-43 |
| Black / 520 / 44T | 491AK-44 |
| Black / 520 / 47T | 641AK-47 |
| Black / 520 / 49T | 641AK-49 |
| Black / 525 / 39T V3 Style | 654K-39 |
| Black / 525 / 40T V3 Style | 654K-40 |
| Black / 525 / 41T V3 Style | 654K-41 |
| Black / 525 / 42T V3 Style | 654K-42 |
| Black / 525 / 43T V3 Style | 654K-43 |
| Black / 525 / 44T V3 Style | 654K-44 |
| Black / 520 / 39T V3 Style | 654AK-39 |
| Black / 520 / 40T V3 Style | 654AK-40 |
| Black / 520 / 41T V3 Style | 654AK-41 |
| Black / 520 / 42T V3 Style | 654AK-42 |
| Black / 520 / 43T V3 Style | 654AK-43 |
| Black / 520 / 44T V3 Style | 654AK-44 |
| Black / 520 / 45T V3 Style | 654AK-45 |
| Black / 520 / 46T V3 Style | 654AK-46 |
| Black / 520 / 47T V3 Style | 654AK-47 |
| Black / 520 / 48T V3 Style | 654AK-48 |