Vortex
Vortex CAT5 Sprocket - Rear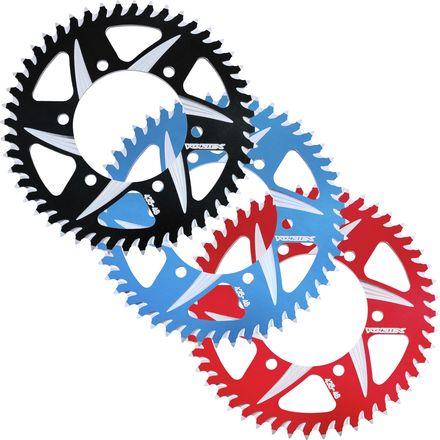 Vortex CAT5 Sprocket - Rear
---
84% Off - Save up to $51.18
---
5 Star
8
4 Star
2
3 Star
2
2 Star
0
1 Star
0
Write a Review
Write your review and you'll automatically be entered in our monthly drawing. Include an image or video to DOUBLE your chances to win!
Write Your Review
1 month 16 days ago
Houston
Great
Works great and looks great
2 months ago
Carlsbad, CA
Great for stunting
I ordered this sprocket to gain more torque for wheelies. With my K2 Gsxr 600, I can now do 3rd gear stand-ups. This rear sprocket is a big help and a nesecity to anyone who wants to get into stunting. First gear comes up quick so I like to stay in 2nd gear on my sit downs and staggards. With a front sprocket of 15t, and this rear 54t sprocket, freeway speeds are still do-able but expect to be screaming at about 10k rpm at 70+mph. Overall I would highly recommend this set up to anyone who wants to get into street stunting.
Nice
Nice ..... concerned about being Aluminum but working good so far ;-)
4 months 22 days ago
Roanoke va
Very quick to receive and very good quality
Love the look of this sprocket but unfortunately haven't had time yet to install but soon. Good product and will give up dates soon
4 months 26 days ago
Key West ,Fl
Vortex sprokets are awesome!
Quality sprockets. Easy to install and they look c
1 year 5 months ago
Coeur d'Alene, ID, USA
Ok for normal riders
I got this in a 520 set, got 5k hard miles out of it, and rode down to thinner then a tooth pick and no teeth broke off. I wish got more miles out of it, but i ride hard, and run on track, and wheelies etc, i'm actually impressed it held the teeth with out breaking any off as thin as they wore. If your an average rider and want a nice looking sprocket it last you a season or two, but if you ride like an (well ya ) like me then expect 5-6k max
2 years 2 months ago
Central, VA, USA
Surprise!
I was thrilled to discover that the Vortex Sprocket was literally HALF the weight of my old steel sprocket. Previous sprocket weighed 3.02lbs. Vortex sprocket was 1.56lbs... Direct fit, no issues with the install. Put a new chain on as well, I've put 400+miles on the set-up. No issues! With the variety of oddball sizes, I think I'll be using vortex again!
2 years 7 months ago
Los Angeles, CA, USA
39 tooth rear sprocket : blue cat 5 sprocket Vort
I own a 2014 Honda CB500F bought in march of 2015. I commute 50 miles each way on Los Angeles freeways. The stock 41 tooth sprocket is fine for surface street 50/ Freeway 50 but I'm freeway 90 / surface street 10. Dropping 2 teeth off the rear sprocket makes a huge difference on this bike on the freeways. Motosport interestingly is THE ONLY DEALER of aftermarket parts that I can find this item in stock. Vortex is the only manufacturer that has smaller rear sprockets for this bike. They are aluminum and I was able to get just a little over 8000 miles use out of the first one. Props to Motosport for having this and props to vortex for making it. I am one month short of a year with 18, 000 miles on the bike.
See all bikes that this part fits...
Sprocket
| Product Variant | Manufacturer Part # |
| --- | --- |
| Blue / 530 / 53T | 232ZB-53 |
| Blue / 530 / 54T | 438ZB-54 |
| Red / 525 / 43T | 526ZR-43 |
| Black / 520 / 46T | 767AZK-46 |
| Red / 520 / 54T | 120AZR-54 |
| Red / 520 / 47T | 193AZR-47 |
| Black / 525 / 50T | 193ZK-50 |
| Blue / 525 / 44T | 775ZB-44 |
| Blue / 525 / 53T | 193ZB-53 |
| Black / 525 / 39T | 193ZK-39 |
| Blue / 525 / 49T | 193ZB-49 |
| Blue / 525 / 40T | 193ZB-40 |
| Red / 520 / 46T | 193AZR-46 |
| Blue / 530 / 53T | 525ZB-53 |
| Black / 525 / 51T | 193ZK-51 |
| Blue / 530 / 41T | 641ZB-41 |
| Red / 525 / 49T | 193ZR-49 |
| Red / 520 / 53T | 110AZR-53 |
| Red / 525 / 50T | 193ZR-50 |
| Red / 520 / 47T | 491AZR-47 |
| Red / 525 / 51T | 193ZR-51 |
| Red / 530 / 41T | 245ZR-41 |
| Black / 520 / 41T | 195AZK-41 |
| Black / 520 / 42T | 642AZK-42 |
| Black / 520 / 42T | 195AZK-42 |
| Black / 530 / 48T | 827ZK-48 |
| Black / 520 / 49T | 195AZK-49 |
| Blue / 530 / 54T | 427ZB-54 |
| Red / 520 / 44T | 195AZR-44 |
| Blue / 530 / 47T | 488ZB-47 |
| Red / 520 / 45T | 195AZR-45 |
| Blue / 530 / 36T | 528ZB-36 |
| Red / 520 / 46T | 195AZR-46 |
| Blue / 520 / 51T | 642AZB-51 |
| Red / 520 / 47T | 195AZR-47 |
| Blue / 525 / 51T | 338CZB-51 |
| Blue / 525 / 44T | 195ZB-44 |
| Red / 525 / 48T | 338CZR-48 |
| Blue / 525 / 45T | 195ZB-45 |
| Red / 525 / 54T | 120ZR-54 |
| Black / 525 / 43T | 195ZK-43 |
| Red / 525 / 37T | 144ZR-37 |
| Black / 525 / 44T | 195ZK-44 |
| Red / 530 / 42T | 642ZR-42 |
| Black / 525 / 47T | 195ZK-47 |
| Red / 525 / 44T | 247ZR-44 |
| Black / 525 / 48T | 195ZK-48 |
| Black / 520 / 45T | 641AZK-45 |
| Black / 525 / 49T | 195ZK-49 |
| Black / 525 / 40T V3 Style | 654ZK-40 |
| Black / 525 / 50T | 195ZK-50 |
| Black / 520 / 37T | 775AZK-37 |
| Red / 525 / 43T | 195ZR-43 |
| Blue / 520 / 40T | 195AZB-40 |
| Red / 525 / 46T | 195ZR-46 |
| Blue / 520 / 45T | 338ZB-45 |
| Red / 525 / 47T | 195ZR-47 |
| Blue / 530 / 40T | 436ZB-40 |
| Blue / 420 / 32T | 206ZB-32 |
| Blue / 520 / 50T | 452AZB-50 |
| Blue / 420 / 36T | 206ZB-36 |
| Blue / 520 / 43T | 491AZB-43 |
| Blue / 420 / 37T | 206ZB-37 |
| Blue / 525 / 52T | 526ZB-52 |
| Blue / 420 / 38T | 206ZB-38 |
| Blue / 520 / 46T | 528AZB-46 |
| Blue / 420 / 41T | 206ZB-41 |
| Blue / 530 / 38T | 642ZB-38 |
| Blue / 420 / 42T | 206ZB-42 |
| Blue / 530 / 45T | 767ZB-45 |
| Blue / 420 / 45T | 206ZB-45 |
| Blue / 525 / 40T | 338CZB-40 |
| Black / 420 / 32T | 206ZK-32 |
| Blue / 520 / 44T | 452AZB-44 |
| Black / 420 / 38T | 206ZK-38 |
| Red / 525 / 43T | 110ZR-43 |
| Black / 420 / 39T | 206ZK-39 |
| Red / 520 / 43T | 120AZR-43 |
| Black / 420 / 40T | 206ZK-40 |
| Red / 530 / 37T | 452ZR-37 |
| Black / 420 / 42T | 206ZK-42 |
| Red / 520 / 47T | 125ZR-47 |
| Black / 420 / 43T | 206ZK-43 |
| Red / 520 / 47T | 144AZR-47 |
| Black / 420 / 44T | 206ZK-44 |
| Red / 530 / 40T | 528ZR-40 |
| Black / 420 / 45T | 206ZK-45 |
| Red / 520 / 36T | 211ZR-36 |
| Black / 420 / 46T | 206ZK-46 |
| Red / 520 / 48T | 245AZR-48 |
| Black / 420 / 51T | 206ZK-51 |
| Red / 525 / 40T | 775ZR-40 |
| Black / 420 / 57T | 206ZK-57 |
| Red / 530 / 42T | 248ZR-42 |
| Red / 420 / 32T | 206ZR-32 |
| Black / 530 / 47T | 641ZK-47 |
| Red / 420 / 40T | 206ZR-40 |
| Black / 530 / 44T | 642ZK-44 |
| Red / 420 / 45T | 206ZR-45 |
| Black / 525 / 39T | 642CZK-39 |
| Blue / 520 / 54T | 211ZB-54 |
| Black / 530 / 44T | 767ZK-44 |
| Black / 520 / 48T | 211ZK-48 |
| Black / 525 / 42T | 775ZK-42 |
| Red / 520 / 34T | 211ZR-34 |
| Black / 520 / 52T | 775AZK-52 |
| Red / 520 / 54T | 211ZR-54 |
| Black / 520 / 43T | 827AZK-43 |
| Blue / 520 / 39T | 317ZB-39 |
| Blue / 530 / 37T | 232ZB-37 |
| Blue / 520 / 46T | 317ZB-46 |
| Blue / 520 / 47T | 232AZB-47 |
| Blue / 520 / 48T | 317ZB-48 |
| Blue / 530 / 39T | 427ZB-39 |
| Blue / 520 / 49T | 317ZB-49 |
| Blue / 525 / 39T | 435CZB-39 |
| Black / 520 / 38T | 317ZK-38 |
| Blue / 530 / 35T | 438ZB-35 |
| Black / 520 / 39T | 317ZK-39 |
| Blue / 530 / 49T | 452ZB-49 |
| Black / 520 / 40T | 317ZK-40 |
| Blue / 525 / 46T | 454ZB-46 |
| Black / 520 / 50T | 317ZK-50 |
| Blue / 525 / 44T | 491ZB-44 |
| Red / 520 / 39T | 317ZR-39 |
| Blue / 530 / 38T | 525ZB-38 |
| Red / 520 / 46T | 317ZR-46 |
| Blue / 520 / 49T | 525AZB-49 |
| Red / 520 / 48T | 317ZR-48 |
| Blue / 520 / 54T | 526AZB-54 |
| Red / 520 / 49T | 317ZR-49 |
| Blue / 530 / 52T | 528ZB-52 |
| Black / 520 / 35T | 338ZK-35 |
| Blue / 525 / 42T | 528CZB-42 |
| Blue / 525 / 41T | 463ZB-41 |
| Blue / 520 / 39T | 641AZB-39 |
| Blue / 525 / 42T | 463ZB-42 |
| Blue / 530 / 54T | 642ZB-54 |
| Blue / 525 / 43T | 463ZB-43 |
| Blue / 525 / 50T | 642CZB-50 |
| Blue / 525 / 44T | 463ZB-44 |
| Blue / 520 / 48T | 767AZB-48 |
| Black / 525 / 41T | 463ZK-41 |
| Blue / 520 / 39T | 775AZB-39 |
| Black / 525 / 42T | 463ZK-42 |
| Blue / 530 / 50T | 827ZB-50 |
| Black / 525 / 43T | 463ZK-43 |
| Red / 520 / 37T | 110AZR-37 |
| Black / 525 / 44T | 463ZK-44 |
| Red / 520 / 48T | 110AZR-48 |
| Black / 525 / 48T | 463ZK-48 |
| Red / 520 / 38T | 232AZR-38 |
| Black / 525 / 50T | 463ZK-50 |
| Red / 525 / 48T | 110ZR-48 |
| Red / 525 / 41T | 463ZR-41 |
| Red / 520 / 38T | 120AZR-38 |
| Red / 525 / 42T | 463ZR-42 |
| Red / 525 / 43T | 435CZR-43 |
| Red / 525 / 43T | 463ZR-43 |
| Red / 525 / 38T | 120ZR-38 |
| Red / 525 / 44T | 463ZR-44 |
| Red / 525 / 49T | 120ZR-49 |
| Blue / 525 / 46T | 641CZB-46 |
| Red / 525 / 50T | 454ZR-50 |
| Black / 525 / 42T | 641CZK-42 |
| Red / 520 / 52T | 125ZR-52 |
| Black / 520 / 47T V3 Style | 654AZK-47 |
| Red / 520 / 42T | 144AZR-42 |
| Black / 520 / 48T V3 Style | 654AZK-48 |
| Red / 520 / 53T | 525AZR-53 |
| Black / 520 / 49T V3 Style | 654AZK-49 |
| Red / 525 / 42T | 144ZR-42 |
| Blue / 525 / 39T V3 Style | 654ZB-39 |
| Red / 525 / 53T | 144ZR-53 |
| Blue / 525 / 40T V3 Style | 654ZB-40 |
| Red / 525 / 46T | 528CZR-46 |
| Blue / 525 / 41T V3 Style | 654ZB-41 |
| Red / 520 / 41T | 211ZR-41 |
| Blue / 525 / 42T V3 Style | 654ZB-42 |
| Red / 520 / 43T | 245AZR-43 |
| Blue / 525 / 43T V3 Style | 654ZB-43 |
| Red / 525 / 54T | 642CZR-54 |
| Blue / 525 / 44T V3 Style | 654ZB-44 |
| Red / 530 / 46T | 245ZR-46 |
| Black / 520 / 42T | 251AZK-42 |
| Red / 525 / 39T | 247ZR-39 |
| Black / 520 / 43T | 251AZK-43 |
| Red / 530 / 46T | 827ZR-46 |
| Black / 520 / 44T | 251AZK-44 |
| Red / 530 / 47T | 248ZR-47 |
| Black / 520 / 45T | 251AZK-45 |
| Red / 420 / 38T | 206ZR-38 |
| Black / 520 / 46T | 251AZK-46 |
| Black / 520 / 38T | 641AZK-38 |
| Black / 520 / 40T | 452AZK-40 |
| Black / 520 / 54T | 641AZK-54 |
| Black / 520 / 41T | 452AZK-41 |
| Black / 530 / 51T | 642ZK-51 |
| Black / 520 / 42T | 452AZK-42 |
| Black / 520 / 50T | 642AZK-50 |
| Black / 520 / 43T | 452AZK-43 |
| Black / 525 / 48T | 642CZK-48 |
| Black / 520 / 44T | 452AZK-44 |
| Black / 520 / 41T V3 Style | 654AZK-41 |
| Black / 520 / 45T | 452AZK-45 |
| Black / 530 / 52T | 767ZK-52 |
| Black / 520 / 46T | 452AZK-46 |
| Black / 525 / 34T | 775ZK-34 |
| Black / 520 / 43T | 526AZK-43 |
| Black / 525 / 49T | 775ZK-49 |
| Black / 520 / 44T | 526AZK-44 |
| Black / 520 / 45T | 775AZK-45 |
| Black / 520 / 45T | 526AZK-45 |
| Black / 530 / 40T | 827ZK-40 |
| Black / 520 / 46T | 526AZK-46 |
| Black / 520 / 34T | 827AZK-34 |
| Black / 520 / 47T | 526AZK-47 |
| Black / 520 / 51T | 827AZK-51 |
| Black / 520 / 48T | 526AZK-48 |
| Blue / 520 / 42T | 317ZB-42 |
| Black / 525 / 42T | 193ZK-42 |
| Blue / 530 / 44T | 232ZB-44 |
| Black / 525 / 43T | 193ZK-43 |
| Blue / 520 / 40T | 232AZB-40 |
| Black / 525 / 44T | 193ZK-44 |
| Blue / 520 / 37T | 338ZB-37 |
| Black / 525 / 45T | 193ZK-45 |
| Blue / 520 / 52T | 338ZB-52 |
| Black / 525 / 46T | 193ZK-46 |
| Blue / 530 / 47T | 427ZB-47 |
| Black / 525 / 47T | 193ZK-47 |
| Blue / 520 / 51T | 435ZB-51 |
| Black / 525 / 44T | 252ZK-44 |
| Blue / 525 / 50T | 435CZB-50 |
| Black / 525 / 45T | 252ZK-45 |
| Blue / 530 / 48T | 436ZB-48 |
| Black / 525 / 46T | 252ZK-46 |
| Blue / 530 / 44T | 438ZB-44 |
| Black / 525 / 45T | 435CZK-45 |
| Blue / 530 / 40T | 452ZB-40 |
| Black / 525 / 46T | 435CZK-46 |
| Blue / 520 / 36T | 452AZB-36 |
| Black / 525 / 47T | 435CZK-47 |
| Blue / 525 / 38T | 454ZB-38 |
| Black / 525 / 48T | 435CZK-48 |
| Blue / 525 / 53T | 454ZB-53 |
| Black / 530 / 45T | 438ZK-45 |
| Blue / 525 / 37T | 491ZB-37 |
| Black / 530 / 47T | 438ZK-47 |
| Blue / 525 / 53T | 491ZB-53 |
| Black / 525 / 43T | 526ZK-43 |
| Blue / 520 / 50T | 491AZB-50 |
| Black / 525 / 44T | 526ZK-44 |
| Blue / 530 / 46T | 525ZB-46 |
| Black / 525 / 45T | 526ZK-45 |
| Blue / 520 / 41T | 525AZB-41 |
| Black / 525 / 46T | 526ZK-46 |
| Blue / 525 / 37T | 526ZB-37 |
| Black / 525 / 47T | 526ZK-47 |
| Blue / 520 / 41T | 526AZB-41 |
| Black / 525 / 48T | 526ZK-48 |
| Blue / 530 / 49T | 527ZB-49 |
| Black / 520 / 45T | 435ZK-45 |
| Blue / 530 / 43T | 528ZB-43 |
| Black / 520 / 47T | 435ZK-47 |
| Blue / 520 / 39T | 528AZB-39 |
| Black / 520 / 48T | 435ZK-48 |
| Blue / 525 / 34T | 528CZB-34 |
| Black / 520 / 43T | 435ZK-43 |
| Blue / 525 / 49T | 528CZB-49 |
| Black / 520 / 44T | 435ZK-44 |
| Blue / 530 / 49T | 641ZB-49 |
| Black / 520 / 46T | 435ZK-46 |
| Blue / 520 / 48T | 641AZB-48 |
| Black / 520 / 49T | 435ZK-49 |
| Blue / 530 / 45T | 642ZB-45 |
| Black / 520 / 50T | 435ZK-50 |
| Blue / 520 / 44T | 642AZB-44 |
| Black / 530 / 42T | 527ZK-42 |
| Blue / 525 / 42T | 642CZB-42 |
| Black / 530 / 43T | 527ZK-43 |
| Blue / 520 / 41T V3 Style | 654AZB-41 |
| Black / 530 / 44T | 527ZK-44 |
| Blue / 530 / 53T | 767ZB-53 |
| Black / 530 / 45T | 527ZK-45 |
| Blue / 525 / 36T | 775ZB-36 |
| Black / 530 / 46T | 527ZK-46 |
| Blue / 525 / 51T | 775ZB-51 |
| Black / 520 / 34T | 110AZK-34 |
| Blue / 520 / 47T | 775AZB-47 |
| Black / 520 / 35T | 110AZK-35 |
| Blue / 525 / 43T | 338CZB-43 |
| Black / 520 / 36T | 110AZK-36 |
| Blue / 525 / 48T | 338CZB-48 |
| Black / 520 / 37T | 110AZK-37 |
| Blue / 520 / 53T | 827AZB-53 |
| Black / 520 / 38T | 110AZK-38 |
| Red / 520 / 40T | 110AZR-40 |
| Black / 520 / 39T | 110AZK-39 |
| Red / 520 / 45T | 110AZR-45 |
| Black / 520 / 40T | 110AZK-40 |
| Red / 530 / 35T | 232ZR-35 |
| Black / 520 / 41T | 110AZK-41 |
| Red / 525 / 35T | 110ZR-35 |
| Black / 520 / 42T | 110AZK-42 |
| Red / 525 / 40T | 110ZR-40 |
| Black / 520 / 43T | 110AZK-43 |
| Red / 520 / 43T | 338ZR-43 |
| Black / 520 / 44T | 110AZK-44 |
| Red / 525 / 51T | 110ZR-51 |
| Black / 520 / 45T | 110AZK-45 |
| Red / 520 / 35T | 120AZR-35 |
| Black / 520 / 46T | 110AZK-46 |
| Red / 530 / 51T | 427ZR-51 |
| Black / 520 / 47T | 110AZK-47 |
| Red / 520 / 46T | 120AZR-46 |
| Black / 520 / 48T | 110AZK-48 |
| Red / 520 / 51T | 120AZR-51 |
| Black / 520 / 49T | 110AZK-49 |
| Red / 530 / 52T | 436ZR-52 |
| Black / 520 / 50T | 110AZK-50 |
| Red / 525 / 41T | 120ZR-41 |
| Black / 520 / 51T | 110AZK-51 |
| Red / 525 / 46T | 120ZR-46 |
| Black / 520 / 52T | 110AZK-52 |
| Red / 520 / 47T | 452AZR-47 |
| Black / 520 / 53T | 110AZK-53 |
| Red / 520 / 39T | 125ZR-39 |
| Black / 520 / 54T | 110AZK-54 |
| Red / 520 / 44T | 125ZR-44 |
| Black / 525 / 34T | 110ZK-34 |
| Red / 525 / 41T | 491ZR-41 |
| Black / 525 / 35T | 110ZK-35 |
| Red / 520 / 34T | 144AZR-34 |
| Black / 525 / 36T | 110ZK-36 |
| Red / 520 / 39T | 144AZR-39 |
| Black / 525 / 37T | 110ZK-37 |
| Red / 530 / 50T | 525ZR-50 |
| Black / 525 / 38T | 110ZK-38 |
| Red / 520 / 50T | 144AZR-50 |
| Black / 525 / 39T | 110ZK-39 |
| Red / 525 / 34T | 144ZR-34 |
| Black / 525 / 40T | 110ZK-40 |
| Red / 520 / 51T | 526AZR-51 |
| Black / 525 / 41T | 110ZK-41 |
| Red / 525 / 45T | 144ZR-45 |
| Black / 525 / 42T | 110ZK-42 |
| Red / 525 / 50T | 144ZR-50 |
| Black / 525 / 43T | 110ZK-43 |
| Red / 520 / 43T | 528AZR-43 |
| Black / 525 / 44T | 110ZK-44 |
| Red / 525 / 46T | 193ZR-46 |
| Black / 525 / 45T | 110ZK-45 |
| Red / 420 / 37T | 206ZR-37 |
| Black / 525 / 46T | 110ZK-46 |
| Red / 530 / 53T | 641ZR-53 |
| Black / 525 / 47T | 110ZK-47 |
| Red / 520 / 44T | 211ZR-44 |
| Black / 525 / 48T | 110ZK-48 |
| Red / 520 / 40T | 245AZR-40 |
| Black / 525 / 49T | 110ZK-49 |
| Red / 520 / 48T | 642AZR-48 |
| Black / 525 / 50T | 110ZK-50 |
| Red / 520 / 51T | 245AZR-51 |
| Black / 525 / 51T | 110ZK-51 |
| Red / 530 / 38T | 245ZR-38 |
| Black / 525 / 52T | 110ZK-52 |
| Red / 530 / 50T | 767ZR-50 |
| Black / 525 / 53T | 110ZK-53 |
| Red / 530 / 49T | 245ZR-49 |
| Black / 525 / 54T | 110ZK-54 |
| Red / 530 / 54T | 245ZR-54 |
| Black / 520 / 34T | 120AZK-34 |
| Red / 520 / 43T | 775AZR-43 |
| Black / 520 / 35T | 120AZK-35 |
| Red / 525 / 47T | 247ZR-47 |
| Black / 520 / 36T | 120AZK-36 |
| Red / 525 / 52T | 247ZR-52 |
| Black / 520 / 37T | 120AZK-37 |
| Red / 520 / 49T | 827AZR-49 |
| Black / 520 / 38T | 120AZK-38 |
| Red / 530 / 50T | 248ZR-50 |
| Black / 520 / 39T | 120AZK-39 |
| Red / 530 / 42T | 527ZR-42 |
| Black / 520 / 40T | 120AZK-40 |
| Black / 530 / 43T | 641ZK-43 |
| Black / 520 / 41T | 120AZK-41 |
| Black / 530 / 50T | 641ZK-50 |
| Black / 520 / 42T | 120AZK-42 |
| Black / 520 / 42T | 641AZK-42 |
| Black / 520 / 43T | 120AZK-43 |
| Black / 520 / 50T | 641AZK-50 |
| Black / 520 / 44T | 120AZK-44 |
| Black / 530 / 39T | 642ZK-39 |
| Black / 520 / 45T | 120AZK-45 |
| Black / 530 / 48T | 642ZK-48 |
| Black / 520 / 46T | 120AZK-46 |
| Black / 520 / 38T | 642AZK-38 |
| Black / 520 / 47T | 120AZK-47 |
| Black / 520 / 45T | 642AZK-45 |
| Black / 520 / 48T | 120AZK-48 |
| Black / 520 / 54T | 642AZK-54 |
| Black / 520 / 49T | 120AZK-49 |
| Black / 525 / 44T | 642CZK-44 |
| Black / 520 / 50T | 120AZK-50 |
| Black / 525 / 51T | 642CZK-51 |
| Black / 520 / 51T | 120AZK-51 |
| Black / 525 / 44T V3 Style | 654ZK-44 |
| Black / 520 / 52T | 120AZK-52 |
| Black / 520 / 46T V3 Style | 654AZK-46 |
| Black / 520 / 53T | 120AZK-53 |
| Black / 530 / 47T | 767ZK-47 |
| Black / 520 / 54T | 120AZK-54 |
| Black / 520 / 43T | 767AZK-43 |
| Black / 525 / 34T | 120ZK-34 |
| Black / 520 / 51T | 767AZK-51 |
| Black / 525 / 35T | 120ZK-35 |
| Black / 525 / 37T | 775ZK-37 |
| Black / 525 / 36T | 120ZK-36 |
| Black / 525 / 46T | 775ZK-46 |
| Black / 525 / 37T | 120ZK-37 |
| Black / 525 / 54T | 775ZK-54 |
| Black / 525 / 38T | 120ZK-38 |
| Black / 520 / 40T | 775AZK-40 |
| Black / 525 / 39T | 120ZK-39 |
| Black / 520 / 49T | 775AZK-49 |
| Black / 525 / 40T | 120ZK-40 |
| Black / 530 / 36T | 827ZK-36 |
| Black / 525 / 41T | 120ZK-41 |
| Black / 530 / 43T | 827ZK-43 |
| Black / 525 / 42T | 120ZK-42 |
| Black / 530 / 52T | 827ZK-52 |
| Black / 525 / 43T | 120ZK-43 |
| Black / 520 / 39T | 827AZK-39 |
| Black / 525 / 44T | 120ZK-44 |
| Black / 520 / 46T | 827AZK-46 |
| Black / 525 / 45T | 120ZK-45 |
| Blue / 525 / 41T | 195ZB-41 |
| Black / 525 / 46T | 120ZK-46 |
| Blue / 520 / 47T | 195AZB-47 |
| Black / 525 / 47T | 120ZK-47 |
| Blue / 520 / 45T | 317ZB-45 |
| Black / 525 / 48T | 120ZK-48 |
| Blue / 530 / 41T | 232ZB-41 |
| Black / 525 / 49T | 120ZK-49 |
| Blue / 530 / 49T | 232ZB-49 |
| Black / 525 / 50T | 120ZK-50 |
| Blue / 520 / 35T | 232AZB-35 |
| Black / 525 / 51T | 120ZK-51 |
| Blue / 520 / 44T | 232AZB-44 |
| Black / 525 / 52T | 120ZK-52 |
| Blue / 520 / 52T | 232AZB-52 |
| Black / 525 / 53T | 120ZK-53 |
| Blue / 520 / 40T | 338ZB-40 |
| Black / 525 / 54T | 120ZK-54 |
| Blue / 520 / 49T | 338ZB-49 |
| Black / 520 / 37T | 125ZK-37 |
| Blue / 530 / 35T | 427ZB-35 |
| Black / 520 / 38T | 125ZK-38 |
| Blue / 530 / 42T | 427ZB-42 |
| Black / 520 / 39T | 125ZK-39 |
| Blue / 530 / 51T | 427ZB-51 |
| Black / 520 / 40T | 125ZK-40 |
| Blue / 520 / 39T | 435ZB-39 |
| Black / 520 / 41T | 125ZK-41 |
| Blue / 520 / 54T | 435ZB-54 |
| Black / 520 / 42T | 125ZK-42 |
| Blue / 525 / 43T | 435CZB-43 |
| Black / 520 / 43T | 125ZK-43 |
| Blue / 530 / 36T | 436ZB-36 |
| Black / 520 / 44T | 125ZK-44 |
| Blue / 530 / 43T | 436ZB-43 |
| Black / 520 / 45T | 125ZK-45 |
| Blue / 530 / 52T | 436ZB-52 |
| Black / 520 / 46T | 125ZK-46 |
| Blue / 530 / 40T | 438ZB-40 |
| Black / 520 / 47T | 125ZK-47 |
| Blue / 530 / 49T | 438ZB-49 |
| Black / 520 / 48T | 125ZK-48 |
| Blue / 530 / 37T | 452ZB-37 |
| Black / 520 / 49T | 125ZK-49 |
| Blue / 530 / 45T | 452ZB-45 |
| Black / 520 / 50T | 125ZK-50 |
| Blue / 530 / 52T | 452ZB-52 |
| Black / 520 / 51T | 125ZK-51 |
| Blue / 520 / 47T | 452AZB-47 |
| Black / 520 / 52T | 125ZK-52 |
| Blue / 525 / 34T | 454ZB-34 |
| Black / 520 / 53T | 125ZK-53 |
| Blue / 525 / 41T | 454ZB-41 |
| Black / 520 / 54T | 125ZK-54 |
| Blue / 525 / 50T | 454ZB-50 |
| Black / 520 / 34T | 144AZK-34 |
| Blue / 530 / 43T | 488ZB-43 |
| Black / 520 / 35T | 144AZK-35 |
| Blue / 530 / 50T | 488ZB-50 |
| Black / 520 / 36T | 144AZK-36 |
| Blue / 525 / 41T | 491ZB-41 |
| Black / 520 / 37T | 144AZK-37 |
| Blue / 525 / 49T | 491ZB-49 |
| Black / 520 / 38T | 144AZK-38 |
| Blue / 520 / 38T | 491AZB-38 |
| Black / 520 / 39T | 144AZK-39 |
| Blue / 520 / 47T | 491AZB-47 |
| Black / 520 / 40T | 144AZK-40 |
| Blue / 530 / 34T | 525ZB-34 |
| Black / 520 / 41T | 144AZK-41 |
| Blue / 530 / 41T | 525ZB-41 |
| Black / 520 / 42T | 144AZK-42 |
| Blue / 530 / 50T | 525ZB-50 |
| Red / 530 / 54T | 248ZR-54 |
| Blue / 520 / 37T | 525AZB-37 |
| Red / 520 / 45T | 249AZR-45 |
| Blue / 520 / 44T | 525AZB-44 |
| Red / 520 / 49T | 249AZR-49 |
| Blue / 520 / 53T | 525AZB-53 |
| Red / 520 / 53T | 249AZR-53 |
| Blue / 525 / 42T | 526ZB-42 |
| Red / 530 / 44T | 249ZR-44 |
| Blue / 520 / 36T | 526AZB-36 |
| Red / 530 / 48T | 249ZR-48 |
| Blue / 520 / 51T | 526AZB-51 |
| Red / 530 / 52T | 249ZR-52 |
| Blue / 530 / 40T | 527ZB-40 |
| Red / 520 / 40T | 251AZR-40 |
| Blue / 530 / 52T | 527ZB-52 |
| Red / 520 / 44T | 251AZR-44 |
| Blue / 530 / 40T | 528ZB-40 |
| Red / 520 / 48T | 251AZR-48 |
| Blue / 530 / 48T | 528ZB-48 |
| Red / 520 / 52T | 251AZR-52 |
| Blue / 520 / 34T | 528AZB-34 |
| Red / 530 / 40T | 251ZR-40 |
| Blue / 520 / 43T | 528AZB-43 |
| Red / 530 / 44T | 251ZR-44 |
| Blue / 520 / 51T | 528AZB-51 |
| Red / 530 / 48T | 251ZR-48 |
| Blue / 525 / 37T | 528CZB-37 |
| Red / 530 / 52T | 251ZR-52 |
| Blue / 525 / 46T | 528CZB-46 |
| Red / 525 / 40T | 252ZR-40 |
| Blue / 525 / 54T | 528CZB-54 |
| Red / 525 / 44T | 252ZR-44 |
| Blue / 530 / 44T | 641ZB-44 |
| Red / 525 / 48T | 252ZR-48 |
| Blue / 530 / 53T | 641ZB-53 |
| Red / 525 / 52T | 252ZR-52 |
| Blue / 520 / 44T | 641AZB-44 |
| Black / 525 / 42T | 195ZK-42 |
| Blue / 520 / 51T | 641AZB-51 |
| Black / 520 / 40T | 195AZK-40 |
| Blue / 530 / 42T | 642ZB-42 |
| Black / 520 / 46T | 195AZK-46 |
| Blue / 530 / 50T | 642ZB-50 |
| Black / 520 / 53T | 195AZK-53 |
| Blue / 520 / 39T | 642AZB-39 |
| Black / 520 / 43T | 317ZK-43 |
| Blue / 520 / 48T | 642AZB-48 |
| Black / 520 / 47T | 317ZK-47 |
| Blue / 525 / 38T | 642CZB-38 |
| Black / 530 / 35T | 232ZK-35 |
| Blue / 525 / 45T | 642CZB-45 |
| Black / 530 / 39T | 232ZK-39 |
| Blue / 525 / 54T | 642CZB-54 |
| Black / 530 / 43T | 232ZK-43 |
| Blue / 520 / 46T V3 Style | 654AZB-46 |
| Black / 530 / 47T | 232ZK-47 |
| Blue / 530 / 48T | 767ZB-48 |
| Black / 530 / 51T | 232ZK-51 |
| Blue / 520 / 45T | 767AZB-45 |
| Black / 520 / 34T | 232AZK-34 |
| Blue / 520 / 53T | 767AZB-53 |
| Black / 520 / 38T | 232AZK-38 |
| Blue / 525 / 39T | 775ZB-39 |
| Black / 520 / 42T | 232AZK-42 |
| Blue / 525 / 48T | 775ZB-48 |
| Black / 520 / 46T | 232AZK-46 |
| Blue / 520 / 35T | 775AZB-35 |
| Black / 520 / 50T | 232AZK-50 |
| Blue / 525 / 36T | 338CZB-36 |
| Black / 520 / 54T | 232AZK-54 |
| Blue / 525 / 39T | 338CZB-39 |
| Black / 520 / 39T | 338ZK-39 |
| Blue / 530 / 38T | 827ZB-38 |
| Black / 520 / 43T | 338ZK-43 |
| Blue / 525 / 44T | 338CZB-44 |
| Black / 520 / 47T | 338ZK-47 |
| Blue / 525 / 47T | 338CZB-47 |
| Black / 520 / 51T | 338ZK-51 |
| Blue / 520 / 41T | 827AZB-41 |
| Black / 525 / 36T | 338CZK-36 |
| Blue / 525 / 52T | 338CZB-52 |
| Black / 525 / 40T | 338CZK-40 |
| Red / 520 / 36T | 110AZR-36 |
| Black / 525 / 44T | 338CZK-44 |
| Blue / 520 / 49T | 435ZB-49 |
| Black / 525 / 48T | 338CZK-48 |
| Red / 520 / 41T | 110AZR-41 |
| Black / 525 / 52T | 338CZK-52 |
| Red / 520 / 44T | 110AZR-44 |
| Black / 530 / 35T | 427ZK-35 |
| Blue / 530 / 43T | 527ZB-43 |
| Black / 530 / 39T | 427ZK-39 |
| Red / 520 / 49T | 110AZR-49 |
| Black / 530 / 43T | 427ZK-43 |
| Red / 520 / 52T | 110AZR-52 |
| Black / 530 / 47T | 427ZK-47 |
| Red / 530 / 47T | 232ZR-47 |
| Black / 530 / 51T | 427ZK-51 |
| Red / 525 / 36T | 110ZR-36 |
| Black / 520 / 35T | 435ZK-35 |
| Red / 525 / 39T | 110ZR-39 |
| Black / 520 / 39T | 435ZK-39 |
| Red / 520 / 50T | 232AZR-50 |
| Black / 520 / 51T | 435ZK-51 |
| Red / 525 / 44T | 110ZR-44 |
| Black / 525 / 35T | 435CZK-35 |
| Red / 525 / 47T | 110ZR-47 |
| Black / 525 / 39T | 435CZK-39 |
| Red / 525 / 36T | 338CZR-36 |
| Black / 525 / 43T | 435CZK-43 |
| Red / 525 / 52T | 110ZR-52 |
| Black / 525 / 51T | 435CZK-51 |
| Red / 520 / 34T | 120AZR-34 |
| Black / 530 / 36T | 436ZK-36 |
| Red / 530 / 39T | 427ZR-39 |
| Black / 530 / 40T | 436ZK-40 |
| Red / 520 / 39T | 120AZR-39 |
| Black / 530 / 44T | 436ZK-44 |
| Red / 520 / 42T | 120AZR-42 |
| Black / 530 / 48T | 436ZK-48 |
| Red / 520 / 51T | 435ZR-51 |
| Black / 530 / 52T | 436ZK-52 |
| Red / 520 / 47T | 120AZR-47 |
| Black / 530 / 36T | 438ZK-36 |
| Red / 520 / 50T | 120AZR-50 |
| Black / 530 / 40T | 438ZK-40 |
| Red / 530 / 40T | 436ZR-40 |
| Black / 530 / 44T | 438ZK-44 |
| Red / 525 / 34T | 120ZR-34 |
| Black / 530 / 50T | 438ZK-50 |
| Red / 525 / 37T | 120ZR-37 |
| Black / 530 / 54T | 438ZK-54 |
| Red / 530 / 44T | 438ZR-44 |
| Black / 530 / 37T | 452ZK-37 |
| Red / 525 / 42T | 120ZR-42 |
| Black / 530 / 41T | 452ZK-41 |
| Red / 525 / 45T | 120ZR-45 |
| Black / 530 / 45T | 452ZK-45 |
| Red / 530 / 49T | 452ZR-49 |
| Black / 530 / 49T | 452ZK-49 |
| Red / 525 / 50T | 120ZR-50 |
| Black / 530 / 53T | 452ZK-53 |
| Red / 525 / 53T | 120ZR-53 |
| Black / 520 / 36T | 452AZK-36 |
| Red / 525 / 38T | 454ZR-38 |
| Black / 520 / 47T | 452AZK-47 |
| Red / 520 / 40T | 125ZR-40 |
| Black / 520 / 51T | 452AZK-51 |
| Red / 520 / 43T | 125ZR-43 |
| Black / 525 / 34T | 454ZK-34 |
| Red / 530 / 47T | 488ZR-47 |
| Black / 525 / 38T | 454ZK-38 |
| Red / 520 / 48T | 125ZR-48 |
| Black / 525 / 42T | 454ZK-42 |
| Red / 520 / 51T | 125ZR-51 |
| Black / 525 / 46T | 454ZK-46 |
| Red / 525 / 53T | 491ZR-53 |
| Black / 525 / 50T | 454ZK-50 |
| Red / 520 / 35T | 144AZR-35 |
| Black / 525 / 54T | 454ZK-54 |
| Red / 520 / 38T | 144AZR-38 |
| Black / 530 / 43T | 488ZK-43 |
| Red / 530 / 38T | 525ZR-38 |
| Black / 530 / 47T | 488ZK-47 |
| Red / 520 / 43T | 144AZR-43 |
| Black / 530 / 51T | 488ZK-51 |
| Red / 520 / 46T | 144AZR-46 |
| Black / 525 / 37T | 491ZK-37 |
| Red / 520 / 41T | 525AZR-41 |
| Black / 525 / 41T | 491ZK-41 |
| Red / 520 / 51T | 144AZR-51 |
| Black / 525 / 45T | 491ZK-45 |
| Red / 520 / 54T | 144AZR-54 |
| Black / 525 / 49T | 491ZK-49 |
| Red / 525 / 52T | 526ZR-52 |
| Black / 525 / 53T | 491ZK-53 |
| Red / 525 / 38T | 144ZR-38 |
| Black / 520 / 39T | 491AZK-39 |
| Red / 525 / 41T | 144ZR-41 |
| Black / 520 / 43T | 491AZK-43 |
| Red / 530 / 49T | 527ZR-49 |
| Black / 520 / 47T | 491AZK-47 |
| Red / 525 / 46T | 144ZR-46 |
| Black / 520 / 51T | 491AZK-51 |
| Red / 525 / 49T | 144ZR-49 |
| Black / 530 / 34T | 525ZK-34 |
| Red / 530 / 52T | 528ZR-52 |
| Black / 530 / 38T | 525ZK-38 |
| Red / 525 / 54T | 144ZR-54 |
| Black / 530 / 42T | 525ZK-42 |
| Red / 520 / 45T | 193AZR-45 |
| Black / 530 / 46T | 525ZK-46 |
| Red / 525 / 34T | 528CZR-34 |
| Black / 530 / 50T | 525ZK-50 |
| Red / 420 / 33T | 206ZR-33 |
| Black / 530 / 54T | 525ZK-54 |
| Red / 420 / 36T | 206ZR-36 |
| Black / 520 / 37T | 525AZK-37 |
| Red / 530 / 41T | 641ZR-41 |
| Black / 520 / 41T | 525AZK-41 |
| Red / 520 / 37T | 211ZR-37 |
| Black / 520 / 45T | 525AZK-45 |
| Red / 520 / 40T | 211ZR-40 |
| Black / 520 / 49T | 525AZK-49 |
| Red / 520 / 48T | 641AZR-48 |
| Black / 520 / 53T | 525AZK-53 |
| Red / 520 / 45T | 211ZR-45 |
| Black / 525 / 38T | 526ZK-38 |
| Red / 520 / 39T | 245AZR-39 |
| Black / 525 / 42T | 526ZK-42 |
| Red / 530 / 54T | 642ZR-54 |
| Black / 525 / 52T | 526ZK-52 |
| Red / 520 / 44T | 245AZR-44 |
| Black / 520 / 37T | 526AZK-37 |
| Red / 520 / 47T | 245AZR-47 |
| Black / 520 / 41T | 526AZK-41 |
| Red / 525 / 42T | 642CZR-42 |
| Black / 520 / 51T | 526AZK-51 |
| Red / 520 / 52T | 245AZR-52 |
| Black / 530 / 36T | 527ZK-36 |
| Red / 530 / 37T | 245ZR-37 |
| Black / 530 / 40T | 527ZK-40 |
| Red / 520 / 44T V3 Style | 654AZR-44 |
| Black / 530 / 49T | 527ZK-49 |
| Red / 530 / 42T | 245ZR-42 |
| Black / 530 / 53T | 527ZK-53 |
| Red / 530 / 45T | 245ZR-45 |
| Black / 530 / 36T | 528ZK-36 |
| Red / 520 / 49T | 767AZR-49 |
| Black / 530 / 40T | 528ZK-40 |
| Red / 530 / 50T | 245ZR-50 |
| Black / 530 / 44T | 528ZK-44 |
| Red / 530 / 53T | 245ZR-53 |
| Black / 530 / 48T | 528ZK-48 |
| Red / 525 / 52T | 775ZR-52 |
| Black / 530 / 52T | 528ZK-52 |
| Red / 525 / 40T | 247ZR-40 |
| Black / 520 / 35T | 528AZK-35 |
| Red / 525 / 43T | 247ZR-43 |
| Black / 520 / 39T | 528AZK-39 |
| Red / 530 / 34T | 827ZR-34 |
| Black / 520 / 43T | 528AZK-43 |
| Red / 525 / 48T | 247ZR-48 |
| Black / 520 / 47T | 528AZK-47 |
| Red / 525 / 51T | 247ZR-51 |
| Black / 520 / 51T | 528AZK-51 |
| Red / 520 / 37T | 827AZR-37 |
| Black / 525 / 34T | 528CZK-34 |
| Red / 530 / 43T | 248ZR-43 |
| Black / 525 / 38T | 528CZK-38 |
| Red / 530 / 46T | 248ZR-46 |
| Black / 525 / 42T | 528CZK-42 |
| Red / 525 / 46T | 435CZR-46 |
| Black / 525 / 46T | 528CZK-46 |
| Red / 530 / 51T | 248ZR-51 |
| Black / 525 / 50T | 528CZK-50 |
| Red / 525 / 45T | 526ZR-45 |
| Black / 525 / 54T | 528CZK-54 |
| Red / 530 / 46T | 527ZR-46 |
| Black / 530 / 41T | 641ZK-41 |
| Red / 520 / 45T | 526AZR-45 |
| Blue / 520 / 43T | 775AZB-43 |
| Black / 530 / 44T | 641ZK-44 |
| Blue / 520 / 49T | 775AZB-49 |
| Black / 530 / 49T | 641ZK-49 |
| Blue / 530 / 34T | 827ZB-34 |
| Black / 530 / 53T | 641ZK-53 |
| Blue / 530 / 40T | 827ZB-40 |
| Black / 520 / 39T | 641AZK-39 |
| Blue / 530 / 46T | 827ZB-46 |
| Black / 520 / 44T | 641AZK-44 |
| Blue / 530 / 52T | 827ZB-52 |
| Black / 520 / 48T | 641AZK-48 |
| Blue / 520 / 37T | 827AZB-37 |
| Black / 520 / 51T | 641AZK-51 |
| Blue / 520 / 43T | 827AZB-43 |
| Black / 530 / 38T | 642ZK-38 |
| Blue / 520 / 49T | 827AZB-49 |
| Black / 530 / 42T | 642ZK-42 |
| Blue / 525 / 48T | 193ZB-48 |
| Black / 530 / 45T | 642ZK-45 |
| Blue / 520 / 42T | 195AZB-42 |
| Black / 530 / 50T | 642ZK-50 |
| Blue / 525 / 45T | 435CZB-45 |
| Black / 530 / 54T | 642ZK-54 |
| Blue / 520 / 40T | 452AZB-40 |
| Black / 520 / 39T | 642AZK-39 |
| Blue / 520 / 46T | 452AZB-46 |
| Black / 520 / 44T | 642AZK-44 |
| Blue / 525 / 48T | 526ZB-48 |
| Black / 520 / 48T | 642AZK-48 |
| Blue / 530 / 45T | 527ZB-45 |
| Black / 520 / 51T | 642AZK-51 |
| Red / 520 / 44T | 317ZR-44 |
| Black / 525 / 38T | 642CZK-38 |
| Red / 530 / 37T | 232ZR-37 |
| Black / 525 / 42T | 642CZK-42 |
| Red / 530 / 43T | 232ZR-43 |
| Black / 525 / 45T | 642CZK-45 |
| Red / 530 / 49T | 232ZR-49 |
| Black / 525 / 50T | 642CZK-50 |
| Red / 520 / 34T | 232AZR-34 |
| Black / 525 / 54T | 642CZK-54 |
| Red / 520 / 40T | 232AZR-40 |
| Black / 525 / 41T V3 Style | 654ZK-41 |
| Red / 520 / 46T | 232AZR-46 |
| Black / 520 / 40T V3 Style | 654AZK-40 |
| Red / 520 / 52T | 232AZR-52 |
| Black / 520 / 44T V3 Style | 654AZK-44 |
| Red / 520 / 39T | 338ZR-39 |
| Black / 520 / 50T V3 Style | 654AZK-50 |
| Red / 520 / 45T | 338ZR-45 |
| Black / 530 / 46T | 767ZK-46 |
| Red / 520 / 51T | 338ZR-51 |
| Black / 530 / 50T | 767ZK-50 |
| Red / 525 / 38T | 338CZR-38 |
| Black / 530 / 53T | 767ZK-53 |
| Red / 525 / 44T | 338CZR-44 |
| Black / 520 / 45T | 767AZK-45 |
| Red / 525 / 50T | 338CZR-50 |
| Black / 520 / 49T | 767AZK-49 |
| Red / 530 / 35T | 427ZR-35 |
| Black / 520 / 52T | 767AZK-52 |
| Red / 530 / 41T | 427ZR-41 |
| Black / 525 / 36T | 775ZK-36 |
| Red / 530 / 47T | 427ZR-47 |
| Black / 525 / 40T | 775ZK-40 |
| Red / 530 / 53T | 427ZR-53 |
| Black / 525 / 43T | 775ZK-43 |
| Red / 520 / 39T | 435ZR-39 |
| Black / 525 / 48T | 775ZK-48 |
| Red / 520 / 53T | 435ZR-53 |
| Black / 525 / 52T | 775ZK-52 |
| Red / 525 / 39T | 435CZR-39 |
| Black / 520 / 34T | 775AZK-34 |
| Red / 525 / 49T | 435CZR-49 |
| Black / 520 / 39T | 775AZK-39 |
| Red / 530 / 36T | 436ZR-36 |
| Black / 520 / 43T | 775AZK-43 |
| Red / 530 / 42T | 436ZR-42 |
| Black / 520 / 46T | 775AZK-46 |
| Red / 530 / 48T | 436ZR-48 |
| Black / 520 / 51T | 775AZK-51 |
| Red / 530 / 54T | 436ZR-54 |
| Black / 530 / 34T | 827ZK-34 |
| Red / 530 / 40T | 438ZR-40 |
| Black / 530 / 37T | 827ZK-37 |
| Red / 530 / 48T | 438ZR-48 |
| Black / 530 / 42T | 827ZK-42 |
| Red / 530 / 54T | 438ZR-54 |
| Black / 530 / 46T | 827ZK-46 |
| Red / 530 / 39T | 452ZR-39 |
| Black / 530 / 49T | 827ZK-49 |
| Red / 530 / 45T | 452ZR-45 |
| Black / 530 / 54T | 827ZK-54 |
| Red / 530 / 51T | 452ZR-51 |
| Black / 520 / 37T | 827AZK-37 |
| Red / 520 / 36T | 452AZR-36 |
| Black / 520 / 40T | 827AZK-40 |
| Red / 520 / 49T | 452AZR-49 |
| Black / 520 / 45T | 827AZK-45 |
| Red / 525 / 34T | 454ZR-34 |
| Black / 520 / 49T | 827AZK-49 |
| Red / 525 / 40T | 454ZR-40 |
| Black / 520 / 52T | 827AZK-52 |
| Red / 525 / 46T | 454ZR-46 |
| Blue / 525 / 46T | 195ZB-46 |
| Red / 525 / 52T | 454ZR-52 |
| Blue / 520 / 45T | 195AZB-45 |
| Red / 530 / 43T | 488ZR-43 |
| Blue / 520 / 48T | 195AZB-48 |
| Red / 530 / 49T | 488ZR-49 |
| Blue / 520 / 44T | 317ZB-44 |
| Red / 525 / 37T | 491ZR-37 |
| Blue / 530 / 35T | 232ZB-35 |
| Red / 525 / 43T | 491ZR-43 |
| Blue / 530 / 38T | 232ZB-38 |
| Red / 525 / 49T | 491ZR-49 |
| Blue / 530 / 43T | 232ZB-43 |
| Red / 520 / 37T | 491AZR-37 |
| Blue / 530 / 47T | 232ZB-47 |
| Red / 520 / 43T | 491AZR-43 |
| Blue / 530 / 50T | 232ZB-50 |
| Red / 520 / 49T | 491AZR-49 |
| Blue / 520 / 34T | 232AZB-34 |
| Red / 530 / 34T | 525ZR-34 |
| Blue / 520 / 38T | 232AZB-38 |
| Red / 530 / 40T | 525ZR-40 |
| Blue / 520 / 41T | 232AZB-41 |
| Red / 530 / 46T | 525ZR-46 |
| Blue / 520 / 46T | 232AZB-46 |
| Red / 530 / 52T | 525ZR-52 |
| Blue / 520 / 50T | 232AZB-50 |
| Red / 520 / 37T | 525AZR-37 |
| Blue / 520 / 53T | 232AZB-53 |
| Red / 520 / 43T | 525AZR-43 |
| Blue / 520 / 39T | 338ZB-39 |
| Red / 520 / 49T | 525AZR-49 |
| Blue / 520 / 43T | 338ZB-43 |
| Red / 525 / 36T | 526ZR-36 |
| Blue / 520 / 46T | 338ZB-46 |
| Red / 525 / 42T | 526ZR-42 |
| Blue / 520 / 51T | 338ZB-51 |
| Red / 525 / 54T | 526ZR-54 |
| Blue / 525 / 54T | 338CZB-54 |
| Red / 520 / 41T | 526AZR-41 |
| Blue / 530 / 36T | 427ZB-36 |
| Red / 520 / 53T | 526AZR-53 |
| Blue / 530 / 41T | 427ZB-41 |
| Red / 530 / 40T | 527ZR-40 |
| Blue / 530 / 45T | 427ZB-45 |
| Red / 530 / 51T | 527ZR-51 |
| Blue / 530 / 48T | 427ZB-48 |
| Red / 530 / 36T | 528ZR-36 |
| Blue / 530 / 53T | 427ZB-53 |
| Red / 530 / 42T | 528ZR-42 |
| Blue / 520 / 37T | 435ZB-37 |
| Red / 530 / 48T | 528ZR-48 |
| Blue / 520 / 40T | 435ZB-40 |
| Red / 530 / 54T | 528ZR-54 |
| Blue / 520 / 53T | 435ZB-53 |
| Red / 520 / 39T | 528AZR-39 |
| Blue / 525 / 37T | 435CZB-37 |
| Red / 520 / 45T | 528AZR-45 |
| Blue / 525 / 40T | 435CZB-40 |
| Red / 520 / 51T | 528AZR-51 |
| Blue / 525 / 49T | 435CZB-49 |
| Red / 525 / 36T | 528CZR-36 |
| Blue / 525 / 53T | 435CZB-53 |
| Red / 525 / 42T | 528CZR-42 |
| Blue / 530 / 37T | 436ZB-37 |
| Red / 525 / 48T | 528CZR-48 |
| Blue / 530 / 42T | 436ZB-42 |
| Red / 525 / 54T | 528CZR-54 |
| Blue / 530 / 46T | 436ZB-46 |
| Red / 530 / 43T | 641ZR-43 |
| Blue / 530 / 49T | 436ZB-49 |
| Red / 530 / 49T | 641ZR-49 |
| Blue / 530 / 54T | 436ZB-54 |
| Red / 520 / 38T | 641AZR-38 |
| Blue / 530 / 38T | 438ZB-38 |
| Red / 520 / 44T | 641AZR-44 |
| Blue / 530 / 41T | 438ZB-41 |
| Red / 520 / 50T | 641AZR-50 |
| Blue / 530 / 48T | 438ZB-48 |
| Red / 530 / 38T | 642ZR-38 |
| Blue / 530 / 52T | 438ZB-52 |
| Red / 530 / 44T | 642ZR-44 |
| Blue / 530 / 34T | 452ZB-34 |
| Red / 530 / 50T | 642ZR-50 |
| Blue / 530 / 39T | 452ZB-39 |
| Red / 520 / 38T | 642AZR-38 |
| Blue / 530 / 43T | 452ZB-43 |
| Red / 520 / 44T | 642AZR-44 |
| Blue / 530 / 46T | 452ZB-46 |
| Red / 520 / 50T | 642AZR-50 |
| Blue / 530 / 51T | 452ZB-51 |
| Red / 525 / 38T | 642CZR-38 |
| Blue / 520 / 34T | 452AZB-34 |
| Red / 525 / 44T | 642CZR-44 |
| Blue / 520 / 37T | 452AZB-37 |
| Red / 525 / 50T | 642CZR-50 |
| Blue / 520 / 49T | 452AZB-49 |
| Red / 525 / 40T V3 Style | 654ZR-40 |
| Blue / 520 / 53T | 452AZB-53 |
| Red / 520 / 40T V3 Style | 654AZR-40 |
| Blue / 525 / 35T | 454ZB-35 |
| Red / 520 / 46T V3 Style | 654AZR-46 |
| Blue / 525 / 40T | 454ZB-40 |
| Red / 530 / 46T | 767ZR-46 |
| Blue / 525 / 44T | 454ZB-44 |
| Red / 530 / 52T | 767ZR-52 |
| Blue / 525 / 47T | 454ZB-47 |
| Red / 520 / 45T | 767AZR-45 |
| Blue / 525 / 52T | 454ZB-52 |
| Red / 520 / 51T | 767AZR-51 |
| Blue / 530 / 41T | 488ZB-41 |
| Red / 525 / 36T | 775ZR-36 |
| Blue / 530 / 44T | 488ZB-44 |
| Red / 525 / 42T | 775ZR-42 |
| Blue / 530 / 49T | 488ZB-49 |
| Red / 525 / 48T | 775ZR-48 |
| Blue / 530 / 53T | 488ZB-53 |
| Red / 525 / 54T | 775ZR-54 |
| Blue / 525 / 38T | 491ZB-38 |
| Red / 520 / 39T | 775AZR-39 |
| Blue / 525 / 43T | 491ZB-43 |
| Red / 520 / 45T | 775AZR-45 |
| Blue / 525 / 47T | 491ZB-47 |
| Red / 520 / 51T | 775AZR-51 |
| Blue / 525 / 50T | 491ZB-50 |
| Red / 530 / 36T | 827ZR-36 |
| Blue / 520 / 37T | 491AZB-37 |
| Red / 530 / 42T | 827ZR-42 |
| Blue / 520 / 41T | 491AZB-41 |
| Red / 530 / 48T | 827ZR-48 |
| Blue / 520 / 44T | 491AZB-44 |
| Red / 530 / 54T | 827ZR-54 |
| Blue / 520 / 49T | 491AZB-49 |
| Red / 520 / 39T | 827AZR-39 |
| Blue / 520 / 53T | 491AZB-53 |
| Red / 520 / 45T | 827AZR-45 |
| Blue / 530 / 35T | 525ZB-35 |
| Red / 520 / 51T | 827AZR-51 |
| Blue / 530 / 40T | 525ZB-40 |
| Red / 520 / 46T | 435ZR-46 |
| Blue / 530 / 44T | 525ZB-44 |
| Red / 525 / 48T | 435CZR-48 |
| Blue / 530 / 47T | 525ZB-47 |
| Red / 520 / 43T | 452AZR-43 |
| Blue / 530 / 52T | 525ZB-52 |
| Blue / 520 / 35T | 525AZB-35 |
| Red / 520 / 42T | 249AZR-42 |
| Blue / 520 / 38T | 525AZB-38 |
| Black / 520 / 43T | 144AZK-43 |
| Blue / 520 / 43T | 525AZB-43 |
| Red / 520 / 46T | 249AZR-46 |
| Blue / 520 / 47T | 525AZB-47 |
| Black / 520 / 44T | 144AZK-44 |
| Blue / 520 / 50T | 525AZB-50 |
| Red / 520 / 50T | 249AZR-50 |
| Blue / 525 / 36T | 526ZB-36 |
| Black / 520 / 45T | 144AZK-45 |
| Blue / 525 / 40T | 526ZB-40 |
| Red / 520 / 54T | 249AZR-54 |
| Blue / 525 / 49T | 526ZB-49 |
| Black / 520 / 46T | 144AZK-46 |
| Blue / 525 / 54T | 526ZB-54 |
| Red / 530 / 45T | 249ZR-45 |
| Blue / 520 / 39T | 526AZB-39 |
| Black / 520 / 47T | 144AZK-47 |
| Blue / 520 / 42T | 526AZB-42 |
| Red / 530 / 49T | 249ZR-49 |
| Blue / 520 / 53T | 526AZB-53 |
| Black / 520 / 48T | 144AZK-48 |
| Blue / 530 / 38T | 527ZB-38 |
| Red / 530 / 53T | 249ZR-53 |
| Blue / 530 / 41T | 527ZB-41 |
| Black / 520 / 49T | 144AZK-49 |
| Blue / 530 / 51T | 527ZB-51 |
| Red / 520 / 41T | 251AZR-41 |
| Blue / 530 / 34T | 528ZB-34 |
| Black / 520 / 50T | 144AZK-50 |
| Blue / 530 / 37T | 528ZB-37 |
| Red / 520 / 45T | 251AZR-45 |
| Blue / 530 / 42T | 528ZB-42 |
| Black / 520 / 51T | 144AZK-51 |
| Blue / 530 / 46T | 528ZB-46 |
| Red / 520 / 49T | 251AZR-49 |
| Blue / 530 / 49T | 528ZB-49 |
| Black / 520 / 52T | 144AZK-52 |
| Blue / 530 / 54T | 528ZB-54 |
| Red / 520 / 53T | 251AZR-53 |
| Blue / 520 / 37T | 528AZB-37 |
| Black / 520 / 53T | 144AZK-53 |
| Blue / 520 / 40T | 528AZB-40 |
| Red / 530 / 41T | 251ZR-41 |
| Blue / 520 / 45T | 528AZB-45 |
| Black / 520 / 54T | 144AZK-54 |
| Blue / 520 / 49T | 528AZB-49 |
| Red / 530 / 45T | 251ZR-45 |
| Blue / 520 / 52T | 528AZB-52 |
| Black / 525 / 34T | 144ZK-34 |
| Blue / 525 / 36T | 528CZB-36 |
| Red / 530 / 49T | 251ZR-49 |
| Blue / 525 / 40T | 528CZB-40 |
| Black / 525 / 35T | 144ZK-35 |
| Blue / 525 / 43T | 528CZB-43 |
| Red / 530 / 53T | 251ZR-53 |
| Blue / 525 / 48T | 528CZB-48 |
| Black / 525 / 36T | 144ZK-36 |
| Blue / 525 / 52T | 528CZB-52 |
| Red / 525 / 41T | 252ZR-41 |
| Blue / 530 / 38T | 641ZB-38 |
| Black / 525 / 37T | 144ZK-37 |
| Blue / 530 / 43T | 641ZB-43 |
| Red / 525 / 45T | 252ZR-45 |
| Blue / 530 / 47T | 641ZB-47 |
| Black / 525 / 38T | 144ZK-38 |
| Blue / 530 / 50T | 641ZB-50 |
| Red / 525 / 49T | 252ZR-49 |
| Blue / 520 / 38T | 641AZB-38 |
| Black / 525 / 39T | 144ZK-39 |
| Blue / 520 / 42T | 641AZB-42 |
| Red / 525 / 53T | 252ZR-53 |
| Blue / 520 / 45T | 641AZB-45 |
| Black / 525 / 40T | 144ZK-40 |
| Blue / 520 / 50T | 641AZB-50 |
| Black / 525 / 45T | 195ZK-45 |
| Blue / 520 / 54T | 641AZB-54 |
| Black / 525 / 41T | 144ZK-41 |
| Blue / 530 / 39T | 642ZB-39 |
| Black / 520 / 43T | 195AZK-43 |
| Blue / 530 / 44T | 642ZB-44 |
| Black / 525 / 42T | 144ZK-42 |
| Blue / 530 / 48T | 642ZB-48 |
| Black / 520 / 47T | 195AZK-47 |
| Blue / 530 / 51T | 642ZB-51 |
| Black / 525 / 43T | 144ZK-43 |
| Blue / 520 / 38T | 642AZB-38 |
| Black / 520 / 37T | 245AZK-37 |
| Blue / 520 / 42T | 642AZB-42 |
| Black / 525 / 44T | 144ZK-44 |
| Blue / 520 / 45T | 642AZB-45 |
| Black / 520 / 44T | 317ZK-44 |
| Blue / 520 / 50T | 642AZB-50 |
| Black / 525 / 45T | 144ZK-45 |
| Blue / 520 / 54T | 642AZB-54 |
| Black / 520 / 48T | 317ZK-48 |
| Blue / 525 / 39T | 642CZB-39 |
| Black / 525 / 46T | 144ZK-46 |
| Blue / 525 / 44T | 642CZB-44 |
| Black / 530 / 36T | 232ZK-36 |
| Blue / 525 / 48T | 642CZB-48 |
| Black / 525 / 47T | 144ZK-47 |
| Blue / 525 / 51T | 642CZB-51 |
| Black / 530 / 40T | 232ZK-40 |
| Blue / 520 / 40T V3 Style | 654AZB-40 |
| Black / 525 / 48T | 144ZK-48 |
| Blue / 520 / 44T V3 Style | 654AZB-44 |
| Black / 530 / 44T | 232ZK-44 |
| Blue / 530 / 42T | 767ZB-42 |
| Black / 525 / 49T | 144ZK-49 |
| Blue / 530 / 47T | 767ZB-47 |
| Black / 530 / 48T | 232ZK-48 |
| Blue / 530 / 51T | 767ZB-51 |
| Black / 525 / 50T | 144ZK-50 |
| Blue / 530 / 54T | 767ZB-54 |
| Black / 530 / 52T | 232ZK-52 |
| Blue / 520 / 47T | 767AZB-47 |
| Black / 525 / 51T | 144ZK-51 |
| Blue / 520 / 51T | 767AZB-51 |
| Black / 520 / 35T | 232AZK-35 |
| Blue / 520 / 54T | 767AZB-54 |
| Black / 525 / 52T | 144ZK-52 |
| Blue / 525 / 38T | 775ZB-38 |
| Black / 520 / 39T | 232AZK-39 |
| Blue / 525 / 42T | 775ZB-42 |
| Black / 525 / 53T | 144ZK-53 |
| Blue / 525 / 45T | 775ZB-45 |
| Black / 520 / 43T | 232AZK-43 |
| Blue / 525 / 50T | 775ZB-50 |
| Black / 525 / 54T | 144ZK-54 |
| Blue / 525 / 54T | 775ZB-54 |
| Black / 520 / 47T | 232AZK-47 |
| Blue / 520 / 36T | 775AZB-36 |
| Black / 520 / 38T | 193AZK-38 |
| Blue / 520 / 41T | 775AZB-41 |
| Black / 520 / 51T | 232AZK-51 |
| Blue / 525 / 37T | 338CZB-37 |
| Black / 520 / 39T | 193AZK-39 |
| Blue / 525 / 38T | 338CZB-38 |
| Black / 520 / 36T | 338ZK-36 |
| Blue / 520 / 53T | 775AZB-53 |
| Black / 520 / 40T | 193AZK-40 |
| Blue / 525 / 41T | 338CZB-41 |
| Black / 520 / 40T | 338ZK-40 |
| Blue / 525 / 42T | 338CZB-42 |
| Black / 520 / 41T | 193AZK-41 |
| Blue / 530 / 44T | 827ZB-44 |
| Black / 520 / 44T | 338ZK-44 |
| Blue / 525 / 45T | 338CZB-45 |
| Black / 520 / 42T | 193AZK-42 |
| Blue / 525 / 46T | 338CZB-46 |
| Black / 520 / 48T | 338ZK-48 |
| Blue / 520 / 35T | 827AZB-35 |
| Black / 520 / 43T | 193AZK-43 |
| Blue / 525 / 49T | 338CZB-49 |
| Black / 520 / 52T | 338ZK-52 |
| Blue / 525 / 50T | 338CZB-50 |
| Black / 520 / 44T | 193AZK-44 |
| Blue / 520 / 47T | 827AZB-47 |
| Black / 525 / 37T | 338CZK-37 |
| Red / 520 / 34T | 110AZR-34 |
| Black / 520 / 45T | 193AZK-45 |
| Red / 520 / 35T | 110AZR-35 |
| Black / 525 / 41T | 338CZK-41 |
| Blue / 525 / 48T | 195ZB-48 |
| Black / 520 / 46T | 193AZK-46 |
| Red / 520 / 38T | 110AZR-38 |
| Black / 525 / 45T | 338CZK-45 |
| Red / 520 / 39T | 110AZR-39 |
| Black / 520 / 47T | 193AZK-47 |
| Blue / 530 / 45T | 438ZB-45 |
| Black / 525 / 49T | 338CZK-49 |
| Red / 520 / 42T | 110AZR-42 |
| Black / 520 / 48T | 193AZK-48 |
| Red / 520 / 43T | 110AZR-43 |
| Black / 525 / 53T | 338CZK-53 |
| Blue / 525 / 46T | 526ZB-46 |
| Black / 525 / 40T | 193ZK-40 |
| Red / 520 / 46T | 110AZR-46 |
| Black / 530 / 36T | 427ZK-36 |
| Red / 520 / 47T | 110AZR-47 |
| Black / 525 / 41T | 193ZK-41 |
| Red / 520 / 42T | 317ZR-42 |
| Black / 530 / 40T | 427ZK-40 |
| Red / 520 / 50T | 110AZR-50 |
| Black / 525 / 48T | 193ZK-48 |
| Red / 520 / 51T | 110AZR-51 |
| Black / 530 / 44T | 427ZK-44 |
| Red / 530 / 41T | 232ZR-41 |
| Black / 525 / 49T | 193ZK-49 |
| Red / 520 / 54T | 110AZR-54 |
| Black / 530 / 48T | 427ZK-48 |
| Red / 525 / 34T | 110ZR-34 |
| Black / 525 / 53T | 193ZK-53 |
| Red / 530 / 53T | 232ZR-53 |
| Black / 530 / 52T | 427ZK-52 |
| Red / 525 / 37T | 110ZR-37 |
| Black / 420 / 33T | 206ZK-33 |
| Red / 525 / 38T | 110ZR-38 |
| Black / 520 / 36T | 435ZK-36 |
| Red / 520 / 44T | 232AZR-44 |
| Black / 420 / 34T | 206ZK-34 |
| Red / 525 / 41T | 110ZR-41 |
| Black / 520 / 40T | 435ZK-40 |
| Red / 525 / 42T | 110ZR-42 |
| Black / 420 / 35T | 206ZK-35 |
| Red / 520 / 37T | 338ZR-37 |
| Black / 520 / 52T | 435ZK-52 |
| Red / 525 / 45T | 110ZR-45 |
| Black / 420 / 36T | 206ZK-36 |
| Red / 525 / 46T | 110ZR-46 |
| Black / 525 / 36T | 435CZK-36 |
| Red / 520 / 49T | 338ZR-49 |
| Black / 420 / 37T | 206ZK-37 |
| Red / 525 / 49T | 110ZR-49 |
| Black / 525 / 40T | 435CZK-40 |
| Red / 525 / 50T | 110ZR-50 |
| Black / 420 / 41T | 206ZK-41 |
| Red / 525 / 42T | 338CZR-42 |
| Black / 525 / 44T | 435CZK-44 |
| Red / 525 / 53T | 110ZR-53 |
| Black / 520 / 35T | 211ZK-35 |
| Red / 525 / 54T | 110ZR-54 |
| Black / 525 / 52T | 435CZK-52 |
| Red / 525 / 54T | 338CZR-54 |
| Black / 520 / 36T | 211ZK-36 |
| Red / 520 / 36T | 120AZR-36 |
| Black / 530 / 37T | 436ZK-37 |
| Red / 520 / 37T | 120AZR-37 |
| Black / 520 / 37T | 211ZK-37 |
| Red / 530 / 45T | 427ZR-45 |
| Black / 530 / 41T | 436ZK-41 |
| Red / 520 / 40T | 120AZR-40 |
| Black / 520 / 38T | 211ZK-38 |
| Red / 520 / 41T | 120AZR-41 |
| Black / 530 / 45T | 436ZK-45 |
| Red / 520 / 37T | 435ZR-37 |
| Black / 520 / 39T | 211ZK-39 |
| Red / 520 / 44T | 120AZR-44 |
| Black / 530 / 49T | 436ZK-49 |
| Red / 520 / 45T | 120AZR-45 |
| Black / 520 / 40T | 211ZK-40 |
| Red / 525 / 37T | 435CZR-37 |
| Black / 530 / 53T | 436ZK-53 |
| Red / 520 / 48T | 120AZR-48 |
| Black / 520 / 41T | 211ZK-41 |
| Red / 520 / 49T | 120AZR-49 |
| Black / 530 / 37T | 438ZK-37 |
| Red / 525 / 53T | 435CZR-53 |
| Black / 520 / 42T | 211ZK-42 |
| Red / 520 / 52T | 120AZR-52 |
| Black / 530 / 41T | 438ZK-41 |
| Red / 520 / 53T | 120AZR-53 |
| Black / 520 / 43T | 211ZK-43 |
| Red / 530 / 46T | 436ZR-46 |
| Black / 530 / 46T | 438ZK-46 |
| Red / 525 / 35T | 120ZR-35 |
| Black / 520 / 44T | 211ZK-44 |
| Red / 525 / 36T | 120ZR-36 |
| Black / 530 / 51T | 438ZK-51 |
| Red / 530 / 38T | 438ZR-38 |
| Black / 520 / 45T | 211ZK-45 |
| Red / 525 / 39T | 120ZR-39 |
| Black / 530 / 34T | 452ZK-34 |
| Red / 525 / 40T | 120ZR-40 |
| Black / 520 / 46T | 211ZK-46 |
| Red / 530 / 52T | 438ZR-52 |
| Black / 530 / 38T | 452ZK-38 |
| Red / 525 / 43T | 120ZR-43 |
| Black / 520 / 38T | 245AZK-38 |
| Red / 525 / 44T | 120ZR-44 |
| Black / 530 / 42T | 452ZK-42 |
| Red / 530 / 43T | 452ZR-43 |
| Black / 520 / 39T | 245AZK-39 |
| Red / 525 / 47T | 120ZR-47 |
| Black / 530 / 46T | 452ZK-46 |
| Red / 525 / 48T | 120ZR-48 |
| Black / 520 / 40T | 245AZK-40 |
| Red / 520 / 34T | 452AZR-34 |
| Black / 530 / 50T | 452ZK-50 |
| Red / 525 / 51T | 120ZR-51 |
| Black / 520 / 41T | 245AZK-41 |
| Red / 525 / 52T | 120ZR-52 |
| Black / 530 / 54T | 452ZK-54 |
| Red / 520 / 53T | 452AZR-53 |
| Black / 520 / 42T | 245AZK-42 |
| Red / 520 / 37T | 125ZR-37 |
| Black / 520 / 37T | 452AZK-37 |
| Red / 520 / 38T | 125ZR-38 |
| Black / 520 / 43T | 245AZK-43 |
| Red / 525 / 44T | 454ZR-44 |
| Black / 520 / 48T | 452AZK-48 |
| Red / 520 / 41T | 125ZR-41 |
| Black / 520 / 44T | 245AZK-44 |
| Red / 520 / 42T | 125ZR-42 |
| Black / 520 / 52T | 452AZK-52 |
| Red / 530 / 41T | 488ZR-41 |
| Black / 520 / 45T | 245AZK-45 |
| Red / 520 / 45T | 125ZR-45 |
| Black / 525 / 35T | 454ZK-35 |
| Red / 520 / 46T | 125ZR-46 |
| Black / 520 / 46T | 245AZK-46 |
| Red / 530 / 53T | 488ZR-53 |
| Black / 525 / 39T | 454ZK-39 |
| Red / 520 / 49T | 125ZR-49 |
| Black / 520 / 47T | 245AZK-47 |
| Red / 520 / 50T | 125ZR-50 |
| Black / 525 / 43T | 454ZK-43 |
| Red / 525 / 47T | 491ZR-47 |
| Black / 520 / 48T | 245AZK-48 |
| Red / 520 / 53T | 125ZR-53 |
| Black / 525 / 47T | 454ZK-47 |
| Red / 520 / 54T | 125ZR-54 |
| Black / 520 / 49T | 245AZK-49 |
| Red / 520 / 41T | 491AZR-41 |
| Black / 525 / 51T | 454ZK-51 |
| Red / 520 / 36T | 144AZR-36 |
| Black / 520 / 50T | 245AZK-50 |
| Red / 520 / 37T | 144AZR-37 |
| Black / 530 / 40T | 488ZK-40 |
| Red / 520 / 53T | 491AZR-53 |
| Black / 520 / 51T | 245AZK-51 |
| Red / 520 / 40T | 144AZR-40 |
| Black / 530 / 44T | 488ZK-44 |
| Red / 520 / 41T | 144AZR-41 |
| Black / 520 / 52T | 245AZK-52 |
| Red / 530 / 44T | 525ZR-44 |
| Black / 530 / 48T | 488ZK-48 |
| Red / 520 / 44T | 144AZR-44 |
| Black / 520 / 53T | 245AZK-53 |
| Red / 520 / 45T | 144AZR-45 |
| Black / 530 / 52T | 488ZK-52 |
| Red / 520 / 35T | 525AZR-35 |
| Black / 520 / 54T | 245AZK-54 |
| Red / 520 / 48T | 144AZR-48 |
| Black / 525 / 38T | 491ZK-38 |
| Red / 520 / 49T | 144AZR-49 |
| Black / 530 / 37T | 245ZK-37 |
| Red / 520 / 47T | 525AZR-47 |
| Black / 525 / 42T | 491ZK-42 |
| Red / 520 / 52T | 144AZR-52 |
| Black / 530 / 38T | 245ZK-38 |
| Red / 520 / 53T | 144AZR-53 |
| Black / 525 / 46T | 491ZK-46 |
| Red / 525 / 40T | 526ZR-40 |
| Black / 530 / 39T | 245ZK-39 |
| Red / 525 / 35T | 144ZR-35 |
| Black / 525 / 50T | 491ZK-50 |
| Red / 525 / 36T | 144ZR-36 |
| Black / 530 / 40T | 245ZK-40 |
| Red / 520 / 39T | 526AZR-39 |
| Black / 525 / 54T | 491ZK-54 |
| Red / 525 / 39T | 144ZR-39 |
| Black / 530 / 41T | 245ZK-41 |
| Red / 525 / 40T | 144ZR-40 |
| Black / 520 / 40T | 491AZK-40 |
| Red / 530 / 38T | 527ZR-38 |
| Black / 530 / 42T | 245ZK-42 |
| Red / 525 / 43T | 144ZR-43 |
| Black / 520 / 44T | 491AZK-44 |
| Red / 525 / 44T | 144ZR-44 |
| Black / 530 / 43T | 245ZK-43 |
| Red / 530 / 34T | 528ZR-34 |
| Black / 520 / 48T | 491AZK-48 |
| Red / 525 / 47T | 144ZR-47 |
| Black / 530 / 44T | 245ZK-44 |
| Red / 525 / 48T | 144ZR-48 |
| Black / 520 / 52T | 491AZK-52 |
| Red / 530 / 46T | 528ZR-46 |
| Black / 530 / 45T | 245ZK-45 |
| Red / 525 / 51T | 144ZR-51 |
| Black / 530 / 35T | 525ZK-35 |
| Red / 525 / 52T | 144ZR-52 |
| Black / 530 / 46T | 245ZK-46 |
| Red / 520 / 37T | 528AZR-37 |
| Black / 530 / 39T | 525ZK-39 |
| Red / 520 / 42T | 193AZR-42 |
| Black / 530 / 47T | 245ZK-47 |
| Red / 520 / 44T | 193AZR-44 |
| Black / 530 / 43T | 525ZK-43 |
| Red / 520 / 49T | 528AZR-49 |
| Black / 530 / 48T | 245ZK-48 |
| Red / 525 / 44T | 193ZR-44 |
| Black / 530 / 47T | 525ZK-47 |
| Red / 525 / 45T | 193ZR-45 |
| Black / 530 / 49T | 245ZK-49 |
| Red / 525 / 40T | 528CZR-40 |
| Black / 530 / 51T | 525ZK-51 |
| Red / 420 / 34T | 206ZR-34 |
| Black / 530 / 50T | 245ZK-50 |
| Red / 420 / 35T | 206ZR-35 |
| Black / 520 / 34T | 525AZK-34 |
| Red / 525 / 52T | 528CZR-52 |
| Black / 530 / 51T | 245ZK-51 |
| Red / 420 / 41T | 206ZR-41 |
| Black / 520 / 38T | 525AZK-38 |
| Red / 520 / 35T | 211ZR-35 |
| Black / 530 / 52T | 245ZK-52 |
| Red / 530 / 47T | 641ZR-47 |
| Black / 520 / 42T | 525AZK-42 |
| Red / 520 / 38T | 211ZR-38 |
| Black / 530 / 53T | 245ZK-53 |
| Red / 520 / 39T | 211ZR-39 |
| Black / 520 / 46T | 525AZK-46 |
| Red / 520 / 42T | 641AZR-42 |
| Black / 530 / 54T | 245ZK-54 |
| Red / 520 / 42T | 211ZR-42 |
| Black / 520 / 50T | 525AZK-50 |
| Red / 520 / 43T | 211ZR-43 |
| Black / 525 / 37T | 247ZK-37 |
| Red / 520 / 54T | 641AZR-54 |
| Black / 520 / 54T | 525AZK-54 |
| Red / 520 / 46T | 211ZR-46 |
| Black / 525 / 38T | 247ZK-38 |
| Red / 520 / 38T | 245AZR-38 |
| Black / 525 / 39T | 526ZK-39 |
| Red / 530 / 48T | 642ZR-48 |
| Black / 525 / 39T | 247ZK-39 |
| Red / 520 / 41T | 245AZR-41 |
| Black / 525 / 49T | 526ZK-49 |
| Red / 520 / 42T | 245AZR-42 |
| Black / 525 / 40T | 247ZK-40 |
| Red / 520 / 42T | 642AZR-42 |
| Black / 525 / 53T | 526ZK-53 |
| Red / 520 / 45T | 245AZR-45 |
| Black / 525 / 41T | 247ZK-41 |
| Red / 520 / 46T | 245AZR-46 |
| Black / 520 / 38T | 526AZK-38 |
| Red / 520 / 54T | 642AZR-54 |
| Black / 525 / 42T | 247ZK-42 |
| Red / 520 / 49T | 245AZR-49 |
| Black / 520 / 42T | 526AZK-42 |
| Red / 520 / 50T | 245AZR-50 |
| Black / 525 / 43T | 247ZK-43 |
| Red / 525 / 48T | 642CZR-48 |
| Black / 520 / 52T | 526AZK-52 |
| Red / 520 / 53T | 245AZR-53 |
| Black / 525 / 44T | 247ZK-44 |
| Red / 520 / 54T | 245AZR-54 |
| Black / 530 / 37T | 527ZK-37 |
| Red / 525 / 44T V3 Style | 654ZR-44 |
| Black / 525 / 45T | 247ZK-45 |
| Red / 530 / 39T | 245ZR-39 |
| Black / 530 / 41T | 527ZK-41 |
| Red / 530 / 40T | 245ZR-40 |
| Black / 525 / 46T | 247ZK-46 |
| Red / 530 / 44T | 767ZR-44 |
| Black / 530 / 50T | 527ZK-50 |
| Red / 530 / 43T | 245ZR-43 |
| Black / 525 / 47T | 247ZK-47 |
| Red / 530 / 44T | 245ZR-44 |
| Black / 530 / 54T | 527ZK-54 |
| Red / 520 / 43T | 767AZR-43 |
| Black / 525 / 48T | 247ZK-48 |
| Red / 530 / 47T | 245ZR-47 |
| Black / 530 / 37T | 528ZK-37 |
| Red / 530 / 48T | 245ZR-48 |
| Black / 525 / 49T | 247ZK-49 |
| Red / 525 / 34T | 775ZR-34 |
| Black / 530 / 41T | 528ZK-41 |
| Red / 530 / 51T | 245ZR-51 |
| Black / 525 / 50T | 247ZK-50 |
| Red / 530 / 52T | 245ZR-52 |
| Black / 530 / 45T | 528ZK-45 |
| Red / 525 / 46T | 775ZR-46 |
| Black / 525 / 51T | 247ZK-51 |
| Red / 525 / 37T | 247ZR-37 |
| Black / 530 / 49T | 528ZK-49 |
| Red / 525 / 38T | 247ZR-38 |
| Black / 525 / 52T | 247ZK-52 |
| Red / 520 / 37T | 775AZR-37 |
| Black / 530 / 53T | 528ZK-53 |
| Red / 525 / 41T | 247ZR-41 |
| Black / 525 / 53T | 247ZK-53 |
| Red / 525 / 42T | 247ZR-42 |
| Black / 520 / 36T | 528AZK-36 |
| Red / 520 / 49T | 775AZR-49 |
| Black / 525 / 54T | 247ZK-54 |
| Red / 525 / 45T | 247ZR-45 |
| Black / 520 / 40T | 528AZK-40 |
| Red / 525 / 46T | 247ZR-46 |
| Black / 530 / 42T | 248ZK-42 |
| Red / 530 / 40T | 827ZR-40 |
| Black / 520 / 44T | 528AZK-44 |
| Red / 525 / 49T | 247ZR-49 |
| Black / 530 / 43T | 248ZK-43 |
| Red / 525 / 50T | 247ZR-50 |
| Black / 520 / 48T | 528AZK-48 |
| Red / 530 / 52T | 827ZR-52 |
| Black / 530 / 44T | 248ZK-44 |
| Red / 525 / 53T | 247ZR-53 |
| Black / 520 / 52T | 528AZK-52 |
| Red / 525 / 54T | 247ZR-54 |
| Black / 530 / 45T | 248ZK-45 |
| Red / 520 / 43T | 827AZR-43 |
| Black / 525 / 35T | 528CZK-35 |
| Red / 530 / 44T | 248ZR-44 |
| Black / 530 / 46T | 248ZK-46 |
| Red / 530 / 45T | 248ZR-45 |
| Black / 525 / 39T | 528CZK-39 |
| Red / 520 / 43T | 435ZR-43 |
| Black / 530 / 47T | 248ZK-47 |
| Red / 530 / 48T | 248ZR-48 |
| Black / 525 / 43T | 528CZK-43 |
| Red / 530 / 49T | 248ZR-49 |
| Black / 530 / 48T | 248ZK-48 |
| Red / 520 / 41T | 452AZR-41 |
| Black / 525 / 47T | 528CZK-47 |
| Red / 530 / 52T | 248ZR-52 |
| Black / 530 / 49T | 248ZK-49 |
| Red / 530 / 53T | 248ZR-53 |
| Black / 525 / 51T | 528CZK-51 |
| Red / 520 / 46T | 526AZR-46 |
| Black / 530 / 50T | 248ZK-50 |
| Red / 520 / 43T | 249AZR-43 |
| Black / 530 / 38T | 641ZK-38 |
| Red / 520 / 44T | 249AZR-44 |
| Black / 530 / 51T | 248ZK-51 |
| Red / 520 / 43T | 526AZR-43 |
| Black / 530 / 42T | 641ZK-42 |
| Red / 520 / 47T | 249AZR-47 |
| Black / 530 / 52T | 248ZK-52 |
| Red / 520 / 48T | 249AZR-48 |
| Blue / 520 / 45T | 775AZB-45 |
| Black / 530 / 46T | 641ZK-46 |
| Black / 530 / 53T | 248ZK-53 |
| Red / 520 / 51T | 249AZR-51 |
| Blue / 520 / 51T | 775AZB-51 |
| Red / 520 / 52T | 249AZR-52 |
| Black / 530 / 54T | 248ZK-54 |
| Black / 530 / 52T | 641ZK-52 |
| Blue / 530 / 36T | 827ZB-36 |
| Red / 530 / 42T | 249ZR-42 |
| Black / 520 / 42T | 249AZK-42 |
| Red / 530 / 43T | 249ZR-43 |
| Blue / 530 / 42T | 827ZB-42 |
| Black / 520 / 41T | 641AZK-41 |
| Black / 520 / 43T | 249AZK-43 |
| Red / 530 / 46T | 249ZR-46 |
| Blue / 530 / 48T | 827ZB-48 |
| Red / 530 / 47T | 249ZR-47 |
| Black / 520 / 44T | 249AZK-44 |
| Black / 520 / 47T | 641AZK-47 |
| Blue / 530 / 54T | 827ZB-54 |
| Red / 530 / 50T | 249ZR-50 |
| Black / 520 / 45T | 249AZK-45 |
| Red / 530 / 51T | 249ZR-51 |
| Blue / 520 / 39T | 827AZB-39 |
| Black / 520 / 53T | 641AZK-53 |
| Black / 520 / 46T | 249AZK-46 |
| Red / 530 / 54T | 249ZR-54 |
| Blue / 520 / 45T | 827AZB-45 |
| Red / 520 / 39T | 251AZR-39 |
| Black / 520 / 47T | 249AZK-47 |
| Black / 530 / 41T | 642ZK-41 |
| Blue / 520 / 51T | 827AZB-51 |
| Red / 520 / 42T | 251AZR-42 |
| Black / 520 / 48T | 249AZK-48 |
| Red / 520 / 43T | 251AZR-43 |
| Blue / 525 / 43T | 195ZB-43 |
| Black / 530 / 47T | 642ZK-47 |
| Black / 520 / 49T | 249AZK-49 |
| Red / 520 / 46T | 251AZR-46 |
| Blue / 520 / 44T | 435ZB-44 |
| Red / 520 / 47T | 251AZR-47 |
| Black / 520 / 50T | 249AZK-50 |
| Black / 530 / 53T | 642ZK-53 |
| Blue / 525 / 47T | 435CZB-47 |
| Red / 520 / 50T | 251AZR-50 |
| Black / 520 / 51T | 249AZK-51 |
| Red / 520 / 51T | 251AZR-51 |
| Blue / 520 / 42T | 452AZB-42 |
| Black / 520 / 41T | 642AZK-41 |
| Black / 520 / 52T | 249AZK-52 |
| Red / 520 / 54T | 251AZR-54 |
| Blue / 525 / 44T | 526ZB-44 |
| Red / 530 / 39T | 251ZR-39 |
| Black / 520 / 53T | 249AZK-53 |
| Black / 520 / 47T | 642AZK-47 |
| Blue / 520 / 48T | 526AZB-48 |
| Red / 530 / 42T | 251ZR-42 |
| Black / 520 / 54T | 249AZK-54 |
| Red / 530 / 43T | 251ZR-43 |
| Red / 520 / 37T | 245AZR-37 |
| Black / 520 / 53T | 642AZK-53 |
| Black / 530 / 42T | 249ZK-42 |
| Red / 530 / 46T | 251ZR-46 |
| Red / 520 / 47T | 317ZR-47 |
| Red / 530 / 47T | 251ZR-47 |
| Black / 530 / 43T | 249ZK-43 |
| Black / 525 / 41T | 642CZK-41 |
| Red / 530 / 39T | 232ZR-39 |
| Red / 530 / 50T | 251ZR-50 |
| Black / 530 / 44T | 249ZK-44 |
| Red / 530 / 51T | 251ZR-51 |
| Red / 530 / 45T | 232ZR-45 |
| Black / 525 / 47T | 642CZK-47 |
| Black / 530 / 45T | 249ZK-45 |
| Red / 530 / 54T | 251ZR-54 |
| Red / 530 / 51T | 232ZR-51 |
| Red / 525 / 39T | 252ZR-39 |
| Black / 530 / 46T | 249ZK-46 |
| Black / 525 / 53T | 642CZK-53 |
| Red / 520 / 36T | 232AZR-36 |
| Red / 525 / 42T | 252ZR-42 |
| Black / 530 / 47T | 249ZK-47 |
| Red / 525 / 43T | 252ZR-43 |
| Red / 520 / 42T | 232AZR-42 |
| Black / 525 / 43T V3 Style | 654ZK-43 |
| Black / 530 / 48T | 249ZK-48 |
| Red / 525 / 46T | 252ZR-46 |
| Red / 520 / 48T | 232AZR-48 |
| Red / 525 / 47T | 252ZR-47 |
| Black / 530 / 49T | 249ZK-49 |
| Black / 520 / 43T V3 Style | 654AZK-43 |
| Red / 520 / 54T | 232AZR-54 |
| Red / 525 / 50T | 252ZR-50 |
| Black / 530 / 50T | 249ZK-50 |
| Red / 525 / 51T | 252ZR-51 |
| Red / 520 / 41T | 338ZR-41 |
| Black / 530 / 43T | 767ZK-43 |
| Black / 530 / 51T | 249ZK-51 |
| Red / 525 / 54T | 252ZR-54 |
| Red / 520 / 47T | 338ZR-47 |
| Black / 525 / 41T | 195ZK-41 |
| Black / 530 / 52T | 249ZK-52 |
| Black / 530 / 49T | 767ZK-49 |
| Red / 520 / 53T | 338ZR-53 |
| Black / 525 / 46T | 195ZK-46 |
| Black / 530 / 53T | 249ZK-53 |
| Black / 520 / 39T | 195AZK-39 |
| Red / 525 / 40T | 338CZR-40 |
| Black / 520 / 42T | 767AZK-42 |
| Black / 530 / 54T | 249ZK-54 |
| Black / 520 / 44T | 195AZK-44 |
| Red / 525 / 46T | 338CZR-46 |
| Black / 520 / 45T | 195AZK-45 |
| Black / 520 / 39T | 251AZK-39 |
| Black / 520 / 48T | 767AZK-48 |
| Red / 525 / 52T | 338CZR-52 |
| Black / 520 / 48T | 195AZK-48 |
| Black / 520 / 40T | 251AZK-40 |
| Black / 520 / 50T | 195AZK-50 |
| Red / 530 / 37T | 427ZR-37 |
| Black / 520 / 54T | 767AZK-54 |
| Black / 520 / 41T | 251AZK-41 |
| Black / 520 / 41T | 317ZK-41 |
| Red / 530 / 43T | 427ZR-43 |
| Black / 520 / 42T | 317ZK-42 |
| Black / 520 / 47T | 251AZK-47 |
| Black / 525 / 39T | 775ZK-39 |
| Red / 530 / 49T | 427ZR-49 |
| Black / 520 / 45T | 317ZK-45 |
| Black / 520 / 48T | 251AZK-48 |
| Black / 520 / 46T | 317ZK-46 |
| Red / 520 / 35T | 435ZR-35 |
| Black / 525 / 45T | 775ZK-45 |
| Black / 520 / 49T | 251AZK-49 |
| Black / 520 / 49T | 317ZK-49 |
| Red / 520 / 41T | 435ZR-41 |
| Black / 530 / 34T | 232ZK-34 |
| Black / 520 / 50T | 251AZK-50 |
| Black / 525 / 51T | 775ZK-51 |
| Red / 525 / 35T | 435CZR-35 |
| Black / 530 / 37T | 232ZK-37 |
| Black / 520 / 51T | 251AZK-51 |
| Black / 530 / 38T | 232ZK-38 |
| Red / 525 / 41T | 435CZR-41 |
| Black / 520 / 36T | 775AZK-36 |
| Black / 520 / 52T | 251AZK-52 |
| Black / 530 / 41T | 232ZK-41 |
| Red / 525 / 51T | 435CZR-51 |
| Black / 530 / 42T | 232ZK-42 |
| Black / 520 / 53T | 251AZK-53 |
| Black / 520 / 42T | 775AZK-42 |
| Red / 530 / 38T | 436ZR-38 |
| Black / 530 / 45T | 232ZK-45 |
| Black / 520 / 54T | 251AZK-54 |
| Black / 530 / 46T | 232ZK-46 |
| Red / 530 / 44T | 436ZR-44 |
| Black / 520 / 48T | 775AZK-48 |
| Black / 530 / 39T | 251ZK-39 |
| Black / 530 / 49T | 232ZK-49 |
| Red / 530 / 50T | 436ZR-50 |
| Black / 530 / 50T | 232ZK-50 |
| Black / 530 / 40T | 251ZK-40 |
| Black / 520 / 54T | 775AZK-54 |
| Red / 530 / 36T | 438ZR-36 |
| Black / 530 / 53T | 232ZK-53 |
| Black / 530 / 41T | 251ZK-41 |
| Black / 530 / 54T | 232ZK-54 |
| Red / 530 / 42T | 438ZR-42 |
| Black / 530 / 39T | 827ZK-39 |
| Black / 530 / 42T | 251ZK-42 |
| Black / 520 / 36T | 232AZK-36 |
| Red / 530 / 50T | 438ZR-50 |
| Black / 520 / 37T | 232AZK-37 |
| Black / 530 / 43T | 251ZK-43 |
| Black / 530 / 45T | 827ZK-45 |
| Red / 530 / 35T | 452ZR-35 |
| Black / 520 / 40T | 232AZK-40 |
| Black / 530 / 44T | 251ZK-44 |
| Black / 520 / 41T | 232AZK-41 |
| Red / 530 / 41T | 452ZR-41 |
| Black / 530 / 51T | 827ZK-51 |
| Black / 530 / 45T | 251ZK-45 |
| Black / 520 / 44T | 232AZK-44 |
| Red / 530 / 47T | 452ZR-47 |
| Black / 520 / 45T | 232AZK-45 |
| Black / 530 / 46T | 251ZK-46 |
| Black / 520 / 36T | 827AZK-36 |
| Red / 530 / 53T | 452ZR-53 |
| Black / 520 / 48T | 232AZK-48 |
| Black / 530 / 47T | 251ZK-47 |
| Black / 520 / 49T | 232AZK-49 |
| Red / 520 / 38T | 452AZR-38 |
| Black / 520 / 42T | 827AZK-42 |
| Black / 530 / 48T | 251ZK-48 |
| Black / 520 / 52T | 232AZK-52 |
| Red / 520 / 51T | 452AZR-51 |
| Black / 520 / 53T | 232AZK-53 |
| Black / 530 / 49T | 251ZK-49 |
| Black / 520 / 48T | 827AZK-48 |
| Red / 525 / 36T | 454ZR-36 |
| Black / 520 / 37T | 338ZK-37 |
| Black / 530 / 50T | 251ZK-50 |
| Black / 520 / 38T | 338ZK-38 |
| Red / 525 / 42T | 454ZR-42 |
| Black / 520 / 54T | 827AZK-54 |
| Black / 530 / 51T | 251ZK-51 |
| Black / 520 / 41T | 338ZK-41 |
| Red / 525 / 48T | 454ZR-48 |
| Black / 520 / 42T | 338ZK-42 |
| Black / 530 / 52T | 251ZK-52 |
| Blue / 520 / 44T | 195AZB-44 |
| Red / 525 / 54T | 454ZR-54 |
| Black / 520 / 45T | 338ZK-45 |
| Black / 530 / 53T | 251ZK-53 |
| Black / 520 / 46T | 338ZK-46 |
| Red / 530 / 45T | 488ZR-45 |
| Blue / 520 / 41T | 317ZB-41 |
| Black / 530 / 54T | 251ZK-54 |
| Black / 520 / 49T | 338ZK-49 |
| Red / 530 / 51T | 488ZR-51 |
| Black / 520 / 50T | 338ZK-50 |
| Black / 525 / 39T | 252ZK-39 |
| Blue / 530 / 34T | 232ZB-34 |
| Red / 525 / 39T | 491ZR-39 |
| Black / 520 / 53T | 338ZK-53 |
| Black / 525 / 40T | 252ZK-40 |
| Black / 520 / 54T | 338ZK-54 |
| Red / 525 / 45T | 491ZR-45 |
| Blue / 530 / 40T | 232ZB-40 |
| Black / 525 / 41T | 252ZK-41 |
| Black / 525 / 38T | 338CZK-38 |
| Red / 525 / 51T | 491ZR-51 |
| Black / 525 / 39T | 338CZK-39 |
| Black / 525 / 42T | 252ZK-42 |
| Blue / 530 / 46T | 232ZB-46 |
| Red / 520 / 39T | 491AZR-39 |
| Black / 525 / 42T | 338CZK-42 |
| Black / 525 / 43T | 252ZK-43 |
| Black / 525 / 43T | 338CZK-43 |
| Red / 520 / 45T | 491AZR-45 |
| Blue / 530 / 52T | 232ZB-52 |
| Black / 525 / 47T | 252ZK-47 |
| Black / 525 / 46T | 338CZK-46 |
| Red / 520 / 51T | 491AZR-51 |
| Black / 525 / 47T | 338CZK-47 |
| Black / 525 / 48T | 252ZK-48 |
| Blue / 520 / 37T | 232AZB-37 |
| Red / 530 / 36T | 525ZR-36 |
| Black / 525 / 50T | 338CZK-50 |
| Black / 525 / 49T | 252ZK-49 |
| Black / 525 / 51T | 338CZK-51 |
| Red / 530 / 42T | 525ZR-42 |
| Blue / 520 / 43T | 232AZB-43 |
| Black / 525 / 50T | 252ZK-50 |
| Black / 525 / 54T | 338CZK-54 |
| Red / 530 / 48T | 525ZR-48 |
| Black / 530 / 34T | 427ZK-34 |
| Black / 525 / 51T | 252ZK-51 |
| Blue / 520 / 49T | 232AZB-49 |
| Red / 530 / 54T | 525ZR-54 |
| Black / 530 / 37T | 427ZK-37 |
| Black / 525 / 52T | 252ZK-52 |
| Black / 530 / 38T | 427ZK-38 |
| Red / 520 / 39T | 525AZR-39 |
| Blue / 520 / 36T | 338ZB-36 |
| Black / 525 / 53T | 252ZK-53 |
| Black / 530 / 41T | 427ZK-41 |
| Red / 520 / 45T | 525AZR-45 |
| Black / 530 / 42T | 427ZK-42 |
| Black / 525 / 54T | 252ZK-54 |
| Blue / 520 / 42T | 338ZB-42 |
| Red / 520 / 51T | 525AZR-51 |
| Black / 530 / 45T | 427ZK-45 |
| Blue / 520 / 43T | 526AZB-43 |
| Black / 530 / 46T | 427ZK-46 |
| Red / 525 / 38T | 526ZR-38 |
| Blue / 520 / 48T | 338ZB-48 |
| Blue / 520 / 44T | 526AZB-44 |
| Black / 530 / 49T | 427ZK-49 |
| Red / 525 / 50T | 526ZR-50 |
| Black / 530 / 50T | 427ZK-50 |
| Blue / 520 / 45T | 526AZB-45 |
| Blue / 520 / 54T | 338ZB-54 |
| Red / 520 / 37T | 526AZR-37 |
| Black / 530 / 53T | 427ZK-53 |
| Blue / 520 / 47T | 526AZB-47 |
| Black / 530 / 54T | 427ZK-54 |
| Red / 520 / 49T | 526AZR-49 |
| Blue / 530 / 38T | 427ZB-38 |
| Blue / 520 / 45T | 435ZB-45 |
| Black / 520 / 37T | 435ZK-37 |
| Red / 530 / 36T | 527ZR-36 |
| Black / 520 / 38T | 435ZK-38 |
| Blue / 520 / 47T | 435ZB-47 |
| Blue / 530 / 44T | 427ZB-44 |
| Red / 530 / 47T | 527ZR-47 |
| Black / 520 / 41T | 435ZK-41 |
| Blue / 520 / 48T | 435ZB-48 |
| Black / 520 / 42T | 435ZK-42 |
| Red / 530 / 53T | 527ZR-53 |
| Blue / 530 / 50T | 427ZB-50 |
| Blue / 520 / 34T | 110AZB-34 |
| Black / 520 / 53T | 435ZK-53 |
| Red / 530 / 38T | 528ZR-38 |
| Black / 520 / 54T | 435ZK-54 |
| Blue / 520 / 35T | 110AZB-35 |
| Blue / 520 / 36T | 435ZB-36 |
| Red / 530 / 44T | 528ZR-44 |
| Black / 525 / 37T | 435CZK-37 |
| Blue / 520 / 36T | 110AZB-36 |
| Black / 525 / 38T | 435CZK-38 |
| Red / 530 / 50T | 528ZR-50 |
| Blue / 520 / 42T | 435ZB-42 |
| Blue / 520 / 37T | 110AZB-37 |
| Black / 525 / 41T | 435CZK-41 |
| Red / 520 / 35T | 528AZR-35 |
| Black / 525 / 42T | 435CZK-42 |
| Blue / 520 / 38T | 110AZB-38 |
| Blue / 525 / 36T | 435CZB-36 |
| Red / 520 / 41T | 528AZR-41 |
| Black / 525 / 49T | 435CZK-49 |
| Blue / 520 / 39T | 110AZB-39 |
| Black / 525 / 50T | 435CZK-50 |
| Red / 520 / 47T | 528AZR-47 |
| Blue / 525 / 42T | 435CZB-42 |
| Blue / 520 / 40T | 110AZB-40 |
| Black / 525 / 53T | 435CZK-53 |
| Red / 520 / 53T | 528AZR-53 |
| Black / 525 / 54T | 435CZK-54 |
| Blue / 520 / 41T | 110AZB-41 |
| Blue / 525 / 52T | 435CZB-52 |
| Red / 525 / 38T | 528CZR-38 |
| Black / 530 / 38T | 436ZK-38 |
| Blue / 520 / 42T | 110AZB-42 |
| Black / 530 / 39T | 436ZK-39 |
| Red / 525 / 44T | 528CZR-44 |
| Blue / 530 / 39T | 436ZB-39 |
| Blue / 520 / 43T | 110AZB-43 |
| Black / 530 / 42T | 436ZK-42 |
| Red / 525 / 50T | 528CZR-50 |
| Black / 530 / 43T | 436ZK-43 |
| Blue / 520 / 44T | 110AZB-44 |
| Blue / 530 / 45T | 436ZB-45 |
| Red / 530 / 39T | 641ZR-39 |
| Black / 530 / 46T | 436ZK-46 |
| Blue / 520 / 45T | 110AZB-45 |
| Black / 530 / 47T | 436ZK-47 |
| Red / 530 / 45T | 641ZR-45 |
| Blue / 530 / 51T | 436ZB-51 |
| Blue / 520 / 46T | 110AZB-46 |
| Black / 530 / 50T | 436ZK-50 |
| Red / 530 / 51T | 641ZR-51 |
| Black / 530 / 51T | 436ZK-51 |
| Blue / 520 / 47T | 110AZB-47 |
| Blue / 530 / 37T | 438ZB-37 |
| Red / 520 / 40T | 641AZR-40 |
| Black / 530 / 54T | 436ZK-54 |
| Blue / 520 / 48T | 110AZB-48 |
| Black / 530 / 35T | 438ZK-35 |
| Red / 520 / 46T | 641AZR-46 |
| Blue / 530 / 43T | 438ZB-43 |
| Blue / 520 / 49T | 110AZB-49 |
| Black / 530 / 38T | 438ZK-38 |
| Red / 520 / 52T | 641AZR-52 |
| Black / 530 / 39T | 438ZK-39 |
| Blue / 520 / 50T | 110AZB-50 |
| Blue / 530 / 51T | 438ZB-51 |
| Red / 530 / 40T | 642ZR-40 |
| Black / 530 / 42T | 438ZK-42 |
| Blue / 520 / 51T | 110AZB-51 |
| Black / 530 / 43T | 438ZK-43 |
| Red / 530 / 46T | 642ZR-46 |
| Blue / 530 / 36T | 452ZB-36 |
| Blue / 520 / 52T | 110AZB-52 |
| Black / 530 / 48T | 438ZK-48 |
| Red / 530 / 52T | 642ZR-52 |
| Black / 530 / 49T | 438ZK-49 |
| Blue / 520 / 53T | 110AZB-53 |
| Blue / 530 / 42T | 452ZB-42 |
| Red / 520 / 40T | 642AZR-40 |
| Black / 530 / 52T | 438ZK-52 |
| Blue / 520 / 54T | 110AZB-54 |
| Black / 530 / 53T | 438ZK-53 |
| Red / 520 / 46T | 642AZR-46 |
| Blue / 530 / 48T | 452ZB-48 |
| Blue / 525 / 53T | 338CZB-53 |
| Black / 530 / 35T | 452ZK-35 |
| Red / 520 / 52T | 642AZR-52 |
| Black / 530 / 36T | 452ZK-36 |
| Blue / 525 / 34T | 110ZB-34 |
| Blue / 530 / 54T | 452ZB-54 |
| Red / 525 / 40T | 642CZR-40 |
| Black / 530 / 39T | 452ZK-39 |
| Blue / 525 / 35T | 110ZB-35 |
| Black / 530 / 40T | 452ZK-40 |
| Red / 525 / 46T | 642CZR-46 |
| Blue / 520 / 39T | 452AZB-39 |
| Blue / 525 / 36T | 110ZB-36 |
| Black / 530 / 43T | 452ZK-43 |
| Red / 525 / 52T | 642CZR-52 |
| Black / 530 / 44T | 452ZK-44 |
| Blue / 525 / 37T | 110ZB-37 |
| Blue / 520 / 52T | 452AZB-52 |
| Red / 525 / 42T V3 Style | 654ZR-42 |
| Black / 530 / 47T | 452ZK-47 |
| Blue / 525 / 38T | 110ZB-38 |
| Black / 530 / 48T | 452ZK-48 |
| Red / 520 / 42T V3 Style | 654AZR-42 |
| Blue / 525 / 37T | 454ZB-37 |
| Blue / 525 / 39T | 110ZB-39 |
| Black / 530 / 51T | 452ZK-51 |
| Red / 530 / 42T | 767ZR-42 |
| Black / 530 / 52T | 452ZK-52 |
| Blue / 525 / 40T | 110ZB-40 |
| Blue / 525 / 43T | 454ZB-43 |
| Red / 530 / 48T | 767ZR-48 |
| Black / 520 / 34T | 452AZK-34 |
| Blue / 525 / 41T | 110ZB-41 |
| Black / 520 / 35T | 452AZK-35 |
| Red / 530 / 54T | 767ZR-54 |
| Blue / 525 / 49T | 454ZB-49 |
| Blue / 525 / 42T | 110ZB-42 |
| Black / 520 / 38T | 452AZK-38 |
| Red / 520 / 47T | 767AZR-47 |
| Black / 520 / 39T | 452AZK-39 |
| Blue / 525 / 43T | 110ZB-43 |
| Blue / 530 / 40T | 488ZB-40 |
| Red / 520 / 53T | 767AZR-53 |
| Black / 520 / 49T | 452AZK-49 |
| Blue / 525 / 44T | 110ZB-44 |
| Black / 520 / 50T | 452AZK-50 |
| Red / 525 / 38T | 775ZR-38 |
| Blue / 530 / 46T | 488ZB-46 |
| Blue / 525 / 45T | 110ZB-45 |
| Black / 520 / 53T | 452AZK-53 |
| Red / 525 / 44T | 775ZR-44 |
| Black / 520 / 54T | 452AZK-54 |
| Blue / 525 / 46T | 110ZB-46 |
| Blue / 530 / 52T | 488ZB-52 |
| Red / 525 / 50T | 775ZR-50 |
| Black / 525 / 36T | 454ZK-36 |
| Blue / 525 / 47T | 110ZB-47 |
| Black / 525 / 37T | 454ZK-37 |
| Red / 520 / 35T | 775AZR-35 |
| Blue / 525 / 40T | 491ZB-40 |
| Blue / 525 / 48T | 110ZB-48 |
| Black / 525 / 40T | 454ZK-40 |
| Red / 520 / 41T | 775AZR-41 |
| Black / 525 / 41T | 454ZK-41 |
| Blue / 525 / 49T | 110ZB-49 |
| Blue / 525 / 46T | 491ZB-46 |
| Red / 520 / 47T | 775AZR-47 |
| Black / 525 / 44T | 454ZK-44 |
| Blue / 525 / 50T | 110ZB-50 |
| Black / 525 / 45T | 454ZK-45 |
| Red / 520 / 53T | 775AZR-53 |
| Blue / 525 / 52T | 491ZB-52 |
| Blue / 525 / 51T | 110ZB-51 |
| Black / 525 / 48T | 454ZK-48 |
| Red / 530 / 38T | 827ZR-38 |
| Black / 525 / 49T | 454ZK-49 |
| Blue / 525 / 52T | 110ZB-52 |
| Blue / 520 / 40T | 491AZB-40 |
| Red / 530 / 44T | 827ZR-44 |
| Black / 525 / 52T | 454ZK-52 |
| Blue / 525 / 53T | 110ZB-53 |
| Black / 525 / 53T | 454ZK-53 |
| Red / 530 / 50T | 827ZR-50 |
| Blue / 520 / 46T | 491AZB-46 |
| Blue / 525 / 54T | 110ZB-54 |
| Black / 530 / 41T | 488ZK-41 |
| Red / 520 / 35T | 827AZR-35 |
| Black / 530 / 42T | 488ZK-42 |
| Blue / 520 / 34T | 120AZB-34 |
| Blue / 520 / 52T | 491AZB-52 |
| Red / 520 / 41T | 827AZR-41 |
| Black / 530 / 45T | 488ZK-45 |
| Blue / 520 / 35T | 120AZB-35 |
| Black / 530 / 46T | 488ZK-46 |
| Red / 520 / 47T | 827AZR-47 |
| Blue / 530 / 37T | 525ZB-37 |
| Blue / 520 / 36T | 120AZB-36 |
| Black / 530 / 49T | 488ZK-49 |
| Red / 520 / 53T | 827AZR-53 |
| Black / 530 / 50T | 488ZK-50 |
| Blue / 520 / 37T | 120AZB-37 |
| Blue / 530 / 43T | 525ZB-43 |
| Red / 520 / 50T | 435ZR-50 |
| Black / 530 / 53T | 488ZK-53 |
| Blue / 520 / 38T | 120AZB-38 |
| Black / 530 / 54T | 488ZK-54 |
| Red / 530 / 47T | 438ZR-47 |
| Blue / 530 / 49T | 525ZB-49 |
| Blue / 520 / 39T | 120AZB-39 |
| Black / 525 / 39T | 491ZK-39 |
| Red / 520 / 45T | 452AZR-45 |
| Black / 525 / 40T | 491ZK-40 |
| Blue / 520 / 40T | 120AZB-40 |
| Blue / 520 / 34T | 525AZB-34 |
| Red / 525 / 47T | 526ZR-47 |
| Black / 525 / 43T | 491ZK-43 |
| Blue / 520 / 41T | 120AZB-41 |
| Black / 525 / 44T | 491ZK-44 |
| Red / 530 / 44T | 527ZR-44 |
| Blue / 520 / 40T | 525AZB-40 |
| Blue / 520 / 42T | 120AZB-42 |
| Black / 525 / 47T | 491ZK-47 |
| Red / 520 / 47T | 435ZR-47 |
| Black / 525 / 48T | 491ZK-48 |
| Blue / 520 / 43T | 120AZB-43 |
| Blue / 520 / 46T | 525AZB-46 |
| Red / 520 / 43T | 193AZR-43 |
| Black / 525 / 51T | 491ZK-51 |
| Blue / 520 / 44T | 120AZB-44 |
| Black / 525 / 52T | 491ZK-52 |
| Black / 530 / 45T | 641ZK-45 |
| Blue / 520 / 52T | 525AZB-52 |
| Blue / 520 / 45T | 120AZB-45 |
| Black / 520 / 37T | 491AZK-37 |
| Black / 530 / 48T | 641ZK-48 |
| Black / 520 / 38T | 491AZK-38 |
| Blue / 520 / 46T | 120AZB-46 |
| Blue / 525 / 39T | 526ZB-39 |
| Black / 530 / 51T | 641ZK-51 |
| Black / 520 / 41T | 491AZK-41 |
| Blue / 520 / 47T | 120AZB-47 |
| Black / 520 / 42T | 491AZK-42 |
| Black / 530 / 54T | 641ZK-54 |
| Blue / 525 / 51T | 526ZB-51 |
| Blue / 520 / 48T | 120AZB-48 |
| Black / 520 / 45T | 491AZK-45 |
| Black / 520 / 40T | 641AZK-40 |
| Black / 520 / 46T | 491AZK-46 |
| Blue / 520 / 49T | 120AZB-49 |
| Blue / 520 / 38T | 526AZB-38 |
| Black / 520 / 43T | 641AZK-43 |
| Black / 520 / 49T | 491AZK-49 |
| Blue / 520 / 50T | 120AZB-50 |
| Black / 520 / 50T | 491AZK-50 |
| Black / 520 / 46T | 641AZK-46 |
| Blue / 520 / 50T | 526AZB-50 |
| Blue / 520 / 51T | 120AZB-51 |
| Black / 520 / 53T | 491AZK-53 |
| Black / 520 / 49T | 641AZK-49 |
| Black / 520 / 54T | 491AZK-54 |
| Blue / 520 / 52T | 120AZB-52 |
| Blue / 530 / 37T | 527ZB-37 |
| Black / 520 / 52T | 641AZK-52 |
| Black / 530 / 36T | 525ZK-36 |
| Blue / 520 / 53T | 120AZB-53 |
| Black / 530 / 37T | 525ZK-37 |
| Black / 530 / 37T | 642ZK-37 |
| Blue / 530 / 48T | 527ZB-48 |
| Blue / 520 / 54T | 120AZB-54 |
| Black / 530 / 40T | 525ZK-40 |
| Black / 530 / 40T | 642ZK-40 |
| Black / 530 / 41T | 525ZK-41 |
| Blue / 525 / 34T | 120ZB-34 |
| Blue / 530 / 54T | 527ZB-54 |
| Black / 530 / 43T | 642ZK-43 |
| Black / 530 / 44T | 525ZK-44 |
| Blue / 525 / 35T | 120ZB-35 |
| Black / 530 / 45T | 525ZK-45 |
| Black / 530 / 46T | 642ZK-46 |
| Blue / 530 / 39T | 528ZB-39 |
| Blue / 525 / 36T | 120ZB-36 |
| Black / 530 / 48T | 525ZK-48 |
| Black / 530 / 49T | 642ZK-49 |
| Black / 530 / 49T | 525ZK-49 |
| Blue / 525 / 37T | 120ZB-37 |
| Blue / 530 / 45T | 528ZB-45 |
| Black / 530 / 52T | 642ZK-52 |
| Black / 530 / 52T | 525ZK-52 |
| Blue / 525 / 38T | 120ZB-38 |
| Black / 530 / 53T | 525ZK-53 |
| Black / 520 / 37T | 642AZK-37 |
| Blue / 530 / 51T | 528ZB-51 |
| Blue / 525 / 39T | 120ZB-39 |
| Black / 520 / 35T | 525AZK-35 |
| Black / 520 / 40T | 642AZK-40 |
| Black / 520 / 36T | 525AZK-36 |
| Blue / 525 / 40T | 120ZB-40 |
| Blue / 520 / 36T | 528AZB-36 |
| Black / 520 / 43T | 642AZK-43 |
| Black / 520 / 39T | 525AZK-39 |
| Blue / 525 / 41T | 120ZB-41 |
| Black / 520 / 40T | 525AZK-40 |
| Black / 520 / 46T | 642AZK-46 |
| Blue / 520 / 42T | 528AZB-42 |
| Blue / 525 / 42T | 120ZB-42 |
| Black / 520 / 43T | 525AZK-43 |
| Black / 520 / 49T | 642AZK-49 |
| Black / 520 / 44T | 525AZK-44 |
| Blue / 525 / 43T | 120ZB-43 |
| Blue / 520 / 48T | 528AZB-48 |
| Black / 520 / 52T | 642AZK-52 |
| Black / 520 / 47T | 525AZK-47 |
| Blue / 525 / 44T | 120ZB-44 |
| Black / 520 / 48T | 525AZK-48 |
| Black / 525 / 37T | 642CZK-37 |
| Blue / 520 / 54T | 528AZB-54 |
| Blue / 525 / 45T | 120ZB-45 |
| Black / 520 / 51T | 525AZK-51 |
| Black / 525 / 40T | 642CZK-40 |
| Black / 520 / 52T | 525AZK-52 |
| Blue / 525 / 46T | 120ZB-46 |
| Blue / 525 / 39T | 528CZB-39 |
| Black / 525 / 43T | 642CZK-43 |
| Black / 525 / 36T | 526ZK-36 |
| Blue / 525 / 47T | 120ZB-47 |
| Black / 525 / 37T | 526ZK-37 |
| Black / 525 / 46T | 642CZK-46 |
| Blue / 525 / 45T | 528CZB-45 |
| Blue / 525 / 48T | 120ZB-48 |
| Black / 525 / 40T | 526ZK-40 |
| Black / 525 / 49T | 642CZK-49 |
| Black / 525 / 41T | 526ZK-41 |
| Blue / 525 / 49T | 120ZB-49 |
| Blue / 525 / 51T | 528CZB-51 |
| Black / 525 / 52T | 642CZK-52 |
| Black / 525 / 50T | 526ZK-50 |
| Blue / 525 / 50T | 120ZB-50 |
| Black / 525 / 51T | 526ZK-51 |
| Black / 525 / 39T V3 Style | 654ZK-39 |
| Blue / 530 / 40T | 641ZB-40 |
| Blue / 525 / 51T | 120ZB-51 |
| Black / 525 / 54T | 526ZK-54 |
| Black / 525 / 42T V3 Style | 654ZK-42 |
| Black / 520 / 36T | 526AZK-36 |
| Blue / 525 / 52T | 120ZB-52 |
| Blue / 530 / 46T | 641ZB-46 |
| Black / 520 / 39T V3 Style | 654AZK-39 |
| Black / 520 / 39T | 526AZK-39 |
| Blue / 525 / 53T | 120ZB-53 |
| Black / 520 / 40T | 526AZK-40 |
| Black / 520 / 42T V3 Style | 654AZK-42 |
| Blue / 530 / 52T | 641ZB-52 |
| Blue / 525 / 54T | 120ZB-54 |
| Black / 520 / 49T | 526AZK-49 |
| Black / 520 / 45T V3 Style | 654AZK-45 |
| Black / 520 / 50T | 526AZK-50 |
| Blue / 520 / 37T | 125ZB-37 |
| Blue / 520 / 41T | 641AZB-41 |
| Black / 530 / 42T | 767ZK-42 |
| Black / 520 / 53T | 526AZK-53 |
| Blue / 520 / 38T | 125ZB-38 |
| Black / 520 / 54T | 526AZK-54 |
| Black / 530 / 45T | 767ZK-45 |
| Blue / 520 / 47T | 641AZB-47 |
| Blue / 520 / 39T | 125ZB-39 |
| Black / 530 / 38T | 527ZK-38 |
| Black / 530 / 48T | 767ZK-48 |
| Black / 530 / 39T | 527ZK-39 |
| Blue / 520 / 40T | 125ZB-40 |
| Blue / 520 / 53T | 641AZB-53 |
| Black / 530 / 51T | 767ZK-51 |
| Black / 530 / 47T | 527ZK-47 |
| Blue / 520 / 41T | 125ZB-41 |
| Black / 530 / 48T | 527ZK-48 |
| Black / 530 / 54T | 767ZK-54 |
| Blue / 530 / 41T | 642ZB-41 |
| Blue / 520 / 42T | 125ZB-42 |
| Black / 530 / 51T | 527ZK-51 |
| Black / 520 / 44T | 767AZK-44 |
| Black / 530 / 52T | 527ZK-52 |
| Blue / 520 / 43T | 125ZB-43 |
| Blue / 530 / 47T | 642ZB-47 |
| Black / 520 / 47T | 767AZK-47 |
| Black / 530 / 34T | 528ZK-34 |
| Blue / 520 / 44T | 125ZB-44 |
| Black / 530 / 35T | 528ZK-35 |
| Black / 520 / 50T | 767AZK-50 |
| Blue / 530 / 53T | 642ZB-53 |
| Blue / 520 / 45T | 125ZB-45 |
| Black / 530 / 38T | 528ZK-38 |
| Black / 520 / 53T | 767AZK-53 |
| Black / 530 / 39T | 528ZK-39 |
| Blue / 520 / 46T | 125ZB-46 |
| Blue / 520 / 41T | 642AZB-41 |
| Black / 525 / 35T | 775ZK-35 |
| Black / 530 / 42T | 528ZK-42 |
| Blue / 520 / 47T | 125ZB-47 |
| Black / 530 / 43T | 528ZK-43 |
| Black / 525 / 38T | 775ZK-38 |
| Blue / 520 / 47T | 642AZB-47 |
| Blue / 520 / 48T | 125ZB-48 |
| Black / 530 / 46T | 528ZK-46 |
| Black / 525 / 41T | 775ZK-41 |
| Black / 530 / 47T | 528ZK-47 |
| Blue / 520 / 49T | 125ZB-49 |
| Blue / 520 / 53T | 642AZB-53 |
| Black / 525 / 44T | 775ZK-44 |
| Black / 530 / 50T | 528ZK-50 |
| Blue / 520 / 50T | 125ZB-50 |
| Black / 530 / 51T | 528ZK-51 |
| Black / 525 / 47T | 775ZK-47 |
| Blue / 525 / 41T | 642CZB-41 |
| Blue / 520 / 51T | 125ZB-51 |
| Black / 530 / 54T | 528ZK-54 |
| Black / 525 / 50T | 775ZK-50 |
| Black / 520 / 34T | 528AZK-34 |
| Blue / 520 / 52T | 125ZB-52 |
| Blue / 525 / 47T | 642CZB-47 |
| Black / 525 / 53T | 775ZK-53 |
| Black / 520 / 37T | 528AZK-37 |
| Blue / 520 / 53T | 125ZB-53 |
| Black / 520 / 38T | 528AZK-38 |
| Black / 520 / 35T | 775AZK-35 |
| Blue / 525 / 53T | 642CZB-53 |
| Blue / 520 / 54T | 125ZB-54 |
| Black / 520 / 41T | 528AZK-41 |
| Black / 520 / 38T | 775AZK-38 |
| Black / 520 / 42T | 528AZK-42 |
| Blue / 520 / 34T | 144AZB-34 |
| Blue / 520 / 43T V3 Style | 654AZB-43 |
| Black / 520 / 41T | 775AZK-41 |
| Black / 520 / 45T | 528AZK-45 |
| Blue / 520 / 35T | 144AZB-35 |
| Black / 520 / 46T | 528AZK-46 |
| Black / 520 / 44T | 775AZK-44 |
| Blue / 530 / 44T | 767ZB-44 |
| Blue / 520 / 36T | 144AZB-36 |
| Black / 520 / 49T | 528AZK-49 |
| Black / 520 / 47T | 775AZK-47 |
| Black / 520 / 50T | 528AZK-50 |
| Blue / 520 / 37T | 144AZB-37 |
| Blue / 530 / 50T | 767ZB-50 |
| Black / 520 / 50T | 775AZK-50 |
| Black / 520 / 53T | 528AZK-53 |
| Blue / 520 / 38T | 144AZB-38 |
| Black / 520 / 54T | 528AZK-54 |
| Black / 520 / 53T | 775AZK-53 |
| Blue / 520 / 44T | 767AZB-44 |
| Blue / 520 / 39T | 144AZB-39 |
| Black / 525 / 36T | 528CZK-36 |
| Black / 530 / 35T | 827ZK-35 |
| Black / 525 / 37T | 528CZK-37 |
| Blue / 520 / 40T | 144AZB-40 |
| Blue / 520 / 50T | 767AZB-50 |
| Black / 530 / 38T | 827ZK-38 |
| Black / 525 / 40T | 528CZK-40 |
| Blue / 520 / 41T | 144AZB-41 |
| Black / 525 / 41T | 528CZK-41 |
| Black / 530 / 41T | 827ZK-41 |
| Blue / 525 / 35T | 775ZB-35 |
| Blue / 520 / 42T | 144AZB-42 |
| Black / 525 / 44T | 528CZK-44 |
| Black / 530 / 44T | 827ZK-44 |
| Black / 525 / 45T | 528CZK-45 |
| Blue / 520 / 43T | 144AZB-43 |
| Blue / 525 / 41T | 775ZB-41 |
| Black / 530 / 47T | 827ZK-47 |
| Black / 525 / 48T | 528CZK-48 |
| Blue / 520 / 44T | 144AZB-44 |
| Black / 525 / 49T | 528CZK-49 |
| Black / 530 / 50T | 827ZK-50 |
| Blue / 525 / 47T | 775ZB-47 |
| Blue / 520 / 45T | 144AZB-45 |
| Black / 525 / 52T | 528CZK-52 |
| Black / 530 / 53T | 827ZK-53 |
| Black / 525 / 53T | 528CZK-53 |
| Blue / 520 / 46T | 144AZB-46 |
| Blue / 525 / 53T | 775ZB-53 |
| Black / 520 / 35T | 827AZK-35 |
| Black / 530 / 39T | 641ZK-39 |
| Blue / 520 / 47T | 144AZB-47 |
| Black / 530 / 40T | 641ZK-40 |
| Black / 520 / 38T | 827AZK-38 |
| Blue / 520 / 38T | 775AZB-38 |
| Blue / 520 / 48T | 144AZB-48 |
| Blue / 520 / 40T | 775AZB-40 |
| Black / 520 / 41T | 827AZK-41 |
| Blue / 520 / 42T | 775AZB-42 |
| Blue / 520 / 49T | 144AZB-49 |
| Blue / 520 / 44T | 775AZB-44 |
| Black / 520 / 44T | 827AZK-44 |
| Blue / 520 / 46T | 775AZB-46 |
| Blue / 520 / 50T | 144AZB-50 |
| Blue / 520 / 48T | 775AZB-48 |
| Black / 520 / 47T | 827AZK-47 |
| Blue / 520 / 50T | 775AZB-50 |
| Blue / 520 / 51T | 144AZB-51 |
| Blue / 520 / 52T | 775AZB-52 |
| Black / 520 / 50T | 827AZK-50 |
| Blue / 520 / 54T | 775AZB-54 |
| Blue / 520 / 52T | 144AZB-52 |
| Blue / 530 / 35T | 827ZB-35 |
| Black / 520 / 53T | 827AZK-53 |
| Blue / 530 / 37T | 827ZB-37 |
| Blue / 520 / 53T | 144AZB-53 |
| Blue / 530 / 39T | 827ZB-39 |
| Blue / 525 / 42T | 195ZB-42 |
| Blue / 530 / 41T | 827ZB-41 |
| Blue / 520 / 54T | 144AZB-54 |
| Blue / 530 / 43T | 827ZB-43 |
| Blue / 520 / 43T | 195AZB-43 |
| Blue / 530 / 45T | 827ZB-45 |
| Blue / 525 / 34T | 144ZB-34 |
| Blue / 530 / 47T | 827ZB-47 |
| Blue / 520 / 46T | 195AZB-46 |
| Blue / 530 / 49T | 827ZB-49 |
| Blue / 525 / 35T | 144ZB-35 |
| Blue / 530 / 51T | 827ZB-51 |
| Blue / 520 / 37T | 245AZB-37 |
| Blue / 530 / 53T | 827ZB-53 |
| Blue / 525 / 36T | 144ZB-36 |
| Blue / 520 / 34T | 827AZB-34 |
| Blue / 520 / 43T | 317ZB-43 |
| Blue / 520 / 36T | 827AZB-36 |
| Blue / 525 / 37T | 144ZB-37 |
| Blue / 520 / 38T | 827AZB-38 |
| Blue / 520 / 47T | 317ZB-47 |
| Blue / 520 / 40T | 827AZB-40 |
| Blue / 525 / 38T | 144ZB-38 |
| Blue / 520 / 42T | 827AZB-42 |
| Blue / 530 / 36T | 232ZB-36 |
| Blue / 520 / 44T | 827AZB-44 |
| Blue / 525 / 39T | 144ZB-39 |
| Blue / 520 / 46T | 827AZB-46 |
| Blue / 530 / 39T | 232ZB-39 |
| Blue / 520 / 48T | 827AZB-48 |
| Blue / 525 / 40T | 144ZB-40 |
| Blue / 520 / 50T | 827AZB-50 |
| Blue / 530 / 42T | 232ZB-42 |
| Blue / 520 / 52T | 827AZB-52 |
| Blue / 525 / 41T | 144ZB-41 |
| Blue / 520 / 54T | 827AZB-54 |
| Blue / 530 / 45T | 232ZB-45 |
| Blue / 525 / 40T | 195ZB-40 |
| Blue / 525 / 42T | 144ZB-42 |
| Blue / 525 / 47T | 195ZB-47 |
| Blue / 530 / 48T | 232ZB-48 |
| Blue / 520 / 41T | 195AZB-41 |
| Blue / 525 / 43T | 144ZB-43 |
| Blue / 520 / 43T | 435ZB-43 |
| Blue / 530 / 51T | 232ZB-51 |
| Blue / 520 / 46T | 435ZB-46 |
| Blue / 525 / 44T | 144ZB-44 |
| Blue / 520 / 50T | 435ZB-50 |
| Blue / 530 / 54T | 232ZB-54 |
| Blue / 525 / 46T | 435CZB-46 |
| Blue / 525 / 45T | 144ZB-45 |
| Blue / 525 / 48T | 435CZB-48 |
| Blue / 520 / 36T | 232AZB-36 |
| Blue / 530 / 47T | 438ZB-47 |
| Blue / 525 / 46T | 144ZB-46 |
| Blue / 520 / 41T | 452AZB-41 |
| Blue / 520 / 39T | 232AZB-39 |
| Blue / 520 / 43T | 452AZB-43 |
| Blue / 525 / 47T | 144ZB-47 |
| Blue / 520 / 45T | 452AZB-45 |
| Blue / 520 / 42T | 232AZB-42 |
| Blue / 525 / 43T | 526ZB-43 |
| Blue / 525 / 48T | 144ZB-48 |
| Blue / 525 / 45T | 526ZB-45 |
| Blue / 520 / 45T | 232AZB-45 |
| Blue / 525 / 47T | 526ZB-47 |
| Blue / 525 / 49T | 144ZB-49 |
| Blue / 520 / 46T | 526AZB-46 |
| Blue / 520 / 48T | 232AZB-48 |
| Blue / 530 / 42T | 527ZB-42 |
| Blue / 525 / 50T | 144ZB-50 |
| Blue / 530 / 44T | 527ZB-44 |
| Blue / 520 / 51T | 232AZB-51 |
| Blue / 530 / 46T | 527ZB-46 |
| Blue / 525 / 51T | 144ZB-51 |
| Red / 520 / 41T | 317ZR-41 |
| Blue / 520 / 54T | 232AZB-54 |
| Red / 520 / 43T | 317ZR-43 |
| Blue / 525 / 52T | 144ZB-52 |
| Red / 520 / 45T | 317ZR-45 |
| Blue / 520 / 38T | 338ZB-38 |
| Red / 530 / 34T | 232ZR-34 |
| Blue / 525 / 53T | 144ZB-53 |
| Red / 530 / 36T | 232ZR-36 |
| Blue / 520 / 41T | 338ZB-41 |
| Red / 530 / 38T | 232ZR-38 |
| Blue / 525 / 54T | 144ZB-54 |
| Red / 530 / 40T | 232ZR-40 |
| Blue / 520 / 44T | 338ZB-44 |
| Red / 530 / 42T | 232ZR-42 |
| Blue / 520 / 40T | 193AZB-40 |
| Red / 530 / 44T | 232ZR-44 |
| Blue / 520 / 47T | 338ZB-47 |
| Red / 530 / 46T | 232ZR-46 |
| Blue / 520 / 41T | 193AZB-41 |
| Red / 530 / 48T | 232ZR-48 |
| Blue / 520 / 50T | 338ZB-50 |
| Red / 530 / 50T | 232ZR-50 |
| Blue / 520 / 42T | 193AZB-42 |
| Red / 530 / 52T | 232ZR-52 |
| Blue / 520 / 53T | 338ZB-53 |
| Red / 530 / 54T | 232ZR-54 |
| Blue / 520 / 43T | 193AZB-43 |
| Red / 520 / 35T | 232AZR-35 |
| Blue / 530 / 34T | 427ZB-34 |
| Red / 520 / 37T | 232AZR-37 |
| Blue / 520 / 44T | 193AZB-44 |
| Red / 520 / 39T | 232AZR-39 |
| Blue / 530 / 37T | 427ZB-37 |
| Red / 520 / 41T | 232AZR-41 |
| Blue / 520 / 45T | 193AZB-45 |
| Red / 520 / 43T | 232AZR-43 |
| Blue / 530 / 40T | 427ZB-40 |
| Red / 520 / 45T | 232AZR-45 |
| Blue / 520 / 46T | 193AZB-46 |
| Red / 520 / 47T | 232AZR-47 |
| Blue / 530 / 43T | 427ZB-43 |
| Red / 520 / 49T | 232AZR-49 |
| Blue / 520 / 47T | 193AZB-47 |
| Red / 520 / 51T | 232AZR-51 |
| Blue / 530 / 46T | 427ZB-46 |
| Red / 520 / 53T | 232AZR-53 |
| Blue / 520 / 48T | 193AZB-48 |
| Red / 520 / 36T | 338ZR-36 |
| Blue / 530 / 49T | 427ZB-49 |
| Red / 520 / 38T | 338ZR-38 |
| Blue / 525 / 43T | 193ZB-43 |
| Red / 520 / 40T | 338ZR-40 |
| Blue / 530 / 52T | 427ZB-52 |
| Red / 520 / 42T | 338ZR-42 |
| Blue / 525 / 44T | 193ZB-44 |
| Red / 520 / 44T | 338ZR-44 |
| Blue / 520 / 35T | 435ZB-35 |
| Red / 520 / 46T | 338ZR-46 |
| Blue / 525 / 45T | 193ZB-45 |
| Red / 520 / 48T | 338ZR-48 |
| Blue / 520 / 38T | 435ZB-38 |
| Red / 520 / 50T | 338ZR-50 |
| Blue / 525 / 46T | 193ZB-46 |
| Red / 520 / 52T | 338ZR-52 |
| Blue / 520 / 41T | 435ZB-41 |
| Red / 520 / 54T | 338ZR-54 |
| Blue / 525 / 47T | 193ZB-47 |
| Red / 525 / 37T | 338CZR-37 |
| Blue / 520 / 52T | 435ZB-52 |
| Red / 525 / 39T | 338CZR-39 |
| Blue / 420 / 34T | 206ZB-34 |
| Red / 525 / 41T | 338CZR-41 |
| Blue / 525 / 35T | 435CZB-35 |
| Red / 525 / 43T | 338CZR-43 |
| Blue / 520 / 35T | 211ZB-35 |
| Red / 525 / 45T | 338CZR-45 |
| Blue / 525 / 38T | 435CZB-38 |
| Red / 525 / 47T | 338CZR-47 |
| Blue / 520 / 36T | 211ZB-36 |
| Red / 525 / 49T | 338CZR-49 |
| Blue / 525 / 41T | 435CZB-41 |
| Red / 525 / 51T | 338CZR-51 |
| Blue / 520 / 37T | 211ZB-37 |
| Red / 525 / 53T | 338CZR-53 |
| Blue / 525 / 44T | 435CZB-44 |
| Red / 530 / 34T | 427ZR-34 |
| Blue / 520 / 38T | 211ZB-38 |
| Red / 530 / 36T | 427ZR-36 |
| Blue / 525 / 51T | 435CZB-51 |
| Red / 530 / 38T | 427ZR-38 |
| Blue / 520 / 39T | 211ZB-39 |
| Red / 530 / 40T | 427ZR-40 |
| Blue / 525 / 54T | 435CZB-54 |
| Red / 530 / 42T | 427ZR-42 |
| Blue / 520 / 40T | 211ZB-40 |
| Red / 530 / 44T | 427ZR-44 |
| Blue / 530 / 38T | 436ZB-38 |
| Red / 530 / 46T | 427ZR-46 |
| Blue / 520 / 41T | 211ZB-41 |
| Red / 530 / 48T | 427ZR-48 |
| Blue / 530 / 41T | 436ZB-41 |
| Red / 530 / 50T | 427ZR-50 |
| Blue / 520 / 42T | 211ZB-42 |
| Red / 530 / 52T | 427ZR-52 |
| Blue / 530 / 44T | 436ZB-44 |
| Red / 530 / 54T | 427ZR-54 |
| Blue / 520 / 43T | 211ZB-43 |
| Red / 520 / 36T | 435ZR-36 |
| Blue / 530 / 47T | 436ZB-47 |
| Red / 520 / 38T | 435ZR-38 |
| Blue / 520 / 44T | 211ZB-44 |
| Red / 520 / 40T | 435ZR-40 |
| Blue / 530 / 50T | 436ZB-50 |
| Red / 520 / 42T | 435ZR-42 |
| Blue / 520 / 45T | 211ZB-45 |
| Red / 520 / 52T | 435ZR-52 |
| Blue / 530 / 53T | 436ZB-53 |
| Red / 520 / 54T | 435ZR-54 |
| Blue / 520 / 46T | 211ZB-46 |
| Red / 525 / 36T | 435CZR-36 |
| Blue / 530 / 36T | 438ZB-36 |
| Red / 525 / 38T | 435CZR-38 |
| Blue / 520 / 38T | 245AZB-38 |
| Red / 525 / 40T | 435CZR-40 |
| Blue / 530 / 39T | 438ZB-39 |
| Red / 525 / 42T | 435CZR-42 |
| Blue / 520 / 39T | 245AZB-39 |
| Red / 525 / 44T | 435CZR-44 |
| Blue / 530 / 42T | 438ZB-42 |
| Red / 525 / 50T | 435CZR-50 |
| Blue / 520 / 40T | 245AZB-40 |
| Red / 525 / 52T | 435CZR-52 |
| Blue / 530 / 46T | 438ZB-46 |
| Red / 525 / 54T | 435CZR-54 |
| Blue / 520 / 41T | 245AZB-41 |
| Red / 530 / 37T | 436ZR-37 |
| Blue / 530 / 50T | 438ZB-50 |
| Red / 530 / 39T | 436ZR-39 |
| Blue / 520 / 42T | 245AZB-42 |
| Red / 530 / 41T | 436ZR-41 |
| Blue / 530 / 53T | 438ZB-53 |
| Red / 530 / 43T | 436ZR-43 |
| Blue / 520 / 43T | 245AZB-43 |
| Red / 530 / 45T | 436ZR-45 |
| Blue / 530 / 35T | 452ZB-35 |
| Red / 530 / 47T | 436ZR-47 |
| Blue / 520 / 44T | 245AZB-44 |
| Red / 530 / 49T | 436ZR-49 |
| Blue / 530 / 38T | 452ZB-38 |
| Red / 530 / 51T | 436ZR-51 |
| Blue / 520 / 45T | 245AZB-45 |
| Red / 530 / 53T | 436ZR-53 |
| Blue / 530 / 41T | 452ZB-41 |
| Red / 530 / 35T | 438ZR-35 |
| Blue / 520 / 46T | 245AZB-46 |
| Red / 530 / 37T | 438ZR-37 |
| Blue / 530 / 44T | 452ZB-44 |
| Red / 530 / 39T | 438ZR-39 |
| Blue / 520 / 47T | 245AZB-47 |
| Red / 530 / 41T | 438ZR-41 |
| Blue / 530 / 47T | 452ZB-47 |
| Red / 530 / 43T | 438ZR-43 |
| Blue / 520 / 48T | 245AZB-48 |
| Red / 530 / 46T | 438ZR-46 |
| Blue / 530 / 50T | 452ZB-50 |
| Red / 530 / 49T | 438ZR-49 |
| Blue / 520 / 49T | 245AZB-49 |
| Red / 530 / 51T | 438ZR-51 |
| Blue / 530 / 53T | 452ZB-53 |
| Red / 530 / 53T | 438ZR-53 |
| Blue / 520 / 50T | 245AZB-50 |
| Red / 530 / 34T | 452ZR-34 |
| Blue / 520 / 35T | 452AZB-35 |
| Red / 530 / 36T | 452ZR-36 |
| Blue / 520 / 51T | 245AZB-51 |
| Red / 530 / 38T | 452ZR-38 |
| Blue / 520 / 38T | 452AZB-38 |
| Red / 530 / 40T | 452ZR-40 |
| Blue / 520 / 52T | 245AZB-52 |
| Red / 530 / 42T | 452ZR-42 |
| Blue / 520 / 48T | 452AZB-48 |
| Red / 530 / 44T | 452ZR-44 |
| Blue / 520 / 53T | 245AZB-53 |
| Red / 530 / 46T | 452ZR-46 |
| Blue / 520 / 51T | 452AZB-51 |
| Red / 530 / 48T | 452ZR-48 |
| Blue / 520 / 54T | 245AZB-54 |
| Red / 530 / 50T | 452ZR-50 |
| Blue / 520 / 54T | 452AZB-54 |
| Red / 530 / 52T | 452ZR-52 |
| Blue / 530 / 37T | 245ZB-37 |
| Red / 530 / 54T | 452ZR-54 |
| Blue / 525 / 36T | 454ZB-36 |
| Red / 520 / 35T | 452AZR-35 |
| Blue / 530 / 38T | 245ZB-38 |
| Red / 520 / 37T | 452AZR-37 |
| Blue / 525 / 39T | 454ZB-39 |
| Red / 520 / 39T | 452AZR-39 |
| Blue / 530 / 39T | 245ZB-39 |
| Red / 520 / 48T | 452AZR-48 |
| Blue / 525 / 42T | 454ZB-42 |
| Red / 520 / 50T | 452AZR-50 |
| Blue / 530 / 40T | 245ZB-40 |
| Red / 520 / 52T | 452AZR-52 |
| Blue / 525 / 45T | 454ZB-45 |
| Red / 520 / 54T | 452AZR-54 |
| Blue / 530 / 41T | 245ZB-41 |
| Red / 525 / 35T | 454ZR-35 |
| Blue / 525 / 48T | 454ZB-48 |
| Red / 525 / 37T | 454ZR-37 |
| Blue / 530 / 42T | 245ZB-42 |
| Red / 525 / 39T | 454ZR-39 |
| Blue / 525 / 51T | 454ZB-51 |
| Red / 525 / 41T | 454ZR-41 |
| Blue / 530 / 43T | 245ZB-43 |
| Red / 525 / 43T | 454ZR-43 |
| Blue / 525 / 54T | 454ZB-54 |
| Red / 525 / 45T | 454ZR-45 |
| Blue / 530 / 44T | 245ZB-44 |
| Red / 525 / 47T | 454ZR-47 |
| Blue / 530 / 42T | 488ZB-42 |
| Red / 525 / 49T | 454ZR-49 |
| Blue / 530 / 45T | 245ZB-45 |
| Red / 525 / 51T | 454ZR-51 |
| Blue / 530 / 45T | 488ZB-45 |
| Red / 525 / 53T | 454ZR-53 |
| Blue / 530 / 46T | 245ZB-46 |
| Red / 530 / 40T | 488ZR-40 |
| Blue / 530 / 48T | 488ZB-48 |
| Red / 530 / 42T | 488ZR-42 |
| Blue / 530 / 47T | 245ZB-47 |
| Red / 530 / 44T | 488ZR-44 |
| Blue / 530 / 51T | 488ZB-51 |
| Red / 530 / 46T | 488ZR-46 |
| Blue / 530 / 48T | 245ZB-48 |
| Red / 530 / 48T | 488ZR-48 |
| Blue / 530 / 54T | 488ZB-54 |
| Red / 530 / 50T | 488ZR-50 |
| Blue / 530 / 49T | 245ZB-49 |
| Red / 530 / 52T | 488ZR-52 |
| Blue / 525 / 39T | 491ZB-39 |
| Red / 530 / 54T | 488ZR-54 |
| Blue / 530 / 50T | 245ZB-50 |
| Red / 525 / 38T | 491ZR-38 |
| Blue / 525 / 42T | 491ZB-42 |
| Red / 525 / 40T | 491ZR-40 |
| Blue / 530 / 51T | 245ZB-51 |
| Red / 525 / 42T | 491ZR-42 |
| Blue / 525 / 45T | 491ZB-45 |
| Red / 525 / 44T | 491ZR-44 |
| Blue / 530 / 52T | 245ZB-52 |
| Red / 525 / 46T | 491ZR-46 |
| Blue / 525 / 48T | 491ZB-48 |
| Red / 525 / 48T | 491ZR-48 |
| Blue / 530 / 53T | 245ZB-53 |
| Red / 525 / 50T | 491ZR-50 |
| Blue / 525 / 51T | 491ZB-51 |
| Red / 525 / 52T | 491ZR-52 |
| Blue / 530 / 54T | 245ZB-54 |
| Red / 525 / 54T | 491ZR-54 |
| Blue / 525 / 54T | 491ZB-54 |
| Red / 520 / 38T | 491AZR-38 |
| Blue / 525 / 37T | 247ZB-37 |
| Red / 520 / 40T | 491AZR-40 |
| Blue / 520 / 39T | 491AZB-39 |
| Red / 520 / 42T | 491AZR-42 |
| Blue / 525 / 38T | 247ZB-38 |
| Red / 520 / 44T | 491AZR-44 |
| Blue / 520 / 42T | 491AZB-42 |
| Red / 520 / 46T | 491AZR-46 |
| Blue / 525 / 39T | 247ZB-39 |
| Red / 520 / 48T | 491AZR-48 |
| Blue / 520 / 45T | 491AZB-45 |
| Red / 520 / 50T | 491AZR-50 |
| Blue / 525 / 40T | 247ZB-40 |
| Red / 520 / 52T | 491AZR-52 |
| Blue / 520 / 48T | 491AZB-48 |
| Red / 520 / 54T | 491AZR-54 |
| Blue / 525 / 41T | 247ZB-41 |
| Red / 530 / 35T | 525ZR-35 |
| Blue / 520 / 51T | 491AZB-51 |
| Red / 530 / 37T | 525ZR-37 |
| Blue / 525 / 42T | 247ZB-42 |
| Red / 530 / 39T | 525ZR-39 |
| Blue / 520 / 54T | 491AZB-54 |
| Red / 530 / 41T | 525ZR-41 |
| Blue / 525 / 43T | 247ZB-43 |
| Red / 530 / 43T | 525ZR-43 |
| Blue / 530 / 36T | 525ZB-36 |
| Red / 530 / 45T | 525ZR-45 |
| Blue / 525 / 44T | 247ZB-44 |
| Red / 530 / 47T | 525ZR-47 |
| Blue / 530 / 39T | 525ZB-39 |
| Red / 530 / 49T | 525ZR-49 |
| Blue / 525 / 45T | 247ZB-45 |
| Red / 530 / 51T | 525ZR-51 |
| Blue / 530 / 42T | 525ZB-42 |
| Red / 530 / 53T | 525ZR-53 |
| Blue / 525 / 46T | 247ZB-46 |
| Red / 520 / 34T | 525AZR-34 |
| Blue / 530 / 45T | 525ZB-45 |
| Red / 520 / 36T | 525AZR-36 |
| Blue / 525 / 47T | 247ZB-47 |
| Red / 520 / 38T | 525AZR-38 |
| Blue / 530 / 48T | 525ZB-48 |
| Red / 520 / 40T | 525AZR-40 |
| Blue / 525 / 48T | 247ZB-48 |
| Red / 520 / 42T | 525AZR-42 |
| Blue / 530 / 51T | 525ZB-51 |
| Red / 520 / 44T | 525AZR-44 |
| Blue / 525 / 49T | 247ZB-49 |
| Red / 520 / 46T | 525AZR-46 |
| Blue / 530 / 54T | 525ZB-54 |
| Red / 520 / 48T | 525AZR-48 |
| Blue / 525 / 50T | 247ZB-50 |
| Red / 520 / 50T | 525AZR-50 |
| Blue / 520 / 36T | 525AZB-36 |
| Red / 520 / 52T | 525AZR-52 |
| Blue / 525 / 51T | 247ZB-51 |
| Red / 520 / 54T | 525AZR-54 |
| Blue / 520 / 39T | 525AZB-39 |
| Red / 525 / 37T | 526ZR-37 |
| Blue / 525 / 52T | 247ZB-52 |
| Red / 525 / 39T | 526ZR-39 |
| Blue / 520 / 42T | 525AZB-42 |
| Red / 525 / 41T | 526ZR-41 |
| Blue / 525 / 53T | 247ZB-53 |
| Red / 525 / 49T | 526ZR-49 |
| Blue / 520 / 45T | 525AZB-45 |
| Red / 525 / 51T | 526ZR-51 |
| Blue / 525 / 54T | 247ZB-54 |
| Red / 525 / 53T | 526ZR-53 |
| Blue / 520 / 48T | 525AZB-48 |
| Red / 520 / 36T | 526AZR-36 |
| Blue / 530 / 42T | 248ZB-42 |
| Red / 520 / 38T | 526AZR-38 |
| Blue / 520 / 51T | 525AZB-51 |
| Red / 520 / 40T | 526AZR-40 |
| Blue / 530 / 43T | 248ZB-43 |
| Red / 520 / 42T | 526AZR-42 |
| Blue / 520 / 54T | 525AZB-54 |
| Red / 520 / 50T | 526AZR-50 |
| Blue / 530 / 44T | 248ZB-44 |
| Red / 520 / 52T | 526AZR-52 |
| Blue / 525 / 38T | 526ZB-38 |
| Red / 520 / 54T | 526AZR-54 |
| Blue / 530 / 45T | 248ZB-45 |
| Red / 530 / 37T | 527ZR-37 |
| Blue / 525 / 41T | 526ZB-41 |
| Red / 530 / 39T | 527ZR-39 |
| Blue / 530 / 46T | 248ZB-46 |
| Red / 530 / 41T | 527ZR-41 |
| Blue / 525 / 50T | 526ZB-50 |
| Red / 530 / 48T | 527ZR-48 |
| Blue / 530 / 47T | 248ZB-47 |
| Red / 530 / 50T | 527ZR-50 |
| Blue / 525 / 53T | 526ZB-53 |
| Red / 530 / 52T | 527ZR-52 |
| Blue / 530 / 48T | 248ZB-48 |
| Red / 530 / 54T | 527ZR-54 |
| Blue / 520 / 37T | 526AZB-37 |
| Red / 530 / 35T | 528ZR-35 |
| Blue / 530 / 49T | 248ZB-49 |
| Red / 530 / 37T | 528ZR-37 |
| Blue / 520 / 40T | 526AZB-40 |
| Red / 530 / 39T | 528ZR-39 |
| Blue / 530 / 50T | 248ZB-50 |
| Red / 530 / 41T | 528ZR-41 |
| Blue / 520 / 49T | 526AZB-49 |
| Red / 530 / 43T | 528ZR-43 |
| Blue / 530 / 51T | 248ZB-51 |
| Red / 530 / 45T | 528ZR-45 |
| Blue / 520 / 52T | 526AZB-52 |
| Red / 530 / 47T | 528ZR-47 |
| Blue / 530 / 52T | 248ZB-52 |
| Red / 530 / 49T | 528ZR-49 |
| Blue / 530 / 36T | 527ZB-36 |
| Red / 530 / 51T | 528ZR-51 |
| Blue / 530 / 53T | 248ZB-53 |
| Red / 530 / 53T | 528ZR-53 |
| Blue / 530 / 39T | 527ZB-39 |
| Red / 520 / 34T | 528AZR-34 |
| Blue / 530 / 54T | 248ZB-54 |
| Red / 520 / 36T | 528AZR-36 |
| Blue / 530 / 47T | 527ZB-47 |
| Red / 520 / 38T | 528AZR-38 |
| Blue / 520 / 42T | 249AZB-42 |
| Red / 520 / 40T | 528AZR-40 |
| Blue / 530 / 50T | 527ZB-50 |
| Red / 520 / 42T | 528AZR-42 |
| Blue / 520 / 43T | 249AZB-43 |
| Red / 520 / 44T | 528AZR-44 |
| Blue / 530 / 53T | 527ZB-53 |
| Red / 520 / 46T | 528AZR-46 |
| Blue / 520 / 44T | 249AZB-44 |
| Red / 520 / 48T | 528AZR-48 |
| Blue / 530 / 35T | 528ZB-35 |
| Red / 520 / 50T | 528AZR-50 |
| Blue / 520 / 45T | 249AZB-45 |
| Red / 520 / 52T | 528AZR-52 |
| Blue / 530 / 38T | 528ZB-38 |
| Red / 520 / 54T | 528AZR-54 |
| Blue / 520 / 46T | 249AZB-46 |
| Red / 525 / 35T | 528CZR-35 |
| Blue / 530 / 41T | 528ZB-41 |
| Red / 525 / 37T | 528CZR-37 |
| Blue / 520 / 47T | 249AZB-47 |
| Red / 525 / 39T | 528CZR-39 |
| Blue / 530 / 44T | 528ZB-44 |
| Red / 525 / 41T | 528CZR-41 |
| Blue / 520 / 48T | 249AZB-48 |
| Red / 525 / 43T | 528CZR-43 |
| Blue / 530 / 47T | 528ZB-47 |
| Red / 525 / 45T | 528CZR-45 |
| Blue / 520 / 49T | 249AZB-49 |
| Red / 525 / 47T | 528CZR-47 |
| Blue / 530 / 50T | 528ZB-50 |
| Red / 525 / 49T | 528CZR-49 |
| Blue / 520 / 50T | 249AZB-50 |
| Red / 525 / 51T | 528CZR-51 |
| Blue / 530 / 53T | 528ZB-53 |
| Red / 525 / 53T | 528CZR-53 |
| Blue / 520 / 51T | 249AZB-51 |
| Red / 530 / 38T | 641ZR-38 |
| Blue / 520 / 35T | 528AZB-35 |
| Red / 530 / 40T | 641ZR-40 |
| Blue / 520 / 52T | 249AZB-52 |
| Red / 530 / 42T | 641ZR-42 |
| Blue / 520 / 38T | 528AZB-38 |
| Red / 530 / 44T | 641ZR-44 |
| Blue / 520 / 53T | 249AZB-53 |
| Red / 530 / 46T | 641ZR-46 |
| Blue / 520 / 41T | 528AZB-41 |
| Red / 530 / 48T | 641ZR-48 |
| Blue / 520 / 54T | 249AZB-54 |
| Red / 530 / 50T | 641ZR-50 |
| Blue / 520 / 44T | 528AZB-44 |
| Red / 530 / 52T | 641ZR-52 |
| Blue / 530 / 42T | 249ZB-42 |
| Red / 530 / 54T | 641ZR-54 |
| Blue / 520 / 47T | 528AZB-47 |
| Red / 520 / 39T | 641AZR-39 |
| Blue / 530 / 43T | 249ZB-43 |
| Red / 520 / 41T | 641AZR-41 |
| Blue / 520 / 50T | 528AZB-50 |
| Red / 520 / 43T | 641AZR-43 |
| Blue / 530 / 44T | 249ZB-44 |
| Red / 520 / 45T | 641AZR-45 |
| Blue / 520 / 53T | 528AZB-53 |
| Red / 520 / 47T | 641AZR-47 |
| Blue / 530 / 45T | 249ZB-45 |
| Red / 520 / 49T | 641AZR-49 |
| Blue / 525 / 35T | 528CZB-35 |
| Red / 520 / 51T | 641AZR-51 |
| Blue / 530 / 46T | 249ZB-46 |
| Red / 520 / 53T | 641AZR-53 |
| Blue / 525 / 38T | 528CZB-38 |
| Red / 530 / 37T | 642ZR-37 |
| Blue / 530 / 47T | 249ZB-47 |
| Red / 530 / 39T | 642ZR-39 |
| Blue / 525 / 41T | 528CZB-41 |
| Red / 530 / 41T | 642ZR-41 |
| Blue / 530 / 48T | 249ZB-48 |
| Red / 530 / 43T | 642ZR-43 |
| Blue / 525 / 44T | 528CZB-44 |
| Red / 530 / 45T | 642ZR-45 |
| Blue / 530 / 49T | 249ZB-49 |
| Red / 530 / 47T | 642ZR-47 |
| Blue / 525 / 47T | 528CZB-47 |
| Red / 530 / 49T | 642ZR-49 |
| Blue / 530 / 50T | 249ZB-50 |
| Red / 530 / 51T | 642ZR-51 |
| Blue / 525 / 50T | 528CZB-50 |
| Red / 530 / 53T | 642ZR-53 |
| Blue / 530 / 51T | 249ZB-51 |
| Red / 520 / 37T | 642AZR-37 |
| Blue / 525 / 53T | 528CZB-53 |
| Red / 520 / 39T | 642AZR-39 |
| Blue / 530 / 52T | 249ZB-52 |
| Red / 520 / 41T | 642AZR-41 |
| Blue / 530 / 39T | 641ZB-39 |
| Red / 520 / 43T | 642AZR-43 |
| Blue / 530 / 53T | 249ZB-53 |
| Red / 520 / 45T | 642AZR-45 |
| Blue / 530 / 42T | 641ZB-42 |
| Red / 520 / 47T | 642AZR-47 |
| Blue / 530 / 54T | 249ZB-54 |
| Red / 520 / 49T | 642AZR-49 |
| Blue / 530 / 45T | 641ZB-45 |
| Red / 520 / 51T | 642AZR-51 |
| Blue / 520 / 39T | 251AZB-39 |
| Red / 520 / 53T | 642AZR-53 |
| Blue / 530 / 48T | 641ZB-48 |
| Red / 525 / 37T | 642CZR-37 |
| Blue / 520 / 40T | 251AZB-40 |
| Red / 525 / 39T | 642CZR-39 |
| Blue / 530 / 51T | 641ZB-51 |
| Red / 525 / 41T | 642CZR-41 |
| Blue / 520 / 41T | 251AZB-41 |
| Red / 525 / 43T | 642CZR-43 |
| Blue / 530 / 54T | 641ZB-54 |
| Red / 525 / 45T | 642CZR-45 |
| Blue / 520 / 42T | 251AZB-42 |
| Red / 525 / 47T | 642CZR-47 |
| Blue / 520 / 40T | 641AZB-40 |
| Red / 525 / 49T | 642CZR-49 |
| Blue / 520 / 43T | 251AZB-43 |
| Red / 525 / 51T | 642CZR-51 |
| Blue / 520 / 43T | 641AZB-43 |
| Red / 525 / 53T | 642CZR-53 |
| Blue / 520 / 44T | 251AZB-44 |
| Red / 525 / 39T V3 Style | 654ZR-39 |
| Blue / 520 / 46T | 641AZB-46 |
| Red / 525 / 41T V3 Style | 654ZR-41 |
| Blue / 520 / 45T | 251AZB-45 |
| Red / 525 / 43T V3 Style | 654ZR-43 |
| Blue / 520 / 49T | 641AZB-49 |
| Red / 520 / 39T V3 Style | 654AZR-39 |
| Blue / 520 / 46T | 251AZB-46 |
| Red / 520 / 41T V3 Style | 654AZR-41 |
| Blue / 520 / 52T | 641AZB-52 |
| Red / 520 / 43T V3 Style | 654AZR-43 |
| Blue / 520 / 47T | 251AZB-47 |
| Red / 520 / 45T V3 Style | 654AZR-45 |
| Blue / 530 / 37T | 642ZB-37 |
| Red / 520 / 50T V3 Style | 654AZR-50 |
| Blue / 520 / 48T | 251AZB-48 |
| Red / 530 / 43T | 767ZR-43 |
| Blue / 530 / 40T | 642ZB-40 |
| Red / 530 / 45T | 767ZR-45 |
| Blue / 520 / 49T | 251AZB-49 |
| Red / 530 / 47T | 767ZR-47 |
| Blue / 530 / 43T | 642ZB-43 |
| Red / 530 / 49T | 767ZR-49 |
| Blue / 520 / 50T | 251AZB-50 |
| Red / 530 / 51T | 767ZR-51 |
| Blue / 530 / 46T | 642ZB-46 |
| Red / 530 / 53T | 767ZR-53 |
| Blue / 520 / 51T | 251AZB-51 |
| Red / 520 / 42T | 767AZR-42 |
| Blue / 530 / 49T | 642ZB-49 |
| Red / 520 / 44T | 767AZR-44 |
| Blue / 520 / 52T | 251AZB-52 |
| Red / 520 / 46T | 767AZR-46 |
| Blue / 530 / 52T | 642ZB-52 |
| Red / 520 / 48T | 767AZR-48 |
| Blue / 520 / 53T | 251AZB-53 |
| Red / 520 / 50T | 767AZR-50 |
| Blue / 520 / 37T | 642AZB-37 |
| Red / 520 / 52T | 767AZR-52 |
| Blue / 520 / 54T | 251AZB-54 |
| Red / 520 / 54T | 767AZR-54 |
| Blue / 520 / 40T | 642AZB-40 |
| Red / 525 / 35T | 775ZR-35 |
| Blue / 530 / 39T | 251ZB-39 |
| Red / 525 / 37T | 775ZR-37 |
| Blue / 520 / 43T | 642AZB-43 |
| Red / 525 / 39T | 775ZR-39 |
| Blue / 530 / 40T | 251ZB-40 |
| Red / 525 / 41T | 775ZR-41 |
| Blue / 520 / 46T | 642AZB-46 |
| Red / 525 / 43T | 775ZR-43 |
| Blue / 530 / 41T | 251ZB-41 |
| Red / 525 / 45T | 775ZR-45 |
| Blue / 520 / 49T | 642AZB-49 |
| Red / 525 / 47T | 775ZR-47 |
| Blue / 530 / 42T | 251ZB-42 |
| Red / 525 / 49T | 775ZR-49 |
| Blue / 520 / 52T | 642AZB-52 |
| Red / 525 / 51T | 775ZR-51 |
| Blue / 530 / 43T | 251ZB-43 |
| Red / 525 / 53T | 775ZR-53 |
| Blue / 525 / 37T | 642CZB-37 |
| Red / 520 / 34T | 775AZR-34 |
| Blue / 530 / 44T | 251ZB-44 |
| Red / 520 / 36T | 775AZR-36 |
| Blue / 525 / 40T | 642CZB-40 |
| Red / 520 / 38T | 775AZR-38 |
| Blue / 530 / 45T | 251ZB-45 |
| Red / 520 / 40T | 775AZR-40 |
| Blue / 525 / 43T | 642CZB-43 |
| Red / 520 / 42T | 775AZR-42 |
| Blue / 530 / 46T | 251ZB-46 |
| Red / 520 / 44T | 775AZR-44 |
| Blue / 525 / 46T | 642CZB-46 |
| Red / 520 / 46T | 775AZR-46 |
| Blue / 530 / 47T | 251ZB-47 |
| Red / 520 / 48T | 775AZR-48 |
| Blue / 525 / 49T | 642CZB-49 |
| Red / 520 / 50T | 775AZR-50 |
| Blue / 530 / 48T | 251ZB-48 |
| Red / 520 / 52T | 775AZR-52 |
| Blue / 525 / 52T | 642CZB-52 |
| Red / 520 / 54T | 775AZR-54 |
| Blue / 530 / 49T | 251ZB-49 |
| Red / 530 / 35T | 827ZR-35 |
| Blue / 520 / 39T V3 Style | 654AZB-39 |
| Red / 530 / 37T | 827ZR-37 |
| Blue / 530 / 50T | 251ZB-50 |
| Red / 530 / 39T | 827ZR-39 |
| Blue / 520 / 42T V3 Style | 654AZB-42 |
| Red / 530 / 41T | 827ZR-41 |
| Blue / 530 / 51T | 251ZB-51 |
| Red / 530 / 43T | 827ZR-43 |
| Blue / 520 / 45T V3 Style | 654AZB-45 |
| Red / 530 / 45T | 827ZR-45 |
| Blue / 530 / 52T | 251ZB-52 |
| Red / 530 / 47T | 827ZR-47 |
| Blue / 530 / 43T | 767ZB-43 |
| Red / 530 / 49T | 827ZR-49 |
| Blue / 530 / 53T | 251ZB-53 |
| Red / 530 / 51T | 827ZR-51 |
| Blue / 530 / 46T | 767ZB-46 |
| Red / 530 / 53T | 827ZR-53 |
| Blue / 530 / 54T | 251ZB-54 |
| Red / 520 / 34T | 827AZR-34 |
| Blue / 530 / 49T | 767ZB-49 |
| Red / 520 / 36T | 827AZR-36 |
| Blue / 525 / 39T | 252ZB-39 |
| Red / 520 / 38T | 827AZR-38 |
| Blue / 530 / 52T | 767ZB-52 |
| Red / 520 / 40T | 827AZR-40 |
| Blue / 525 / 40T | 252ZB-40 |
| Red / 520 / 42T | 827AZR-42 |
| Blue / 520 / 43T | 767AZB-43 |
| Red / 520 / 44T | 827AZR-44 |
| Blue / 525 / 41T | 252ZB-41 |
| Red / 520 / 46T | 827AZR-46 |
| Blue / 520 / 46T | 767AZB-46 |
| Red / 520 / 48T | 827AZR-48 |
| Blue / 525 / 42T | 252ZB-42 |
| Red / 520 / 50T | 827AZR-50 |
| Blue / 520 / 49T | 767AZB-49 |
| Red / 520 / 52T | 827AZR-52 |
| Blue / 525 / 43T | 252ZB-43 |
| Red / 520 / 54T | 827AZR-54 |
| Blue / 520 / 52T | 767AZB-52 |
| Red / 520 / 44T | 435ZR-44 |
| Blue / 525 / 44T | 252ZB-44 |
| Red / 520 / 49T | 435ZR-49 |
| Blue / 525 / 34T | 775ZB-34 |
| Red / 525 / 45T | 435CZR-45 |
| Blue / 525 / 45T | 252ZB-45 |
| Red / 525 / 47T | 435CZR-47 |
| Blue / 525 / 37T | 775ZB-37 |
| Red / 530 / 45T | 438ZR-45 |
| Blue / 525 / 46T | 252ZB-46 |
| Red / 520 / 40T | 452AZR-40 |
| Blue / 525 / 40T | 775ZB-40 |
| Red / 520 / 42T | 452AZR-42 |
| Blue / 525 / 47T | 252ZB-47 |
| Red / 520 / 44T | 452AZR-44 |
| Blue / 525 / 43T | 775ZB-43 |
| Red / 520 / 46T | 452AZR-46 |
| Blue / 525 / 48T | 252ZB-48 |
| Red / 525 / 44T | 526ZR-44 |
| Blue / 525 / 46T | 775ZB-46 |
| Red / 525 / 46T | 526ZR-46 |
| Blue / 525 / 49T | 252ZB-49 |
| Red / 525 / 48T | 526ZR-48 |
| Blue / 525 / 49T | 775ZB-49 |
| Red / 520 / 48T | 526AZR-48 |
| Blue / 525 / 50T | 252ZB-50 |
| Red / 530 / 43T | 527ZR-43 |
| Blue / 525 / 52T | 775ZB-52 |
| Red / 530 / 45T | 527ZR-45 |
| Blue / 525 / 51T | 252ZB-51 |
| Red / 525 / 47T | 193ZR-47 |
| Blue / 520 / 34T | 775AZB-34 |
| Red / 520 / 45T | 435ZR-45 |
| Blue / 525 / 52T | 252ZB-52 |
| Red / 520 / 48T | 435ZR-48 |
| Blue / 520 / 37T | 775AZB-37 |
| Red / 520 / 44T | 526AZR-44 |
| Blue / 525 / 53T | 252ZB-53 |
| Red / 520 / 47T | 526AZR-47 |
| Blue / 525 / 54T | 252ZB-54 |
| Red / 520 / 40T | 193AZR-40 |