Vortex
Vortex Aluminum Rear Sprocket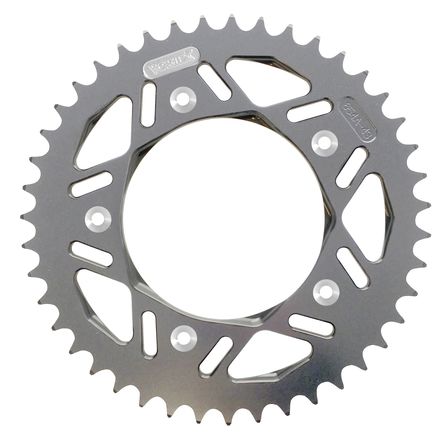 Vortex Aluminum Rear Sprocket
---
8% Off - Save up to $6.00
---
5 Star
6
4 Star
2
3 Star
1
2 Star
0
1 Star
0
Write a Review
Write your review and you'll automatically be entered in our monthly drawing. Include an image or video to DOUBLE your chances to win!
Write Your Review
3 months 17 days ago
Saranac Lake,NY
4 months 25 days ago
Safford az
Looks awesome
I bought the vortex kit and I'm very happy with the looks and the performance thanks Moto sport
Over 10 months ago
Brighton, mi
Looks sweet
Looks awesome and is holding up really well
Over 11 months ago
Portland, OR
First time
Never used a vortex before but its very light looks great and seems to have decent strength. Good buy for sure.
2 years 4 months ago
Rochester, WA 98579, USA
For the price it's great,about 6-7hard rides..
Great sprocket for the money and great for beginning and intermediate riders,expert/pro,last bout 6-7good days of motoing...
Bad paint job
Good sprocket but when I rode on a muddy track the end of the sprocket discolored so the middle of the sprocket is red and the end of it is pink. Other then that great product.
Over 3 years ago
Bowling Green, OH, USA
Great for Quick Torque!!!
I bought a kit with this sprocket(+2) and a 14T front(-2) and I dont regret it at all! It looks pretty nice with all the milled slashes and holds up strong. Great combo for doing wheelies or wanting that quick acceleration out of the apex of turns. Overall Nice!
Over 3 years ago
Southern Alabma
Good but wears fast.
The install of this sprocket was easy enough (typical install of a sprocket). It seems to grab pretty well, is fairly light compared to a steel sprocket, and looks great. I got about 4000 miles out of my last one (same model) and expect the same or less from this one (+1 on the rear, -1 on the front). I have pretty much always used Vortex as they make a good product that holds up semi-well to how I ride (pretty hard really). I have seen people get up to 10k on these aluminum sprockets when riding easy on the straights. Even when my last one was really warn and saw-bladed it didn't loose any teeth.
Mike
Q: Are there horsepower ratings or torque specs available for this product?
My intent for this sprocket is a drag racing application and I want to be sure that the sprocket will handle the energy and las many seasons.
See all bikes that this part fits...
| Product Variant | Manufacturer Part # |
| --- | --- |
| Black / 520 / 43T | 193AK-43 |
| Black / 525 / 43T | 193K-43 |
| Black / 520 / 40T | 251AK-40 |
| Black / 520 / 48T | 225ZK-48 |
| Black / 520 / 49T | 225ZK-49 |
| Black / 520 / 50T | 225ZK-50 |
| Black / 520 / 51T | 225ZK-51 |
| Black / 520 / 52T | 225ZK-52 |
| Black / 520 / 53T | 225ZK-53 |
| Black / 520 / 48T | 316ZK-48 |
| Black / 520 / 49T | 316ZK-49 |
| Black / 520 / 50T | 316ZK-50 |
| Black / 520 / 51T | 316ZK-51 |
| Black / 520 / 52T | 316ZK-52 |
| Black / 520 / 47T | 422ZK-47 |
| Black / 520 / 48T | 422ZK-48 |
| Black / 520 / 50T | 422ZK-50 |
| Black / 520 / 51T | 422ZK-51 |
| Black / 520 / 52T | 422ZK-52 |
| Black / 520 / 53T | 422ZK-53 |
| Black / 520 / 48T | 511ZK-48 |
| Black / 520 / 49T | 511ZK-49 |
| Black / 520 / 50T | 511ZK-50 |
| Black / 520 / 51T | 511ZK-51 |
| Black / 520 / 52T | 511ZK-52 |
| Black / 520 / 53T | 511ZK-53 |
| Black / 520 / 47T | 208ZK-47 |
| Black / 520 / 48T | 208ZK-48 |
| Black / 520 / 49T | 208ZK-49 |
| Black / 520 / 50T | 208ZK-50 |
| Black / 520 / 51T | 208ZK-51 |
| Black / 520 / 52T | 208ZK-52 |
| Black / 520 / 53T | 208ZK-53 |
| Black / 520 / 49T | 422ZK-49 |
| Silver / 525 / 43T | 252-43 |
| Silver / 525 / 44T | 252-44 |
| Silver / 525 / 45T | 252-45 |
| Silver / 525 / 47T | 252-47 |
| Silver / 530 / 41T | 427-41 |
| Silver / 530 / 42T | 427-42 |
| Silver / 520 / 41T | 435-41 |
| Silver / 520 / 44T | 435-44 |
| Silver / 520 / 45T | 435-45 |
| Silver / 520 / 48T | 435-48 |
| Silver / 525 / 45T | 435C-45 |
| Silver / 525 / 47T | 435C-47 |
| Silver / 530 / 38T | 436-38 |
| Silver / 530 / 41T | 436-41 |
| Silver / 530 / 42T | 436-42 |
| Silver / 530 / 45T | 436-45 |
| Silver / 530 / 43T | 438-43 |
| Silver / 530 / 45T | 438-45 |
| Silver / 530 / 47T | 438-47 |
| Silver / 530 / 49T | 438-49 |
| Silver / 530 / 40T | 452-40 |
| Silver / 530 / 42T | 452-42 |
| Silver / 530 / 45T | 452-45 |
| Silver / 530 / 46T | 452-46 |
| Silver / 530 / 47T | 452-47 |
| Silver / 520 / 38T | 452A-38 |
| Silver / 520 / 39T | 452A-39 |
| Silver / 520 / 41T | 452A-41 |
| Silver / 520 / 43T | 452A-43 |
| Silver / 520 / 45T | 452A-45 |
| Silver / 520 / 46T | 452A-46 |
| Silver / 525 / 40T | 454-40 |
| Silver / 525 / 41T | 454-41 |
| Silver / 525 / 45T | 454-45 |
| Silver / 520 / 43T | 491A-43 |
| Silver / 520 / 44T | 491A-44 |
| Silver / 520 / 45T | 491A-45 |
| Silver / 520 / 46T | 491A-46 |
| Silver / 520 / 47T | 491A-47 |
| Silver / 525 / 41T | 526-41 |
| Silver / 525 / 42T | 526-42 |
| Silver / 525 / 44T | 526-44 |
| Silver / 520 / 41T | 526A-41 |
| Silver / 520 / 42T | 526A-42 |
| Silver / 520 / 44T | 526A-44 |
| Silver / 530 / 41T | 527-41 |
| Silver / 530 / 43T | 527-43 |
| Silver / 530 / 45T | 527-45 |
| Silver / 530 / 48T | 527-48 |
| Silver / 520 / 50T | 827A-50 |
| Silver / 530 / 43T | 528-43 |
| Silver / 530 / 44T | 528-44 |
| Silver / 530 / 45T | 528-45 |
| Silver / 530 / 46T | 528-46 |
| Silver / 530 / 47T | 528-47 |
| Silver / 530 / 48T | 528-48 |
| Silver / 520 / 44T | 528A-44 |
| Silver / 520 / 46T | 528A-46 |
| Silver / 520 / 47T | 528A-47 |
| Silver / 530 / 48T | 642-48 |
| Silver / 520 / 48T | 642A-48 |
| Silver / 520 / 49T | 642A-49 |
| Silver / 520 / 50T | 642A-50 |
| Silver / 520 / 47T | 775A-47 |
| Silver / 520 / 48T | 775A-48 |
| Silver / 520 / 49T | 775A-49 |
| Silver / 525 / 44T | 193-44 |
| Silver / 525 / 45T | 193-45 |
| Silver / 525 / 46T | 193-46 |
| Silver / 525 / 47T | 193-47 |
| Silver / 530 / 41T | 245-41 |
| Silver / 530 / 43T | 245-43 |
| Silver / 520 / 43T | 245A-43 |
| Silver / 520 / 44T | 245A-44 |
| Silver / 520 / 45T | 245A-45 |
| Silver / 520 / 46T | 245A-46 |
| Silver / 520 / 48T | 245A-48 |
| Silver / 525 / 43T | 247-43 |
| Silver / 530 / 40T | 251-40 |
| Silver / 530 / 43T | 251-43 |
| Silver / 530 / 44T | 251-44 |
| Silver / 530 / 46T | 251-46 |
| Silver / 520 / 42T | 251A-42 |
| Silver / 520 / 45T | 251A-45 |
| Silver / 525 / 42T | 252-42 |
| Silver / 520 / 48T | 225-48 |
| Silver / 520 / 49T | 225-49 |
| Silver / 520 / 51T | 225-51 |
| Silver / 520 / 52T | 225-52 |
| Silver / 520 / 53T | 225-53 |
| Silver / 520 / 52T | 316-52 |
| Silver / 520 / 47T | 422-47 |
| Silver / 520 / 50T | 422-50 |
| Silver / 520 / 51T | 422-51 |
| Silver / 520 / 52T | 422-52 |
| Silver / 520 / 53T | 422-53 |
| Silver / 520 / 47T | 511-47 |
| Silver / 520 / 48T | 511-48 |
| Silver / 520 / 49T | 511-49 |
| Silver / 520 / 50T | 511-50 |
| Silver / 520 / 51T | 511-51 |
| Silver / 520 / 53T | 511-53 |
| Silver / 520 / 48T | 208-48 |
| Silver / 520 / 49T | 208-49 |
| Silver / 520 / 50T | 208-50 |
| Silver / 520 / 51T | 208-51 |
| Silver / 420 / 52T | 201-52 |
| Silver / 415 / 42T | 312-42 |
| Silver / 415 / 44T | 312-44 |
| Silver / 415 / 45T | 312-45 |
| Silver / 525 / 34T | 110-34 |
| Silver / 525 / 35T | 110-35 |
| Silver / 525 / 36T | 110-36 |
| Silver / 525 / 37T | 110-37 |
| Silver / 525 / 38T | 110-38 |
| Silver / 525 / 39T | 110-39 |
| Silver / 525 / 40T | 110-40 |
| Silver / 525 / 41T | 110-41 |
| Silver / 525 / 42T | 110-42 |
| Silver / 525 / 43T | 110-43 |
| Silver / 525 / 44T | 110-44 |
| Silver / 525 / 45T | 110-45 |
| Silver / 525 / 46T | 110-46 |
| Silver / 525 / 47T | 110-47 |
| Silver / 525 / 48T | 110-48 |
| Silver / 525 / 49T | 110-49 |
| Silver / 525 / 50T | 110-50 |
| Silver / 525 / 51T | 110-51 |
| Silver / 525 / 52T | 110-52 |
| Silver / 525 / 53T | 110-53 |
| Silver / 525 / 54T | 110-54 |
| Silver / 525 / 34T | 120-34 |
| Silver / 525 / 35T | 120-35 |
| Silver / 525 / 36T | 120-36 |
| Silver / 525 / 37T | 120-37 |
| Silver / 525 / 38T | 120-38 |
| Silver / 525 / 39T | 120-39 |
| Silver / 525 / 40T | 120-40 |
| Silver / 525 / 41T | 120-41 |
| Silver / 525 / 42T | 120-42 |
| Silver / 525 / 43T | 120-43 |
| Silver / 525 / 44T | 120-44 |
| Silver / 525 / 45T | 120-45 |
| Silver / 525 / 46T | 120-46 |
| Silver / 525 / 47T | 120-47 |
| Silver / 525 / 48T | 120-48 |
| Silver / 525 / 49T | 120-49 |
| Silver / 525 / 50T | 120-50 |
| Silver / 525 / 51T | 120-51 |
| Silver / 525 / 52T | 120-52 |
| Silver / 525 / 53T | 120-53 |
| Silver / 525 / 54T | 120-54 |
| Silver / 520 / 37T | 125-37 |
| Silver / 520 / 38T | 125-38 |
| Silver / 520 / 39T | 125-39 |
| Silver / 520 / 40T | 125-40 |
| Silver / 520 / 41T | 125-41 |
| Silver / 520 / 42T | 125-42 |
| Silver / 520 / 43T | 125-43 |
| Silver / 520 / 44T | 125-44 |
| Silver / 520 / 45T | 125-45 |
| Silver / 520 / 46T | 125-46 |
| Silver / 520 / 47T | 125-47 |
| Silver / 520 / 48T | 125-48 |
| Silver / 520 / 49T | 125-49 |
| Silver / 520 / 50T | 125-50 |
| Silver / 520 / 51T | 125-51 |
| Silver / 520 / 52T | 125-52 |
| Silver / 520 / 53T | 125-53 |
| Silver / 520 / 54T | 125-54 |
| Silver / 525 / 34T | 144-34 |
| Silver / 525 / 35T | 144-35 |
| Silver / 525 / 36T | 144-36 |
| Silver / 525 / 37T | 144-37 |
| Silver / 525 / 38T | 144-38 |
| Silver / 525 / 39T | 144-39 |
| Silver / 525 / 40T | 144-40 |
| Silver / 525 / 41T | 144-41 |
| Silver / 525 / 42T | 144-42 |
| Silver / 525 / 43T | 144-43 |
| Silver / 525 / 44T | 144-44 |
| Silver / 525 / 45T | 144-45 |
| Silver / 525 / 46T | 144-46 |
| Silver / 525 / 47T | 144-47 |
| Silver / 525 / 48T | 144-48 |
| Silver / 525 / 49T | 144-49 |
| Silver / 525 / 50T | 144-50 |
| Silver / 525 / 51T | 144-51 |
| Silver / 525 / 52T | 144-52 |
| Silver / 525 / 53T | 144-53 |
| Silver / 525 / 54T | 144-54 |
| Silver / 525 / 36T | 193-36 |
| Silver / 525 / 38T | 193-38 |
| Silver / 525 / 39T | 193-39 |
| Silver / 525 / 40T | 193-40 |
| Silver / 525 / 41T | 193-41 |
| Silver / 525 / 42T | 193-42 |
| Silver / 525 / 43T | 193-43 |
| Silver / 525 / 48T | 193-48 |
| Silver / 420 / 33T | 206-33 |
| Silver / 420 / 34T | 206-34 |
| Silver / 420 / 36T | 206-36 |
| Silver / 420 / 37T | 206-37 |
| Silver / 520 / 35T | 211-35 |
| Silver / 520 / 36T | 211-36 |
| Silver / 520 / 37T | 211-37 |
| Silver / 520 / 38T | 211-38 |
| Silver / 520 / 39T | 211-39 |
| Silver / 520 / 40T | 211-40 |
| Silver / 520 / 41T | 211-41 |
| Silver / 520 / 42T | 211-42 |
| Silver / 520 / 43T | 211-43 |
| Silver / 520 / 44T | 211-44 |
| Silver / 520 / 45T | 211-45 |
| Silver / 520 / 46T | 211-46 |
| Silver / 530 / 37T | 245-37 |
| Silver / 530 / 38T | 245-38 |
| Silver / 530 / 39T | 245-39 |
| Silver / 530 / 40T | 245-40 |
| Silver / 530 / 42T | 245-42 |
| Silver / 530 / 44T | 245-44 |
| Silver / 530 / 46T | 245-46 |
| Silver / 530 / 47T | 245-47 |
| Silver / 530 / 48T | 245-48 |
| Silver / 530 / 49T | 245-49 |
| Silver / 530 / 50T | 245-50 |
| Silver / 530 / 51T | 245-51 |
| Silver / 530 / 52T | 245-52 |
| Silver / 530 / 53T | 245-53 |
| Silver / 530 / 54T | 245-54 |
| Silver / 525 / 37T | 247-37 |
| Silver / 525 / 38T | 247-38 |
| Silver / 525 / 39T | 247-39 |
| Silver / 525 / 40T | 247-40 |
| Silver / 525 / 41T | 247-41 |
| Silver / 525 / 42T | 247-42 |
| Silver / 525 / 44T | 247-44 |
| Silver / 525 / 46T | 247-46 |
| Silver / 525 / 47T | 247-47 |
| Silver / 525 / 48T | 247-48 |
| Silver / 525 / 49T | 247-49 |
| Silver / 525 / 50T | 247-50 |
| Silver / 525 / 51T | 247-51 |
| Silver / 525 / 52T | 247-52 |
| Silver / 525 / 53T | 247-53 |
| Silver / 525 / 54T | 247-54 |
| Silver / 530 / 42T | 248-42 |
| Silver / 530 / 43T | 248-43 |
| Silver / 530 / 44T | 248-44 |
| Silver / 530 / 45T | 248-45 |
| Silver / 530 / 46T | 248-46 |
| Silver / 530 / 47T | 248-47 |
| Silver / 530 / 48T | 248-48 |
| Silver / 530 / 49T | 248-49 |
| Silver / 530 / 50T | 248-50 |
| Silver / 530 / 51T | 248-51 |
| Silver / 530 / 52T | 248-52 |
| Silver / 530 / 53T | 248-53 |
| Silver / 530 / 54T | 248-54 |
| Silver / 530 / 42T | 249-42 |
| Silver / 530 / 43T | 249-43 |
| Silver / 530 / 44T | 249-44 |
| Silver / 530 / 45T | 249-45 |
| Silver / 530 / 46T | 249-46 |
| Silver / 530 / 47T | 249-47 |
| Silver / 530 / 48T | 249-48 |
| Silver / 530 / 49T | 249-49 |
| Silver / 530 / 50T | 249-50 |
| Silver / 530 / 51T | 249-51 |
| Silver / 530 / 52T | 249-52 |
| Silver / 530 / 53T | 249-53 |
| Silver / 530 / 54T | 249-54 |
| Silver / 530 / 39T | 251-39 |
| Silver / 530 / 45T | 251-45 |
| Silver / 530 / 47T | 251-47 |
| Silver / 530 / 48T | 251-48 |
| Silver / 530 / 49T | 251-49 |
| Silver / 530 / 50T | 251-50 |
| Silver / 530 / 51T | 251-51 |
| Silver / 530 / 52T | 251-52 |
| Silver / 530 / 53T | 251-53 |
| Silver / 530 / 54T | 251-54 |
| Silver / 525 / 39T | 252-39 |
| Silver / 525 / 40T | 252-40 |
| Silver / 525 / 41T | 252-41 |
| Silver / 525 / 48T | 252-48 |
| Silver / 525 / 49T | 252-49 |
| Silver / 525 / 50T | 252-50 |
| Silver / 525 / 51T | 252-51 |
| Silver / 525 / 52T | 252-52 |
| Silver / 525 / 53T | 252-53 |
| Silver / 525 / 54T | 252-54 |
| Silver / 520 / 36T | 338-36 |
| Silver / 520 / 37T | 338-37 |
| Silver / 520 / 38T | 338-38 |
| Silver / 520 / 39T | 338-39 |
| Silver / 520 / 40T | 338-40 |
| Silver / 520 / 41T | 338-41 |
| Silver / 520 / 42T | 338-42 |
| Silver / 520 / 43T | 338-43 |
| Silver / 520 / 44T | 338-44 |
| Silver / 520 / 45T | 338-45 |
| Silver / 520 / 46T | 338-46 |
| Silver / 520 / 47T | 338-47 |
| Silver / 520 / 48T | 338-48 |
| Silver / 520 / 49T | 338-49 |
| Silver / 520 / 50T | 338-50 |
| Silver / 520 / 51T | 338-51 |
| Silver / 520 / 52T | 338-52 |
| Silver / 520 / 53T | 338-53 |
| Silver / 520 / 54T | 338-54 |
| Silver / 530 / 34T | 427-34 |
| Silver / 530 / 35T | 427-35 |
| Silver / 530 / 36T | 427-36 |
| Silver / 530 / 37T | 427-37 |
| Silver / 530 / 38T | 427-38 |
| Silver / 530 / 39T | 427-39 |
| Silver / 530 / 40T | 427-40 |
| Silver / 530 / 44T | 427-44 |
| Silver / 530 / 45T | 427-45 |
| Silver / 530 / 46T | 427-46 |
| Silver / 530 / 47T | 427-47 |
| Silver / 530 / 48T | 427-48 |
| Silver / 530 / 49T | 427-49 |
| Silver / 530 / 50T | 427-50 |
| Silver / 530 / 51T | 427-51 |
| Silver / 530 / 52T | 427-52 |
| Silver / 530 / 53T | 427-53 |
| Silver / 530 / 54T | 427-54 |
| Silver / 520 / 35T | 435-35 |
| Silver / 520 / 36T | 435-36 |
| Silver / 520 / 37T | 435-37 |
| Silver / 520 / 38T | 435-38 |
| Silver / 520 / 39T | 435-39 |
| Silver / 520 / 40T | 435-40 |
| Silver / 520 / 51T | 435-51 |
| Silver / 520 / 52T | 435-52 |
| Silver / 520 / 53T | 435-53 |
| Silver / 520 / 54T | 435-54 |
| Silver / 530 / 37T | 436-37 |
| Silver / 530 / 46T | 436-46 |
| Silver / 530 / 47T | 436-47 |
| Silver / 530 / 48T | 436-48 |
| Silver / 530 / 49T | 436-49 |
| Silver / 530 / 50T | 436-50 |
| Silver / 530 / 51T | 436-51 |
| Silver / 530 / 52T | 436-52 |
| Silver / 530 / 53T | 436-53 |
| Silver / 530 / 54T | 436-54 |
| Silver / 530 / 35T | 438-35 |
| Silver / 530 / 36T | 438-36 |
| Silver / 530 / 37T | 438-37 |
| Silver / 530 / 38T | 438-38 |
| Silver / 530 / 39T | 438-39 |
| Silver / 530 / 40T | 438-40 |
| Silver / 530 / 41T | 438-41 |
| Silver / 530 / 42T | 438-42 |
| Silver / 530 / 51T | 438-51 |
| Silver / 530 / 52T | 438-52 |
| Silver / 530 / 53T | 438-53 |
| Silver / 530 / 54T | 438-54 |
| Silver / 530 / 34T | 452-34 |
| Silver / 530 / 35T | 452-35 |
| Silver / 530 / 36T | 452-36 |
| Silver / 530 / 37T | 452-37 |
| Silver / 530 / 38T | 452-38 |
| Silver / 530 / 39T | 452-39 |
| Silver / 530 / 48T | 452-48 |
| Silver / 530 / 49T | 452-49 |
| Silver / 530 / 50T | 452-50 |
| Silver / 530 / 51T | 452-51 |
| Silver / 530 / 52T | 452-52 |
| Silver / 530 / 53T | 452-53 |
| Silver / 530 / 54T | 452-54 |
| Silver / 525 / 34T | 454-34 |
| Silver / 525 / 35T | 454-35 |
| Silver / 525 / 36T | 454-36 |
| Silver / 525 / 37T | 454-37 |
| Silver / 525 / 38T | 454-38 |
| Silver / 525 / 46T | 454-46 |
| Silver / 525 / 47T | 454-47 |
| Silver / 525 / 48T | 454-48 |
| Silver / 525 / 49T | 454-49 |
| Silver / 525 / 50T | 454-50 |
| Silver / 525 / 51T | 454-51 |
| Silver / 525 / 52T | 454-52 |
| Silver / 525 / 53T | 454-53 |
| Silver / 525 / 54T | 454-54 |
| Silver / 530 / 40T | 488-40 |
| Silver / 530 / 41T | 488-41 |
| Silver / 530 / 42T | 488-42 |
| Silver / 530 / 43T | 488-43 |
| Silver / 530 / 44T | 488-44 |
| Silver / 530 / 45T | 488-45 |
| Silver / 530 / 46T | 488-46 |
| Silver / 530 / 47T | 488-47 |
| Silver / 530 / 48T | 488-48 |
| Silver / 530 / 49T | 488-49 |
| Silver / 530 / 50T | 488-50 |
| Silver / 530 / 51T | 488-51 |
| Silver / 530 / 52T | 488-52 |
| Silver / 530 / 53T | 488-53 |
| Silver / 530 / 54T | 488-54 |
| Silver / 525 / 37T | 491-37 |
| Silver / 525 / 38T | 491-38 |
| Silver / 525 / 39T | 491-39 |
| Silver / 525 / 40T | 491-40 |
| Silver / 525 / 41T | 491-41 |
| Silver / 525 / 42T | 491-42 |
| Silver / 525 / 43T | 491-43 |
| Silver / 525 / 44T | 491-44 |
| Silver / 525 / 45T | 491-45 |
| Silver / 525 / 46T | 491-46 |
| Silver / 525 / 47T | 491-47 |
| Silver / 525 / 48T | 491-48 |
| Silver / 525 / 49T | 491-49 |
| Silver / 525 / 50T | 491-50 |
| Silver / 525 / 51T | 491-51 |
| Silver / 525 / 52T | 491-52 |
| Silver / 525 / 53T | 491-53 |
| Silver / 525 / 54T | 491-54 |
| Silver / 530 / 34T | 525-34 |
| Silver / 530 / 35T | 525-35 |
| Silver / 530 / 36T | 525-36 |
| Silver / 530 / 37T | 525-37 |
| Silver / 530 / 38T | 525-38 |
| Silver / 530 / 39T | 525-39 |
| Silver / 530 / 40T | 525-40 |
| Silver / 530 / 41T | 525-41 |
| Silver / 530 / 42T | 525-42 |
| Silver / 530 / 43T | 525-43 |
| Silver / 530 / 44T | 525-44 |
| Silver / 530 / 45T | 525-45 |
| Silver / 530 / 46T | 525-46 |
| Silver / 530 / 47T | 525-47 |
| Silver / 530 / 48T | 525-48 |
| Silver / 530 / 49T | 525-49 |
| Silver / 530 / 50T | 525-50 |
| Silver / 530 / 51T | 525-51 |
| Silver / 530 / 52T | 525-52 |
| Silver / 530 / 53T | 525-53 |
| Silver / 530 / 54T | 525-54 |
| Silver / 525 / 36T | 526-36 |
| Silver / 525 / 37T | 526-37 |
| Silver / 525 / 38T | 526-38 |
| Silver / 525 / 39T | 526-39 |
| Silver / 525 / 40T | 526-40 |
| Silver / 525 / 48T | 526-48 |
| Silver / 525 / 49T | 526-49 |
| Silver / 525 / 50T | 526-50 |
| Silver / 525 / 51T | 526-51 |
| Silver / 525 / 52T | 526-52 |
| Silver / 525 / 53T | 526-53 |
| Silver / 525 / 54T | 526-54 |
| Silver / 530 / 36T | 527-36 |
| Silver / 530 / 37T | 527-37 |
| Silver / 530 / 38T | 527-38 |
| Silver / 530 / 39T | 527-39 |
| Silver / 530 / 47T | 527-47 |
| Silver / 530 / 49T | 527-49 |
| Silver / 530 / 50T | 527-50 |
| Silver / 530 / 51T | 527-51 |
| Silver / 530 / 52T | 527-52 |
| Silver / 530 / 53T | 527-53 |
| Silver / 530 / 54T | 527-54 |
| Silver / 530 / 34T | 528-34 |
| Silver / 530 / 35T | 528-35 |
| Silver / 530 / 36T | 528-36 |
| Silver / 530 / 37T | 528-37 |
| Silver / 530 / 38T | 528-38 |
| Silver / 530 / 39T | 528-39 |
| Silver / 530 / 40T | 528-40 |
| Silver / 530 / 41T | 528-41 |
| Silver / 530 / 42T | 528-42 |
| Silver / 530 / 50T | 528-50 |
| Silver / 530 / 51T | 528-51 |
| Silver / 530 / 52T | 528-52 |
| Silver / 530 / 53T | 528-53 |
| Silver / 530 / 54T | 528-54 |
| Silver / 530 / 38T | 641-38 |
| Silver / 530 / 39T | 641-39 |
| Silver / 530 / 40T | 641-40 |
| Silver / 530 / 41T | 641-41 |
| Silver / 530 / 42T | 641-42 |
| Silver / 530 / 43T | 641-43 |
| Silver / 530 / 44T | 641-44 |
| Silver / 530 / 45T | 641-45 |
| Silver / 530 / 46T | 641-46 |
| Silver / 530 / 47T | 641-47 |
| Silver / 530 / 48T | 641-48 |
| Silver / 530 / 49T | 641-49 |
| Silver / 530 / 50T | 641-50 |
| Silver / 530 / 51T | 641-51 |
| Silver / 530 / 52T | 641-52 |
| Silver / 530 / 53T | 641-53 |
| Silver / 530 / 54T | 641-54 |
| Silver / 530 / 37T | 642-37 |
| Silver / 530 / 38T | 642-38 |
| Silver / 530 / 39T | 642-39 |
| Silver / 530 / 40T | 642-40 |
| Silver / 530 / 41T | 642-41 |
| Silver / 530 / 42T | 642-42 |
| Silver / 530 / 43T | 642-43 |
| Silver / 530 / 44T | 642-44 |
| Silver / 530 / 45T | 642-45 |
| Silver / 530 / 46T | 642-46 |
| Silver / 530 / 47T | 642-47 |
| Silver / 530 / 49T | 642-49 |
| Silver / 530 / 51T | 642-51 |
| Silver / 530 / 52T | 642-52 |
| Silver / 530 / 53T | 642-53 |
| Silver / 530 / 54T | 642-54 |
| Silver / 530 / 43T | 767-43 |
| Silver / 530 / 44T | 767-44 |
| Silver / 530 / 45T | 767-45 |
| Silver / 530 / 46T | 767-46 |
| Silver / 530 / 47T | 767-47 |
| Silver / 530 / 48T | 767-48 |
| Silver / 530 / 49T | 767-49 |
| Silver / 530 / 50T | 767-50 |
| Silver / 530 / 51T | 767-51 |
| Silver / 530 / 52T | 767-52 |
| Silver / 530 / 53T | 767-53 |
| Silver / 530 / 54T | 767-54 |
| Silver / 525 / 34T | 775-34 |
| Silver / 525 / 35T | 775-35 |
| Silver / 525 / 36T | 775-36 |
| Silver / 525 / 37T | 775-37 |
| Silver / 525 / 38T | 775-38 |
| Silver / 525 / 39T | 775-39 |
| Silver / 525 / 40T | 775-40 |
| Silver / 525 / 41T | 775-41 |
| Silver / 525 / 42T | 775-42 |
| Silver / 525 / 43T | 775-43 |
| Silver / 525 / 44T | 775-44 |
| Silver / 525 / 45T | 775-45 |
| Silver / 525 / 46T | 775-46 |
| Silver / 525 / 47T | 775-47 |
| Silver / 525 / 48T | 775-48 |
| Silver / 525 / 49T | 775-49 |
| Silver / 525 / 50T | 775-50 |
| Silver / 525 / 51T | 775-51 |
| Silver / 525 / 52T | 775-52 |
| Silver / 525 / 53T | 775-53 |
| Silver / 525 / 54T | 775-54 |
| Silver / 530 / 34T | 827-34 |
| Silver / 530 / 35T | 827-35 |
| Silver / 530 / 36T | 827-36 |
| Silver / 530 / 37T | 827-37 |
| Silver / 530 / 38T | 827-38 |
| Silver / 530 / 39T | 827-39 |
| Silver / 530 / 40T | 827-40 |
| Silver / 530 / 41T | 827-41 |
| Silver / 530 / 42T | 827-42 |
| Silver / 530 / 43T | 827-43 |
| Silver / 530 / 44T | 827-44 |
| Silver / 530 / 45T | 827-45 |
| Silver / 530 / 46T | 827-46 |
| Silver / 530 / 47T | 827-47 |
| Silver / 530 / 48T | 827-48 |
| Silver / 530 / 49T | 827-49 |
| Silver / 530 / 50T | 827-50 |
| Silver / 530 / 51T | 827-51 |
| Silver / 530 / 52T | 827-52 |
| Silver / 530 / 53T | 827-53 |
| Silver / 530 / 54T | 827-54 |
| Silver / 530 / 34T | 840-34 |
| Silver / 530 / 35T | 840-35 |
| Silver / 530 / 36T | 840-36 |
| Silver / 530 / 37T | 840-37 |
| Silver / 530 / 38T | 840-38 |
| Silver / 530 / 39T | 840-39 |
| Silver / 530 / 40T | 840-40 |
| Silver / 530 / 41T | 840-41 |
| Silver / 530 / 42T | 840-42 |
| Silver / 530 / 43T | 840-43 |
| Silver / 530 / 44T | 840-44 |
| Silver / 530 / 45T | 840-45 |
| Silver / 530 / 46T | 840-46 |
| Silver / 530 / 47T | 840-47 |
| Silver / 530 / 48T | 840-48 |
| Silver / 530 / 49T | 840-49 |
| Silver / 530 / 50T | 840-50 |
| Silver / 530 / 51T | 840-51 |
| Silver / 530 / 52T | 840-52 |
| Silver / 530 / 53T | 840-53 |
| Silver / 530 / 54T | 840-54 |
| Silver / 520 / 34T | 110A-34 |
| Silver / 520 / 35T | 110A-35 |
| Silver / 520 / 36T | 110A-36 |
| Silver / 520 / 37T | 110A-37 |
| Silver / 520 / 38T | 110A-38 |
| Silver / 520 / 39T | 110A-39 |
| Silver / 520 / 40T | 110A-40 |
| Silver / 520 / 41T | 110A-41 |
| Silver / 520 / 42T | 110A-42 |
| Silver / 520 / 43T | 110A-43 |
| Silver / 520 / 44T | 110A-44 |
| Silver / 520 / 45T | 110A-45 |
| Silver / 520 / 46T | 110A-46 |
| Silver / 520 / 47T | 110A-47 |
| Silver / 520 / 48T | 110A-48 |
| Silver / 520 / 49T | 110A-49 |
| Silver / 520 / 50T | 110A-50 |
| Silver / 520 / 51T | 110A-51 |
| Silver / 520 / 52T | 110A-52 |
| Silver / 520 / 53T | 110A-53 |
| Silver / 520 / 54T | 110A-54 |
| Silver / 520 / 34T | 120A-34 |
| Silver / 520 / 35T | 120A-35 |
| Silver / 520 / 36T | 120A-36 |
| Silver / 520 / 37T | 120A-37 |
| Silver / 520 / 38T | 120A-38 |
| Silver / 520 / 39T | 120A-39 |
| Silver / 520 / 40T | 120A-40 |
| Silver / 520 / 41T | 120A-41 |
| Silver / 520 / 42T | 120A-42 |
| Silver / 520 / 43T | 120A-43 |
| Silver / 520 / 44T | 120A-44 |
| Silver / 520 / 45T | 120A-45 |
| Silver / 520 / 46T | 120A-46 |
| Silver / 520 / 47T | 120A-47 |
| Silver / 520 / 48T | 120A-48 |
| Silver / 520 / 49T | 120A-49 |
| Silver / 520 / 50T | 120A-50 |
| Silver / 520 / 51T | 120A-51 |
| Silver / 520 / 52T | 120A-52 |
| Silver / 520 / 53T | 120A-53 |
| Silver / 520 / 54T | 120A-54 |
| Silver / 520 / 34T | 144A-34 |
| Silver / 520 / 35T | 144A-35 |
| Silver / 520 / 36T | 144A-36 |
| Silver / 520 / 37T | 144A-37 |
| Silver / 520 / 38T | 144A-38 |
| Silver / 520 / 39T | 144A-39 |
| Silver / 520 / 40T | 144A-40 |
| Silver / 520 / 41T | 144A-41 |
| Silver / 520 / 42T | 144A-42 |
| Silver / 520 / 43T | 144A-43 |
| Silver / 520 / 44T | 144A-44 |
| Silver / 520 / 45T | 144A-45 |
| Silver / 520 / 46T | 144A-46 |
| Silver / 520 / 47T | 144A-47 |
| Silver / 520 / 48T | 144A-48 |
| Silver / 520 / 49T | 144A-49 |
| Silver / 520 / 50T | 144A-50 |
| Silver / 520 / 51T | 144A-51 |
| Silver / 520 / 52T | 144A-52 |
| Silver / 520 / 53T | 144A-53 |
| Silver / 520 / 54T | 144A-54 |
| Silver / 520 / 36T | 193A-36 |
| Silver / 520 / 37T | 193A-37 |
| Silver / 520 / 39T | 193A-39 |
| Silver / 520 / 38T | 193A-38 |
| Silver / 520 / 40T | 193A-40 |
| Silver / 520 / 41T | 193A-41 |
| Silver / 520 / 42T | 193A-42 |
| Silver / 520 / 43T | 193A-43 |
| Silver / 520 / 48T | 193A-48 |
| Silver / 520 / 50T | 193A-50 |
| Silver / 520 / 38T | 245A-38 |
| Silver / 520 / 39T | 245A-39 |
| Silver / 520 / 40T | 245A-40 |
| Silver / 520 / 41T | 245A-41 |
| Silver / 520 / 42T | 245A-42 |
| Silver / 520 / 47T | 245A-47 |
| Silver / 520 / 49T | 245A-49 |
| Silver / 520 / 50T | 245A-50 |
| Silver / 520 / 51T | 245A-51 |
| Silver / 520 / 52T | 245A-52 |
| Silver / 520 / 53T | 245A-53 |
| Silver / 520 / 54T | 245A-54 |
| Silver / 520 / 42T | 249A-42 |
| Silver / 520 / 43T | 249A-43 |
| Silver / 520 / 44T | 249A-44 |
| Silver / 520 / 45T | 249A-45 |
| Silver / 520 / 46T | 249A-46 |
| Silver / 520 / 47T | 249A-47 |
| Silver / 520 / 48T | 249A-48 |
| Silver / 520 / 49T | 249A-49 |
| Silver / 520 / 50T | 249A-50 |
| Silver / 520 / 51T | 249A-51 |
| Silver / 520 / 52T | 249A-52 |
| Silver / 520 / 53T | 249A-53 |
| Silver / 520 / 54T | 249A-54 |
| Silver / 520 / 39T | 251A-39 |
| Silver / 520 / 48T | 251A-48 |
| Silver / 520 / 49T | 251A-49 |
| Silver / 520 / 50T | 251A-50 |
| Silver / 520 / 51T | 251A-51 |
| Silver / 520 / 52T | 251A-52 |
| Silver / 520 / 53T | 251A-53 |
| Silver / 520 / 54T | 251A-54 |
| Silver / 525 / 36T | 338C-36 |
| Silver / 525 / 37T | 338C-37 |
| Silver / 525 / 38T | 338C-38 |
| Silver / 525 / 39T | 338C-39 |
| Silver / 525 / 40T | 338C-40 |
| Silver / 525 / 41T | 338C-41 |
| Silver / 525 / 42T | 338C-42 |
| Silver / 525 / 43T | 338C-43 |
| Silver / 525 / 44T | 338C-44 |
| Silver / 525 / 45T | 338C-45 |
| Silver / 525 / 46T | 338C-46 |
| Silver / 525 / 47T | 338C-47 |
| Silver / 525 / 48T | 338C-48 |
| Silver / 525 / 49T | 338C-49 |
| Silver / 525 / 50T | 338C-50 |
| Silver / 525 / 51T | 338C-51 |
| Silver / 525 / 52T | 338C-52 |
| Silver / 525 / 53T | 338C-53 |
| Silver / 525 / 54T | 338C-54 |
| Silver / 525 / 35T | 435C-35 |
| Silver / 525 / 36T | 435C-36 |
| Silver / 525 / 37T | 435C-37 |
| Silver / 525 / 38T | 435C-38 |
| Silver / 525 / 39T | 435C-39 |
| Silver / 525 / 40T | 435C-40 |
| Silver / 525 / 41T | 435C-41 |
| Silver / 525 / 42T | 435C-42 |
| Silver / 525 / 43T | 435C-43 |
| Silver / 525 / 44T | 435C-44 |
| Silver / 525 / 46T | 435C-46 |
| Silver / 525 / 48T | 435C-48 |
| Silver / 525 / 49T | 435C-49 |
| Silver / 525 / 50T | 435C-50 |
| Silver / 525 / 51T | 435C-51 |
| Silver / 525 / 52T | 435C-52 |
| Silver / 525 / 53T | 435C-53 |
| Silver / 525 / 54T | 435C-54 |
| Silver / 520 / 34T | 452A-34 |
| Silver / 520 / 35T | 452A-35 |
| Silver / 520 / 36T | 452A-36 |
| Silver / 520 / 37T | 452A-37 |
| Silver / 520 / 47T | 452A-47 |
| Silver / 520 / 48T | 452A-48 |
| Silver / 520 / 49T | 452A-49 |
| Silver / 520 / 50T | 452A-50 |
| Silver / 520 / 51T | 452A-51 |
| Silver / 520 / 52T | 452A-52 |
| Silver / 520 / 53T | 452A-53 |
| Silver / 520 / 54T | 452A-54 |
| Silver / 520 / 36T | 526A-36 |
| Silver / 520 / 37T | 526A-37 |
| Silver / 520 / 38T | 526A-38 |
| Silver / 520 / 39T | 526A-39 |
| Silver / 520 / 40T | 526A-40 |
| Silver / 520 / 49T | 526A-49 |
| Silver / 520 / 50T | 526A-50 |
| Silver / 520 / 51T | 526A-51 |
| Silver / 520 / 52T | 526A-52 |
| Silver / 520 / 53T | 526A-53 |
| Silver / 520 / 54T | 526A-54 |
| Silver / 520 / 34T | 528A-34 |
| Silver / 520 / 35T | 528A-35 |
| Silver / 520 / 36T | 528A-36 |
| Silver / 520 / 37T | 528A-37 |
| Silver / 520 / 38T | 528A-38 |
| Silver / 520 / 39T | 528A-39 |
| Silver / 520 / 40T | 528A-40 |
| Silver / 520 / 41T | 528A-41 |
| Silver / 520 / 48T | 528A-48 |
| Silver / 520 / 49T | 528A-49 |
| Silver / 520 / 50T | 528A-50 |
| Silver / 520 / 51T | 528A-51 |
| Silver / 520 / 52T | 528A-52 |
| Silver / 520 / 53T | 528A-53 |
| Silver / 520 / 54T | 528A-54 |
| Silver / 525 / 34T | 528C-34 |
| Silver / 525 / 35T | 528C-35 |
| Silver / 525 / 36T | 528C-36 |
| Silver / 525 / 37T | 528C-37 |
| Silver / 525 / 38T | 528C-38 |
| Silver / 525 / 39T | 528C-39 |
| Silver / 525 / 40T | 528C-40 |
| Silver / 525 / 41T | 528C-41 |
| Silver / 525 / 42T | 528C-42 |
| Silver / 525 / 43T | 528C-43 |
| Silver / 525 / 46T | 528C-46 |
| Silver / 525 / 47T | 528C-47 |
| Silver / 525 / 48T | 528C-48 |
| Silver / 525 / 49T | 528C-49 |
| Silver / 525 / 50T | 528C-50 |
| Silver / 525 / 51T | 528C-51 |
| Silver / 525 / 52T | 528C-52 |
| Silver / 525 / 53T | 528C-53 |
| Silver / 525 / 54T | 528C-54 |
| Silver / 520 / 38T | 641A-38 |
| Silver / 520 / 39T | 641A-39 |
| Silver / 520 / 40T | 641A-40 |
| Silver / 520 / 41T | 641A-41 |
| Silver / 520 / 42T | 641A-42 |
| Silver / 520 / 43T | 641A-43 |
| Silver / 520 / 44T | 641A-44 |
| Silver / 520 / 45T | 641A-45 |
| Silver / 520 / 46T | 641A-46 |
| Silver / 520 / 47T | 641A-47 |
| Silver / 520 / 48T | 641A-48 |
| Silver / 520 / 49T | 641A-49 |
| Silver / 520 / 50T | 641A-50 |
| Silver / 520 / 51T | 641A-51 |
| Silver / 520 / 52T | 641A-52 |
| Silver / 520 / 53T | 641A-53 |
| Silver / 520 / 54T | 641A-54 |
| Silver / 520 / 37T | 642A-37 |
| Silver / 520 / 38T | 642A-38 |
| Silver / 520 / 39T | 642A-39 |
| Silver / 520 / 40T | 642A-40 |
| Silver / 520 / 41T | 642A-41 |
| Silver / 520 / 42T | 642A-42 |
| Silver / 520 / 43T | 642A-43 |
| Silver / 520 / 44T | 642A-44 |
| Silver / 520 / 45T | 642A-45 |
| Silver / 520 / 47T | 642A-47 |
| Silver / 520 / 51T | 642A-51 |
| Silver / 520 / 52T | 642A-52 |
| Silver / 520 / 53T | 642A-53 |
| Silver / 520 / 54T | 642A-54 |
| Silver / 520 / 43T | 767A-43 |
| Silver / 520 / 44T | 767A-44 |
| Silver / 520 / 45T | 767A-45 |
| Silver / 520 / 46T | 767A-46 |
| Silver / 520 / 47T | 767A-47 |
| Silver / 520 / 48T | 767A-48 |
| Silver / 520 / 49T | 767A-49 |
| Silver / 520 / 50T | 767A-50 |
| Silver / 520 / 51T | 767A-51 |
| Silver / 520 / 52T | 767A-52 |
| Silver / 520 / 53T | 767A-53 |
| Silver / 520 / 54T | 767A-54 |
| Silver / 520 / 34T | 775A-34 |
| Silver / 520 / 35T | 775A-35 |
| Silver / 520 / 36T | 775A-36 |
| Silver / 520 / 37T | 775A-37 |
| Silver / 520 / 38T | 775A-38 |
| Silver / 520 / 39T | 775A-39 |
| Silver / 520 / 40T | 775A-40 |
| Silver / 520 / 41T | 775A-41 |
| Silver / 520 / 42T | 775A-42 |
| Silver / 520 / 43T | 775A-43 |
| Silver / 520 / 44T | 775A-44 |
| Silver / 520 / 45T | 775A-45 |
| Silver / 520 / 46T | 775A-46 |
| Silver / 520 / 50T | 775A-50 |
| Silver / 520 / 51T | 775A-51 |
| Silver / 520 / 52T | 775A-52 |
| Silver / 520 / 53T | 775A-53 |
| Silver / 520 / 54T | 775A-54 |
| Silver / 520 / 34T | 827A-34 |
| Silver / 520 / 35T | 827A-35 |
| Silver / 520 / 36T | 827A-36 |
| Silver / 520 / 37T | 827A-37 |
| Silver / 520 / 38T | 827A-38 |
| Silver / 520 / 39T | 827A-39 |
| Silver / 520 / 40T | 827A-40 |
| Silver / 520 / 41T | 827A-41 |
| Silver / 520 / 42T | 827A-42 |
| Silver / 520 / 43T | 827A-43 |
| Silver / 520 / 44T | 827A-44 |
| Silver / 520 / 45T | 827A-45 |
| Silver / 520 / 46T | 827A-46 |
| Silver / 520 / 47T | 827A-47 |
| Silver / 520 / 48T | 827A-48 |
| Silver / 520 / 49T | 827A-49 |
| Red / 520 / 48T | 225ZR-48 |
| Red / 520 / 49T | 225ZR-49 |
| Red / 520 / 50T | 225ZR-50 |
| Red / 520 / 51T | 225ZR-51 |
| Red / 520 / 52T | 225ZR-52 |
| Red / 520 / 53T | 225ZR-53 |
| Blue / 520 / 47T | 208ZB-47 |
| Blue / 520 / 48T | 208ZB-48 |
| Blue / 520 / 49T | 208ZB-49 |
| Blue / 520 / 50T | 208ZB-50 |
| Blue / 520 / 51T | 208ZB-51 |
| Blue / 520 / 52T | 208ZB-52 |
| Blue / 520 / 53T | 208ZB-53 |
| Standard Silver / 520 / 41T | 195A-41 |
| Standard Silver / 520 / 42T | 195A-42 |
| Standard Silver / 520 / 43T | 195A-43 |
| Standard Silver / 520 / 44T | 195A-44 |
| Standard Silver / 520 / 45T | 195A-45 |
| Standard Silver / 520 / 46T | 195A-46 |
| Standard Silver / 525 / 45T | 642C-45 |
| Standard Silver / 525 / 47T | 642C-47 |
| Standard Silver / 530 / 41T | 232-41 |
| Standard Silver / 530 / 43T | 232-43 |
| Standard Silver / 530 / 42T | 232-42 |
| Standard Silver / 520 / 45T | 193A-45 |
| Standard Silver / 520 / 46T | 193A-46 |
| Standard Silver / 520 / 47T | 193A-47 |
| Standard Silver / 520 / 49T | 232A-49 |
| Standard Silver / 520 / 47T | 232A-47 |
| Standard Silver / 520 / 48T | 232A-48 |
| Standard Silver / 530 / 34T | 232-34 |
| Standard Silver / 530 / 35T | 232-35 |
| Standard Silver / 530 / 36T | 232-36 |
| Standard Silver / 530 / 37T | 232-37 |
| Standard Silver / 530 / 38T | 232-38 |
| Standard Silver / 530 / 39T | 232-39 |
| Standard Silver / 530 / 40T | 232-40 |
| Standard Silver / 530 / 44T | 232-44 |
| Standard Silver / 530 / 45T | 232-45 |
| Standard Silver / 530 / 46T | 232-46 |
| Standard Silver / 530 / 47T | 232-47 |
| Standard Silver / 530 / 48T | 232-48 |
| Standard Silver / 530 / 49T | 232-49 |
| Standard Silver / 530 / 50T | 232-50 |
| Standard Silver / 530 / 51T | 232-51 |
| Standard Silver / 530 / 52T | 232-52 |
| Standard Silver / 530 / 53T | 232-53 |
| Standard Silver / 530 / 54T | 232-54 |
| Standard Silver / 530 / 36T | 436-36 |
| Standard Silver / 520 / 35T | 317-35 |
| Standard Silver / 520 / 38T | 317-38 |
| Standard Silver / 520 / 41T | 317-41 |
| Standard Silver / 520 / 42T | 317-42 |
| Standard Silver / 520 / 43T | 317-43 |
| Standard Silver / 520 / 44T | 317-44 |
| Standard Silver / 520 / 45T | 317-45 |
| Standard Silver / 520 / 47T | 317-47 |
| Standard Silver / 520 / 48T | 317-48 |
| Standard Silver / 520 / 35T | 338-35 |
| Standard Silver / 520 / 51T | 827A-51 |
| Standard Silver / 520 / 52T | 827A-52 |
| Standard Silver / 520 / 53T | 827A-53 |
| Standard Silver / 520 / 54T | 827A-54 |
| Standard Silver / 520 / 34T | 525A-34 |
| Standard Silver / 520 / 35T | 525A-35 |
| Standard Silver / 520 / 36T | 525A-36 |
| Standard Silver / 520 / 37T | 525A-37 |
| Standard Silver / 520 / 38T | 525A-38 |
| Standard Silver / 520 / 39T | 525A-39 |
| Standard Silver / 520 / 40T | 525A-40 |
| Standard Silver / 520 / 41T | 525A-41 |
| Standard Silver / 520 / 42T | 525A-42 |
| Standard Silver / 520 / 43T | 525A-43 |
| Standard Silver / 520 / 44T | 525A-44 |
| Standard Silver / 520 / 45T | 525A-45 |
| Standard Silver / 520 / 46T | 525A-46 |
| Standard Silver / 520 / 47T | 525A-47 |
| Standard Silver / 520 / 48T | 525A-48 |
| Standard Silver / 520 / 49T | 525A-49 |
| Standard Silver / 520 / 50T | 525A-50 |
| Standard Silver / 520 / 51T | 525A-51 |
| Standard Silver / 520 / 52T | 525A-52 |
| Standard Silver / 520 / 53T | 525A-53 |
| Standard Silver / 520 / 54T | 525A-54 |
| Standard Silver / 520 / 37T | 245A-37 |
| Standard Silver / 525 / 39T | 195-39 |
| Standard Silver / 525 / 40T | 195-40 |
| Standard Silver / 525 / 41T | 195-41 |
| Standard Silver / 525 / 42T | 195-42 |
| Standard Silver / 525 / 43T | 195-43 |
| Standard Silver / 525 / 45T | 195-45 |
| Standard Silver / 525 / 46T | 195-46 |
| Standard Silver / 525 / 47T | 195-47 |
| Standard Silver / 525 / 37T | 642C-37 |
| Standard Silver / 525 / 38T | 642C-38 |
| Standard Silver / 525 / 39T | 642C-39 |
| Standard Silver / 525 / 40T | 642C-40 |
| Standard Silver / 525 / 41T | 642C-41 |
| Standard Silver / 525 / 42T | 642C-42 |
| Standard Silver / 525 / 43T | 642C-43 |
| Standard Silver / 525 / 44T | 642C-44 |
| Standard Silver / 525 / 46T | 642C-46 |
| Standard Silver / 525 / 48T | 642C-48 |
| Standard Silver / 525 / 49T | 642C-49 |
| Standard Silver / 525 / 50T | 642C-50 |
| Standard Silver / 525 / 51T | 642C-51 |
| Standard Silver / 525 / 52T | 642C-52 |
| Standard Silver / 525 / 53T | 642C-53 |
| Standard Silver / 525 / 54T | 642C-54 |
| Standard Silver / 520 / 37T | 491A-37 |
| Standard Silver / 520 / 38T | 491A-38 |
| Standard Silver / 520 / 39T | 491A-39 |
| Standard Silver / 520 / 40T | 491A-40 |
| Standard Silver / 520 / 41T | 491A-41 |
| Standard Silver / 520 / 42T | 491A-42 |
| Standard Silver / 520 / 48T | 491A-48 |
| Standard Silver / 520 / 49T | 491A-49 |
| Standard Silver / 520 / 50T | 491A-50 |
| Standard Silver / 520 / 51T | 491A-51 |
| Standard Silver / 520 / 52T | 491A-52 |
| Standard Silver / 520 / 53T | 491A-53 |
| Standard Silver / 520 / 54T | 491A-54 |
| Standard Silver / 520 / 34T | 232A-34 |
| Standard Silver / 520 / 35T | 232A-35 |
| Standard Silver / 520 / 36T | 232A-36 |
| Standard Silver / 520 / 37T | 232A-37 |
| Standard Silver / 520 / 38T | 232A-38 |
| Standard Silver / 520 / 39T | 232A-39 |
| Standard Silver / 520 / 40T | 232A-40 |
| Standard Silver / 520 / 41T | 232A-41 |
| Standard Silver / 520 / 42T | 232A-42 |
| Standard Silver / 520 / 43T | 232A-43 |
| Standard Silver / 520 / 44T | 232A-44 |
| Standard Silver / 520 / 45T | 232A-45 |
| Standard Silver / 520 / 46T | 232A-46 |
| Standard Silver / 520 / 50T | 232A-50 |
| Standard Silver / 520 / 51T | 232A-51 |
| Standard Silver / 520 / 52T | 232A-52 |
| Standard Silver / 520 / 53T | 232A-53 |
| Standard Silver / 520 / 54T | 232A-54 |
| V3 Style Silver / 525 / 39T | 654-39 |
| V3 Style Silver / 525 / 40T | 654-40 |
| V3 Style Silver / 525 / 41T | 654-41 |
| V3 Style Silver / 525 / 42T | 654-42 |
| V3 Style Silver / 525 / 43T | 654-43 |
| V3 Style Silver / 525 / 44T | 654-44 |
| V3 Style Silver / 520 / 39T | 654A-39 |
| V3 Style Silver / 520 / 40T | 654A-40 |
| V3 Style Silver / 520 / 41T | 654A-41 |
| V3 Style Silver / 520 / 42T | 654A-42 |
| V3 Style Silver / 520 / 43T | 654A-43 |
| V3 Style Silver / 520 / 44T | 654A-44 |
| V3 Style Silver / 520 / 45T | 654A-45 |
| V3 Style Silver / 520 / 46T | 654A-46 |