Vortex
Vortex 530 Steel Sprocket And Chain Kit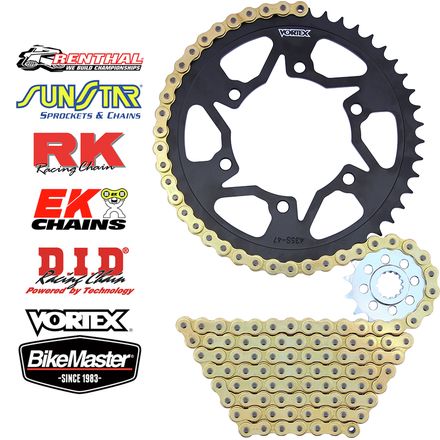 Vortex 530 Steel Sprocket And Chain Kit
---
22% Off - Save up to $43.89
---
5 Star
19
4 Star
4
3 Star
0
2 Star
0
1 Star
0
Write a Review
Write your review and you'll automatically be entered in our monthly drawing. Include an image or video to DOUBLE your chances to win!
Write Your Review
3 months 13 days ago
Austin Tx
1 year 5 months ago
Whitinsville,Northbridge,MA,USA
Gold Chain
Perfect fit good quality easy instillation
Sprocket and Chain Kit
Vortex makes great stuff. High Quality great priced kit
Over 4 years ago
Manchester, NH
Looks and works great
This chain is super quiet. I like the looks of this rear sprocket. So far I have been very happy with it and would recommend it to anyone.
Over 4 years ago
Kauai, Hawaii, USA
Over 4 years ago
Auburn, CA, USA
Good kit.
Ended up exchanging the gold chain for the black one. Would recommend buying the clip-on master link for a few bucks more. Even with a chain tool it was a pain. First time using it though so I'm not ruling out installer error. Looks good though.
See all bikes that this part fits...
Chain
| Product Variant | Manufacturer Part # |
| --- | --- |
| Green / 120 Links | 197678 |
| Gold/Gold / 120 Links | 530BMXR-120/GG |
| Blue / 120 Links | 197677 |
| Gold / 120 Links | GB530XSO |
| Gold / 120 Links | SS530RTG1-120 |
| Red / 120 Links | 197676 |
| Gold/Black / 120 Links | N/A |
| Green / 120 Links | 530MVXZ2-120N |
| Red / 120 Links | 530MVXZ2-120R |
| Black Nickel / 120 Links | 530MVXZ2-120K |
| Pink / 120 Links | 530MVXZ2-120ME |
| Gold / 120 Links | 530MVXZ2-120G |
| Chrome / 120 Links | 530MVXZ2-120C |
| Blue / 120 Links | 530MVXZ2-120B |
| Orange / 120 Links | 197680 |
| Yellow / 120 Links | 530MVXZ2-120Y |
| Pink / 120 Links | 197681 |
| Metallic Blue / 120 Links | 530ZVX3-120AB |
| Yellow / 120 Links | 197679 |
| Metallic Green / 120 Links | 530ZVX3-120AN |
| Gold / 120 Links | N/A |
| Metallic Orange / 120 Links | 530ZVX3-120AO |
| Gold / 140 Links | GB530GXW/140 |
| Metallic Purple / 120 Links | 530ZVX3-120AP |
| Chrome/Chrome / 150 Links | 530BMXR-150/CC |
| Metallic Red / 120 Links | 530ZVX3-120AR |
| Gold/Gold / 150 Links | 530BMXR-150/GG |
| Chrome / 120 Links | 530ZVX3-120C |
| Blue / 150 Links | 197683 |
| Gold / 120 Links | 530ZVX3-120G |
| Green / 150 Links | 197684 |
| Black/Gold / 120 Links | 530ZVX3-120KG |
| Orange / 150 Links | 197686 |
| Natural / 120 Links | 530BMXR-120 |
| Pink / 150 Links | 197687 |
| Natural / 150 Links | 530BMXR-150 |
| Red / 150 Links | 197682 |
| Black/Chrome / 120 Links | 530BMXR-120/BC |
| Yellow / 150 Links | 197685 |
| Black/Chrome / 150 Links | 530BMXR-150/BC |
| Chrome / 120 Links | N/A |
| Black/Gold / 120 Links | 530BMXR-120/BG |
| Gold | C360 |
| Black/Gold / 150 Links | 530BMXR-150/BG |
| Gold / 120 Links | GB530GXW |
| Chrome/Chrome / 120 Links | 530BMXR-120/CC |
| Natural / 120 Links | SS530RDG-120 |
| Gold / 120 Links | G530SX3-120 |
| Natural / 120 Links | 530MVXZ2-120 |
| Black / 120 Links | 530SX3-120 |
| Black / 120 Links | 530RX3-120 |
| Orange / 120 Links | 530MVXZ2-120/O |
| Gold / 120 Links | G530RX3-120 |
Front Sprocket
| Product Variant | Manufacturer Part # |
| --- | --- |
| 530 / 17T | 3521-17 |
| 530 / 16T | 3521-16 |
| 530 / 15T | 3521-15 |
| 530 / 14T | 3521-14 |
| 530 / 18T | 3520-18 |
| 530 / 16T | 3517-16 |
| 530 / 17T | 3516-17 |
| 530 / 16T | 3516-16 |
| 530 / 15T | 3516-15 |
| 530 / 18T | 3509-18 |
| 530 / 17T | 3509-17 |
| 530 / 15T | 3523-15 |
| 530 / 16T | 3523-16 |
| 530 / 16T | 3520-16 |
| 530 / 17T | 3520-17 |
| 530 / 15T | 3517-15 |
| 530 / 17T | 3504-17 |
| 530 / 16T | 3509-16 |
Rear Sprocket
| Product Variant | Manufacturer Part # |
| --- | --- |
| 530 / 47T | 641S-47 |
| 530 / 46T | 528S-46 |
| 530 / 46T | 527S-46 |
| 530 / 44T | 527S-44 |
| 530 / 42T | 436S-42 |
| 530 / 41T | 427S-41 |
| Black / 530 / 38T | 438S-38 |
| 530 / 45T | 452S-45 |
| 530 / 44T | 452S-44 |
| 530 / 47T | 438S-47 |
| 530 / 43T | 438S-43 |
| 530 / 42T | 438S-42 |
| 530 / 43T | 436S-43 |
| 530 / 42T | 767S-42 |
| Black / 530 / 42T | 427S-42 |
| 530 / 46T | 452S-46 |
| Black / 530 / 42T | 452S-42 |
| 530 / 42T | 527S-42 |
| 530 / 42T | 251S-42 |
| 530 / 43T | 527S-43 |
| 530 / 40T | 527S-40 |
| 530 / 41T | 245S-41 |
| 530 / 45T | 527S-45 |
| 530 / 43T | 245S-43 |
| 530 / 45T | 528S-45 |
| 530 / 45T | 245S-45 |
| 530 / 47T | 528S-47 |
| 530 / 43T | 249S-43 |
| 530 / 48T | 642S-48 |
| 530 / 44T | 249S-44 |
| Black / 530 / 38T | 427S-38 |
| 530 / 41T | 251S-41 |
| Black / 530 / 48T | 436S-48 |
| 530 / 44T | 251S-44 |
| Black / 530 / 44T | 438S-44 |
| 530 / 39T | 438S-39 |
| Black / 530 / 43T | 767S-43 |
| 530 / 46T | 438S-46 |
| 530 / 43T | 251S-43 |
| 530 / 48T | 438S-48 |
| 530 / 39T | 245S-39 |
| 530 / 40T | 436S-40 |