Vortex
Vortex 530 F5 Sprocket and Chain Kit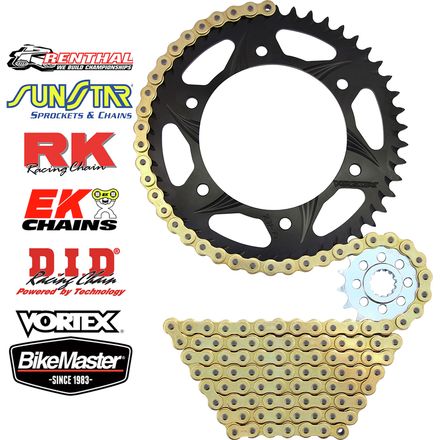 Vortex 530 F5 Sprocket and Chain Kit
---
22% Off - Save up to $48.29
---
5 Star
1
4 Star
0
3 Star
0
2 Star
0
1 Star
0
Write a Review
Write your review and you'll automatically be entered in our monthly drawing. Include an image or video to DOUBLE your chances to win!
Write Your Review
2 years 5 months ago
Pittsburg, CA, USA
Great value and great parts. Very nice people and very helpful.
Q: Chain length accommodate sprockets?
I want 17t front sprocket 48t rear.... this requires longer chain than stock will the proper chain come with this kit?
MotoSportExpert
1 year 4 months ago
A: A 120 link chain (selectable in the chain dropdown) should be long enough for you to use with that sprocket combination.
See all bikes that this part fits...
Chain
| Product Variant | Manufacturer Part # |
| --- | --- |
| Orange / 120 Links | 197680 |
| Blue / 120 Links | 197677 |
| Green / 120 Links | 197678 |
| Gold / 140 Links | GB530GXW/140 |
| Gold/Gold / 120 Links | 530BMXR-120/GG |
| Yellow / 120 Links | 197679 |
| Gold / 120 Links | N/A |
| Metallic Green / 120 Links | N/A |
| Metallic Orange / 120 Links | N/A |
| Green / 120 Links | N/A |
| Metallic Blue / 120 Links | N/A |
| Gold / 120 Links | N/A |
| Chrome / 120 Links | N/A |
| Blue / 120 Links | N/A |
| Pink / 120 Links | 197681 |
| Metallic Purple / 120 Links | N/A |
| Red / 120 Links | 197676 |
| Metallic Red / 120 Links | N/A |
| Gold/Black / 120 Links | N/A |
| Natural / 120 Links | N/A |
| Gold / 120 Links | GB530XSO |
| Orange / 120 Links | N/A |
| Gold / 120 Links | SS530RTG1-120 |
| Pink / 120 Links | N/A |
| Gold/Gold / 150 Links | 530BMXR-150/GG |
| Red / 120 Links | N/A |
| Blue / 150 Links | 197683 |
| Yellow / 120 Links | N/A |
| Green / 150 Links | 197684 |
| Natural / 120 Links | 530BMXR-120 |
| Orange / 150 Links | 197686 |
| Natural / 150 Links | 530BMXR-150 |
| Pink / 150 Links | 197687 |
| Black/Chrome / 120 Links | 530BMXR-120/BC |
| Red / 150 Links | 197682 |
| Black/Chrome / 150 Links | 530BMXR-150/BC |
| Yellow / 150 Links | 197685 |
| Black/Gold / 120 Links | 530BMXR-120/BG |
| Chrome / 120 Links | N/A |
| Black/Gold / 150 Links | 530BMXR-150/BG |
| Gold | C360 |
| Chrome/Chrome / 120 Links | 530BMXR-120/CC |
| Gold / 120 Links | GB530GXW |
| Chrome/Chrome / 150 Links | 530BMXR-150/CC |
| Natural / 120 Links | SS530RDG-120 |
| Gold / 120 Links | G530SX3-120 |
| Black Nickel / 120 Links | N/A |
| Black/Gold / 120 Links | N/A |
| Gold / 120 Links | G530RX3-120 |
| Black / 120 Links | 530RX3-120 |
| Black / 120 Links | 530SX3-120 |
Front Sprocket
| Product Variant | Manufacturer Part # |
| --- | --- |
| 530 / 18T | 3516-18 |
| 530 / 16T | 3523-16 |
| 530 / 15T | 3523-15 |
| 530 / 17T | 3521-17 |
| 530 / 16T | 3521-16 |
| 530 / 15T | 3521-15 |
| 530 / 17T | 3517-17 |
| 530 / 16T | 3517-16 |
| 530 / 16T | 3520-16 |
| 530 / 15T | 3517-15 |
| 530 / 17T | 3516-17 |
| 530 / 16T | 3516-16 |
| 530 / 15T | 3516-15 |
| 530 / 18T | 3509-18 |
| 530 / 18T | 3521-18 |
| 530 / 18T | 3520-18 |
| 530 / 14T | 3521-14 |
| 530 / 17T | 3520-17 |
| 530 / 16T | 3509-16 |
| 530 / 17T | 3509-17 |
Rear Sprocket
| Product Variant | Manufacturer Part # |
| --- | --- |
| Black / 530 / 44T | 527K-44 |
| Black / 530 / 42T | 527K-42 |
| Black / 530 / 40T | 527K-40 |
| Black / 530 / 46T | 452K-46 |
| Black / 530 / 44T | 452K-44 |
| Silver / 530 / 40T | 427K-40 |
| Black / 530 / 44T | 251K-44 |
| Black / 530 / 41T | 436K-41 |
| Black / 530 / 40T | 436K-40 |
| Black / 530 / 43T | 427K-43 |
| Black / 530 / 42T | 427K-42 |
| Black / 530 / 46T | 427K-46 |
| Black / 530 / 45T | 427K-45 |
| Black / 530 / 44T | 427K-44 |
| Black / 530 / 46T | 527K-46 |
| Black / 530 / 42T | 251K-42 |
| Black / 530 / 43T | 436K-43 |
| Silver / 530 / 45T | 427K-45 |
| Black / 530 / 43T | 438K-43 |
| Black / 530 / 40T | 427K-40 |
| Black / 530 / 44T | 438K-44 |
| Black / 530 / 45T | 452K-45 |
| Black / 530 / 45T | 438K-45 |
| Black / 530 / 47T | 452K-47 |
| Black / 530 / 46T | 438K-46 |
| Black / 530 / 41T | 527K-41 |
| Black / 530 / 47T | 438K-47 |
| Black / 530 / 43T | 527K-43 |
| Black / 530 / 48T | 438K-48 |
| Black / 530 / 45T | 527K-45 |
| Black / 530 / 49T | 438K-49 |
| Black / 530 / 41T | 251K-41 |
| Black / 530 / 50T | 438K-50 |
| Black / 530 / 43T | 251K-43 |
| Black / 530 / 41T | 452K-41 |
| Black / 530 / 45T | 251K-45 |
| Black / 530 / 42T | 452K-42 |
| Silver / 530 / 44T | 427K-44 |
| Black / 530 / 43T | 452K-43 |
| Black / 530 / 42T | 436K-42 |
| Silver / 530 / 46T | 427K-46 |