Vortex
Vortex 525 Steel Sprocket And Chain Kit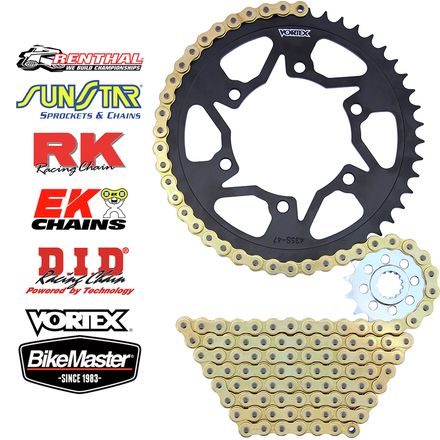 Vortex 525 Steel Sprocket And Chain Kit
5 Star
2
4 Star
1
3 Star
0
2 Star
0
1 Star
0
Write a Review
Write your review and you'll automatically be entered in our monthly drawing. Include an image or video to DOUBLE your chances to win!
Write Your Review
Over 4 years ago
Kauai, Hawaii, USA
Over 4 years ago
Auburn, CA, USA
Good kit.
Ended up exchanging the gold chain for the black one. Would recommend buying the clip-on master link for a few bucks more. Even with a chain tool it was a pain. First time using it though so I'm not ruling out installer error. Looks good though.
Q: Is the vortex rear sprocket dished just like the stock gsxr? I'm doing a rear wheel conversion on my sv and need a dished sprocket to flip for the chain to line up, any info would be great thanks
Thumbs
1 month 14 days ago
A: As long as you enter the fitment for the GSx-R that you are getting the wheel off of you shouldn't have a problem with fitment since they are made to work for a specific bike.
Q: I have a new Vortex 16 Tooth CS sprocket for my 2006 DL 650. It has an offset on one side.
Which direction does the offset face, the engine or the installer? Thanks
MotoSportExpert
Over 3 years ago
A: Please refer to the Suzuki service manual or Suzuki service department for this.
Q: What color is the rear sprocket?
MotoSportExpert
Over 3 years ago
A: The rear sprocket color is listed in the description as:

Electroplated satin black for corrosion resistance.
Q: It says $178 for the kit but everytime i choose a chain the price changes.
MotoSportExpert
Over 3 years ago
A: The Vortex 525 Steel Sprocket & Chain Kit comes with a variety of different chains you can select as well as the sprocket teeth count. Depending on the chain you have chosen, the price will change from the base chain included in the kit pricing.
See all bikes that this part fits...
Chain
| Product Variant | Manufacturer Part # |
| --- | --- |
| Green / 120 Links | 197472 |
| Orange / 120 Links | 197474 |
| Gold/Gold / 120 Links | 525BMXR-120/GG |
| Blue / 120 Links | 197471 |
| Gold / 120 Links | GB525GXW |
| Black/Gold / 120 Links | 525BMXR-120/BG |
| Red / 120 Links | 525MVXZ2-120R |
| Yellow / 150 Links | 197479 |
| Pink / 120 Links | 525MVXZ2-120ME |
| Green / 120 Links | 525MVXZ2-120N |
| Black Nickel / 120 Links | 525MVXZ2-120K |
| Gold / 120 Links | 525MVXZ2-120G |
| Blue / 120 Links | 525MVXZ2-120B |
| Pink / 120 Links | 197475 |
| Yellow / 120 Links | 525MVXZ2-120Y |
| Red / 150 Links | 197476 |
| Metallic Blue / 120 Links | 525ZVX3-120AB |
| Gold | C344 |
| Metallic Green / 120 Links | 525ZVX3-120AN |
| Gold / 120 Links | SS525RTG1-120 |
| Metallic Orange / 120 Links | 525ZVX3-120AO |
| Black/Gold / 150 Links | 525BMXR-150/BG |
| Metallic Purple / 120 Links | 525ZVX3-120AP |
| Gold/Gold / 150 Links | 525BMXR-150/GG |
| Metallic Red / 120 Links | 525ZVX3-120AR |
| Blue / 150 Links | 197477 |
| Chrome / 120 Links | 525ZVX3-120C |
| Green / 150 Links | 197478 |
| Gold / 120 Links | 525ZVX3-120G |
| Orange / 150 Links | 197480 |
| Black/Gold / 120 Links | 525ZVX3-120KG |
| Red / 120 Links | 197470 |
| Natural / 120 Links | 525BMXR-120 |
| Yellow / 120 Links | 197473 |
| Natural / 150 Links | 525BMXR-150 |
| Gold / 120 Links | 525ZVMX-120 GOLD |
| Black/Chrome / 120 Links | 525BMXR-120/BC |
| Gold / 120 Links | GB525XSO |
| Black/Chrome / 150 Links | 525BMXR-150/BC |
| Natural / 120 Links | SS525RDG-120 |
| Gold / 120 Links | G525SX3-120 |
| Natural / 120 Links | 525MVXZ2-120 |
| Black / 120 Links | 525RX3-120 |
| Gold / 120 Links | G525RX3-120 |
| Black / 120 Links | 525SX3-120 |
| Orange / 120 Links | 525MVXZ2-120/O |
Front Sprocket
| Product Variant | Manufacturer Part # |
| --- | --- |
| 530 / 17T | 3517-17 |
| 520 / 16T | 3288-16 |
| 520 / 14T | 3273-14 |
| 520 / 15T | 3258-15 |
| 520 / 17T | 3258-17 |
| 525 / 16T | 3660-16 |
| 525 / 15T | 3660-15 |
| 525 / 15T | 2917-15 |
| 525 / 16T | 2912-16 |
| 525 / 18T | 2910-18 |
| 525 / 17T | 2910-17 |
| 525 / 17T | 2912-17 |
| 520 / 16T | 3258-16 |
| 525 / 15T | 2912-15 |
| 520 / 15T | 3272-15 |
| 525 / 14T | 2921-14 |
| 525 / 15T | 2921-15 |
| 525 / 16T | 2917-16 |
| 525 / 15T | 2910-15 |
| 525 / 16T | 2910-16 |
Rear Sprocket
| Product Variant | Manufacturer Part # |
| --- | --- |
| 525 / 42T | 252S-42 |
| 525 / 46T | 252S-46 |
| Black / 525 / 41T | 252S-41 |
| 525 / 46T | 491S-46 |
| 525 / 39T | 454S-39 |
| 525 / 44T | 252S-44 |
| 525 / 43T | 247S-43 |
| 525 / 45T | 526S-45 |
| 525 / 44T | 526S-44 |
| 525 / 43T | 526S-43 |
| 525 / 42T | 526S-42 |
| 525 / 42T | 454S-42 |
| 525 / 41T | 454S-41 |
| 525 / 40T | 454S-40 |
| 525 / 44T | 528CS-44 |
| 525 / 42T | 247S-42 |
| 525 / 45T | 528CS-45 |
| 525 / 47T | 247S-47 |
| 525 / 44T | 193S-44 |
| 525 / 45T | 252S-45 |
| 525 / 45T | 193S-45 |
| 525 / 44T | 454S-44 |
| 525 / 46T | 193S-46 |
| 525 / 47T | 526S-47 |
| 525 / 47T | 193S-47 |
| Black / 525 / 43T | 435CS-43 |
| 525 / 38T | 247S-38 |
| 525 / 43T | 252S-43 |
| 525 / 41T | 247S-41 |
| 525 / 43T | 454S-43 |
| 525 / 45T | 435CS-45 |