Vortex
Vortex 525 CAT5 Sprocket And Chain Kit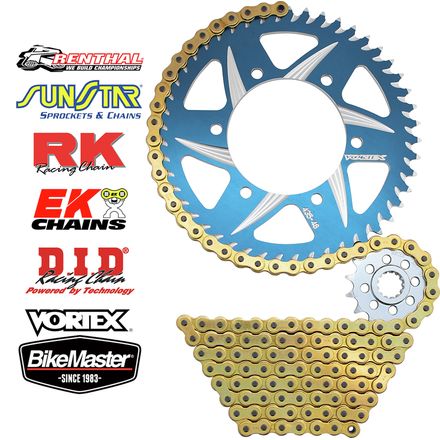 Vortex 525 CAT5 Sprocket And Chain Kit
5 Star
1
4 Star
0
3 Star
0
2 Star
0
1 Star
0
Write a Review
Write your review and you'll automatically be entered in our monthly drawing. Include an image or video to DOUBLE your chances to win!
Write Your Review
1 year 3 months ago
Michigan, USA
Love it
Great chain and sprockets looks good and made a world of difference to
See all bikes that this part fits...
Chain
| Product Variant | Manufacturer Part # |
| --- | --- |
| Orange / 150 Links | 197480 |
| Blue / 150 Links | 197477 |
| Green / 150 Links | 197478 |
| Black/Gold / 150 Links | 525BMXR-150/BG |
| Gold/Gold / 150 Links | 525BMXR-150/GG |
| Gold / 120 Links | 525ZVMX-120 GOLD |
| Gold / 120 Links | SS525RTG1-120 |
| Red / 120 Links | 525MVXZ2-120R |
| Yellow / 120 Links | 525MVXZ2-120Y |
| Pink / 120 Links | 525MVXZ2-120ME |
| Green / 120 Links | 525MVXZ2-120N |
| Black Nickel / 120 Links | 525MVXZ2-120K |
| Gold / 120 Links | 525MVXZ2-120G |
| Blue / 120 Links | 525MVXZ2-120B |
| Red / 120 Links | 197470 |
| Metallic Blue / 120 Links | 525ZVX3-120AB |
| Yellow / 120 Links | 197473 |
| Metallic Green / 120 Links | 525ZVX3-120AN |
| Gold / 120 Links | GB525XSO |
| Metallic Orange / 120 Links | 525ZVX3-120AO |
| Black/Gold / 120 Links | 525BMXR-120/BG |
| Metallic Purple / 120 Links | 525ZVX3-120AP |
| Gold/Gold / 120 Links | 525BMXR-120/GG |
| Metallic Red / 120 Links | 525ZVX3-120AR |
| Blue / 120 Links | 197471 |
| Chrome / 120 Links | 525ZVX3-120C |
| Green / 120 Links | 197472 |
| Gold / 120 Links | 525ZVX3-120G |
| Orange / 120 Links | 197474 |
| Black/Gold / 120 Links | 525ZVX3-120KG |
| Pink / 120 Links | 197475 |
| Natural / 120 Links | 525BMXR-120 |
| Red / 150 Links | 197476 |
| Natural / 150 Links | 525BMXR-150 |
| Yellow / 150 Links | 197479 |
| Black/Chrome / 120 Links | 525BMXR-120/BC |
| Gold | C344 |
| Black/Chrome / 150 Links | 525BMXR-150/BC |
| Gold / 120 Links | GB525GXW |
| Gold / 120 Links | G525SX3-120 |
| Natural / 120 Links | 525MVXZ2-120 |
| Gold / 120 Links | G525RX3-120 |
| Orange / 120 Links | 525MVXZ2-120/O |
| Black / 120 Links | 525SX3-120 |
| Black / 120 Links | 525RX3-120 |
Front Sprocket
| Product Variant | Manufacturer Part # |
| --- | --- |
| Silver / 525 / 16T | 2908-16 |
| 525 / 17T | 2912-17 |
| 525 / 16T | 3227-16 |
| 525 / 18T | 2910-18 |
| Silver / 525 / 16T | 3567-16 |
| Silver / 525 / 16T | 2909-16 |
| 525 / 15T | 2908-15 |
| 525 / 14T | 2908-14 |
| 525 / 16T | 3660-16 |
| 525 / 15T | 3660-15 |
| 525 / 16T | 2917-16 |
| 525 / 15T | 2917-15 |
| 525 / 16T | 2912-16 |
| Silver / 525 / 14T | 2909-14 |
| Silver / 525 / 15T | 2909-15 |
| 525 / 15T | 2912-15 |
| Silver / 525 / 15T | 3567-15 |
| 525 / 14T | 2921-14 |
| Silver / 525 / 17T | 3567-17 |
| 525 / 15T | 3227-15 |
| 525 / 15T | 2921-15 |
| 525 / 17T | 2910-17 |
| 525 / 15T | 2910-15 |
| 525 / 16T | 2910-16 |
Rear Sprocket
| Product Variant | Manufacturer Part # |
| --- | --- |
| Blue / 525 / 42T | 195ZB-42 |
| Black / 525 / 51T | 528CZK-51 |
| Black / 525 / 53T | 491ZK-53 |
| Black / 525 / 39T | 454ZK-39 |
| Red / 525 / 43T | 528CZR-43 |
| Red / 525 / 52T | 435CZR-52 |
| Blue / 525 / 38T | 775ZB-38 |
| Black / 525 / 46T | 435CZK-46 |
| Black / 525 / 45T | 435CZK-45 |
| Black / 525 / 46T | 252ZK-46 |
| Black / 525 / 45T | 252ZK-45 |
| Black / 525 / 44T | 252ZK-44 |
| Black / 525 / 47T | 193ZK-47 |
| Blue / 525 / 47T | 454ZB-47 |
| Blue / 525 / 42T | 526ZB-42 |
| Black / 525 / 47T | 435CZK-47 |
| Red / 525 / 36T | 338CZR-36 |
| Black / 525 / 48T | 435CZK-48 |
| Red / 525 / 45T | 491ZR-45 |
| Black / 525 / 43T | 526ZK-43 |
| Black / 525 / 40T | 435CZK-40 |
| Black / 525 / 44T | 526ZK-44 |
| Black / 525 / 37T | 491ZK-37 |
| Black / 525 / 45T | 526ZK-45 |
| Black / 525 / 35T | 528CZK-35 |
| Black / 525 / 46T | 526ZK-46 |
| Black / 525 / 40T | 775ZK-40 |
| Black / 525 / 47T | 526ZK-47 |
| Blue / 525 / 52T | 435CZB-52 |
| Black / 525 / 48T | 526ZK-48 |
| Blue / 525 / 45T | 491ZB-45 |
| Black / 525 / 34T | 110ZK-34 |
| Blue / 525 / 43T | 528CZB-43 |
| Black / 525 / 35T | 110ZK-35 |
| Blue / 525 / 54T | 775ZB-54 |
| Black / 525 / 36T | 110ZK-36 |
| Red / 525 / 52T | 338CZR-52 |
| Black / 525 / 37T | 110ZK-37 |
| Red / 525 / 47T | 454ZR-47 |
| Black / 525 / 38T | 110ZK-38 |
| Red / 525 / 42T | 526ZR-42 |
| Black / 525 / 39T | 110ZK-39 |
| Black / 525 / 40T | 110ZK-40 |
| Black / 525 / 41T | 110ZK-41 |
| Black / 525 / 52T | 435CZK-52 |
| Black / 525 / 42T | 110ZK-42 |
| Black / 525 / 47T | 454ZK-47 |
| Black / 525 / 43T | 110ZK-43 |
| Black / 525 / 45T | 491ZK-45 |
| Black / 525 / 44T | 110ZK-44 |
| Black / 525 / 42T | 526ZK-42 |
| Black / 525 / 45T | 110ZK-45 |
| Black / 525 / 43T | 528CZK-43 |
| Black / 525 / 46T | 110ZK-46 |
| Black / 525 / 43T V3 Style | 654ZK-43 |
| Black / 525 / 47T | 110ZK-47 |
| Black / 525 / 48T | 775ZK-48 |
| Black / 525 / 48T | 110ZK-48 |
| Blue / 525 / 40T | 435CZB-40 |
| Black / 525 / 49T | 110ZK-49 |
| Blue / 525 / 39T | 454ZB-39 |
| Black / 525 / 50T | 110ZK-50 |
| Blue / 525 / 37T | 491ZB-37 |
| Black / 525 / 51T | 110ZK-51 |
| Blue / 525 / 53T | 491ZB-53 |
| Black / 525 / 52T | 110ZK-52 |
| Blue / 525 / 35T | 528CZB-35 |
| Black / 525 / 53T | 110ZK-53 |
| Blue / 525 / 51T | 528CZB-51 |
| Black / 525 / 54T | 110ZK-54 |
| Blue / 525 / 46T | 775ZB-46 |
| Black / 525 / 34T | 120ZK-34 |
| Blue / 525 / 47T | 435CZB-47 |
| Black / 525 / 35T | 120ZK-35 |
| Red / 525 / 44T | 338CZR-44 |
| Black / 525 / 36T | 120ZK-36 |
| Red / 525 / 40T | 435CZR-40 |
| Black / 525 / 37T | 120ZK-37 |
| Red / 525 / 39T | 454ZR-39 |
| Black / 525 / 38T | 120ZK-38 |
| Red / 525 / 37T | 491ZR-37 |
| Black / 525 / 39T | 120ZK-39 |
| Red / 525 / 53T | 491ZR-53 |
| Black / 525 / 40T | 120ZK-40 |
| Red / 525 / 35T | 528CZR-35 |
| Black / 525 / 41T | 120ZK-41 |
| Black / 525 / 46T | 193ZK-46 |
| Black / 525 / 42T | 120ZK-42 |
| Black / 525 / 36T | 435CZK-36 |
| Black / 525 / 43T | 120ZK-43 |
| Black / 525 / 44T | 435CZK-44 |
| Black / 525 / 44T | 120ZK-44 |
| Black / 525 / 35T | 454ZK-35 |
| Black / 525 / 45T | 120ZK-45 |
| Black / 525 / 43T | 454ZK-43 |
| Black / 525 / 46T | 120ZK-46 |
| Black / 525 / 51T | 454ZK-51 |
| Black / 525 / 47T | 120ZK-47 |
| Black / 525 / 41T | 491ZK-41 |
| Black / 525 / 48T | 120ZK-48 |
| Black / 525 / 49T | 491ZK-49 |
| Black / 525 / 49T | 120ZK-49 |
| Black / 525 / 38T | 526ZK-38 |
| Black / 525 / 50T | 120ZK-50 |
| Black / 525 / 52T | 526ZK-52 |
| Black / 525 / 51T | 120ZK-51 |
| Black / 525 / 39T | 528CZK-39 |
| Black / 525 / 52T | 120ZK-52 |
| Black / 525 / 47T | 528CZK-47 |
| Black / 525 / 53T | 120ZK-53 |
| Black / 525 / 39T V3 Style | 654ZK-39 |
| Black / 525 / 54T | 120ZK-54 |
| Black / 525 / 36T | 775ZK-36 |
| Black / 525 / 34T | 144ZK-34 |
| Black / 525 / 44T | 775ZK-44 |
| Black / 525 / 35T | 144ZK-35 |
| Black / 525 / 52T | 775ZK-52 |
| Black / 525 / 36T | 144ZK-36 |
| Blue / 525 / 36T | 435CZB-36 |
| Black / 525 / 37T | 144ZK-37 |
| Blue / 525 / 44T | 435CZB-44 |
| Black / 525 / 38T | 144ZK-38 |
| Blue / 525 / 35T | 454ZB-35 |
| Black / 525 / 39T | 144ZK-39 |
| Blue / 525 / 43T | 454ZB-43 |
| Black / 525 / 40T | 144ZK-40 |
| Blue / 525 / 51T | 454ZB-51 |
| Black / 525 / 41T | 144ZK-41 |
| Blue / 525 / 41T | 491ZB-41 |
| Black / 525 / 42T | 144ZK-42 |
| Blue / 525 / 49T | 491ZB-49 |
| Black / 525 / 43T | 144ZK-43 |
| Blue / 525 / 38T | 526ZB-38 |
| Black / 525 / 44T | 144ZK-44 |
| Blue / 525 / 52T | 526ZB-52 |
| Black / 525 / 45T | 144ZK-45 |
| Blue / 525 / 39T | 528CZB-39 |
| Black / 525 / 46T | 144ZK-46 |
| Blue / 525 / 47T | 528CZB-47 |
| Black / 525 / 47T | 144ZK-47 |
| Blue / 525 / 34T | 775ZB-34 |
| Black / 525 / 48T | 144ZK-48 |
| Blue / 525 / 42T | 775ZB-42 |
| Black / 525 / 49T | 144ZK-49 |
| Blue / 525 / 50T | 775ZB-50 |
| Black / 525 / 50T | 144ZK-50 |
| Blue / 525 / 47T | 195ZB-47 |
| Black / 525 / 51T | 144ZK-51 |
| Blue / 525 / 45T | 526ZB-45 |
| Black / 525 / 52T | 144ZK-52 |
| Red / 525 / 40T | 338CZR-40 |
| Black / 525 / 53T | 144ZK-53 |
| Red / 525 / 48T | 338CZR-48 |
| Black / 525 / 54T | 144ZK-54 |
| Red / 525 / 36T | 435CZR-36 |
| Black / 525 / 40T | 193ZK-40 |
| Red / 525 / 44T | 435CZR-44 |
| Black / 525 / 41T | 193ZK-41 |
| Red / 525 / 35T | 454ZR-35 |
| Black / 525 / 48T | 193ZK-48 |
| Red / 525 / 43T | 454ZR-43 |
| Black / 525 / 49T | 193ZK-49 |
| Red / 525 / 51T | 454ZR-51 |
| Black / 525 / 53T | 193ZK-53 |
| Red / 525 / 41T | 491ZR-41 |
| Black / 525 / 37T | 247ZK-37 |
| Red / 525 / 49T | 491ZR-49 |
| Black / 525 / 38T | 247ZK-38 |
| Red / 525 / 38T | 526ZR-38 |
| Black / 525 / 39T | 247ZK-39 |
| Red / 525 / 52T | 526ZR-52 |
| Black / 525 / 40T | 247ZK-40 |
| Red / 525 / 39T | 528CZR-39 |
| Black / 525 / 41T | 247ZK-41 |
| Red / 525 / 47T | 528CZR-47 |
| Black / 525 / 42T | 247ZK-42 |
| Red / 525 / 54T | 775ZR-54 |
| Black / 525 / 43T | 247ZK-43 |
| Black / 525 / 54T | 338CZK-54 |
| Black / 525 / 44T | 247ZK-44 |
| Black / 525 / 38T | 435CZK-38 |
| Black / 525 / 45T | 247ZK-45 |
| Black / 525 / 42T | 435CZK-42 |
| Black / 525 / 46T | 247ZK-46 |
| Black / 525 / 50T | 435CZK-50 |
| Black / 525 / 47T | 247ZK-47 |
| Black / 525 / 54T | 435CZK-54 |
| Black / 525 / 48T | 247ZK-48 |
| Black / 525 / 37T | 454ZK-37 |
| Black / 525 / 49T | 247ZK-49 |
| Black / 525 / 41T | 454ZK-41 |
| Black / 525 / 50T | 247ZK-50 |
| Black / 525 / 45T | 454ZK-45 |
| Black / 525 / 51T | 247ZK-51 |
| Black / 525 / 49T | 454ZK-49 |
| Black / 525 / 52T | 247ZK-52 |
| Black / 525 / 53T | 454ZK-53 |
| Black / 525 / 53T | 247ZK-53 |
| Black / 525 / 39T | 491ZK-39 |
| Black / 525 / 54T | 247ZK-54 |
| Black / 525 / 43T | 491ZK-43 |
| Black / 525 / 39T | 252ZK-39 |
| Black / 525 / 47T | 491ZK-47 |
| Black / 525 / 40T | 252ZK-40 |
| Black / 525 / 51T | 491ZK-51 |
| Black / 525 / 41T | 252ZK-41 |
| Black / 525 / 36T | 526ZK-36 |
| Black / 525 / 42T | 252ZK-42 |
| Black / 525 / 40T | 526ZK-40 |
| Black / 525 / 43T | 252ZK-43 |
| Black / 525 / 50T | 526ZK-50 |
| Black / 525 / 47T | 252ZK-47 |
| Black / 525 / 54T | 526ZK-54 |
| Black / 525 / 48T | 252ZK-48 |
| Black / 525 / 37T | 528CZK-37 |
| Black / 525 / 49T | 252ZK-49 |
| Black / 525 / 41T | 528CZK-41 |
| Black / 525 / 50T | 252ZK-50 |
| Black / 525 / 45T | 528CZK-45 |
| Black / 525 / 51T | 252ZK-51 |
| Black / 525 / 49T | 528CZK-49 |
| Black / 525 / 52T | 252ZK-52 |
| Black / 525 / 53T | 528CZK-53 |
| Black / 525 / 53T | 252ZK-53 |
| Black / 525 / 41T V3 Style | 654ZK-41 |
| Black / 525 / 54T | 252ZK-54 |
| Black / 525 / 34T | 775ZK-34 |
| Blue / 525 / 53T | 338CZB-53 |
| Black / 525 / 38T | 775ZK-38 |
| Blue / 525 / 34T | 110ZB-34 |
| Black / 525 / 42T | 775ZK-42 |
| Blue / 525 / 35T | 110ZB-35 |
| Black / 525 / 46T | 775ZK-46 |
| Blue / 525 / 36T | 110ZB-36 |
| Black / 525 / 50T | 775ZK-50 |
| Blue / 525 / 37T | 110ZB-37 |
| Black / 525 / 54T | 775ZK-54 |
| Blue / 525 / 38T | 110ZB-38 |
| Blue / 525 / 54T | 338CZB-54 |
| Blue / 525 / 39T | 110ZB-39 |
| Blue / 525 / 38T | 435CZB-38 |
| Blue / 525 / 40T | 110ZB-40 |
| Blue / 525 / 42T | 435CZB-42 |
| Blue / 525 / 41T | 110ZB-41 |
| Blue / 525 / 50T | 435CZB-50 |
| Blue / 525 / 42T | 110ZB-42 |
| Blue / 525 / 54T | 435CZB-54 |
| Blue / 525 / 43T | 110ZB-43 |
| Blue / 525 / 37T | 454ZB-37 |
| Blue / 525 / 44T | 110ZB-44 |
| Blue / 525 / 41T | 454ZB-41 |
| Blue / 525 / 45T | 110ZB-45 |
| Blue / 525 / 45T | 454ZB-45 |
| Blue / 525 / 46T | 110ZB-46 |
| Blue / 525 / 49T | 454ZB-49 |
| Blue / 525 / 47T | 110ZB-47 |
| Blue / 525 / 53T | 454ZB-53 |
| Blue / 525 / 48T | 110ZB-48 |
| Blue / 525 / 39T | 491ZB-39 |
| Blue / 525 / 49T | 110ZB-49 |
| Blue / 525 / 43T | 491ZB-43 |
| Blue / 525 / 50T | 110ZB-50 |
| Blue / 525 / 47T | 491ZB-47 |
| Blue / 525 / 51T | 110ZB-51 |
| Blue / 525 / 51T | 491ZB-51 |
| Blue / 525 / 52T | 110ZB-52 |
| Blue / 525 / 36T | 526ZB-36 |
| Blue / 525 / 53T | 110ZB-53 |
| Blue / 525 / 40T | 526ZB-40 |
| Blue / 525 / 54T | 110ZB-54 |
| Blue / 525 / 50T | 526ZB-50 |
| Blue / 525 / 34T | 120ZB-34 |
| Blue / 525 / 54T | 526ZB-54 |
| Blue / 525 / 35T | 120ZB-35 |
| Blue / 525 / 37T | 528CZB-37 |
| Blue / 525 / 36T | 120ZB-36 |
| Blue / 525 / 41T | 528CZB-41 |
| Blue / 525 / 37T | 120ZB-37 |
| Blue / 525 / 45T | 528CZB-45 |
| Blue / 525 / 38T | 120ZB-38 |
| Blue / 525 / 49T | 528CZB-49 |
| Blue / 525 / 39T | 120ZB-39 |
| Blue / 525 / 53T | 528CZB-53 |
| Blue / 525 / 40T | 120ZB-40 |
| Blue / 525 / 36T | 775ZB-36 |
| Blue / 525 / 41T | 120ZB-41 |
| Blue / 525 / 40T | 775ZB-40 |
| Blue / 525 / 42T | 120ZB-42 |
| Blue / 525 / 44T | 775ZB-44 |
| Blue / 525 / 43T | 120ZB-43 |
| Blue / 525 / 48T | 775ZB-48 |
| Blue / 525 / 44T | 120ZB-44 |
| Blue / 525 / 52T | 775ZB-52 |
| Blue / 525 / 45T | 120ZB-45 |
| Blue / 525 / 40T | 195ZB-40 |
| Blue / 525 / 46T | 120ZB-46 |
| Blue / 525 / 45T | 435CZB-45 |
| Blue / 525 / 47T | 120ZB-47 |
| Blue / 525 / 43T | 526ZB-43 |
| Blue / 525 / 48T | 120ZB-48 |
| Blue / 525 / 47T | 526ZB-47 |
| Blue / 525 / 49T | 120ZB-49 |
| Red / 525 / 38T | 338CZR-38 |
| Blue / 525 / 50T | 120ZB-50 |
| Red / 525 / 42T | 338CZR-42 |
| Blue / 525 / 51T | 120ZB-51 |
| Red / 525 / 46T | 338CZR-46 |
| Blue / 525 / 52T | 120ZB-52 |
| Red / 525 / 50T | 338CZR-50 |
| Blue / 525 / 53T | 120ZB-53 |
| Red / 525 / 54T | 338CZR-54 |
| Blue / 525 / 54T | 120ZB-54 |
| Red / 525 / 38T | 435CZR-38 |
| Blue / 525 / 34T | 144ZB-34 |
| Red / 525 / 42T | 435CZR-42 |
| Blue / 525 / 35T | 144ZB-35 |
| Red / 525 / 50T | 435CZR-50 |
| Blue / 525 / 36T | 144ZB-36 |
| Red / 525 / 54T | 435CZR-54 |
| Blue / 525 / 37T | 144ZB-37 |
| Red / 525 / 37T | 454ZR-37 |
| Blue / 525 / 38T | 144ZB-38 |
| Red / 525 / 41T | 454ZR-41 |
| Blue / 525 / 39T | 144ZB-39 |
| Red / 525 / 45T | 454ZR-45 |
| Blue / 525 / 40T | 144ZB-40 |
| Red / 525 / 49T | 454ZR-49 |
| Blue / 525 / 41T | 144ZB-41 |
| Red / 525 / 53T | 454ZR-53 |
| Blue / 525 / 42T | 144ZB-42 |
| Red / 525 / 39T | 491ZR-39 |
| Blue / 525 / 43T | 144ZB-43 |
| Red / 525 / 43T | 491ZR-43 |
| Blue / 525 / 44T | 144ZB-44 |
| Red / 525 / 47T | 491ZR-47 |
| Blue / 525 / 45T | 144ZB-45 |
| Red / 525 / 51T | 491ZR-51 |
| Blue / 525 / 46T | 144ZB-46 |
| Red / 525 / 36T | 526ZR-36 |
| Blue / 525 / 47T | 144ZB-47 |
| Red / 525 / 40T | 526ZR-40 |
| Blue / 525 / 48T | 144ZB-48 |
| Red / 525 / 50T | 526ZR-50 |
| Blue / 525 / 49T | 144ZB-49 |
| Red / 525 / 54T | 526ZR-54 |
| Blue / 525 / 50T | 144ZB-50 |
| Red / 525 / 37T | 528CZR-37 |
| Blue / 525 / 51T | 144ZB-51 |
| Red / 525 / 41T | 528CZR-41 |
| Blue / 525 / 52T | 144ZB-52 |
| Red / 525 / 45T | 528CZR-45 |
| Blue / 525 / 53T | 144ZB-53 |
| Red / 525 / 49T | 528CZR-49 |
| Blue / 525 / 54T | 144ZB-54 |
| Red / 525 / 52T | 775ZR-52 |
| Blue / 525 / 43T | 193ZB-43 |
| Red / 525 / 46T | 435CZR-46 |
| Blue / 525 / 44T | 193ZB-44 |
| Black / 525 / 53T | 338CZK-53 |
| Blue / 525 / 45T | 193ZB-45 |
| Black / 525 / 35T | 435CZK-35 |
| Blue / 525 / 46T | 193ZB-46 |
| Black / 525 / 37T | 435CZK-37 |
| Blue / 525 / 47T | 193ZB-47 |
| Black / 525 / 39T | 435CZK-39 |
| Blue / 525 / 37T | 247ZB-37 |
| Black / 525 / 41T | 435CZK-41 |
| Blue / 525 / 38T | 247ZB-38 |
| Black / 525 / 43T | 435CZK-43 |
| Blue / 525 / 39T | 247ZB-39 |
| Black / 525 / 49T | 435CZK-49 |
| Blue / 525 / 40T | 247ZB-40 |
| Black / 525 / 51T | 435CZK-51 |
| Blue / 525 / 41T | 247ZB-41 |
| Black / 525 / 53T | 435CZK-53 |
| Blue / 525 / 42T | 247ZB-42 |
| Black / 525 / 34T | 454ZK-34 |
| Blue / 525 / 43T | 247ZB-43 |
| Black / 525 / 36T | 454ZK-36 |
| Blue / 525 / 44T | 247ZB-44 |
| Black / 525 / 38T | 454ZK-38 |
| Blue / 525 / 45T | 247ZB-45 |
| Black / 525 / 40T | 454ZK-40 |
| Blue / 525 / 46T | 247ZB-46 |
| Black / 525 / 42T | 454ZK-42 |
| Blue / 525 / 47T | 247ZB-47 |
| Black / 525 / 44T | 454ZK-44 |
| Blue / 525 / 48T | 247ZB-48 |
| Black / 525 / 46T | 454ZK-46 |
| Blue / 525 / 49T | 247ZB-49 |
| Black / 525 / 48T | 454ZK-48 |
| Blue / 525 / 50T | 247ZB-50 |
| Black / 525 / 50T | 454ZK-50 |
| Blue / 525 / 51T | 247ZB-51 |
| Black / 525 / 52T | 454ZK-52 |
| Blue / 525 / 52T | 247ZB-52 |
| Black / 525 / 54T | 454ZK-54 |
| Blue / 525 / 53T | 247ZB-53 |
| Black / 525 / 38T | 491ZK-38 |
| Blue / 525 / 54T | 247ZB-54 |
| Black / 525 / 40T | 491ZK-40 |
| Blue / 525 / 39T | 252ZB-39 |
| Black / 525 / 42T | 491ZK-42 |
| Blue / 525 / 40T | 252ZB-40 |
| Black / 525 / 44T | 491ZK-44 |
| Blue / 525 / 41T | 252ZB-41 |
| Black / 525 / 46T | 491ZK-46 |
| Blue / 525 / 42T | 252ZB-42 |
| Black / 525 / 48T | 491ZK-48 |
| Blue / 525 / 43T | 252ZB-43 |
| Black / 525 / 50T | 491ZK-50 |
| Blue / 525 / 44T | 252ZB-44 |
| Black / 525 / 52T | 491ZK-52 |
| Blue / 525 / 45T | 252ZB-45 |
| Black / 525 / 54T | 491ZK-54 |
| Blue / 525 / 46T | 252ZB-46 |
| Black / 525 / 37T | 526ZK-37 |
| Blue / 525 / 47T | 252ZB-47 |
| Black / 525 / 39T | 526ZK-39 |
| Blue / 525 / 48T | 252ZB-48 |
| Black / 525 / 41T | 526ZK-41 |
| Blue / 525 / 49T | 252ZB-49 |
| Black / 525 / 49T | 526ZK-49 |
| Blue / 525 / 50T | 252ZB-50 |
| Black / 525 / 51T | 526ZK-51 |
| Blue / 525 / 51T | 252ZB-51 |
| Black / 525 / 53T | 526ZK-53 |
| Blue / 525 / 52T | 252ZB-52 |
| Black / 525 / 34T | 528CZK-34 |
| Blue / 525 / 53T | 252ZB-53 |
| Black / 525 / 36T | 528CZK-36 |
| Blue / 525 / 54T | 252ZB-54 |
| Black / 525 / 38T | 528CZK-38 |
| Blue / 525 / 36T | 338CZB-36 |
| Black / 525 / 40T | 528CZK-40 |
| Blue / 525 / 37T | 338CZB-37 |
| Black / 525 / 42T | 528CZK-42 |
| Blue / 525 / 38T | 338CZB-38 |
| Black / 525 / 44T | 528CZK-44 |
| Blue / 525 / 39T | 338CZB-39 |
| Black / 525 / 46T | 528CZK-46 |
| Blue / 525 / 40T | 338CZB-40 |
| Black / 525 / 48T | 528CZK-48 |
| Blue / 525 / 41T | 338CZB-41 |
| Black / 525 / 50T | 528CZK-50 |
| Blue / 525 / 42T | 338CZB-42 |
| Black / 525 / 52T | 528CZK-52 |
| Blue / 525 / 43T | 338CZB-43 |
| Black / 525 / 54T | 528CZK-54 |
| Blue / 525 / 44T | 338CZB-44 |
| Black / 525 / 40T V3 Style | 654ZK-40 |
| Blue / 525 / 45T | 338CZB-45 |
| Black / 525 / 42T V3 Style | 654ZK-42 |
| Blue / 525 / 46T | 338CZB-46 |
| Black / 525 / 44T V3 Style | 654ZK-44 |
| Blue / 525 / 47T | 338CZB-47 |
| Black / 525 / 35T | 775ZK-35 |
| Blue / 525 / 48T | 338CZB-48 |
| Black / 525 / 37T | 775ZK-37 |
| Blue / 525 / 49T | 338CZB-49 |
| Black / 525 / 39T | 775ZK-39 |
| Blue / 525 / 50T | 338CZB-50 |
| Black / 525 / 41T | 775ZK-41 |
| Blue / 525 / 51T | 338CZB-51 |
| Black / 525 / 43T | 775ZK-43 |
| Blue / 525 / 52T | 338CZB-52 |
| Black / 525 / 45T | 775ZK-45 |
| Red / 525 / 34T | 110ZR-34 |
| Black / 525 / 47T | 775ZK-47 |
| Red / 525 / 35T | 110ZR-35 |
| Black / 525 / 49T | 775ZK-49 |
| Red / 525 / 36T | 110ZR-36 |
| Black / 525 / 51T | 775ZK-51 |
| Red / 525 / 37T | 110ZR-37 |
| Black / 525 / 53T | 775ZK-53 |
| Red / 525 / 38T | 110ZR-38 |
| Blue / 525 / 41T | 195ZB-41 |
| Red / 525 / 39T | 110ZR-39 |
| Blue / 525 / 46T | 195ZB-46 |
| Red / 525 / 40T | 110ZR-40 |
| Blue / 525 / 35T | 435CZB-35 |
| Red / 525 / 41T | 110ZR-41 |
| Blue / 525 / 37T | 435CZB-37 |
| Red / 525 / 42T | 110ZR-42 |
| Blue / 525 / 39T | 435CZB-39 |
| Red / 525 / 43T | 110ZR-43 |
| Blue / 525 / 41T | 435CZB-41 |
| Red / 525 / 44T | 110ZR-44 |
| Blue / 525 / 43T | 435CZB-43 |
| Red / 525 / 45T | 110ZR-45 |
| Blue / 525 / 49T | 435CZB-49 |
| Red / 525 / 46T | 110ZR-46 |
| Blue / 525 / 51T | 435CZB-51 |
| Red / 525 / 47T | 110ZR-47 |
| Blue / 525 / 53T | 435CZB-53 |
| Red / 525 / 48T | 110ZR-48 |
| Blue / 525 / 34T | 454ZB-34 |
| Red / 525 / 49T | 110ZR-49 |
| Blue / 525 / 36T | 454ZB-36 |
| Red / 525 / 50T | 110ZR-50 |
| Blue / 525 / 38T | 454ZB-38 |
| Red / 525 / 51T | 110ZR-51 |
| Blue / 525 / 40T | 454ZB-40 |
| Red / 525 / 52T | 110ZR-52 |
| Blue / 525 / 42T | 454ZB-42 |
| Red / 525 / 53T | 110ZR-53 |
| Blue / 525 / 44T | 454ZB-44 |
| Red / 525 / 54T | 110ZR-54 |
| Blue / 525 / 46T | 454ZB-46 |
| Red / 525 / 34T | 120ZR-34 |
| Blue / 525 / 48T | 454ZB-48 |
| Red / 525 / 35T | 120ZR-35 |
| Blue / 525 / 50T | 454ZB-50 |
| Red / 525 / 36T | 120ZR-36 |
| Blue / 525 / 52T | 454ZB-52 |
| Red / 525 / 37T | 120ZR-37 |
| Blue / 525 / 54T | 454ZB-54 |
| Red / 525 / 38T | 120ZR-38 |
| Blue / 525 / 38T | 491ZB-38 |
| Red / 525 / 39T | 120ZR-39 |
| Blue / 525 / 40T | 491ZB-40 |
| Red / 525 / 40T | 120ZR-40 |
| Blue / 525 / 42T | 491ZB-42 |
| Red / 525 / 41T | 120ZR-41 |
| Blue / 525 / 44T | 491ZB-44 |
| Red / 525 / 42T | 120ZR-42 |
| Blue / 525 / 46T | 491ZB-46 |
| Red / 525 / 43T | 120ZR-43 |
| Blue / 525 / 48T | 491ZB-48 |
| Red / 525 / 44T | 120ZR-44 |
| Blue / 525 / 50T | 491ZB-50 |
| Red / 525 / 45T | 120ZR-45 |
| Blue / 525 / 52T | 491ZB-52 |
| Red / 525 / 46T | 120ZR-46 |
| Blue / 525 / 54T | 491ZB-54 |
| Red / 525 / 47T | 120ZR-47 |
| Blue / 525 / 37T | 526ZB-37 |
| Red / 525 / 48T | 120ZR-48 |
| Blue / 525 / 39T | 526ZB-39 |
| Red / 525 / 49T | 120ZR-49 |
| Blue / 525 / 41T | 526ZB-41 |
| Red / 525 / 50T | 120ZR-50 |
| Blue / 525 / 49T | 526ZB-49 |
| Red / 525 / 51T | 120ZR-51 |
| Blue / 525 / 51T | 526ZB-51 |
| Red / 525 / 52T | 120ZR-52 |
| Blue / 525 / 53T | 526ZB-53 |
| Red / 525 / 53T | 120ZR-53 |
| Blue / 525 / 34T | 528CZB-34 |
| Red / 525 / 54T | 120ZR-54 |
| Blue / 525 / 36T | 528CZB-36 |
| Red / 525 / 34T | 144ZR-34 |
| Blue / 525 / 38T | 528CZB-38 |
| Red / 525 / 35T | 144ZR-35 |
| Blue / 525 / 40T | 528CZB-40 |
| Red / 525 / 36T | 144ZR-36 |
| Blue / 525 / 42T | 528CZB-42 |
| Red / 525 / 37T | 144ZR-37 |
| Blue / 525 / 44T | 528CZB-44 |
| Red / 525 / 38T | 144ZR-38 |
| Blue / 525 / 46T | 528CZB-46 |
| Red / 525 / 39T | 144ZR-39 |
| Blue / 525 / 48T | 528CZB-48 |
| Red / 525 / 40T | 144ZR-40 |
| Blue / 525 / 50T | 528CZB-50 |
| Red / 525 / 41T | 144ZR-41 |
| Blue / 525 / 52T | 528CZB-52 |
| Red / 525 / 42T | 144ZR-42 |
| Blue / 525 / 54T | 528CZB-54 |
| Red / 525 / 43T | 144ZR-43 |
| Blue / 525 / 35T | 775ZB-35 |
| Red / 525 / 44T | 144ZR-44 |
| Blue / 525 / 37T | 775ZB-37 |
| Red / 525 / 45T | 144ZR-45 |
| Blue / 525 / 39T | 775ZB-39 |
| Red / 525 / 46T | 144ZR-46 |
| Blue / 525 / 41T | 775ZB-41 |
| Red / 525 / 47T | 144ZR-47 |
| Blue / 525 / 43T | 775ZB-43 |
| Red / 525 / 48T | 144ZR-48 |
| Blue / 525 / 45T | 775ZB-45 |
| Red / 525 / 49T | 144ZR-49 |
| Blue / 525 / 47T | 775ZB-47 |
| Red / 525 / 50T | 144ZR-50 |
| Blue / 525 / 49T | 775ZB-49 |
| Red / 525 / 51T | 144ZR-51 |
| Blue / 525 / 51T | 775ZB-51 |
| Red / 525 / 52T | 144ZR-52 |
| Blue / 525 / 53T | 775ZB-53 |
| Red / 525 / 53T | 144ZR-53 |
| Blue / 525 / 48T | 193ZB-48 |
| Red / 525 / 54T | 144ZR-54 |
| Blue / 525 / 43T | 195ZB-43 |
| Red / 525 / 44T | 193ZR-44 |
| Blue / 525 / 48T | 195ZB-48 |
| Red / 525 / 45T | 193ZR-45 |
| Blue / 525 / 46T | 435CZB-46 |
| Red / 525 / 46T | 193ZR-46 |
| Blue / 525 / 48T | 435CZB-48 |
| Red / 525 / 37T | 247ZR-37 |
| Blue / 525 / 44T | 526ZB-44 |
| Red / 525 / 38T | 247ZR-38 |
| Blue / 525 / 46T | 526ZB-46 |
| Red / 525 / 39T | 247ZR-39 |
| Blue / 525 / 48T | 526ZB-48 |
| Red / 525 / 40T | 247ZR-40 |
| Red / 525 / 37T | 338CZR-37 |
| Red / 525 / 41T | 247ZR-41 |
| Red / 525 / 39T | 338CZR-39 |
| Red / 525 / 42T | 247ZR-42 |
| Red / 525 / 41T | 338CZR-41 |
| Red / 525 / 43T | 247ZR-43 |
| Red / 525 / 43T | 338CZR-43 |
| Red / 525 / 44T | 247ZR-44 |
| Red / 525 / 45T | 338CZR-45 |
| Red / 525 / 45T | 247ZR-45 |
| Red / 525 / 47T | 338CZR-47 |
| Red / 525 / 46T | 247ZR-46 |
| Red / 525 / 49T | 338CZR-49 |
| Red / 525 / 47T | 247ZR-47 |
| Red / 525 / 51T | 338CZR-51 |
| Red / 525 / 48T | 247ZR-48 |
| Red / 525 / 53T | 338CZR-53 |
| Red / 525 / 49T | 247ZR-49 |
| Red / 525 / 35T | 435CZR-35 |
| Red / 525 / 50T | 247ZR-50 |
| Red / 525 / 37T | 435CZR-37 |
| Red / 525 / 51T | 247ZR-51 |
| Red / 525 / 39T | 435CZR-39 |
| Red / 525 / 52T | 247ZR-52 |
| Red / 525 / 41T | 435CZR-41 |
| Red / 525 / 53T | 247ZR-53 |
| Red / 525 / 43T | 435CZR-43 |
| Red / 525 / 54T | 247ZR-54 |
| Red / 525 / 49T | 435CZR-49 |
| Red / 525 / 39T | 252ZR-39 |
| Red / 525 / 51T | 435CZR-51 |
| Red / 525 / 40T | 252ZR-40 |
| Red / 525 / 53T | 435CZR-53 |
| Red / 525 / 41T | 252ZR-41 |
| Red / 525 / 34T | 454ZR-34 |
| Red / 525 / 42T | 252ZR-42 |
| Red / 525 / 36T | 454ZR-36 |
| Red / 525 / 43T | 252ZR-43 |
| Red / 525 / 38T | 454ZR-38 |
| Red / 525 / 44T | 252ZR-44 |
| Red / 525 / 40T | 454ZR-40 |
| Red / 525 / 45T | 252ZR-45 |
| Red / 525 / 42T | 454ZR-42 |
| Red / 525 / 46T | 252ZR-46 |
| Red / 525 / 44T | 454ZR-44 |
| Red / 525 / 47T | 252ZR-47 |
| Red / 525 / 46T | 454ZR-46 |
| Red / 525 / 48T | 252ZR-48 |
| Red / 525 / 48T | 454ZR-48 |
| Red / 525 / 49T | 252ZR-49 |
| Red / 525 / 50T | 454ZR-50 |
| Red / 525 / 50T | 252ZR-50 |
| Red / 525 / 52T | 454ZR-52 |
| Red / 525 / 51T | 252ZR-51 |
| Red / 525 / 54T | 454ZR-54 |
| Red / 525 / 52T | 252ZR-52 |
| Red / 525 / 38T | 491ZR-38 |
| Red / 525 / 53T | 252ZR-53 |
| Red / 525 / 40T | 491ZR-40 |
| Red / 525 / 54T | 252ZR-54 |
| Red / 525 / 42T | 491ZR-42 |
| Black / 525 / 44T | 193ZK-44 |
| Red / 525 / 44T | 491ZR-44 |
| Black / 525 / 43T | 193ZK-43 |
| Red / 525 / 46T | 491ZR-46 |
| Black / 525 / 42T | 193ZK-42 |
| Red / 525 / 48T | 491ZR-48 |
| Red / 525 / 48T | 435CZR-48 |
| Red / 525 / 50T | 491ZR-50 |
| Red / 525 / 44T | 526ZR-44 |
| Red / 525 / 52T | 491ZR-52 |
| Red / 525 / 46T | 526ZR-46 |
| Red / 525 / 54T | 491ZR-54 |
| Red / 525 / 48T | 526ZR-48 |
| Red / 525 / 37T | 526ZR-37 |
| Red / 525 / 51T | 528CZR-51 |
| Red / 525 / 39T | 526ZR-39 |
| Red / 525 / 53T | 528CZR-53 |
| Red / 525 / 41T | 526ZR-41 |
| Red / 525 / 39T V3 Style | 654ZR-39 |
| Red / 525 / 49T | 526ZR-49 |
| Red / 525 / 41T V3 Style | 654ZR-41 |
| Red / 525 / 51T | 526ZR-51 |
| Red / 525 / 43T V3 Style | 654ZR-43 |
| Red / 525 / 53T | 526ZR-53 |
| Red / 525 / 34T | 775ZR-34 |
| Red / 525 / 34T | 528CZR-34 |
| Red / 525 / 36T | 775ZR-36 |
| Red / 525 / 36T | 528CZR-36 |
| Red / 525 / 38T | 775ZR-38 |
| Red / 525 / 38T | 528CZR-38 |
| Red / 525 / 40T | 775ZR-40 |
| Red / 525 / 40T | 528CZR-40 |
| Red / 525 / 42T | 775ZR-42 |
| Red / 525 / 42T | 528CZR-42 |
| Red / 525 / 44T | 775ZR-44 |
| Red / 525 / 44T | 528CZR-44 |
| Red / 525 / 46T | 775ZR-46 |
| Red / 525 / 46T | 528CZR-46 |
| Red / 525 / 48T | 775ZR-48 |
| Red / 525 / 48T | 528CZR-48 |
| Red / 525 / 50T | 775ZR-50 |
| Red / 525 / 50T | 528CZR-50 |
| Black / 525 / 45T | 193ZK-45 |
| Red / 525 / 52T | 528CZR-52 |
| Black / 525 / 36T | 338CZK-36 |
| Red / 525 / 54T | 528CZR-54 |
| Black / 525 / 37T | 338CZK-37 |
| Red / 525 / 40T V3 Style | 654ZR-40 |
| Black / 525 / 38T | 338CZK-38 |
| Red / 525 / 42T V3 Style | 654ZR-42 |
| Black / 525 / 39T | 338CZK-39 |
| Red / 525 / 44T V3 Style | 654ZR-44 |
| Black / 525 / 40T | 338CZK-40 |
| Red / 525 / 35T | 775ZR-35 |
| Black / 525 / 41T | 338CZK-41 |
| Red / 525 / 37T | 775ZR-37 |
| Black / 525 / 42T | 338CZK-42 |
| Red / 525 / 39T | 775ZR-39 |
| Black / 525 / 43T | 338CZK-43 |
| Red / 525 / 41T | 775ZR-41 |
| Black / 525 / 44T | 338CZK-44 |
| Red / 525 / 43T | 775ZR-43 |
| Black / 525 / 45T | 338CZK-45 |
| Red / 525 / 45T | 775ZR-45 |
| Black / 525 / 46T | 338CZK-46 |
| Red / 525 / 47T | 775ZR-47 |
| Black / 525 / 47T | 338CZK-47 |
| Red / 525 / 49T | 775ZR-49 |
| Black / 525 / 48T | 338CZK-48 |
| Red / 525 / 51T | 775ZR-51 |
| Black / 525 / 49T | 338CZK-49 |
| Red / 525 / 53T | 775ZR-53 |
| Black / 525 / 50T | 338CZK-50 |
| Red / 525 / 45T | 435CZR-45 |
| Black / 525 / 51T | 338CZK-51 |
| Red / 525 / 47T | 435CZR-47 |
| Black / 525 / 52T | 338CZK-52 |
| Red / 525 / 43T | 526ZR-43 |
| Black / 525 / 41T | 195ZK-41 |
| Red / 525 / 45T | 526ZR-45 |
| Black / 525 / 42T | 195ZK-42 |
| Red / 525 / 47T | 526ZR-47 |
| Black / 525 / 45T | 195ZK-45 |
| Red / 525 / 47T | 193ZR-47 |
| Black / 525 / 46T | 195ZK-46 |