Vortex
Vortex 525 Aluminum Sprocket And Chain Kit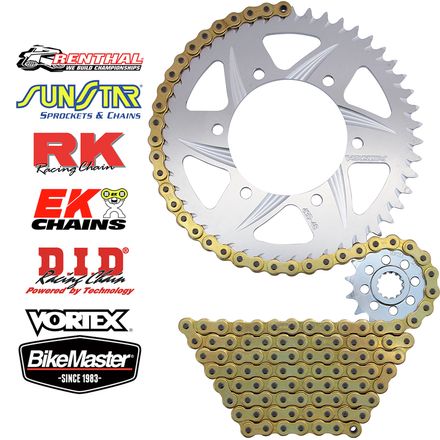 Vortex 525 Aluminum Sprocket And Chain Kit
---
26% Off - Save up to $56.08
---
5 Star
9
4 Star
4
3 Star
0
2 Star
0
1 Star
0
Write a Review
Write your review and you'll automatically be entered in our monthly drawing. Include an image or video to DOUBLE your chances to win!
Write Your Review
Awesome buy!
Can't beat this deal anywhere!
Over 5 years ago
Phoenix, AZ, USA
Best style and finish
I was pleased, for an aluminum sprocket these are super thick and half the weight of the stock sprocket. If you replace your chain and all the sprockets they should last a good long while. Definitely great quality and finish.
Over 5 years ago
Temecula, CA, USA
Perfect
I recently purchased the 525 pitch to replace the 520 that I'd had for nearly 10k miles. It still had plenty of life but a piece of semi tire chewed the last few thousand out of it. These kits are awesome. I give five stars on everything but ease of install. As for Motosport... I love you guys. I was having issues ordering online so I called. Dave helped me order what I needed and then we were talking about previous rides and scary moments we'd both had. The guys at Motorsport understand riders because they ARE riders... awesome site and people!
Over 5 years ago
Los Angeles, CA, USA
So far so good
The only reason I don't rate this product 5 stars is because I just installed it last week, and now I am been asked to rate my purchase ...

Well it is too early to say how durable this chain and sprockets will be but the manufacturing on this items seems very high quality, the install was done by my trusted mechanic he said it was easy, he cut the chain to OEM size. Performance is good where the bike feels strong, snappy, very reactive to throtle (the old chain was loose and it could not be adjusted anymore). Good product so far ... hope this helps.
Over 6 years ago
Culpeper,VA
BEST FOR THE MONEY
Great deal for the money
Front steel sprocket and light weight rear sprocket
Nice strong chain fast and easy to install great product
Over 6 years ago
johnstown PA
Great product, looks bad assssss
I put these items on my yellow sv650s and the first person that saw the bike after it was done stated " that black vortex sprocket is sick", so yeah its a great product seems to really be solid, easy to install (if your at all decent with a wrench) and it looks great! awesome product. one thing i will mention for the newer riders is that the chain is universal and requires grinding to fit the specific bike, so don't expect to just throw it on there!
Over 6 years ago
wilmington ca
Good performance
I bought this piece for my zx10r and it made a big difference I recommend this brand to every one vortex is the best
Over 6 years ago
Christiansburg, VA
Awesome!
this set was awesome went down one tooth on the front sprocket and up one on the rear and wow what a difference in acceleration and can easily pop wheelies now and they look awesome the black sprocket and gold chain looks great i didnt install them had a shop do it when they changed my wheel and all together it took them about an hour for one guy to do both things so id say they were easy to put on. def a must and a good buy if you want a good set of sprockets and chain. and it was great shipping was here when it said it was going to be great service form motosport.com
Over 6 years ago
Worcester,MA
VORTEX SPROCKET & CHAIN KIT 525 - BLACK
The rear black sprocket and gold chain look awesome on my GSXR-600 and added tons of torque off the line. I went down 1 tooth in the front and up 2 teeth in the back to add some torque to my bike.
See all bikes that this part fits...
Chain
| Product Variant | Manufacturer Part # |
| --- | --- |
| Gold / 120 Links | G525RX3-120 |
| Gold / 120 Links | G525SX3-120 |
| Green / 120 Links | 197472 |
| Gold/Gold / 120 Links | 525BMXR-120/GG |
| Blue / 120 Links | 197471 |
| Gold / 120 Links | SS525RTG1-120 |
| Black/Gold / 120 Links | 525BMXR-120/BG |
| Red / 150 Links | 197476 |
| Gold | C344 |
| Black Nickel / 120 Links | 525MVXZ2-120K |
| Pink / 120 Links | 525MVXZ2-120ME |
| Blue / 120 Links | 525MVXZ2-120B |
| Gold / 120 Links | 525MVXZ2-120G |
| Orange / 120 Links | 525MVXZ2-120/O |
| Natural / 120 Links | 525MVXZ2-120 |
| Black / 120 Links | 525RX3-120 |
| Orange / 120 Links | 197474 |
| Green / 120 Links | 525MVXZ2-120N |
| Pink / 120 Links | 197475 |
| Red / 120 Links | 525MVXZ2-120R |
| Yellow / 150 Links | 197479 |
| Yellow / 120 Links | 525MVXZ2-120Y |
| Gold / 120 Links | GB525GXW |
| Metallic Blue / 120 Links | 525ZVX3-120AB |
| Black/Chrome / 150 Links | 525BMXR-150/BC |
| Metallic Green / 120 Links | 525ZVX3-120AN |
| Black/Gold / 150 Links | 525BMXR-150/BG |
| Metallic Orange / 120 Links | 525ZVX3-120AO |
| Gold/Gold / 150 Links | 525BMXR-150/GG |
| Metallic Purple / 120 Links | 525ZVX3-120AP |
| Blue / 150 Links | 197477 |
| Metallic Red / 120 Links | 525ZVX3-120AR |
| Green / 150 Links | 197478 |
| Chrome / 120 Links | 525ZVX3-120C |
| Orange / 150 Links | 197480 |
| Gold / 120 Links | 525ZVX3-120G |
| Red / 120 Links | 197470 |
| Black/Gold / 120 Links | 525ZVX3-120KG |
| Yellow / 120 Links | 197473 |
| Natural / 120 Links | 525BMXR-120 |
| Gold / 120 Links | 525ZVMX-120 GOLD |
| Natural / 150 Links | 525BMXR-150 |
| Gold / 120 Links | GB525XSO |
| Black/Chrome / 120 Links | 525BMXR-120/BC |
| Natural / 120 Links | SS525RDG-120 |
| Black / 120 Links | 525SX3-120 |
Front Sprocket
| Product Variant | Manufacturer Part # |
| --- | --- |
| 525 / 17T | 2912-17 |
| 525 / 14T | 2921-14 |
| 525 / 15T | 3227-15 |
| 525 / 15T | 2921-15 |
| 525 / 15T | 2908-15 |
| 525 / 15T | 2912-15 |
| 525 / 16T | 3660-16 |
| 525 / 14T | 2908-14 |
| 525 / 16T | 2917-16 |
| 525 / 15T | 3660-15 |
| 525 / 16T | 2912-16 |
| 525 / 15T | 2917-15 |
| 525 / 17T | 2910-17 |
| 525 / 18T | 2910-18 |
| 525 / 15T | 2910-15 |
| 525 / 16T | 2910-16 |
| 525 / 16T | 3227-16 |
Rear Sprocket
| Product Variant | Manufacturer Part # |
| --- | --- |
| Silver / 525 / 36T | 526-36 |
| Silver / 525 / 51T | 526-51 |
| Silver / 525 / 46T | 528C-46 |
| Silver / 525 / 43T | 247-43 |
| Silver / 525 / 51T | 338C-51 |
| Silver / 525 / 49T | 435C-49 |
| Silver / 525 / 38T | 120-38 |
| Silver / 525 / 54T | 775-54 |
| Silver / 525 / 36T | 120-36 |
| Silver / 525 / 37T | 120-37 |
| Silver / 525 / 35T | 120-35 |
| Silver / 525 / 34T | 120-34 |
| Silver / 525 / 42T | 252-42 |
| Silver / 525 / 38T | 775-38 |
| Silver / 525 / 39T | 120-39 |
| Silver / 525 / 46T | 775-46 |
| Silver / 525 / 40T | 120-40 |
| Silver / 525 / 43T | 338C-43 |
| Silver / 525 / 41T | 120-41 |
| Silver / 525 / 39T | 435C-39 |
| Silver / 525 / 42T | 120-42 |
| Silver / 525 / 36T | 528C-36 |
| Silver / 525 / 43T | 120-43 |
| Silver / 525 / 54T | 528C-54 |
| Silver / 525 / 44T | 120-44 |
| Silver / 525 / 51T | 491-51 |
| Silver / 525 / 45T | 120-45 |
| Silver / 525 / 40T | 526-40 |
| Silver / 525 / 46T | 120-46 |
| Silver / 525 / 34T | 775-34 |
| Silver / 525 / 47T | 120-47 |
| Silver / 525 / 42T | 775-42 |
| Silver / 525 / 48T | 120-48 |
| Silver / 525 / 50T | 775-50 |
| Silver / 525 / 49T | 120-49 |
| Silver / 525 / 39T | 338C-39 |
| Silver / 525 / 50T | 120-50 |
| Silver / 525 / 47T | 338C-47 |
| Silver / 525 / 51T | 120-51 |
| Silver / 525 / 35T | 435C-35 |
| Silver / 525 / 52T | 120-52 |
| Silver / 525 / 43T | 435C-43 |
| Silver / 525 / 53T | 120-53 |
| Silver / 525 / 53T | 435C-53 |
| Silver / 525 / 54T | 120-54 |
| Silver / 525 / 40T | 528C-40 |
| Silver / 525 / 34T | 144-34 |
| Silver / 525 / 50T | 528C-50 |
| Silver / 525 / 35T | 144-35 |
| Standard Silver / 525 / 42T | 195-42 |
| Silver / 525 / 36T | 144-36 |
| Silver / 525 / 49T | 491-49 |
| Silver / 525 / 37T | 144-37 |
| Silver / 525 / 53T | 491-53 |
| Silver / 525 / 38T | 144-38 |
| Silver / 525 / 38T | 526-38 |
| Silver / 525 / 39T | 144-39 |
| Silver / 525 / 49T | 526-49 |
| Silver / 525 / 40T | 144-40 |
| Silver / 525 / 53T | 526-53 |
| Silver / 525 / 41T | 144-41 |
| Silver / 525 / 36T | 775-36 |
| Silver / 525 / 42T | 144-42 |
| Silver / 525 / 40T | 775-40 |
| Silver / 525 / 43T | 144-43 |
| Silver / 525 / 44T | 775-44 |
| Silver / 525 / 44T | 144-44 |
| Silver / 525 / 48T | 775-48 |
| Silver / 525 / 45T | 144-45 |
| Silver / 525 / 52T | 775-52 |
| Silver / 525 / 46T | 144-46 |
| Silver / 525 / 37T | 338C-37 |
| Silver / 525 / 47T | 144-47 |
| Silver / 525 / 41T | 338C-41 |
| Silver / 525 / 48T | 144-48 |
| Silver / 525 / 45T | 338C-45 |
| Silver / 525 / 49T | 144-49 |
| Silver / 525 / 49T | 338C-49 |
| Silver / 525 / 50T | 144-50 |
| Silver / 525 / 53T | 338C-53 |
| Silver / 525 / 51T | 144-51 |
| Silver / 525 / 37T | 435C-37 |
| Silver / 525 / 52T | 144-52 |
| Silver / 525 / 41T | 435C-41 |
| Silver / 525 / 53T | 144-53 |
| Silver / 525 / 46T | 435C-46 |
| Silver / 525 / 54T | 144-54 |
| Silver / 525 / 51T | 435C-51 |
| Silver / 525 / 36T | 193-36 |
| Silver / 525 / 34T | 528C-34 |
| Silver / 525 / 38T | 193-38 |
| Silver / 525 / 38T | 528C-38 |
| Silver / 525 / 39T | 193-39 |
| Silver / 525 / 42T | 528C-42 |
| Silver / 525 / 40T | 193-40 |
| Silver / 525 / 48T | 528C-48 |
| Silver / 525 / 41T | 193-41 |
| Silver / 525 / 52T | 528C-52 |
| Silver / 525 / 42T | 193-42 |
| Standard Silver / 525 / 40T | 195-40 |
| Silver / 525 / 43T | 193-43 |
| Standard Silver / 525 / 45T | 195-45 |
| Silver / 525 / 48T | 193-48 |
| Silver / 525 / 43T | 252-43 |
| Silver / 525 / 37T | 247-37 |
| Silver / 525 / 50T | 491-50 |
| Silver / 525 / 38T | 247-38 |
| Silver / 525 / 52T | 491-52 |
| Silver / 525 / 39T | 247-39 |
| Silver / 525 / 54T | 491-54 |
| Silver / 525 / 40T | 247-40 |
| Silver / 525 / 37T | 526-37 |
| Silver / 525 / 41T | 247-41 |
| Silver / 525 / 39T | 526-39 |
| Silver / 525 / 42T | 247-42 |
| Silver / 525 / 48T | 526-48 |
| Silver / 525 / 44T | 247-44 |
| Silver / 525 / 50T | 526-50 |
| Silver / 525 / 46T | 247-46 |
| Silver / 525 / 52T | 526-52 |
| Silver / 525 / 47T | 247-47 |
| Silver / 525 / 54T | 526-54 |
| Silver / 525 / 48T | 247-48 |
| Silver / 525 / 35T | 775-35 |
| Silver / 525 / 49T | 247-49 |
| Silver / 525 / 37T | 775-37 |
| Silver / 525 / 50T | 247-50 |
| Silver / 525 / 39T | 775-39 |
| Silver / 525 / 51T | 247-51 |
| Silver / 525 / 41T | 775-41 |
| Silver / 525 / 52T | 247-52 |
| Silver / 525 / 43T | 775-43 |
| Silver / 525 / 53T | 247-53 |
| Silver / 525 / 45T | 775-45 |
| Silver / 525 / 54T | 247-54 |
| Silver / 525 / 47T | 775-47 |
| Silver / 525 / 39T | 252-39 |
| Silver / 525 / 49T | 775-49 |
| Silver / 525 / 40T | 252-40 |
| Silver / 525 / 51T | 775-51 |
| Silver / 525 / 41T | 252-41 |
| Silver / 525 / 53T | 775-53 |
| Silver / 525 / 48T | 252-48 |
| Silver / 525 / 36T | 338C-36 |
| Silver / 525 / 49T | 252-49 |
| Silver / 525 / 38T | 338C-38 |
| Silver / 525 / 50T | 252-50 |
| Silver / 525 / 40T | 338C-40 |
| Silver / 525 / 51T | 252-51 |
| Silver / 525 / 42T | 338C-42 |
| Silver / 525 / 52T | 252-52 |
| Silver / 525 / 44T | 338C-44 |
| Silver / 525 / 53T | 252-53 |
| Silver / 525 / 46T | 338C-46 |
| Silver / 525 / 54T | 252-54 |
| Silver / 525 / 48T | 338C-48 |
| Silver / 525 / 34T | 454-34 |
| Silver / 525 / 50T | 338C-50 |
| Silver / 525 / 35T | 454-35 |
| Silver / 525 / 52T | 338C-52 |
| Silver / 525 / 36T | 454-36 |
| Silver / 525 / 54T | 338C-54 |
| Silver / 525 / 60T | 253C-60 |
| Silver / 525 / 36T | 435C-36 |
| Silver / 525 / 54T | 253C-54 |
| Silver / 525 / 38T | 435C-38 |
| Silver / 525 / 46T | 454-46 |
| Silver / 525 / 40T | 435C-40 |
| Silver / 525 / 47T | 454-47 |
| Silver / 525 / 42T | 435C-42 |
| Silver / 525 / 48T | 454-48 |
| Silver / 525 / 44T | 435C-44 |
| Silver / 525 / 49T | 454-49 |
| Silver / 525 / 48T | 435C-48 |
| Silver / 525 / 50T | 454-50 |
| Silver / 525 / 50T | 435C-50 |
| Silver / 525 / 51T | 454-51 |
| Silver / 525 / 52T | 435C-52 |
| Silver / 525 / 52T | 454-52 |
| Silver / 525 / 54T | 435C-54 |
| Silver / 525 / 53T | 454-53 |
| Silver / 525 / 35T | 528C-35 |
| Silver / 525 / 54T | 454-54 |
| Silver / 525 / 37T | 528C-37 |
| Silver / 525 / 37T | 491-37 |
| Silver / 525 / 39T | 528C-39 |
| Silver / 525 / 38T | 491-38 |
| Silver / 525 / 41T | 528C-41 |
| Silver / 525 / 39T | 491-39 |
| Silver / 525 / 43T | 528C-43 |
| Silver / 525 / 40T | 491-40 |
| Silver / 525 / 47T | 528C-47 |
| Silver / 525 / 41T | 491-41 |
| Silver / 525 / 49T | 528C-49 |
| Silver / 525 / 42T | 491-42 |
| Silver / 525 / 51T | 528C-51 |
| Silver / 525 / 43T | 491-43 |
| Silver / 525 / 53T | 528C-53 |
| Silver / 525 / 44T | 491-44 |
| Standard Silver / 525 / 39T | 195-39 |
| Silver / 525 / 45T | 491-45 |
| Standard Silver / 525 / 41T | 195-41 |
| Standard Silver / 525 / 47T | 195-47 |
| Standard Silver / 525 / 43T | 195-43 |
| Silver / 525 / 46T | 193-46 |
| Standard Silver / 525 / 46T | 195-46 |
| Silver / 525 / 47T | 193-47 |
| Silver / 525 / 44T | 193-44 |
| Silver / 525 / 45T | 193-45 |
| Silver / 525 / 42T | 526-42 |
| Silver / 525 / 44T | 526-44 |
| Silver / 525 / 45T | 454-45 |
| Silver / 525 / 41T | 526-41 |
| Silver / 525 / 40T | 454-40 |
| Silver / 525 / 41T | 454-41 |
| Silver / 525 / 45T | 435C-45 |
| Silver / 525 / 47T | 435C-47 |
| Silver / 525 / 45T | 252-45 |
| Silver / 525 / 47T | 252-47 |
| Silver / 525 / 46T | 491-46 |
| Silver / 525 / 44T | 252-44 |
| Silver / 525 / 47T | 491-47 |
| Silver / 525 / 48T | 491-48 |
| Silver / 525 / 48T | 195-48 |
| Black / 525 / 43T | 193K-43 |
| Silver / 525 / 37T | 454-37 |
| Silver / 525 / 60T | 195-60 |
| Silver / 525 / 38T | 454-38 |
| Silver / 525 / 37T | 193-37 |