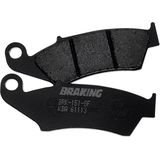 Braking SM1 Semi-Metallic Brake Pads
Weave

- Michigan
Worst pads ever
"did not last 30 miles of trail riding They got so hot they turned white Wore out 2 sets in one weekend"

See all reviews for this product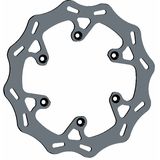 Braking W-FIX Brake Rotor - Rear
Larry

- Torrington Ct.
Braking w-fix rear brake rotor
"I bought this a couple of weeks ago for a 2021 Yamaha YZ.250F and it will not work. Yamaha down sized the rear rotor for the 2021 and the bolts that hold it on the hub are now countersunk just like the front rotors. Moto sport was unaware of the change and I had to go with a factory original. I was able to return it with no problem."

See all reviews for this product
Braking Brakes
An interesting name and perhaps a double meaning because Braking brake products indeed brake and stop your bike. Braking, a Sunstar company, offers all the brake accessories you need for optimum stopping power and to fully upgrade your system for ultimate control. Braking got started in 1990 and quickly made a name in the art of stopping. Braking became part of Sunstar in 2004.
Braking Brake Pads & Rotors
Braking brakes fit a wide assortment of make, model and year dirt bikes, ATVs and motorcycles. Grab a sintered Braking brake pad along with a top-end Braking brake rotor and finish off with a Braking master cylinder and you will quickly, in more ways than one, understand why the pros, amateurs and weekend warriors trust their rides with Braking.
Braking Brakes and MotoSport
Braking brakes help prove the notion that in order to go faster you have to learn to go slower. Don't let an inferior braking system keep you from your best ride. Trust Braking brakes and MotoSport to get you up to speed as well as down in speed. If you have any questions or need further information on Braking brake parts give a gearhead a call at 1-866-667-6288 who can get you the necessary details and provide advice on upgrading your ride with Braking brakes.
MotoSport delivers all Braking brakes fast and orders more than $79 ship free.