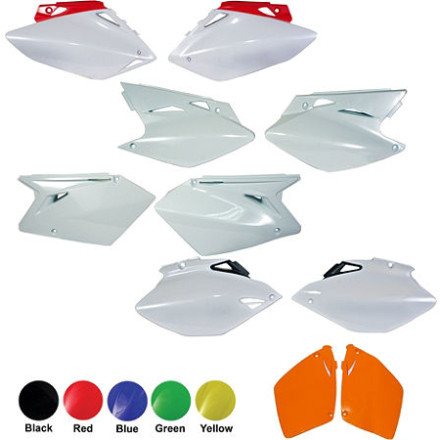 ---
10% Off - Save up to $15.00
---
5 Star
7
4 Star
3
3 Star
0
2 Star
0
1 Star
0
Write a Review
Write your review and you'll automatically be entered in our monthly drawing. Include an image or video to DOUBLE your chances to win!
Write Your Review
2000 KX 250
Purchased these for my 2000 KX 250 since the old ones were worn and cracked. Product fit perfectly and bolted right on without any issues. Makes my old bike look new again finally. Just be aware that when choosing your color, the panels are one solid color so don't follow the pics. Ordered black thinking it had the black vents and white panel but turned out to be a black panel. No complaints seeing how it looks good anyways just make sure you choose the appropriate color. Overall very happy and would recommend.
Good fit
looks good and easy to install
2 years 6 months ago
Whitmore Lake, MI, USA
Good stuff
The red is a little pinkish in color but they fit good and overall look good.
Over 3 years ago
Hanford, CA 93230, USA
Great plastic.
Fit perfectly great quality.
Over 4 years ago
Long Island, New York, USA
Decent fit and quality
I have purchased several sets of these for different models/years of RM's and an RMZ.UFO seems to be one of the few companies that produces black side panels. The fit and finish is okay but some trimming may be necessary if you have OCD like me and need everything "perfect" even though it is "just a dirt bike". Overall a decent product otherwise I wouldn't have outfitted my team of 6 bikes with them!
Over 6 years ago
Anaheim, CA
Great buy
They fit perfectly and look great. I could not be happier.
See all bikes that this part fits...
| Product Variant | Manufacturer Part # |
| --- | --- |
| Black | HO03665-001 |
| Black | HO03690-001 |
| Black | HO03602-001 |
| Black | HO02626-001 |
| Black | HO02654-001 |
| Black | HO02673-001 |
| Black | HO03626001 |
| Black | HO03631001 |
| Black | KA03721-001 |
| Black | HO03656-001 |
| Black | HO04616-001 |
| Black | HO04648-00 |
| Black | HO04620-001 |
| Black | HO03635-001 |
| Black | HO04606-001 |
| Black | HO03647-001 |
| Black | KA03739-001 |
| Black | KA02745-001 |
| Black | KA03768-001 |
| Black | KA03771-001 |
| Black | KA04700-001 |
| Black | KA04720-00 |
| Black | KA03755-001 |
| Black | SU03996-001 |
| Black | SU02946-001 |
| Black | SU02959-001 |
| Black | SU03970-001 |
| Black | SU04902-001 |
| Black | SU04929-001 |
| Black | SU03910001 |
| Black | SU04918-001 |
| Black | YA03866-001 |
| Black | YA03887-001 |
| Black | YA04830-00 |
| Black | YA03847-001 |
| Black | YA02899-001 |
| Black | YA02857-001 |
| Black | YA03862-001 |
| Black | YA03883-001 |
| Black | YA04812-001 |
| Black | YA04819-001 |
| Black | KA03734-001 |
| Black | KA03714-001 |
| Black | KT03041-001 |
| Black | HO03644-001 |
| Black /Fitment 80 | HO04659-001 |
| Red | HO02654067 |
| Red | HO02673067 |
| Red | HO02611061 |
| Red | HO04638-070 |
| Red | HO04648-07 |
| Red | N/A |
| Red | HO02604061 |
| Red /Fitment 80 | HO04659-070 |
| 02+ Red | HO03690-070 |
| 02+ Red | HO03626070 |
| 02+ Red | HO03656-070 |
| 02+ Red | HO04616-070 |
| 02+ Red | HO03694-070 |
| 02+ Red | HO04606-070 |
| 02+ Red | HO04601-070 |
| 92-99 Red | HO03602-067 |
| White | HO03665-041 |
| White | HO03690-041 |
| White | HO03602-041 |
| White | HO02654-041 |
| White | HO02673-041 |
| White | HO02611-041 |
| White | HO03626-041 |
| White | HO03631-041 |
| White | KA02769-047 |
| White | KA03721-047 |
| White | HO03656-041 |
| White | HO04616-041 |
| White | HO04638-041 |
| White | HO04648-04 |
| White | HO03694-041 |
| White | HO04620-041 |
| White | HO03635041 |
| White | HO04606-041 |
| White | HO03647-041 |
| White | KA03739-047 |
| White | KA02760047 |
| White | KA04700-047 |
| White | KA04720-04 |
| White | KA03755-047 |
| White | SU03996-041 |
| White | SU02946-041 |
| White | SU02959-041 |
| White | SU03988041 |
| White | SU03970-041 |
| White | SU04902-041 |
| White | SU04929-041 |
| White | SU03910-041 |
| White | SU04918-041 |
| White | SU04906-041 |
| White | YA03866-046 |
| White | YA03887-046 |
| White | YA04830-04 |
| White | XR02639-041 |
| White | XR03677-041 |
| White | YA03847-046 |
| White | YA02899-046 |
| White | YA02857-046 |
| White | YA02814-045 |
| White | YA02834-046 |
| White | YA03811-046 |
| White | YA03862-046 |
| White | YA03883-046 |
| White | YA04812-046 |
| White | YA04819-046 |
| White | HO02626-041 |
| White | KA03734-047 |
| White | KA03714-047 |
| White | SU03963041 |
| White | YA02876-046 |
| White | YA03856-046 |
| White | KA02788047 |
| White | HO03644-041 |
| White /Fitment 80 | HO04659-041 |
| Solid Green | KA04706-026 |
| Solid Green | KA03771-026 |
| Solid White | KA03768-041 |
| Solid White | KA03771-041 |
| Green | KA03721-026 |
| Green | KA03739026 |
| Green | KA02745-026 |
| Green | KA02785-026 |
| Green | KA02713-026 |
| Green | KA02730-026 |
| Green | KA02760026 |
| Green | KA03768-026 |
| Green | KA03755026 |
| Green | KA03755-026 |
| Green | KA04700-026 |
| Green | KA04720-026 |
| Green | KA03734-026 |
| Green | KA03714-026 |
| Green | KA02788-026 |
| Orange | KT03041-127 |
| Yellow | SU03996-102 |
| Yellow | SU02959-101 |
| Yellow | SU03988-102 |
| Yellow | SU04902-102 |
| Yellow | SU04929-101 |
| Yellow | SU04918-102 |
| Yellow | SU03963-101 |
| 01+ Yellow | SU03970-102 |
| Blue | YA03847-089 |
| Blue | YA02899-089 |
| Blue | YA03811-089 |
| Blue | YA03862-089 |
| Blue | YA03883-089 |
| Blue | YA04812-089 |
| Blue | YA04819-089 |
| Blue | YA02876-089 |
| Blue | YA03856-089 |