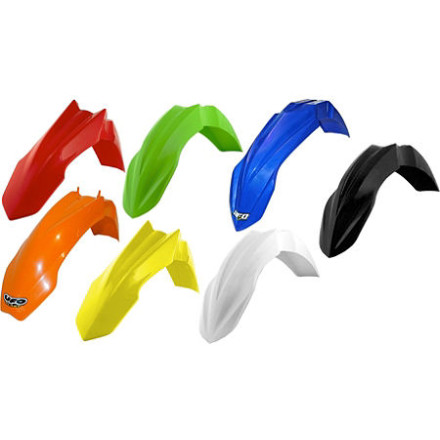 ---
8% Off - Save up to $5.00
---
5 Star
14
4 Star
4
3 Star
3
2 Star
1
1 Star
3
Write a Review
Write your review and you'll automatically be entered in our monthly drawing. Include an image or video to DOUBLE your chances to win!
Write Your Review
NOT AS PICTURED
if you want a point nose tip then do not buy. it is a square nose .
Wrong style
I bought the fender thinking it was pointed in the front and got sent a square nose front fender instead
Over 6 months ago
Michigan freeland
Warped
I got the fender and it came in warped
Over 7 months ago
las vegas NV
RED is NOT RED is more like a PINK
My Review for UFO Front Fender = FAIL match COLOR
98 ktm 250sx
Does not look as good as the original, looks more like something from the 80s. Very disappointed in this fender.
1 year 7 months ago
Garden City, KS 67846, USA
2009 KX85 Front Fender KXF Style
Great color and quality. Install was very easy and all holes were perfectly drilled.
1 year 8 months ago
Pulaski, VA
Great Fender
Glad I purchased a UFO fender for my bike. Made well and durable; I had a spill about a week after I installed it, and the fender got stuck in a rut. Once I got my bike up, it was perfectly fine, without any bends or scrapes, and all it needed was a good wipe to get the dirt off. The fender is great-looking as well. I would definitely recommend to others, and buy again if needed.
1 year 11 months ago
Houston, TX, USA
Nice
Excellent look, fit, and life is good
See all bikes that this part fits...
| Product Variant | Manufacturer Part # |
| --- | --- |
| Black | HO04635-001 |
| Black | KT03074-001 |
| 88-89 Red | N/A |
| White | KA04723-04 |
| White | YA03879-046 |
| White | HO04655-041 |
| Green | KA04723-02 |
| Green | KA02741-026 |
| Yellow | SU03985-102 |
| Blue | YA02852-089 |
| 98 Orange | KT03020-126 |
| Black | HO02600-001 |
| Black | HO03623-001 |
| Black | HO04617-001 |
| Black | SU02904-001 |
| Black | SU04920-001 |
| Black | YA03822-001 |
| Black | YA02852-001 |
| Green | KA02755-026 |
| Yellow | SU03960-101 |
| Black (KXF Style) | KA02757K001 |
| Orange | KT03062-127 |
| 02+ Red | HO03623-070 |
| Black | KA03796-001 |
| Black | KA03753-001 |
| Black | SU03967-001 |
| Red | HO04635-070 |
| Green | KA03796-026 |
| Green | KA02700-026 |
| Yellow | SU04920-102 |
| 01 Red | HO02600-070 |
| Orange | KT03074-127 |
| 02+ Red | HO03662-070 |
| 02+ Red | HO03632-070 |
| Black | HO03662-001 |
| Black | KA04723-00 |
| White | YA02800-046 |
| Red | HO04617-070 |
| Red | HO03675-069 |
| Red | HO03641-070 |
| Green | KA03753-026 |
| Green | KA03730-026 |
| Blue | YA03879-089 |
| Blue | YA02873-089 |
| Black | KA02757-001 |
| Black | KT03062-001 |
| White | HO03662-041 |
| White | HO04617-041 |
| White | YA04809-046 |
| White | YA03822-046 |
| Green | KA02757-026 |
| 00-05 Red | XR03610-069 |
| Black | HO03632-001 |
| Black | SU03985-001 |
| White | HO02600-041 |
| Yellow | SU03925-102 |
| Blue | YA04809-089 |
| Green (KXF Style) | KA02757K026 |
| Black | KA02755-001 |
| Black | YA03879-001 |
| Black | YA04809-001 |
| White | HO03632-041 |
| White | HO03623-041 |
| White | YA02852-046 |
| Red | HO04655-070 |
| Blue | YA03822-089 |
| Black | HO03641-001 |
| Black | KA03730-001 |
| Black | HO04655-001 |
| 92-99 Red | HO02600-067 |
| White | HO04635-041 |
| Yellow | SU02904-101 |
| Yellow | SU03930-102 |
| 01+ Yellow | SU03967-102 |
| 97 Orange | KT03020-126 |