Twin Air
Twin Air Power Flow Air Filter Kit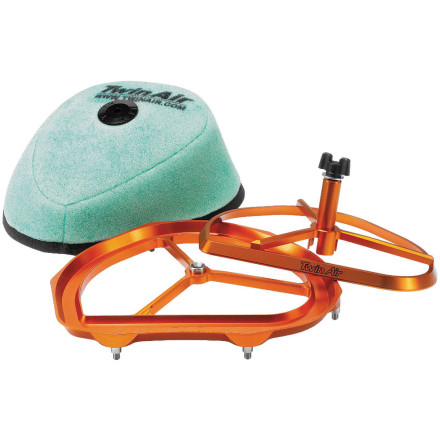 Twin Air Power Flow Air Filter Kit
5 Star
24
4 Star
7
3 Star
0
2 Star
0
1 Star
1
Write a Review
Write your review and you'll automatically be entered in our monthly drawing. Include an image or video to DOUBLE your chances to win!
Write Your Review
Nice filter
Bought to replace stock when replacing air box.
Nice and clean .bike seems to breathe better.
1 month 15 days ago
New Hampshire
Great flow and look
This filter flows air well and the new frame is sturdy and easy to change filters. I definitely am I glad I updated from the plastic frame stock one.
1 month 19 days ago
Silverton Oregon
Great air filter system
I got this couple weeks ago and it fits better and increased the throttle response , filter fits in this cage very well . Great product
16crf250r
Easy installation and worth getting rid of the stock backfire screen setup
1 year 4 months ago
Alabama, USA
Air intake
If you are seaking more throttle response want more power should def try trin air filter kit by far best set up I have seen. Very easy to install easy to clean and fits perfectly.
Outstanding
Hands down puts the stock set up to shame. Cleaner oil = happy engine! A must buy for 16 ktm 250 xcf
Power flow
Great product from twin air
Sweet
This makes life a little easier when changing filters
Over 3 years ago
Madison, MS, USA
Over 3 years ago
Santa Clarita, CA, USA
Great purchase
Great purchase for my 08 crf 450 r. . I can definitely feel the throttle response. . My corners have gotten a lot faster. .
Q: Can u still use oem style filters?
Q: How do i buy filiters for this in the future? I want to buy extra filters...but cant find them.
How would I search for these filters in the future? 2011 yz450f
Q: I have a 2015 CRF450R and was wondering if I had to modify my airbox or will the aliminum cage bolt/fit right on to my stock airbox?
MotoSportExpert
2 years 8 months ago
A: No Airbox modifications would be required on your 2015 Honda CRF450R.
Q: Im looking to buy this kit for a 2015 crf450r. Will i have to have the ecu remapped?
MotoSportExpert
2 years 10 months ago
A: Generally with a filter only you will not need to re-map. I would recommend installing the filter and riding the bike to see how it is running then tuning your bike from there if necessary.
John
2 years 10 months ago
A: No
Q: I didn't buy the air filter kit i just brought the air filter would it be a big without the kit im wondering do i need the kit ?
MotoSportExpert
Over 3 years ago
A: The Twin Air Power Flow Air Filter Kit is a modified filter setup that also removes the OEM backfire screen. The removal of the backfire screen requires a flame resistant material to be used for the filter. This creates an improved intake track for more air flow.

If you ordered just a TwinAir stock replacement filter will be just that - A STOCK SHAPED FILTER.
Q: I am confused about what is included.
The picture shows 3 parts; filter, aluminum filter cage and aluminum seat that mounts to the air box. However the description does not mention the aluminum seat. Is the matching seat required for a 2008 CRF 450 or does it mount directly to the stock seat in the air box
John
Over 4 years ago
A: Some parts vary for model year and bike. Just make sure you get the one for your bike. You will only get the cage and filter is desired.
MotoSportRyanT
Over 4 years ago
A: The kit would include Filter, Filter cage and the Aluminum Sealing Ring (with hardware) that will allow you to remove the backfire screen in the airbox on your 2008 Honda CRF450R.

For more detailed information, here is a link to the instructions for installing this kit on your bike:
http://www.twinair.com/worldwide/images/stories/installation-instructions/POWERFLOW%20KIT%20mounting%20instr%20-%20150%20212C-213C-214C.pdf
Q: Does having a Moto Tassinari Air4orce Intake System affect the fitting of this at all?
MotoSportRyanT
Over 4 years ago
A: From what I can tell you should not have any issues mounting this up on your bike with the Moto Tassinari Air4orce System.
Q: Stock filter cage
I have a 05 crf250 and was wondering if i could just cut my old cage out and use the Twin Air power flow filter?
hondarob
Over 8 years ago
A: no you have to have there cage
Q: I currently own this product for a 2008 CRF 450. Wondering if this same cage will fit my 2010 KX 450?
MotoMoo2
Over 8 years ago
A: No, they are different fitments.
Q: Does this filter have to have the filter grease that is used with the stock filter to seal it to the air box?
Epilespaul100
Over 8 years ago
A: No it doesnt, any automotive grease will work also.
Fast450R
Over 8 years ago
A: I think that is a "personal Preference" issue. I run this system and I never run grease around the edge. I do maintain three filters, adn change them after every day of riding. I also keep the inside of the airbox clean. I have never had any issues with dirt or sand getting into my carb.
See all bikes that this part fits...
| Product Variant | Manufacturer Part # |
| --- | --- |
| Twin Air Power Flow Air Filter Kit | N/A |
| Twin Air Power Flow Air Filter Kit | 150216C |
| standard PowerFlow Kit | 150210C |
| Twin Air Power Flow Air Filter Kit | 150222C |
| Twin Air Power Flow Air Filter Kit | 150220C |
| Twin Air Power Flow Air Filter Kit | 154213C |
| Twin Air Power Flow Air Filter Kit | 154215C |
| Twin Air Power Flow Air Filter Kit | 151119C |
| Twin Air Power Flow Air Filter Kit | 153216C |
| Twin Air Power Flow Air Filter Kit | 152215C |
| Twin Air Power Flow Air Filter Kit | 152313C |
| Twin Air Power Flow Air Filter Kit | N/A |
| Twin Air Power Flow Air Filter Kit | 154218c |
| Twin Air Power Flow Air Filter Kit | 151122C |
| Twin Air Power Flow Air Filter Kit | N/A |
| Twin Air Power Flow Air Filter Kit | N/A |
| Upgraded PowerFlow Kit With Inner Ring | N/A |
| Upgraded PowerFlow Kit With Inner Ring | N/A |
| Twin Air Power Flow Air Filter Kit | N/A |
| Twin Air Power Flow Air Filter Kit | N/A |
| Twin Air Power Flow Air Filter Kit | N/A |
| Twin Air Power Flow Air Filter Kit | N/A |
| Twin Air Power Flow Air Filter Kit | N/A |
| Twin Air Power Flow Air Filter Kit | N/A |
| Twin Air Power Flow Air Filter Kit | N/A |
| Twin Air Power Flow Air Filter Kit | N/A |
| Twin Air Power Flow Air Filter Kit | N/A |
| Twin Air Power Flow Air Filter Kit | N/A |
| Twin Air Power Flow Air Filter Kit | N/A |