Top Zone
Top Zone Sequential LED Tail Light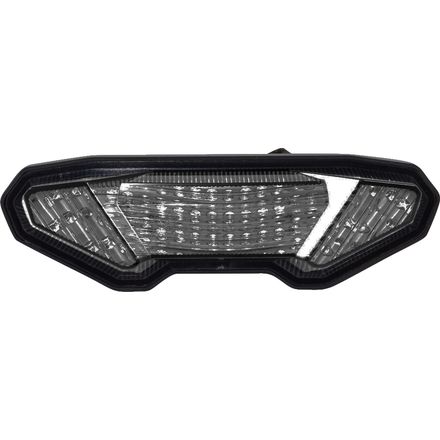 Top Zone Sequential LED Tail Light
---
15% Off - Save up to $19.94
---
Enter to Win $500
Write your review and you'll automatically be entered in our monthly drawing. Include an image or video to DOUBLE your chances to win!
Write Your Review
Biebie
Q: Does the above exhaust unit need a flasher relay?
jluva007
Q: Does this fit a 2009 ex500? I'm assuming the image is stock and don't represent all bikes? My bike has no sharp point.
DaveGearhead
1 month 14 days ago
A: You are correct. This is a stock photo, and yes, it will work on your bike.
JuanC
Q: Wiring
Good morning, do you have a map of how to wire the turn signals to the original Ducati Hypermotard lights, or if you sell a harness that connects to the original one.
Motoexpert
1 year 4 months ago
A: We do not have a wiring diagram for this product or for your bike. We recommend reaching out to top zone, or your local dealer for installation instructions or a professional mechanic to point you in the right direction
Motoexpert
1 year 4 months ago
A: We do not have wiring information for this particular product or your machine. We encourage you to reach out to top zone for wiring diagram or contacting your local dealer.
See all bikes that this part fits...
| Product Variant | Manufacturer Part # |
| --- | --- |
| Clear / Standard | TZS-228-SQL |
| Clear / Standard | TZBMW-136-SQL |
| Clear / Standard | TZD-020-SQL |
| Clear / Standard | TZD-046-SQL |
| Clear / Standard | TZD-122-SQL |
| Clear / Standard | TZD-214-SQL |
| Clear / Standard | TZD-220-SQL |
| Clear / Standard | TZH-014-SQL |
| Clear / Standard | TZH-124-SQL |
| Clear / Above Exhaust Conversion | TZH-304-SQL |
| Clear / Standard | TZH-208-SQL |
| Clear / Standard | TZH-230-SQL |
| Clear / Standard | TZH-334-SQL |
| Clear / Standard | TZHD-060-SQL |
| Clear / Standard | TZHD-114-SQL |
| Clear / Standard | TZHD-126-SQL |
| Clear / Standard | TZK-160-SQL |
| Clear / Standard | TZK-196-SQL |
| Clear / Standard | TZK-244-SQL |
| Clear / Standard | TZK-300-SQL |
| Clear / Standard | TZK-306-SQL |
| Clear / Standard | TZK-310-SQL |
| Clear / Standard | TZS-018-SQL |
| Clear / Standard | TZS-036-SQL |
| Clear / Standard | TZS-120-SQL |
| Clear / Standard | TZS-164-SQL |
| Clear / Standard | TZS-200-SQL |
| Clear / Standard | TZS-222-SQL |
| Clear / Standard | TZY-110-SQL |
| Clear / Standard | TZY-112-SQL |
| Clear / Standard | TZY-142-SQL |
| Clear / Standard | TZY-158-SQL |
| Clear / Standard | TZY-202-SQL |
| Clear / Standard | TZY-210-SQL |
| Clear / Standard | TZY-236-SQL |
| Clear / Standard | TZY-238-SQL |
| Clear / Standard | TZY-256-SQL |
| Clear / Standard | TZY-332-SQL |
| Smoke / Standard | TZS-228-SQL-S |
| Smoke / Standard | TZBMW-136-SQL-S |
| Smoke / Standard | TZD-020-SQL-S |
| Smoke / Standard | TZD-046-SQL-S |
| Smoke / Standard | TZD-122-SQL-S |
| Smoke / Standard | TZD-214-SQL-S |
| Smoke / Standard | TZD-220-SQL-S |
| Smoke / Standard | TZH-014-SQL-S |
| Smoke / Standard | TZH-124-SQL-S |
| Smoke / Above Exhaust Conversion | TZH-304-SQL-S |
| Smoke / Standard | TZH-208-SQL-S |
| Smoke / Standard | TZH-230-SQL-S |
| Smoke / Standard | TZH-334-SQL-S |
| Smoke / Standard | TZHD-060-SQL-S |
| Smoke / Standard | TZHD-114-SQL-S |
| Smoke / Standard | TZHD-126-SQL-S |
| Smoke / Standard | TZK-160-SQL-S |
| Smoke / Standard | TZK-196-SQL-S |
| Smoke / Standard | TZK-244-SQL-S |
| Smoke / Standard | TZK-300-SQL-S |
| Smoke / Standard | TZK-306-SQL-S |
| Smoke / Standard | TZK-310-SQL-S |
| Smoke / Standard | TZS-018-SQL-S |
| Smoke / Standard | TZS-036-SQL-S |
| Smoke / Standard | TZS-120-SQL-S |
| Smoke / Standard | TZS-164-SQL-S |
| Smoke / Standard | TZS-200-SQL-S |
| Smoke / Standard | TZS-222-SQL-S |
| Smoke / Standard | TZY-110-SQL-S |
| Smoke / Standard | TZY-112-SQL-S |
| Smoke / Standard | TZY-142-SQL-S |
| Smoke / Standard | TZY-158-SQL-S |
| Smoke / Standard | TZY-202-SQL-S |
| Smoke / Standard | TZY-210-SQL-S |
| Smoke / Standard | TZY-236-SQL-S |
| Smoke / Standard | TZY-238-SQL-S |
| Smoke / Standard | TZY-256-SQL-S |
| Smoke / Standard | TZY-332-SQL-S |