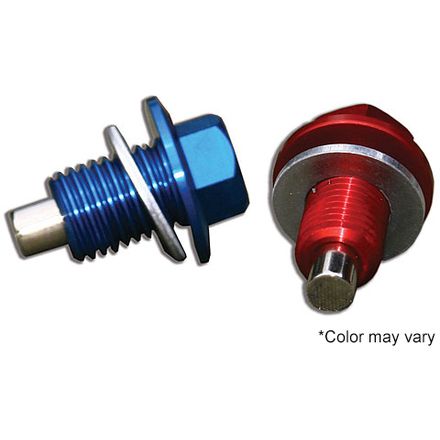 TM Designworks Magnetic Drain Plug
5 Star
35
4 Star
10
3 Star
3
2 Star
0
1 Star
11
Write a Review
Write your review and you'll automatically be entered in our monthly drawing. Include an image or video to DOUBLE your chances to win!
Write Your Review
Nice color good fit
Good product well-designed
Over 9 months ago
League City, TX
Great plugs!
Very happy, fits right and I can see if anything comes loose inside my motor. You don't know what color you're going to get but it's on the bottom of the bike so who cares!
TM designworks drain plug
Bought 3 of these for my bikes and each one leaks. Magnet works great. Would not recommend.
1 year 4 months ago
Bells Mtn, Battleground/Yacolt, Washington, USA
It works...
When I put it in at OEM torque, it started to strip out a bit, so I took it out, and it was fine, so I put it back in until it felt right. It looks great though!
Does not fit
I bought this drain plug for my 2013 Yamaha Yz 125 and it does not fit a wast of $20.
2 years 2 months ago
Miami, FL, USA
HORRIBLE!!!
I bought 2 of these one for my RMZ 450 and another for my KX450 first there is no way of knowing what color will come...
Second I have changed my own oil every ride and I tightend this one just with the same amout of tourque as the OEM and it snapped the head right off the screw and left the body inside for me to have to open the entire engine apart and go take it out from the inside magnet that the engine already has inside so the tip of the screw magnet thing they sell u is pointless!!
Then after that headache I put the other screw in the kx and super soft so it wont happen again and guess what this one leaks!!! I put the OEM one back on no leak! so its not the threads this product is overpriced for no reason better off buying an OEM plug!! wont recommend this to anyone
2 years 4 months ago
Washington, WV 26181, USA
Worth every penny
$20 is a lot for a drain plug, sure (especially when you aren't guaranteed what color you will get). However, I think this thing is almost necessary to have on a bike. Not only does it keep some of the metal in your sump from going into your engine, it's also a great indicator if you have something wrong. I only get extremely small particles (which is normal wear), but this plug can help you catch issues before they become critical, like if you started seeing shaving or small chunks on the plug.
I'm not crazy about having a red bolt on my WR250F, but on most other bikes you won't be able to see the plug anyway.
I plan to buy one of these for every bike that I ever own.
2 years 8 months ago
Commerce, mi
Yz450f#778
Like how metal shaving stick to plug but was disappointed when I ordered it cause o thought I be blue like the pic but it just plain gray
2 years 10 months ago
Southeast USA
Good drain plug
Fit was very good, seems to work as it should. Feel like it is a little pricey otherwise would have rated higher. Also, you may not get the color in the photo. Blue plug shown received a red plug.
Over 3 years ago
Kentucky, USA
TM Designworks Magnetic Drain Plug
Good looking piece, but I received a plain metallic color one, not the blue one pictured. Still good thing to have a magnetic in the "oil pan"
Claytona500
Q: What is the size and thread pitch?
MotoSportExpert
2 years 4 months ago
A: It would depend on which model bike you ordered it for, however we do not have that information on file. I would recommend contacting TM design works directly at
(541) 772-4161
http://tmdesignworks.com/index.php?main_page=contact_us
Gstatus
Q: On a raptor 700 does this go on thr oil pump drain holr or on the oil tank
MotoSportExpert
Over 3 years ago
A: This would be the plug at the bottom of the engine.
quadzilla
Q: Is there any way to ensure that i whould get a blue one ?
i have a 1989 lt500r and the motor and frame are blue so id like to keep the drain plug blue
MotoSportExpert
Over 3 years ago
A: No, sorry there is not.

Note: Colors may vary from blue, red, or black on the Magnetic Drain Plug due to TM Designworks'' process of anodizing to provide the best look and protection possible
Jerry
Q: Thread anti-seize
Should I be using thread anti-seize with this since the drain hole metal is aluminum?
MotoSportExpert
Over 4 years ago
A: No, anti-seize is not necessary.
John
Q: Will this fit a 2014 Honda Recon ATV?
MotoSportRyanT
Over 4 years ago
A: This item would not fit your 2014 Honda Recon. I would have to recommend you order the OEM Oil filler cap for that model.
Dennis
Q: Is it going to fit Honda CRF50F ?
according sizes it should, but for some reason yours web site refuse to understand it
MotoSportRyanT
Over 4 years ago
A: TM Designworks does not list this working for the Honda CRF50F. It is more than likely because there is not enough clearance inside your engine for the extra length of the magnet.
opie
Q: Colors offered
Drewski
Over 10 years ago
A: unfortunately the colors will vary, they could be red, blue, or silver. I guess the bright side is if you get the color your not expecting at least the plug is on the underside and normally out of view.
drz400er
Q: Which hole?
does this fit on the frame drain? or the one on the engine. I need the plug for the frame.
MotoMoo1
Over 10 years ago
A: If you profile you ATV, this drain plug will fit in the factory location.
ny2strokemayhem
Over 10 years ago
A: its for the engine oil drain plug
See all bikes that this part fits...
| Product Variant | Manufacturer Part # |
| --- | --- |
| TM Designworks Magnetic Drain Plug | MDP-014 |
| TM Designworks Magnetic Drain Plug | MDP-012 |
| TM Designworks Magnetic Drain Plug | MDP-015 |
| TM Designworks Magnetic Drain Plug | MDP-008 |
| TM Designworks Magnetic Drain Plug | MDP-010 |
| TM Designworks Magnetic Drain Plug | MDP-018 |
| TM Designworks Magnetic Drain Plug | MDP-009 |
| TM Designworks Magnetic Drain Plug | MDP-011 |
| TM Designworks Magnetic Drain Plug | MDP-017 |
| TM Designworks Magnetic Drain Plug | MDP-020 |
| TM Designworks Magnetic Drain Plug | MDP-129 |
| TM Designworks Magnetic Drain Plug | MDP-116 |