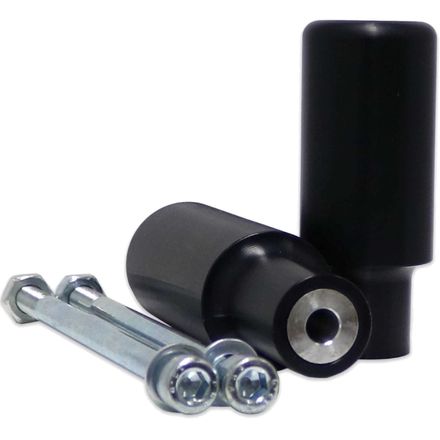 Shogun Motorsports No Cut Frame Sliders
---
10% Off - Save up to $19.00
---
5 Star
14
4 Star
5
3 Star
1
2 Star
1
1 Star
2
Write a Review
Write your review and you'll automatically be entered in our monthly drawing. Include an image or video to DOUBLE your chances to win!
Write Your Review
Joke went to far
way too short, only half inch out of fairing. with those skinny bolts,
what they can save?
Good value
The price os fair for this protection. Easy to mount, half an hour, hope I will never have to see how good they works.
Misleading
Picture makes sliders look way bigger than they are. Only about 2 inches whereas the picture looks like they are about 5 or so.
Great buy
They did their job when I went down. Very easy install.
1 year 10 months ago
San Diego, CA, USA
Work great
I laid my bike down with these installed and it saved so much of it. The installation is so simple and no cutting required.
Not very durable
Easy enough install on my 15 zx6r. I went down in a sandy corner and the bolt snapped and my fairings got pretty messed up. Definitely would have rather put the 54 bucks towards new fairings
2 years 6 months ago
St Augustine, FL, USA
Easy install on the gsxr600
By far the easiest product i have installed.
Great Deal
Great price, and product fit perfect.
Over 3 years ago
Columbia, SC, USA
Shogun Frame sliders for my Z1000
Look great. Easy to install. They haven't been tested, yet! I think it was a great investment. They fit perfect.
Q: Will these come with the right side bracket?
I got hit this am on my bike the frame sliders I had did the job and protected the fairings. But in the process the small metal bracket that allows them to be no cut bent inwards and in wondering if they come with the required bracket and if not do you guys carry one.
Q: Are the brackets sold with the chrome tips chrome also?
MotoSportExpert
2 years 10 months ago
A: No, the bracket would be black.
Q: Does this include both sides? will it fit a 2000 gsxr 600? is this a direct mount or does it use a bracket?
MotoSportExpert
Over 3 years ago
A: Yes the Shogun Motorsports No Cut Frame Sliders are Sold as a kit (slider pair and needed hardware) and will fit your 2000 Suzuki GSXR600. Just be sure to correctly select the Year/Make/Model of your bike before ordering so we can be sure to send you the correct sliders for your bike. Also, feel free to give us a call at 888-676-8853 and we would be happy to help you out with your order.
Instructions can be found here:
http://www.moto911.com/pdf/750-5109.pdf?osCsid=d294m0fgsh6fefg56f5dubtlu7
Q: I have these but need to replace one side. Where can I find a replacement part? Just the plastic puck?
MotoSportGrantK
Over 3 years ago
A: Yes, if you could give us a call at 888-676-8853 we would be happy to get you a replacement frame slider puck for your bike.
Q: Will they fit without modification to the coolant tank on the kick stand side? 2002 zx6r
MotoSportExpert
Over 3 years ago
A: Yes, these require no modification for your specific model.
Q: WHY ARE THE FRAME SLIDERS DIFFENT LENGHTS.WHICH ONE GOES WEAR?
Jhutch
Over 5 years ago
A: I have a 2011 gsxr 750 and the longer one is on the left side. They are different lengths to make up for how the bike and fairings are made to stick out the same length. You can got to shogun and look up a manual for installation on your bike.
MotosportStaff
Over 5 years ago
A: Depending on the application, the sliders are different lengths because they mount to different spots on each side of the bike. The shorter of the two will mount on the side that sticks out farthest. The longer of the sliders will mount to the side that sits deepest in on the frame.
See all bikes that this part fits...
| Product Variant | Manufacturer Part # |
| --- | --- |
| Black | N/A |
| White | N/A |
| White | 750-5430 |
| White | 750-5100 |
| White | 750-5900 |
| White | 750-5500 |
| White | 750-6310 |
| White | 750-6360 |
| White | 750-6800 |
| White | 750-6110 |
| White | 750-6700 |
| White | 750-6710 |
| White | 750-6730 |
| White | 750-6300 |
| White | 750-6320 |
| White | 750-6340 |
| White | 750-7730 |
| White | 750-3800 |
| White | 750-3810 |
| White | 750-3310 |
| White | 750-3500 |
| White | 750-4110 |
| White | 750-4800 |
| White | 750-4600 |
| White | 750-4900 |
| White | 750-4910 |
| White | 750-4700 |
| White | 750-4410 |
| White | 750-4420 |
| White | 750-4100 |
| White | 750-4200 |
| White | 750-4500 |
| White | 750-5700 |
| White | 750-5800 |
| White | 750-5300 |
| White | 750-5310 |
| White | 750-5200 |
| White | 750-5400 |
| White | 750-5410 |
| White | 750-7740 |
| White | 750-3360 |
| White | 750-5450 |
| White | 750-4120 |
| White | 750-4940 |
| White | 750-4440 |
| White | 750-6390 |
| White | 750-3110 |
| White | 750-6380 |
| White | 750-4710 |
| White | 750-4810 |
| White | 750-7750 |
| White | 750-3120 |
| White | 750-3140 |
| White | 750-4830 |
| White | 750-6120 |
| White | 750-6410 |
| White | 750-6750 |
| White | 750-4950 |
| White | 750-5620 |
| White | 750-5630 |
| Black | 750-5439 |
| Black | 750-5459 |
| Black | 750-5109 |
| Black | 750-5909 |
| Black | 750-5509 |
| Black | 750-6319 |
| Black | 750-6369 |
| Black | 750-6809 |
| Black | 750-6119 |
| Black | 750-6709 |
| Black | 750-6719 |
| Black | 750-6739 |
| Black | 750-6309 |
| Black | 750-6329 |
| Black | 750-6349 |
| Black | 750-7739 |
| Black | 750-8309 |
| Black | 750-8409 |
| Black | 750-8209 |
| Black | 750-3809 |
| Black | 750-3819 |
| Black | 750-3319 |
| Black | 750-3509 |
| Black | 750-4119 |
| Black | 750-4809 |
| Black | 750-4609 |
| Black | 750-4909 |
| Black | 750-4949 |
| Black | 750-4709 |
| Black | 750-4419 |
| Black | 750-4429 |
| Black | 750-4109 |
| Black | 750-4209 |
| Black | 750-4509 |
| Black | 750-5709 |
| Black | 750-5809 |
| Black | 750-5309 |
| Black | 750-5319 |
| Black | 750-5209 |
| Black | 750-5409 |
| Black | 750-5419 |
| Black | 750-7749 |
| Black | 750-3369 |
| Black | 750-4129 |
| Black | 750-4449 |
| Black | 750-6399 |
| Black | 750-3119 |
| Black | 750-6389 |
| Black | 750-4719 |
| Black | 750-4819 |
| Black | 750-7759 |
| Black | 750-3129 |
| Black | 750-3149 |
| Black | 750-4839 |
| Black | 750-6129 |
| Black | 750-6419 |
| Black | 750-6759 |
| Black | 750-4959 |
| Black | 750-5629 |
| Black | 750-5639 |