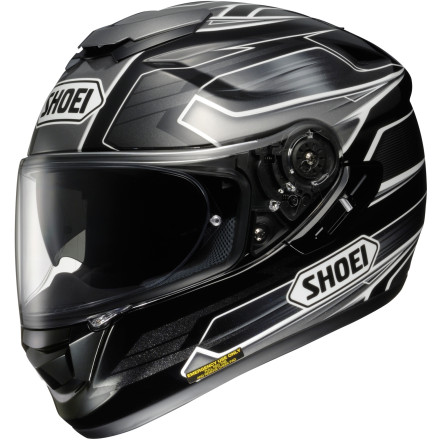 Shoei GT-Air Helmet - Inertia
Product Not Available
Unfortunately, we no longer carry this item. It may be discontinued or have just sold out.
Please contact Customer Service (1-888-676-8853) or search for another product if you continue to see this message.
Can you hear that? That's the call of the open road. Few things in life can match the unbridled thrill of mounting your steed and spending the day exploring your surroundings while Mother Nature's elements rush by. And though the unknown is often a welcomed part of the adventure, SHOEI's all-new GT-Air makes it easier to adapt to the ever-changing conditions that lie ahead. Features like the convenient flip-down internal sun shield, free-flowing yet easily adjustable ventilation system, superior aerodynamics, and Pinlock Anti-Fog System ensure greater comfort and thus more time in the saddle than ever before. So what are you waiting for? Answer the call of the open road in SHOEI's first internal sun shield-equipped full-face helmet - the progressively stylish GT-Air.
Internal Sun Shield:
The GT-Air comes equipped with a built-in QSV-1 sun shield, giving riders instant relief from sun glare in one quick motion.
A large, easily located switch activates the 3D injection-molded inner shield, and the distortion-free view blocks 99% of the sun's damaging UV rays just like the CNS-1 external shield that lies ahead.
Unique to SHOEI, the forehead area of the outer shell is raised slightly to accommodate the internal sun shield, allowing for the integrity of the helmet's inner EPS liner to remain intact.
The QSV-1 Sun Shield Exceeds the ANSI Z80.3-2010 Standard for Non-Prescription Eyewear.
CNS-1 Shield and QR-N Base Plate:
The GT-Air's larger CNS-1 shield provides a wider and taller field of vision than its predecessor.
Additionally, the CNS-1 protects against 99% of the sun's damaging UV rays, and SHOEI's 3D injection-molding process ensures a distortion-free view throughout the entire field of vision.
Coupled with the QR-N base plate system, shield changes and base plate function have never been smoother.
The spring-loaded base plates pull the shield back against the dual-lip window beading to ensure a wind and waterproof seal with each and every closure.
Pinlock(r) Anti-Fog System:
The all-new GT-Air comes equipped with a Pinlock(r) Fog-Resistant System, offering the most effective anti-fog protection in existence.
Progressive Shell Design:
Few components of a motorcycle helmet are as critical as its first-layer of defense, which is precisely why the new GT-Air features the DOT-approved AIM shell construction.
Combining fiberglass with organic fibers, the GT-Air's shell is not only incredibly strong, it is extremely lightweight, and comes in an impressive three shell sizes to ensure a custom fit for heads between the sizes of XS-XXL.
In addition, SHOEI's exclusive, state-of-the-art shell forming technology incorporates the aerodynamic advantages of a spoiler right into the shell of the GT-Air, thereby eliminating the need for a traditional plastic spoiler.
Reducing lift and drag during high-speed riding, the GT-Air's shell-integrated spoiler yields a stable, less fatiguing ride.
Noise Reduction Design:
Thanks to time well spent in SHOEI's in-house wind tunnel, GT-Air owners will enjoy a reduction of wind noise without blocking the road's "informative sounds." In addition to optimal shell aerodynamics and liner components designed to prevent unwanted road noises from entering through the bottom of the helmet, a dual-ridge window bead helps to reduce noise while providing a wind and waterproof seal.
Ventilation Performance:
Utilizing SHOEI's wind tunnels to help reveal the optimal balance between airflow and silence, SHOEI engineers equipped the all-new GT-Air with a large lower vent shutter for ease of use with riding gloves, a strategically-placed, three position upper vent for optimal air intake, and uniquely-positioned upper exhaust outlet vents to take better advantage of negative pressure suction - all yielding dramatically-improved cool-air intake and hot-air expulsion.
Fully Removable Interior System:
The GT-Air is equipped with a fully removable, washable, and replaceable 3D Max-Dry interior system.
The 3D center pad components are three-dimensionally shaped to match the contours of a rider's head, allowing for an extremely comfortable fit while maintaining the firm hold necessary for distraction-free, high-speed riding.
Additionally, the GT-Air's 3D-shaped cheek pads are available in different thicknesses for a customizable fit.
As if that wasn't enough, SHOEI's exclusive Max-Dry liner material absorbs and dissipates sweat and moisture twice as fast as traditional Nylon interiors.
Multi-Piece EPS Liner:
The GT-Air's Multi-Piece EPS Liner not only provides enhanced impact absorption by utilizing varying densities of foam, it is designed to allow cooling air to travel unrestricted through tunnels created in the EPS, further enhancing the GT-Air's unmatched ventilation characteristics.
Three Shell Sizes:
SHOEI offers an industry-leading three shell sizes in the new GT-Air to ensure a custom fit for heads between the sizes of XS - XXL.
Chin Curtain:
The chin curtain can be inserted into the lower edge of the chin bar to reduce wind turbulence and noise.
Breath Guard:
The breath guard can be inserted into the upper edge of the chin bar to help reduce fogging by diverted exhausted breath down out the bottom of the helmet.
Five-Year Warranty:
Five-year warranty from purchase date. 7-year warranty from helmet manufacture date. Whichever comes first.
DOT Certified.
Report Incorrect Product Information