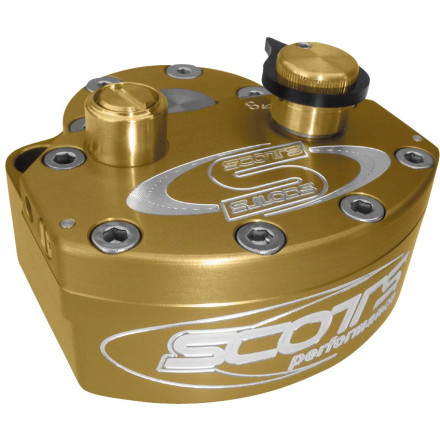 Scotts Performance Steering Damper
---
10% Off - Save up to $62.00
Rating: 4.8 out of 5 stars
---
4 Reviews
3

reviews

1

reviews

0

reviews

0

reviews

0

reviews
All Reviews
1 year 2 months ago
Washington
Durability

5/5

Ease of Installation

5/5

Performance

5/5

Style

5/5
Durability

4/5

Ease of Installation

4/5

Performance

5/5

Style

4/5
Would not ride with out it
Over 3 years ago
Vista, CA
Durability

5/5

Ease of Installation

5/5

Performance

5/5

Style

5/5
Scotts steering damper
I purchased the Scotts steering damper for my 2005 Suzuki SV1000. I have some experience with this unit as I put one on my 2003 Suzuki GSXR750. Originally when I bought the 750 from a dealer (used) I didn't ride it before purchasing as I knew the reputation of these bikes but when I rode it home, I thought this bike is dangerous as I could not go over 60 miles per hour as the front end weaved all over the place. (The factory steering damper was history). The original damper doesn't have any adjustability even if it works. So, I purchased the Scotts. What a difference! It transformed the bike once I had it dialed in. Fast forward to the SV. This bike has the GSXR front end and you really noticed the wobble when going around long sweepers. Most of all the roads here in SoCal are in pitiful shape so you need to have a damper especially on bikes with very little trail/brake. Now the bike rides like it is supposed to. The main reason I like the Scotts is adjustability. On the GPR which I am sure is a good unit, it does not have the added adjustability and from Motosport the prices are nearly the same. The only problem that I encountered was the nearly 5 week wait for it. But it was not Motosport's fault as I am sure that Scotts was backed up on orders. Well worth the wait!
Over 7 years ago
NW Arkansas
Durability

5/5

Ease of Installation

5/5

Performance

5/5

Style

5/5
Great damper!
Scotts has the BEST customer service I have ever experienced. The damper does just what its supposed to, and has multiple adjustments that I've never even touched. Left and right swings are independently adjustable, as with high and low speed damping. Mounted on a 03 636, the base mount is free floating, so you have to make sure its straight before you completely tighten the bolt.

I had an 'issue' when I first used the damper - it would leak a very small amount of fluid when sitting in the sun. I called Scotts, its normal. After one full track day in the heat, it never did it again. I've used this damper for almost 2 full seasons, wrecked the bike twice now, and its still flawless.

I recently came across a Scotts steering damper that was made in the late 90's, and it still works just fine (with routine maintenance of course).
Fitment
See all bikes that this part fits...
# Part Numbers
| Product Variant | Manufacturer Part # |
| --- | --- |
| For Hayabusa Without Vibration Plate | TR-19-1423-45F |
| Standard | TR-15-1317-40F, TR-15-1340-40F, TR-46-2540-40F, TR-15-1314-40F, TR-15-1315-40F, TR-15-1332-40F, TR-33-2434-40F, TR-54-2752-45F, TR-64-2761-45F, TR-35-1736-40F, TR-50-2145-45F, TR-47-2633-40F, TR-53-2851-40F, TR-17-1425-40F, TR-48-2148-45F, TR-42-0041-40S, TR-40-2125-40F, TR-48-2125-40F, TR-48-2150-45F, TR-66-2162-40F, TR-49-0043-45F, TR-69-3064-40R, TR-45-2137-45F, TR-23-2147-45F, TR-23-2157-45F, TR-23-2112-45F, TR-23-2144-45F, TR-68-0063-45F, TR-72-0064, TR-75-3367 |