Rock
Rock Gladiator Front Bumper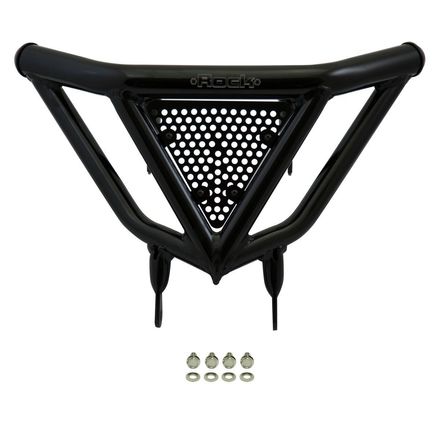 Rock Gladiator Front Bumper
5 Star
3
4 Star
0
3 Star
1
2 Star
1
1 Star
0
Over 5 months ago
West Branch Mi.
Raptor front bumper
I bought this for a 2016 raptor 700 and it came in mail and looks great. Went to install it which should be super easy being that it's only 4 bolts and washers. But only three of the bumper brackets line up with the atv threads. One of the bumper brackets is welded on crooked so you can't put in the 4th screw which is frustrating. So I just have 3 of the 4 screws holding it in. If all 4 would of lined up I would of given it a 5 instead of 3 star.
Over 11 months ago
Tucson
Sick!!!
PLEASE dont listen to any bad reviews .This thing is awesome .well made,well painted.Way better than any others Ive seen.Put it on my 2018 Raptor700 and it looks SICK!!!
Nice bumper
It's a very nice bumper. The black coating is holding up well. It looks better than stock and beefier as well.
1 year 11 months ago
Kutztown PA
You truly get what you pay for.
I bought this for my '18 raptor because of how sweet it looks. Next time i won't go off looks. The black came chipped. Actually chipped some off with my fingernail. The metal is very soft. The end caps aren't welded in. They feel like milled plastic. So they'll probably fall off. The holes they put in the tubs for water to escape are huge, and at useless spots. This bumper WILL NOT protect anything on the front of my quad. Skip this bumper and go for another one. But then again the companies we use to have in this sport are no longer around. Everyone wanted cheaper, and heres the result!!
Minsterof4wheelers
Q: Will this bolt on a 2005 Yamaha raptor 350
Trevor Gearhead
Over 6 months ago
A: Yes. Enter your machines year, make and model into our website to ensure proper fitment.
Dustin Richards
Q: Will this fit on a 2016 Yamaha RAPTOR 700R?
Dan Gearhead
1 year ago
A: Yes, the Rock Gladiator Front Bumper is offered for your application in silver and black.
Pedro
Q: I have 2001 Honda Foreman 450 is Fitment
See all bikes that this part fits...