Puig
Puig Racing Windscreen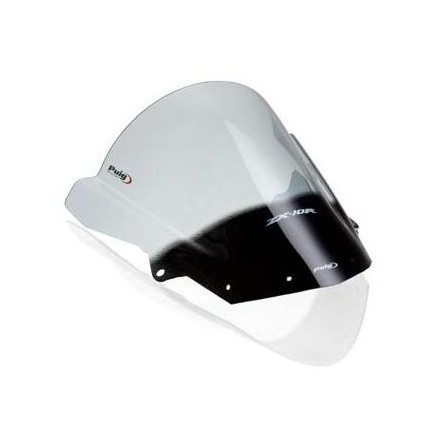 ---
5% Off - Save up to $10.50
---
5 Star
16
4 Star
1
3 Star
0
2 Star
0
1 Star
1
Write a Review
Write your review and you'll automatically be entered in our monthly drawing. Include an image or video to DOUBLE your chances to win!
Write Your Review
2 months 23 days ago
Maine
Awesome product
I bought this for my 2018 S1000RR the fit is great and it looks awesome
Great windscreen easy install
This windscreen is really nice looking. I've stuck with puig for all of my aftermarket add-ons. They make great products and they look very good. You will be very pleased with this screen.
1 year 1 month ago
Amarillo
Nice fit
easy install, nice fit, taller than the stock
1 year 3 months ago
New York
Puig is great!!!
This is such a great buy , the windscreen makes a world of a difference as soon as your in the tuck position you don't feel anything I'm glad I upgraded from the stock , the only thing that I didn't like was the shipping took a while because moto didn't have the part in their where house but other than that perfect!! I recommend!!!! All of my friends and I have this windscreen
1 year 3 months ago
Charleston,
Outstanding product aupport
Purchased this windscreen and received super fast without issue. Motorsport continues to offer outstanding customer support and satisfaction.
S1000XR Windscreen
The Puig fit perfect and it was super easy to install. The bike looks great!!!
Perfect Replacement
Fits great and looks much better than stock
Over 3 years ago
San Diego, CA, USA
Over 4 years ago
Massachusetts
Good Product
Fits well and looks good.
There have been no questions asked about the Puig Racing Windscreen.
See all bikes that this part fits...
| Product Variant | Manufacturer Part # |
| --- | --- |
| Red / 3mm | 5205R |
| Blue / 3mm | 6498A |
| Carbon Look / 3mm | 6498C |
| Black / 3mm | 6498N |
| Red / 3mm | 6498R |
| Carbon Look / 3mm | 8543C |
| Red / 3mm | 8543R |
| Blue / 3mm | 8903A |
| Blue / 50mm Lower Than OEM | 8904A |
| Carbon Look / 50mm Lower Than OEM | 8904C |
| Red / 50mm Lower Than OEM | 8904R |
| Blue / 3mm | 8909A |
| Carbon Look / 3mm | 8909C |
| Red / 3mm | 8909R |
| Blue / 3mm | 8912A |
| Yellow / 3mm | 8912G |
| Red / 3mm | 8912R |
| Orange / 3mm | 8912T |
| Blue / 3mm | 8917A |
| Carbon Look / 3mm | 8917C |
| Black / 3mm | 8917N |
| Blue / 3mm | 9013A |
| Carbon Look / 3mm | 9013C |
| Dark Smoke / 3mm | 9013F |
| Smoke / 3mm | 9013H |
| Black / 3mm | 9013N |
| Red / 3mm | 9013R |
| Clear / 3mm | 9013W |
| Blue / 30mm Higher Than OEM / Includes 9154N Bracket | 9155A |
| Carbon Look / 30mm Higher Than OEM / Includes 9154N Bracket | 9155C |
| Dark Smoke / 30mm Higher Than OEM / Includes 9154N Bracket | 9155F |
| Smoke / 30mm Higher Than OEM / Includes 9154N Bracket | 9155H |
| Black / 30mm Higher Than OEM / Includes 9154N Bracket | 9155N |
| Red / 30mm Higher Than OEM / Includes 9154N Bracket | 9155R |
| Clear / 30mm Higher Than OEM / Includes 9154N Bracket | 9155W |
| Dark Smoke / 3mm | 9402F |
| Smoke / 3mm | 9402H |
| Black / 3mm | 9402N |
| Clear / 3mm | 9402W |
| Blue / 3mm | 9407A |
| Carbon Look / 3mm | 9407C |
| Dark Smoke / 3mm | 9407F |
| Smoke / 3mm | 9407H |
| Black / 3mm | 9407N |
| Red / 3mm | 9407R |
| Clear / 3mm | 9407W |
| Carbon Look / 3mm | 9408C |
| Dark Smoke / 3mm | 9408F |
| Smoke / 3mm | 9408H |
| Black / 3mm | 9408N |
| Green / 3mm | 9408V |
| Clear / 3mm | 9408W |
| Carbon Look / 3mm | 9711C |
| Dark Smoke / 3mm | 9711F |
| Smoke / 3mm | 9711H |
| Black / 3mm | 9711N |
| Orange / 3mm | 9711T |
| Clear / 3mm | 9711W |
| Dark Smoke / 150mm Lower Than Stock | 9716F |
| Smoke / 150mm Lower Than Stock | 9716H |
| Black / 150mm Lower Than Stock | 9716N |
| Clear / 150mm Lower Than Stock | 9716W |
| Blue / 3mm | 9722A |
| Carbon Look / 3mm | 9722C |
| Dark Smoke / 3mm | 9722F |
| Smoke / 3mm | 9722H |
| Black / 3mm | 9722N |
| Red / 3mm | 9722R |
| Clear / 3mm | 9722W |
| Blue / +30mm | 9723A |
| Carbon Look / +30mm | 9723C |
| Dark Smoke / +30mm | 9723F |
| Smoke / +30mm | 9723H |
| Black / +30mm | 9723N |
| Red / +30mm | 9723R |
| Clear / +30mm | 9723W |
| Clear / 3mm | 4365W |
| Clear / 3mm | 4053W |
| Clear / 3mm | 4057W |
| Clear / 3mm | 4055W |
| Clear / 3mm | 4059W |
| Clear / 3mm | 4356W |
| Clear / 3mm | 4363W |
| Clear / 3mm | 1620W |
| Clear / 3mm | 5249W |
| Clear / 3mm | 4110W |
| Clear / 3mm | 5051W |
| Clear / 3mm | 4669W |
| Clear / 3mm | 0955W |
| Clear / 3mm | 5606W |
| Clear / 3mm | 4945W |
| Clear / 3mm | 5205W |
| Clear / 3mm | 0861W |
| Clear / 3mm | 2058W |
| Clear / 3mm | 0953W |
| Clear / 3mm | 4108W |
| Clear / 3mm | 4366W |
| Clear / 3mm | 0021W |
| Clear / 3mm | 1328W |
| Clear / 3mm | 4061W |
| Clear / 3mm | 1145W |
| Clear / 3mm | 1650W |
| Clear / 3mm | 4667W |
| Clear / 3mm | 1097W |
| Clear / 3mm | 1665W |
| Clear / 3mm | 0340W |
| Clear / 3mm | 5251W |
| Clear / 3mm | 4626W |
| Clear / 3mm | 1657W |
| Clear / 3mm | 5603W |
| Clear / 3mm | 0950W |
| Clear / 3mm | 0189W |
| Clear / 3mm | 1655W |
| Clear / 3mm | 1340W |
| Clear / 3mm | 5547W |
| Clear / 2mm | 4945W-2M |
| Clear / 2mm | 5205W-2M |
| Clear / 2mm | 4623W-2M |
| Clear / 2mm | 4356W-2M |
| Clear / 2mm | 1657W-2M |
| Clear / 2mm | 5603W-2M |
| Clear / 2mm | 1340W-2M |
| Clear / 2mm | 4365W-2M |
| Clear / 2mm | 1328W-2M |
| Clear / 3mm | 4623W |
| Clear / 3mm | 4933W |
| Clear / 3mm | 5998W |
| Clear / 3mm | 6273W |
| Clear / 3mm | 6463W |
| Clear / 3mm | 6478W |
| Clear / 2mm | 6478W-2M |
| Clear / 3mm | 6479W |
| Clear / 3mm | 6487W |
| Clear / 3mm | 6490W |
| Clear / 3mm | 6498W |
| Clear / 3mm | 6847W |
| Clear / 3mm | 7003W |
| Clear / 3mm | 7004W |
| Clear / 3mm | 7228W |
| Clear / 3mm | 7564W |
| Clear / 2mm | 7564W-2M |
| Clear / 3mm | 7598W |
| Clear / 3mm | 7621W |
| Clear / 3mm | 7622W |
| Clear / 3mm | 8543W |
| Clear / 3mm | 8903W |
| Clear / 290mm Tall | 8904W |
| Clear / 3mm | 8909W |
| Clear / 3mm | 8912W |
| Clear / 2mm | 8912W-2M |
| Dark Smoke / 3mm | 4941F |
| Dark Smoke / 3mm | 4365F |
| Dark Smoke / 3mm | 4053F |
| Dark Smoke / 3mm | 4055F |
| Dark Smoke / 3mm | 4059F |
| Dark Smoke / 3mm | 4356F |
| Dark Smoke / 3mm | 4363F |
| Dark Smoke / 3mm | 1620F |
| Dark Smoke / 3mm | 5249F |
| Dark Smoke / 3mm | 4110F |
| Dark Smoke / 3mm | 5051F |
| Dark Smoke / 3mm | 4376F |
| Dark Smoke / 3mm | 2207F |
| Dark Smoke / 3mm | 4940F |
| Dark Smoke / 3mm | 4375F |
| Dark Smoke / 3mm | 0955F |
| Dark Smoke / 3mm | 5606F |
| Dark Smoke / 3mm | 4945F |
| Dark Smoke / 3mm | 5205F |
| Dark Smoke / 3mm | 0042F |
| Dark Smoke / 3mm | 0861F |
| Dark Smoke / 3mm | 1332F |
| Dark Smoke / 3mm | 2058F |
| Dark Smoke / 3mm | 4057F |
| Dark Smoke / 3mm | 0953F |
| Dark Smoke / 3mm | 4108F |
| Dark Smoke / 3mm | 4366F |
| Dark Smoke / 3mm | 0021F |
| Dark Smoke / 3mm | 1328F |
| Dark Smoke / 3mm | 4061F |
| Dark Smoke / 3mm | 1145F |
| Dark Smoke / 3mm | 1650F |
| Dark Smoke / 3mm | 2072F |
| Dark Smoke / 3mm | 4667F |
| Dark Smoke / 3mm | 1097F |
| Dark Smoke / 3mm | 1100F |
| Dark Smoke / 3mm | 1665F |
| Dark Smoke / 3mm | 0340F |
| Dark Smoke / 3mm | 0283F |
| Dark Smoke / 3mm | 5251F |
| Dark Smoke / 3mm | 4626F |
| Dark Smoke / 3mm | 0514F |
| Dark Smoke / 3mm | 4106F |
| Dark Smoke / 3mm | 4931F |
| Dark Smoke / 3mm | 0565F |
| Dark Smoke / 3mm | 4361F |
| Dark Smoke / 3mm | 1657F |
| Dark Smoke / 3mm | 5603F |
| Dark Smoke / 3mm | 1652F |
| Dark Smoke / 3mm | 0950F |
| Dark Smoke / 3mm | 0189F |
| Dark Smoke / 3mm | 1655F |
| Dark Smoke / 3mm | 4665F |
| Dark Smoke / 3mm | 0843F |
| Dark Smoke / 3mm | 1346F |
| Dark Smoke / 3mm | 1340F |
| Dark Smoke / 3mm | 1116F |
| Dark Smoke / 3mm | 1646F |
| Dark Smoke / 3mm | 5547F |
| Dark Smoke / 3mm | 1124F |
| Dark Smoke / 3mm | 0201F |
| Dark Smoke / 3mm | 1335F |
| Dark Smoke / 3mm | 1520F |
| Dark Smoke / 3mm | 1053F |
| Dark Smoke / 3mm | 0044F |
| Dark Smoke / 3mm | 4623F |
| Dark Smoke / 3mm | 0964F |
| Dark Smoke / 3mm | 2107F |
| Dark Smoke / 3mm | 4933F |
| Dark Smoke / 3mm | 2093F |
| Dark Smoke / 3mm | 5998F |
| Dark Smoke / 3mm | 6273F |
| Dark Smoke / 3mm | 6463F |
| Dark Smoke / 3mm | 6478F |
| Dark Smoke / 3mm | 6479F |
| Dark Smoke / 3mm | 6487F |
| Dark Smoke / 3mm | 6490F |
| Dark Smoke / 3mm | 6498F |
| Dark Smoke / 3mm | 6847F |
| Dark Smoke / 3mm | 7003F |
| Dark Smoke / 3mm | 7004F |
| Dark Smoke / 3mm | 7228F |
| Dark Smoke / 3mm | 7564F |
| Dark Smoke / 3mm | 7598F |
| Dark Smoke / 3mm | 7621F |
| Dark Smoke / 3mm | 7622F |
| Dark Smoke / 3mm | 8543F |
| Dark Smoke / 3mm | 8903F |
| Dark Smoke / 290mm Tall | 8904F |
| Dark Smoke / 3mm | 8909F |
| Dark Smoke / 3mm | 8912F |
| Smoke / 3mm | 4941H |
| Smoke / 3mm | 4365H |
| Smoke / 3mm | 4053H |
| Smoke / 3mm | 4057H |
| Smoke / 3mm | 4055H |
| Smoke / 3mm | 4059H |
| Smoke / 3mm | 4363H |
| Smoke / 3mm | 1620H |
| Smoke / 3mm | 5249H |
| Smoke / 3mm | 4110H |
| Smoke / 3mm | 5051H |
| Smoke / 3mm | 4376H |
| Smoke / 3mm | 4668H |
| Smoke / 3mm | 4669H |
| Smoke / 3mm | 2207H |
| Smoke / 3mm | 4375H |
| Smoke / 3mm | 0955H |
| Smoke / 3mm | 5606H |
| Smoke / 3mm | 4945H |
| Smoke / 3mm | 5205H |
| Smoke / 3mm | 0861H |
| Smoke / 3mm | 1332H |
| Smoke / 3mm | 2058H |
| Smoke / 3mm | 4356H |
| Smoke / 3mm | 4933H |
| Smoke / 3mm | 0953H |
| Smoke / 3mm | 4108H |
| Smoke / 3mm | 4366H |
| Smoke / 3mm | 0021H |
| Smoke / 3mm | 1328H |
| Smoke / 3mm | 4061H |
| Smoke / 3mm | 1145H |
| Smoke / 3mm | 1650H |
| Smoke / 3mm | 2072H |
| Smoke / 3mm | 4667H |
| Smoke / 3mm | 1097H |
| Smoke / 3mm | 1665H |
| Smoke / 3mm | 4623H |
| Smoke / 3mm | 0340H |
| Smoke / 3mm | 0283H |
| Smoke / 3mm | 5251H |
| Smoke / 3mm | 4626H |
| Smoke / 3mm | 4106H |
| Smoke / 3mm | 4931H |
| Smoke / 3mm | 4361H |
| Smoke / 3mm | 1657H |
| Smoke / 3mm | 5603H |
| Smoke / 3mm | 0189H |
| Smoke / 3mm | 1655H |
| Smoke / 3mm | 4665H |
| Smoke / 3mm | 1346H |
| Smoke / 3mm | 1340H |
| Smoke / 3mm | 1646H |
| Smoke / 3mm | 5547H |
| Smoke / 3mm | 1124H |
| Smoke / 3mm | 0201H |
| Smoke / 3mm | 5998H |
| Smoke / 3mm | 6273H |
| Smoke / 3mm | 6463H |
| Smoke / 3mm | 6478H |
| Smoke / 3mm | 6479H |
| Smoke / 3mm | 6487H |
| Smoke / 3mm | 6490H |
| Smoke / 3mm | 6498H |
| Smoke / 3mm | 6847H |
| Smoke / 3mm | 7003H |
| Smoke / 3mm | 7004H |
| Smoke / 3mm | 7228H |
| Smoke / 3mm | 7564H |
| Smoke / 3mm | 7598H |
| Smoke / 3mm | 7621H |
| Smoke / 3mm | 7622H |
| Smoke / 3mm | 8543H |
| Smoke / 3mm | 8903H |
| Smoke / 290mm Tall | 8904H |
| Smoke / 3mm | 8909H |
| Smoke / 3mm | 8912H |
| Black / 3mm | 4941N |
| Black / 3mm | 4942N |
| Black / 3mm | 4053N |
| Black / 3mm | 5249N |
| Black / 3mm | 5051N |
| Black / 3mm | 5606N |
| Black / 3mm | 4945N |
| Black / 3mm | 5205N |
| Black / 3mm | 0042N |
| Black / 3mm | 1332N |
| Black / 3mm | 2058N |
| Black / 3mm | 4356N |
| Black / 3mm | 4933N |
| Black / 3mm | 0953N |
| Black / 3mm | 4108N |
| Black / 3mm | 4366N |
| Black / 3mm | 0021N |
| Black / 3mm | 4061N |
| Black / 3mm | 1650N |
| Black / 3mm | 2072N |
| Black / 3mm | 1097N |
| Black / 3mm | 1665N |
| Black / 3mm | 0514N |
| Black / 3mm | 5603N |
| Black / 3mm | 1346N |
| Black / 3mm | 1646N |
| Black / 3mm | 5547N |
| Black / 3mm | 0201N |
| Black / 3mm | 4667N |
| Black / 3mm | 5998N |
| Black / 3mm | 6463N |
| Black / 3mm | 6478N |
| Black / 3mm | 6479N |
| Black / 3mm | 6487N |
| Black / 3mm | 6847N |
| Black / 3mm | 7003N |
| Black / 3mm | 7004N |
| Black / 3mm | 7228N |
| Black / 3mm | 7564N |
| Black / 3mm | 7598N |
| Black / 3mm | 7621N |
| Black / 3mm | 7622N |
| Black / 3mm | 8543N |
| Black / 3mm | 8903N |
| Black / 290mm Tall | 8904N |
| Black / 3mm | 8909N |
| Black / 3mm | 8912N |
| Opaque Black / 3mm | 1665S |
| Opaque Black / 3mm | 2065-S |
| Opaque Black / 3mm | 4356S |
| Red / 3mm | 4365R |
| Red / 3mm | 4059R |
| Red / 3mm | 0861R |
| Red / 3mm | 1332R |
| Red / 3mm | 2058R |
| Red / 3mm | 4356R |
| Red / 3mm | 4057R |
| Red / 3mm | 4933R |
| Red / 3mm | 0953R |
| Red / 3mm | 4366R |
| Red / 3mm | 0021R |
| Red / 3mm | 1328R |
| Red / 3mm | 1650R |
| Red / 3mm | 1665R |
| Red / 3mm | 4667R |
| Red / 3mm | 6478R |
| Red / 3mm | 6479R |
| Red / 3mm | 7003R |
| Red / 3mm | 7228R |
| Red / 3mm | 7564R |
| Red / 3mm | 7598R |
| Red / 3mm | 7621R |
| Red / 3mm | 8903R |
| Yellow / 3mm | 4055G |
| Yellow / 3mm | 4363G |
| Yellow / 3mm | 4108G |
| Blue / 3mm | 4365A |
| Blue / 3mm | 4053A |
| Blue / 3mm | 4055A |
| Blue / 3mm | 4363A |
| Blue / 3mm | 2207A |
| Blue / 3mm | 4356A |
| Blue / 3mm | 4057A |
| Blue / 3mm | 4933A |
| Blue / 3mm | 0953A |
| Blue / 3mm | 4366A |
| Blue / 3mm | 1328A |
| Blue / 3mm | 1650A |
| Blue / 3mm | 2072A |
| Blue / 3mm | 1665A |
| Blue / 3mm | 0189A |
| Blue / 3mm | 4665A |
| Blue / 3mm | 1340A |
| Blue / 3mm | 4061A |
| Blue / 3mm | 6478A |
| Blue / 3mm | 6479A |
| Blue / 3mm | 7003A |
| Blue / 3mm | 7228A |
| Blue / 3mm | 7564A |
| Carbon Look / 3mm | 4365C |
| Carbon Look / 3mm | 4053C |
| Carbon Look / 3mm | 1620C |
| Carbon Look / 3mm | 5606C |
| Carbon Look / 3mm | 0861C |
| Carbon Look / 3mm | 1332C |
| Carbon Look / 3mm | 4356C |
| Carbon Look / 3mm | 4057C |
| Carbon Look / 3mm | 4933C |
| Carbon Look / 3mm | 0953C |
| Carbon Look / 3mm | 4108C |
| Carbon Look / 3mm | 0021C |
| Carbon Look / 3mm | 1328C |
| Carbon Look / 3mm | 4061C |
| Carbon Look / 3mm | 1665C |
| Carbon Look / 3mm | 1655C |
| Carbon Look / 3mm | 1346C |
| Carbon Look / 3mm | 1340C |
| Carbon Look / 3mm | 1124C |
| Carbon Look / 3mm | 1335C |
| Carbon Look / 3mm | 6463C |
| Carbon Look / 3mm | 6479C |
| Carbon Look / 3mm | 7003C |
| Carbon Look / 3mm | 7228C |
| Carbon Look / 3mm | 7564C |
| Carbon Look / 3mm | 8903C |
| Carbon Look / 3mm | 8912C |
| Green / 3mm | 4053V |
| Green / 3mm | 5606V |
| Green / 3mm | 4931V |
| Green / 3mm | 1657V |
| Green / 3mm | 5603V |
| Green / 3mm | 4057V |
| Green / 3mm | 6463V |
| Green / 3mm | 8912V |
| Orange / 3mm | 4363T |
| Orange / 3mm | 4108T |
| Orange / 3mm | 1665T |
| Orange / 3mm | 1657T |
| Orange / 3mm | 6478T |
| Orange / 3mm | 7004T |