Puig
Puig Racing Windscreen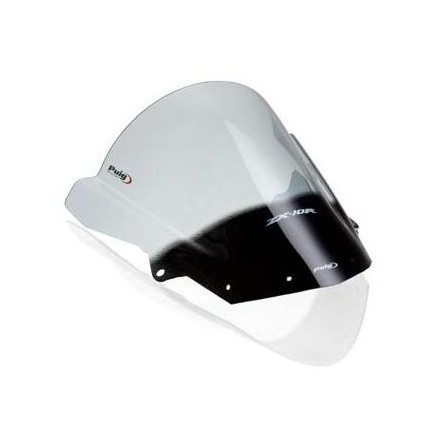 ---
5% Off - Save up to $8.87
4.59
5
22
Rating: 4.6 out of 5 stars
---
22 Reviews
19

reviews

1

reviews

0

reviews

0

reviews

2

reviews
All Reviews
Over 7 months ago
Atlanta
Makes the bike look tough
Perfect fit. The black windscreen in lighter and has more of a curve to it to help deflect that sir over u. *had a small scratch upon arrival. Waited two weeks on back order. Wasn't about to send back and wait again. Not sellers fault *
1 year 8 months ago
Maine
Awesome product
I bought this for my 2018 S1000RR the fit is great and it looks awesome
1 year 10 months ago
Ohio
Great windscreen easy install
This windscreen is really nice looking. I've stuck with puig for all of my aftermarket add-ons. They make great products and they look very good. You will be very pleased with this screen.
2 years 7 months ago
Amarillo
Nice fit
easy install, nice fit, taller than the stock
2 years 9 months ago
New York
Puig is great!!!
This is such a great buy , the windscreen makes a world of a difference as soon as your in the tuck position you don't feel anything I'm glad I upgraded from the stock , the only thing that I didn't like was the shipping took a while because moto didn't have the part in their where house but other than that perfect!! I recommend!!!! All of my friends and I have this windscreen
2 years 9 months ago
Charleston,
Outstanding product aupport
Purchased this windscreen and received super fast without issue. Motorsport continues to offer outstanding customer support and satisfaction.
Ask a Question
There have been no questions asked about the Puig Racing Windscreen.
Fitment
See all bikes that this part fits...
# Part Numbers
| Product Variant | Manufacturer Part # |
| --- | --- |
| Clear / 3mm | 4365W |
| Clear / 3mm | 4053W |
| Clear / 3mm | 4057W |
| Clear / 3mm | 4055W |
| Clear / 3mm | 4059W |
| Clear / 3mm | 4356W |
| Clear / 3mm | 4363W |
| Clear / 3mm | 1620W |
| Clear / 3mm | 5249W |
| Clear / 3mm | 4110W |
| Clear / 3mm | 5051W |
| Clear / 3mm | 4669W |
| Clear / 3mm | 5606W |
| Clear / 3mm | 4945W |
| Clear / 3mm | 5205W |
| Clear / 3mm | 0861W |
| Clear / 3mm | 2058W |
| Clear / 3mm | 0953W |
| Clear / 3mm | 4108W |
| Clear / 3mm | 4366W |
| Clear / 3mm | 1328W |
| Clear / 3mm | 4061W |
| Clear / 3mm | 1650W |
| Clear / 3mm | 4667W |
| Clear / 3mm | 1097W |
| Clear / 3mm | 1665W |
| Clear / 3mm | 5251W |
| Clear / 3mm | 4626W |
| Clear / 3mm | 1657W |
| Clear / 3mm | 5603W |
| Clear / 3mm | 0950W |
| Clear / 3mm | 0189W |
| Clear / 3mm | 1655W |
| Clear / 3mm | 1340W |
| Clear / 3mm | 5547W |
| Clear / 2mm | 4356W-2M |
| Clear / 2mm | 5603W-2M |
| Clear / 2mm | 1340W-2M |
| Clear / 2mm | 4365W-2M |
| Clear / 2mm | 1328W-2M |
| Clear / 3mm | 4623W |
| Clear / 3mm | 4933W |
| Clear / 3mm | 6273W |
| Clear / 3mm | 6463W |
| Clear / 3mm | 6478W |
| Clear / 3mm | 6479W |
| Clear / 3mm | 6487W |
| Clear / 3mm | 6490W |
| Clear / 3mm | 6498W |
| Clear / 3mm | 6847W |
| Clear / 3mm | 7003W |
| Clear / 3mm | 7004W |
| Clear / 3mm | 7228W |
| Clear / 3mm | 7564W |
| Clear / 2mm | 7564W-2M |
| Clear / 3mm | 7598W |
| Clear / 3mm | 7621W |
| Clear / 3mm | 7622W |
| Clear / 3mm | 8543W |
| Clear / 3mm | 8903W |
| Clear / 290mm Tall | 8904W |
| Clear / 3mm | 8909W |
| Clear / 3mm | 8912W |
| Clear / 2mm | 8912W-2M |
| Clear / 3mm | 9013W |
| Clear / 30mm Higher Than OEM / Includes 9154N Bracket | 9155W |
| Clear / 3mm | 9402W |
| Clear / 3mm | 9407W |
| Clear / 3mm | 9408W |
| Clear / 3mm | 9711W |
| Clear / 150mm Lower Than Stock | 9716W |
| Clear / 3mm | 9722W |
| Clear / +30mm | 9723W |
| Clear / 15mm Higher Than OEM | 9704W |
| Clear / 3mm | 9690W |
| Clear / 3mm | 9724W |
| Clear / 3mm | 9976W |
| Clear / 2mm | 3177W-2M |
| Clear / 3mm | 3177W |
| Clear / 2mm | 9723W-2M |
| Clear / +30mm | 3568W |
| Clear / 3mm | 5650W |
| Clear / 3mm | 9849W |
| Clear / 3mm | 8917W |
| Clear / 40mm Taller | 3571W |
| Clear / 3mm | 3613W |
| Dark Smoke / 3mm | 4941F |
| Dark Smoke / 3mm | 4365F |
| Dark Smoke / 3mm | 4053F |
| Dark Smoke / 3mm | 4055F |
| Dark Smoke / 3mm | 4059F |
| Dark Smoke / 3mm | 4356F |
| Dark Smoke / 3mm | 4363F |
| Dark Smoke / 3mm | 1620F |
| Dark Smoke / 3mm | 5249F |
| Dark Smoke / 3mm | 4110F |
| Dark Smoke / 3mm | 5051F |
| Dark Smoke / 3mm | 4376F |
| Dark Smoke / 3mm | 2207F |
| Dark Smoke / 3mm | 5606F |
| Dark Smoke / 3mm | 4945F |
| Dark Smoke / 3mm | 5205F |
| Dark Smoke / 3mm | 0861F |
| Dark Smoke / 3mm | 1332F |
| Dark Smoke / 3mm | 2058F |
| Dark Smoke / 3mm | 4057F |
| Dark Smoke / 3mm | 0953F |
| Dark Smoke / 3mm | 4108F |
| Dark Smoke / 3mm | 4366F |
| Dark Smoke / 3mm | 0021F |
| Dark Smoke / 3mm | 1328F |
| Dark Smoke / 3mm | 4061F |
| Dark Smoke / 3mm | 1145F |
| Dark Smoke / 3mm | 1650F |
| Dark Smoke / 3mm | 2072F |
| Dark Smoke / 3mm | 4667F |
| Dark Smoke / 3mm | 1097F |
| Dark Smoke / 3mm | 1100F |
| Dark Smoke / 3mm | 1665F |
| Dark Smoke / 3mm | 0283F |
| Dark Smoke / 3mm | 5251F |
| Dark Smoke / 3mm | 4626F |
| Dark Smoke / 3mm | 0514F |
| Dark Smoke / 3mm | 4106F |
| Dark Smoke / 3mm | 4931F |
| Dark Smoke / 3mm | 0565F |
| Dark Smoke / 3mm | 4361F |
| Dark Smoke / 3mm | 5603F |
| Dark Smoke / 3mm | 1652F |
| Dark Smoke / 3mm | 0189F |
| Dark Smoke / 3mm | 1655F |
| Dark Smoke / 3mm | 4665F |
| Dark Smoke / 3mm | 1346F |
| Dark Smoke / 3mm | 1340F |
| Dark Smoke / 3mm | 1116F |
| Dark Smoke / 3mm | 1646F |
| Dark Smoke / 3mm | 5547F |
| Dark Smoke / 3mm | 0201F |
| Dark Smoke / 3mm | 1335F |
| Dark Smoke / 3mm | 1520F |
| Dark Smoke / 3mm | 1053F |
| Dark Smoke / 3mm | 0044F |
| Dark Smoke / 3mm | 4623F |
| Dark Smoke / 3mm | 0964F |
| Dark Smoke / 3mm | 2107F |
| Dark Smoke / 3mm | 4933F |
| Dark Smoke / 3mm | 6273F |
| Dark Smoke / 3mm | 6463F |
| Dark Smoke / 3mm | 6478F |
| Dark Smoke / 3mm | 6479F |
| Dark Smoke / 3mm | 6487F |
| Dark Smoke / 3mm | 6490F |
| Dark Smoke / 3mm | 6498F |
| Dark Smoke / 3mm | 6847F |
| Dark Smoke / 3mm | 7003F |
| Dark Smoke / 3mm | 7004F |
| Dark Smoke / 3mm | 7228F |
| Dark Smoke / 3mm | 7564F |
| Dark Smoke / 3mm | 7598F |
| Dark Smoke / 3mm | 7621F |
| Dark Smoke / 3mm | 7622F |
| Dark Smoke / 3mm | 8543F |
| Dark Smoke / 3mm | 8903F |
| Dark Smoke / 290mm Tall | 8904F |
| Dark Smoke / 3mm | 8909F |
| Dark Smoke / 3mm | 8912F |
| Dark Smoke / 3mm | 9013F |
| Dark Smoke / 30mm Higher Than OEM / Includes 9154N Bracket | 9155F |
| Dark Smoke / 3mm | 9402F |
| Dark Smoke / 3mm | 9407F |
| Dark Smoke / 3mm | 9408F |
| Dark Smoke / 3mm | 9711F |
| Dark Smoke / 150mm Lower Than Stock | 9716F |
| Dark Smoke / 3mm | 9722F |
| Dark Smoke / +30mm | 9723F |
| Dark Smoke / 15mm Higher Than OEM | 9704F |
| Dark Smoke / 3mm | 9690F |
| Dark Smoke / 3mm | 9724F |
| Dark Smoke / 3mm | 9976F |
| Dark Smoke / 3mm | 3177F |
| Dark Smoke / +30mm | 3568F |
| Dark Smoke / 3mm | 5650F |
| Dark Smoke / 3mm | 9849F |
| Dark Smoke / 3mm | 8917F |
| Dark Smoke / 40mm Taller | 3571F |
| Dark Smoke / 3mm | 3613F |
| Smoke / 3mm | 4941H |
| Smoke / 3mm | 4365H |
| Smoke / 3mm | 4053H |
| Smoke / 3mm | 4057H |
| Smoke / 3mm | 4055H |
| Smoke / 3mm | 4059H |
| Smoke / 3mm | 4363H |
| Smoke / 3mm | 1620H |
| Smoke / 3mm | 5249H |
| Smoke / 3mm | 4110H |
| Smoke / 3mm | 5051H |
| Smoke / 3mm | 4376H |
| Smoke / 3mm | 4669H |
| Smoke / 3mm | 2207H |
| Smoke / 3mm | 4375H |
| Smoke / 3mm | 5606H |
| Smoke / 3mm | 4945H |
| Smoke / 3mm | 5205H |
| Smoke / 3mm | 0861H |
| Smoke / 3mm | 1332H |
| Smoke / 3mm | 2058H |
| Smoke / 3mm | 4356H |
| Smoke / 3mm | 4933H |
| Smoke / 3mm | 0953H |
| Smoke / 3mm | 4108H |
| Smoke / 3mm | 4366H |
| Smoke / 3mm | 0021H |
| Smoke / 3mm | 1328H |
| Smoke / 3mm | 4061H |
| Smoke / 3mm | 1145H |
| Smoke / 3mm | 1650H |
| Smoke / 3mm | 2072H |
| Smoke / 3mm | 4667H |
| Smoke / 3mm | 1097H |
| Smoke / 3mm | 1665H |
| Smoke / 3mm | 4623H |
| Smoke / 3mm | 0283H |
| Smoke / 3mm | 5251H |
| Smoke / 3mm | 4626H |
| Smoke / 3mm | 4106H |
| Smoke / 3mm | 4931H |
| Smoke / 3mm | 4361H |
| Smoke / 3mm | 1657H |
| Smoke / 3mm | 5603H |
| Smoke / 3mm | 0189H |
| Smoke / 3mm | 1655H |
| Smoke / 3mm | 4665H |
| Smoke / 3mm | 1346H |
| Smoke / 3mm | 1340H |
| Smoke / 3mm | 1646H |
| Smoke / 3mm | 5547H |
| Smoke / 3mm | 5998H |
| Smoke / 3mm | 6273H |
| Smoke / 3mm | 6463H |
| Smoke / 3mm | 6478H |
| Smoke / 3mm | 6479H |
| Smoke / 3mm | 6487H |
| Smoke / 3mm | 6490H |
| Smoke / 3mm | 6498H |
| Smoke / 3mm | 6847H |
| Smoke / 3mm | 7003H |
| Smoke / 3mm | 7004H |
| Smoke / 3mm | 7228H |
| Smoke / 3mm | 7564H |
| Smoke / 3mm | 7598H |
| Smoke / 3mm | 7621H |
| Smoke / 3mm | 7622H |
| Smoke / 3mm | 8543H |
| Smoke / 3mm | 8903H |
| Smoke / 290mm Tall | 8904H |
| Smoke / 3mm | 8909H |
| Smoke / 3mm | 8912H |
| Smoke / 3mm | 9013H |
| Smoke / 30mm Higher Than OEM / Includes 9154N Bracket | 9155H |
| Smoke / 3mm | 9402H |
| Smoke / 3mm | 9407H |
| Smoke / 3mm | 9408H |
| Smoke / 3mm | 9711H |
| Smoke / 150mm Lower Than Stock | 9716H |
| Smoke / 3mm | 9722H |
| Smoke / +30mm | 9723H |
| Smoke / 15mm Higher Than OEM | 9704H |
| Smoke / 3mm | 9690H |
| Smoke / 3mm | 9724H |
| Smoke / 3mm | 9976H |
| Smoke / 3mm | 3177H |
| Smoke / +30mm | 3568H |
| Smoke / 3mm | 5650H |
| Smoke / 3mm | 9849H |
| Smoke / 3mm | 8917H |
| Smoke / 40mm Taller | 3571H |
| Smoke / 3mm | 3613H |
| Black / 3mm | 4941N |
| Black / 3mm | 4942N |
| Black / 3mm | 4053N |
| Black / 3mm | 5249N |
| Black / 3mm | 5051N |
| Black / 3mm | 5606N |
| Black / 3mm | 4945N |
| Black / 3mm | 5205N |
| Black / 3mm | 0042N |
| Black / 3mm | 2058N |
| Black / 3mm | 4356N |
| Black / 3mm | 4933N |
| Black / 3mm | 0953N |
| Black / 3mm | 4108N |
| Black / 3mm | 4366N |
| Black / 3mm | 0021N |
| Black / 3mm | 4061N |
| Black / 3mm | 1650N |
| Black / 3mm | 2072N |
| Black / 3mm | 1097N |
| Black / 3mm | 1665N |
| Black / 3mm | 0514N |
| Black / 3mm | 5603N |
| Black / 3mm | 1346N |
| Black / 3mm | 1646N |
| Black / 3mm | 5547N |
| Black / 3mm | 0201N |
| Black / 3mm | 4667N |
| Black / 3mm | 6463N |
| Black / 3mm | 6478N |
| Black / 3mm | 6479N |
| Black / 3mm | 6487N |
| Black / 3mm | 6847N |
| Black / 3mm | 7003N |
| Black / 3mm | 7004N |
| Black / 3mm | 7228N |
| Black / 3mm | 7564N |
| Black / 3mm | 7598N |
| Black / 3mm | 7621N |
| Black / 3mm | 7622N |
| Black / 3mm | 8543N |
| Black / 3mm | 8903N |
| Black / 290mm Tall | 8904N |
| Black / 3mm | 8909N |
| Black / 3mm | 8912N |
| Black / 3mm | 8917N |
| Black / 3mm | 9013N |
| Black / 3mm | 6498N |
| Black / 30mm Higher Than OEM / Includes 9154N Bracket | 9155N |
| Black / 3mm | 9402N |
| Black / 3mm | 9407N |
| Black / 3mm | 9408N |
| Black / 3mm | 9711N |
| Black / 150mm Lower Than Stock | 9716N |
| Black / 3mm | 9722N |
| Black / +30mm | 9723N |
| Black / 15mm Higher Than OEM | 9704N |
| Black / 3mm | 9690N |
| Black / 3mm | 9724N |
| Black / 3mm | 9976N |
| Black / 3mm | 3177N |
| Black / +30mm | 3568N |
| Black / 3mm | 5251N |
| Black / 3mm | 5650N |
| Black / 3mm | 6273N |
| Black / 3mm | 6490N |
| Black / 3mm | 9849N |
| Black / 40mm Taller | 3571N |
| Black / 3mm | 3613N |
| Opaque Black / 3mm | 4356S |
| Red / 3mm | 4365R |
| Red / 3mm | 4059R |
| Red / 3mm | 0861R |
| Red / 3mm | 1332R |
| Red / 3mm | 2058R |
| Red / 3mm | 4356R |
| Red / 3mm | 4057R |
| Red / 3mm | 4933R |
| Red / 3mm | 0953R |
| Red / 3mm | 4366R |
| Red / 3mm | 0021R |
| Red / 3mm | 1328R |
| Red / 3mm | 1650R |
| Red / 3mm | 1665R |
| Red / 3mm | 4667R |
| Red / 3mm | 6478R |
| Red / 3mm | 6479R |
| Red / 3mm | 7003R |
| Red / 3mm | 7228R |
| Red / 3mm | 7564R |
| Red / 3mm | 7598R |
| Red / 3mm | 7621R |
| Red / 3mm | 8903R |
| Red / 3mm | 5205R |
| Red / 3mm | 6498R |
| Red / 3mm | 8543R |
| Red / 50mm Lower Than OEM | 8904R |
| Red / 3mm | 9013R |
| Red / 30mm Higher Than OEM / Includes 9154N Bracket | 9155R |
| Red / 3mm | 9407R |
| Red / 3mm | 9690R |
| Red / +30mm | 3568R |
| Red / 3mm | 5251R |
| Red / 40mm Taller | 3571R |
| Red / 3mm | 3613R |
| Yellow / 3mm | 4055G |
| Yellow / 3mm | 4363G |
| Yellow / 3mm | 4667G |
| Blue / 3mm | 4365A |
| Blue / 3mm | 4053A |
| Blue / 3mm | 4055A |
| Blue / 3mm | 4363A |
| Blue / 3mm | 2207A |
| Blue / 3mm | 1332A |
| Blue / 3mm | 4356A |
| Blue / 3mm | 4057A |
| Blue / 3mm | 4933A |
| Blue / 3mm | 0953A |
| Blue / 3mm | 4366A |
| Blue / 3mm | 1328A |
| Blue / 3mm | 1650A |
| Blue / 3mm | 2072A |
| Blue / 3mm | 1665A |
| Blue / 3mm | 0189A |
| Blue / 3mm | 4665A |
| Blue / 3mm | 1340A |
| Blue / 3mm | 4061A |
| Blue / 3mm | 6478A |
| Blue / 3mm | 6479A |
| Blue / 3mm | 7003A |
| Blue / 3mm | 7228A |
| Blue / 3mm | 7564A |
| Blue / 3mm | 8917A |
| Blue / 3mm | 6498A |
| Blue / 3mm | 8903A |
| Blue / 50mm Lower Than OEM | 8904A |
| Blue / 3mm | 9013A |
| Blue / 30mm Higher Than OEM / Includes 9154N Bracket | 9155A |
| Blue / 3mm | 9407A |
| Blue / 3mm | 9722A |
| Blue / +30mm | 9723A |
| Blue / 3mm | 9976A |
| Blue / 3mm | 4667A |
| Blue / 3mm | 4939A |
| Blue / 3mm | 4945A |
| Blue / 3mm | 5205A |
| Blue / 3mm | 5251A |
| Blue / 3mm | 5650A |
| Blue / 3mm | 6273A |
| Blue / 40mm Taller | 3571A |
| Blue / 3mm | 3613A |
| Carbon Look / 3mm | 4365C |
| Carbon Look / 3mm | 4053C |
| Carbon Look / 3mm | 1620C |
| Carbon Look / 3mm | 5606C |
| Carbon Look / 3mm | 0861C |
| Carbon Look / 3mm | 4356C |
| Carbon Look / 3mm | 4057C |
| Carbon Look / 3mm | 4933C |
| Carbon Look / 3mm | 0953C |
| Carbon Look / 3mm | 4108C |
| Carbon Look / 3mm | 0021C |
| Carbon Look / 3mm | 1328C |
| Carbon Look / 3mm | 4061C |
| Carbon Look / 3mm | 1665C |
| Carbon Look / 3mm | 1655C |
| Carbon Look / 3mm | 1346C |
| Carbon Look / 3mm | 1340C |
| Carbon Look / 3mm | 1124C |
| Carbon Look / 3mm | 1335C |
| Carbon Look / 3mm | 6463C |
| Carbon Look / 3mm | 6479C |
| Carbon Look / 3mm | 7003C |
| Carbon Look / 3mm | 7228C |
| Carbon Look / 3mm | 7564C |
| Carbon Look / 3mm | 8903C |
| Carbon Look / 3mm | 8912C |
| Carbon Look / 3mm | 8917C |
| Carbon Look / 3mm | 6498C |
| Carbon Look / 3mm | 8543C |
| Carbon Look / 3mm | 9013C |
| Carbon Look / 3mm | 9407C |
| Carbon Look / 3mm | 9408C |
| Carbon Look / 3mm | 9722C |
| Carbon Look / +30mm | 9723C |
| Carbon Look / 3mm | 9976C |
| Carbon Look / 3mm | 3177C |
| Carbon Look / +30mm | 3568C |
| Carbon Look / 3mm | 4667C |
| Carbon Look / 3mm | 4939C |
| Carbon Look / 3mm | 5205C |
| Carbon Look / 3mm | 7622C |
| Carbon Look / 40mm Taller | 3571C |
| Carbon Look / 3mm | 3613C |
| Green / 3mm | 4053V |
| Green / 3mm | 5606V |
| Green / 3mm | 4931V |
| Green / 3mm | 1657V |
| Green / 3mm | 5603V |
| Green / 3mm | 4057V |
| Green / 3mm | 6463V |
| Green / 3mm | 8912V |
| Green / 3mm | 9408V |
| Green / 15mm Higher Than OEM | 9704V |
| Green / 3mm | 9976V |
| Green / 3mm | 3177V |
| Green / 3mm | 6479V |
| Orange / 3mm | 4363T |
| Orange / 3mm | 1665T |
| Orange / 3mm | 1657T |
| Orange / 3mm | 6478T |
| Orange / 3mm | 7004T |
| Orange / 3mm | 4933T |
| Orange / 3mm | 9716T |