PSR
PSR Adjustable Kickstand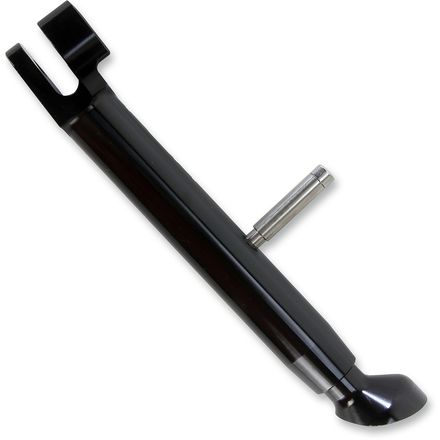 5 Star
3
4 Star
2
3 Star
0
2 Star
2
1 Star
0
Write a Review
Write your review and you'll automatically be entered in our monthly drawing. Include an image or video to DOUBLE your chances to win!
Write Your Review
11 days ago
Grand rapids mi
Save weight
Excellent quality. Nice and easy to change heights after going to track .
1 year 4 months ago
Burlingame, CA
Fit my 2008 Ninja 650R and well made!
I have a 2008 Ninja 650R and this fit my bike great! I was just surprised no instructions were included in how to install. At first glance it does not look like the holes line up, YouTube helped a lot. We used the "penny trick" to remove the spring (prior to removal with the spring in the extended position insert about 8-10 pennies between the springs and it takes the tension off the spring).
2 years 1 month ago
Southern New Mexico
Too short
Perhaps best for a track bike, this stand only stands as the bike barely as high as the oem kickstand on its most extended setting. On its shortest it leans the bike dangerously over. I have an L5 GP Edition GSXR750 and the fit is perfect. Very easy install, use the puller for your exhaust springs and no problem. Again, this might be ok for your track bike but on my mostly street gixxer the was no advantage over the stock stand.
Over 3 years ago
Hot Springs, AR, USA
Not sure what to think
I bought this for my '07 GSXR. It's lowered and wanted this nice looking stand to compliment it. However even on it's shortest setting my bike sits almost straight up and I am not too pleased. So I either have to return them and find some other brand to do the trick or modify these somehow. Not what I expected after spending that much money for a kick stand.
Over 4 years ago
ROSEMEAD
Yamaha r6
I'm glad I bought this it's a perfect fit for my 2014 yamaha r6 easy to install will recommend to other Yamaha riders
Over 6 years ago
johnstown, pa
Quality
Good build quality, and pleasing to the eye.
Wheelsoffweaver
Q: Will this kickstand extend longer than stock? 2003 yamaha fz1
Tyler Gearhead
4 days 12 hours ago
A: I apologize for any inconvenience but this product will not fit your 2003 Yamaha FZ1-FZS1000
Michael
Q: What is the max extended length?
DaveGearhead
24 days ago
A: It differs depending on the year/make/model, but typically the kickstand goes from OEM height and then retracts up to 1.5".
See all bikes that this part fits...
| Product Variant | Manufacturer Part # |
| --- | --- |
| Aluminum | 03-01108-21 |
| Black | 03-01108-22 |
| Black | 04-01110-22 |
| Black | 04-01111-22 |
| Black | 06-01103-22 |
| Aluminum | 07-01106-21 |
| Black | 07-01106-22 |
| Black | 07-01107-22 |
| Black | 07-01108-22 |
| Gold | 030110123 |
| Gold | 581-31103-23 |
| Gold | 581-31105-23 |
| Gold | 030110223 |
| Gold | 040110320 |
| Gold | 040110223 |
| Gold | 040110023 |
| Gold | 040110123 |
| Gold | 050110123 |
| Gold | 050110323 |
| Gold | 050110223 |
| Gold | 070110123 |
| Gold | 070110023 |
| Gold | 02-01101-23 |
| Gold | 581-31106-23 |
| Gold | 581-31107-23 |
| Gold | 581-41104-23 |
| Gold | 581-41105-23 |
| Gold | 581-41106-23 |
| Gold | 581-41107-23 |
| Gold | 581-61101-23 |
| Gold | 581-71103-23 |
| Gold | 581-71104-23 |
| Aluminum | 030110021 |
| Aluminum | 030110121 |
| Aluminum | 030110321 |
| Aluminum | 030110421 |
| Aluminum | 030110521 |
| Aluminum | 030110221 |
| Aluminum | 040110321 |
| Aluminum | 040110221 |
| Aluminum | 04010021 |
| Aluminum | 040110121 |
| Aluminum | 050110321 |
| Aluminum | 050110021 |
| Aluminum | 050110221 |
| Aluminum | 070110121 |
| Aluminum | 070110021 |
| Aluminum | 02-01101-21 |
| Aluminum | 02-01102-21 |
| Aluminum | 09-01100-21 |
| Aluminum | 581-31106-21 |
| Aluminum | 581-31107-21 |
| Aluminum | 581-41104-21 |
| Aluminum | 581-41105-21 |
| Aluminum | 581-41106-21 |
| Aluminum | 581-41107-21 |
| Aluminum | 581-51104-21 |
| Aluminum | 581-61100-21 |
| Aluminum | 581-61101-21 |
| Aluminum | 581-71103-21 |
| Aluminum | 581-71104-21 |
| Aluminum | 04-01108-21 |
| Black | 030110022 |
| Black | 030110122 |
| Black | 030110322 |
| Black | 030110422 |
| Black | 030110522 |
| Black | 030110222 |
| Black | 040110323 |
| Black | 040110222 |
| Black | 040110022 |
| Black | 040110122 |
| Black | 050110122 |
| Black | 050110322 |
| Black | 050110022 |
| Black | 050110222 |
| Black | 070110122 |
| Black | 070110022 |
| Black | 02-01100-22 |
| Black | 02-01101-22 |
| Black | 02-01102-22 |
| Black | 09-01100-22 |
| Black | 581-31106-22 |
| Black | 581-31107-22 |
| Black | 581-41104-22 |
| Black | 581-41105-22 |
| Black | 581-41106-22 |
| Black | 581-41107-22 |
| Black | 581-51104-22 |
| Black | 581-61100-22 |
| Black | 581-61101-22 |
| Black | 581-71103-22 |
| Black | 581-71104-22 |
| Black | 04-01108-22 |
| Black | 04-01109-22 |
| Chrome | 030110120 |
| Chrome | 581-31104-20 |
| Chrome | 581-31105-20 |
| Chrome | 040110322 |
| Chrome | 040110220 |
| Chrome | 040110020 |
| Chrome | 040110120 |
| Chrome | 050110120 |
| Chrome | 050110020 |
| Chrome | 050110220 |
| Chrome | 070110120 |
| Chrome | 070110020 |
| Chrome | 02-01101-20 |
| Chrome | 09-01100-20 |
| Chrome | 581-31106-20 |
| Chrome | 581-31107-20 |
| Chrome | 581-41104-20 |
| Chrome | 581-41106-20 |
| Chrome | 581-41107-20 |
| Chrome | 581-51104-20 |
| Chrome | 581-61100-20 |
| Chrome | 581-71103-20 |
| Chrome | 581-71104-20 |