Pro X
Pro X Piston Kit - 2-Stroke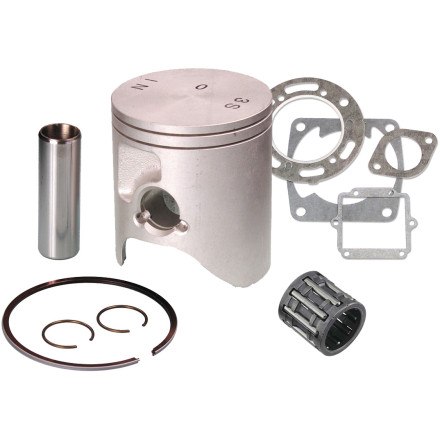 Pro X Piston Kit - 2-Stroke
---
18% Off - Save up to $17.98
---
5 Star
24
4 Star
5
3 Star
1
2 Star
0
1 Star
0
Write a Review
Write your review and you'll automatically be entered in our monthly drawing. Include an image or video to DOUBLE your chances to win!
Write Your Review
Good product
Quality products for a good price. Really woke up my little 125.
2 months 1 day ago
Alaska
Just what I wanted.
I just bought this not too long ago came with everything I needed to do the top and rebuild wrote it last week and everything seems to be fine.
Easy Install
This was so easy to install my 13year old daughter installed it in her bike@motomerican racing
High quality
Fit my 2001 kx250 and it runs great
Just what I needed.
Exactly what I needed. Fast shipping. The top end kit worked like a charm
2003 rm85
Bought for my bike and wrist pin did not fit. Also the gaskets did not line up properly. I do not recommend.
1 year 9 months ago
New Hampshire, USA
Nice piston
I recently bought this for my 2015 yz 125 and could not be happier. It took me 20min to install and started first kick. Bike sounds great and runs perfect.
Everything you need!
I purchased this kit to refresh the top end in my 2010 300XCW and it worked great. Installation was simple and power was back to new. It was great to just by the kit and have everything I needed all at once. Gasket kit was top notch and the piston seems to be good for power. We will see how long the kit lasts but initial impression is very good.
chris
Q: I have a kx 80 1993 r3, will it fit. Cylinder is 48mm
Noahsarc
Q: I have a 1996 cr125r with a 54.5 size piston will this fit thank you 
JamesGearhead
24 days ago
A: Once you profile your bike into the website, you will be able to select this piston for your bike. It will fit on your 1996 CR125.
Brad
Q: Hey I'm. Looking for a pro x piston for my 96 Yamaha yz 250 stock bore is 68mm but I'm boring out the cylinder to fit a 69mm piston I've been looking on this site for one but all I can find is stock bore do yous make a 69mm piston for a 96 Yz 250 pro x
TylerGearhead
1 month 29 days ago
A: We can typically get special order items. Please give us a call and we can discuss this! 1-888-676-8853.
CRdave
Q: I have a 2006 Cr125 and the piston in my bike is stock and it only has one groove with one piston ring. It says it fits my bike but has two groves? And this comes with all the gaskets I need? 
Thumbs
4 months ago
A: The picture is very general and doesn't picture your exact kit. The kit will have everything your specific bike requires when it comes to rings and gaskets.
Eric
Q: I have a 2002 Honda CR250R and was wondering if this Pro-X piston has to be drilled for exhaust bridge?
robert
Over 6 months ago
A: You will not need to drill the bridge on your 2002 cr250.
GozTown
Q: Will the gaskets fit an '00 Cr250?
When I go to check out with this kit in my cart, the gaskets in the picture are different then the gaskets in the original picture before I view it in my cart. Can someone help? I would appreciate it.
JustinS
Over 8 months ago
A: This kit will fit your vehicle. The picture shown may not reflect the actual product for your specific bike.
Flip
Q: Do you have this piston in the size 67.50mm.if not could u help me find one of that size please its for a 2003 honda cr250
MotoSportExpert
1 year 6 months ago
A: Please give us a call at 888-676-8853 and one of our customer service agents would be more than happy to get you all set up!

Thanks!
Bikelifejay602
Q: Would this fit my 04 cr250 it says 72.0mm on the side of my cylinder
Motormack250
Q: Does this piston work for both cylinder A or B on the 2002 CR250R.
I have a 2002 cr250r does this piston work for both cylinder a and b or not. I don't want to waste my money. I love the ask a question feature
MotoSportExpert
1 year 11 months ago
A: ProX offers A, B, C, D, sizes so that the customer can properly fit each piston to the cylinder. The difference in the sizes is 0.01mm (0.0004") increments with A being the smallest and D the biggest. When a cylinder wears, the customer can choose the next larger piston size to regain the proper factory fitment. Ultimately, the bore should be measured for the best possible results.

The piston in this kit would be a B piston.
01.1323.B

Feel free to give us a call at 888-676-8853 and we would be happy to help you out with your order.

http://www.pro-x.com/wp-content/uploads/2014/03/Piston-Kit-Instructions.pdf

http://www.pro-x.com/wp-content/uploads/2016/01/Dirt_onlinev2.pdf
alex
Q: Gaskets for 1994 Honda cr 125
Does this come with the gasket for the power valve control compartment on the side of the cylinder? That compartment must be opened to take off the cylinder, so the gasket needs to be replaced.
MotoSportExpert
2 years 5 months ago
A: Top End Kit includes:

1 - Head Gasket
1 - Base Gasket
1 - Exhaust Gasket
1 - Intake Reed Gasket to Carb Boot
1 - Right Power Valve Cover Gasket
1 - Left Power Valve Cover Gasket
1 - Upper Power Valve Cover Gasket

Stock Code: C7115
Honda CR125 92-97
Bore Size: 55mm
See all bikes that this part fits...
Gasket Kit
| Product Variant | Manufacturer Part # |
| --- | --- |
| Pro X Piston Kit - 2-Stroke | C7040 |
| Pro X Piston Kit - 2-Stroke | C3096 |
| Pro X Piston Kit - 2-Stroke | C7010 |
| Pro X Piston Kit - 2-Stroke | C7762 |
| Pro X Piston Kit - 2-Stroke | C7089 |
| Pro X Piston Kit - 2-Stroke | C7423 |
| Pro X Piston Kit - 2-Stroke | C7136 |
| Pro X Piston Kit - 2-Stroke | C7018 |
| Pro X Piston Kit - 2-Stroke | C7059 |
| Pro X Piston Kit - 2-Stroke | C7112 |
| Pro X Piston Kit - 2-Stroke | C7120 |
| Pro X Piston Kit - 2-Stroke | C7508 |
| Pro X Piston Kit - 2-Stroke | C7778 |
| Pro X Piston Kit - 2-Stroke | C7155 |
| Pro X Piston Kit - 2-Stroke | C7779 |
| Pro X Piston Kit - 2-Stroke | C7682 |
| Pro X Piston Kit - 2-Stroke | C7467 |
| Pro X Piston Kit - 2-Stroke | C7045 |
| Pro X Piston Kit - 2-Stroke | C3099 |
| Pro X Piston Kit - 2-Stroke | C7259 |
| Pro X Piston Kit - 2-Stroke | C7064 |
| Pro X Piston Kit - 2-Stroke | C7386 |
| Pro X Piston Kit - 2-Stroke | C7065 |
| Pro X Piston Kit - 2-Stroke | C7003 |
| Pro X Piston Kit - 2-Stroke | C7123 |
| Pro X Piston Kit - 2-Stroke | C7203 |
| Pro X Piston Kit - 2-Stroke | C7156 |
| Pro X Piston Kit - 2-Stroke | C7861 |
| Pro X Piston Kit - 2-Stroke | C7280 |
| Pro X Piston Kit - 2-Stroke | C7100 |
| Pro X Piston Kit - 2-Stroke | C7505 |
| Pro X Piston Kit - 2-Stroke | C7154 |
| Pro X Piston Kit - 2-Stroke | C7054 |
| Pro X Piston Kit - 2-Stroke | C7031 |
| Pro X Piston Kit - 2-Stroke | C7857 |
| Pro X Piston Kit - 2-Stroke | C7042 |
| Pro X Piston Kit - 2-Stroke | C7349 |
| Pro X Piston Kit - 2-Stroke | C7087 |
| Pro X Piston Kit - 2-Stroke | C7853 |
| Pro X Piston Kit - 2-Stroke | C7134 |
| Pro X Piston Kit - 2-Stroke | C7936 |
| Pro X Piston Kit - 2-Stroke | C7384 |
| Pro X Piston Kit - 2-Stroke | C3105 |
| Pro X Piston Kit - 2-Stroke | C7690 |
| Pro X Piston Kit - 2-Stroke | C7084 |
| Pro X Piston Kit - 2-Stroke | C3222 |
| Pro X Piston Kit - 2-Stroke | C7139 |
| Pro X Piston Kit - 2-Stroke | C7020 |
| Pro X Piston Kit - 2-Stroke | C7158 |
| Pro X Piston Kit - 2-Stroke | C7126 |
| Pro X Piston Kit - 2-Stroke | C7399 |
| Pro X Piston Kit - 2-Stroke | C7921 |
| Pro X Piston Kit - 2-Stroke | C7855 |
| Pro X Piston Kit - 2-Stroke | C7241 |
| Pro X Piston Kit - 2-Stroke | C7113 |
| Pro X Piston Kit - 2-Stroke | C7764 |
| Pro X Piston Kit - 2-Stroke | C7250 |
| Pro X Piston Kit - 2-Stroke | C7269 |
| Pro X Piston Kit - 2-Stroke | C7337 |
| Pro X Piston Kit - 2-Stroke | C7041 |
| Pro X Piston Kit - 2-Stroke | C7507 |
| Pro X Piston Kit - 2-Stroke | C7135 |
| Pro X Piston Kit - 2-Stroke | C7137 |
| Pro X Piston Kit - 2-Stroke | C7047 |
| Pro X Piston Kit - 2-Stroke | C7851 |
| Pro X Piston Kit - 2-Stroke | C7501 |
| Pro X Piston Kit - 2-Stroke | C3211 |
| Pro X Piston Kit - 2-Stroke | C7030 |
| Pro X Piston Kit - 2-Stroke | C7292 |
| Pro X Piston Kit - 2-Stroke | C7391 |
| Pro X Piston Kit - 2-Stroke | C3416 |
| Pro X Piston Kit - 2-Stroke | C7019 |
| Pro X Piston Kit - 2-Stroke | C7678 |
| Pro X Piston Kit - 2-Stroke | C7043 |
| Pro X Piston Kit - 2-Stroke | C7757 |
| Pro X Piston Kit - 2-Stroke | C7046 |
| Pro X Piston Kit - 2-Stroke | C7181 |
| Pro X Piston Kit - 2-Stroke | C7088 |
| Pro X Piston Kit - 2-Stroke | C3085 |
| Pro X Piston Kit - 2-Stroke | C7133 |
| Pro X Piston Kit - 2-Stroke | C7115 |
| Pro X Piston Kit - 2-Stroke | C7242 |
| Pro X Piston Kit - 2-Stroke | C7394 |
| Pro X Piston Kit - 2-Stroke | C7859 |
| Pro X Piston Kit - 2-Stroke | C7191 |
| Pro X Piston Kit - 2-Stroke | C7416 |
| Pro X Piston Kit - 2-Stroke | C3089 |
| Pro X Piston Kit - 2-Stroke | C7456 |
| Pro X Piston Kit - 2-Stroke | C7015 |
| Pro X Piston Kit - 2-Stroke | C7816 |
| Pro X Piston Kit - 2-Stroke | C7016 |
| Pro X Piston Kit - 2-Stroke | C7943 |
| Pro X Piston Kit - 2-Stroke | C7116 |
| Pro X Piston Kit - 2-Stroke | C7009 |
| Pro X Piston Kit - 2-Stroke | C7333 |
| Pro X Piston Kit - 2-Stroke | C7760 |
Needle Bearing
| Product Variant | Manufacturer Part # |
| --- | --- |
| Pro X Piston Kit - 2-Stroke | B1083 |
| Pro X Piston Kit - 2-Stroke | B1042 |
| Pro X Piston Kit - 2-Stroke | B1037 |
| Pro X Piston Kit - 2-Stroke | B1043 |
| Pro X Piston Kit - 2-Stroke | B1080 |
| Pro X Piston Kit - 2-Stroke | B1038 |
| Pro X Piston Kit - 2-Stroke | B1041 |
| Pro X Piston Kit - 2-Stroke | B1022 |
| Pro X Piston Kit - 2-Stroke | B1036 |
| Pro X Piston Kit - 2-Stroke | B1014 |
| Pro X Piston Kit - 2-Stroke | B1016 |
| Pro X Piston Kit - 2-Stroke | B1012 |
| Pro X Piston Kit - 2-Stroke | B1013 |
| Pro X Piston Kit - 2-Stroke | B1006 |
| Pro X Piston Kit - 2-Stroke | B1008 |
| Pro X Piston Kit - 2-Stroke | B1003 |
| Pro X Piston Kit - 2-Stroke | B1004 |
| Pro X Piston Kit - 2-Stroke | B1000 |
| Pro X Piston Kit - 2-Stroke | B1001 |
Piston
| Product Variant | Manufacturer Part # |
| --- | --- |
| Stock | 01.2314.B |
| Stock | 01.2224.B |
| Stock | 01.2215.B |
| Stock | 01.2114.B |
| Stock | 01.3320.B |
| Stock | 01.3224.B |
| Stock | 01.4306.B |
| Stock | 01.6105.B |
| Stock | 01.6029.B |
| Stock | 01.6022.B |
| Stock | 01.6012.B |
| Stock | 01.4408.B |
| Stock | 01.4325.B |
| Stock | 01.4322.B |
| Stock | 01.1309.000 |
| Stock | 01.3180.000 |
| Stock | 01.6219.B |
| Stock | 01.3220.B |
| Stock | 01.6226.B |
| Stock | 01.3310.B |
| Stock | 01.6220.B |
| Stock | 01.2109.B |
| Stock | 01.6228.B |
| Stock | 01.2211.B |
| Stock | 01.6322.B |
| Stock | 01.2217.B |
| Stock | 01.6324.B |
| Stock | 01.2225.B |
| Stock | 01.6394.B |
| Stock | 01.2321.B |
| Stock | 01.3111.000 |
| Stock | 01.1300.000 |
| Stock | 01.4223.B |
| Stock | 01.4216.B |
| Stock | 01.4285.B |
| Stock | 01.4121.B |
| Stock | 01.4221.B |
| Stock | 01.4022.B |
| Stock | 01.4214.B |
| Stock | 01.1408.000 |
| Stock | 01.4108.B |
| Stock | 01.1323.B |
| Stock | 01.4100.B |
| Stock | 01.1315.A1 |
| Stock | 01.1325.A1 |
| Stock | 01.1218.A2 |
| Stock | 01.1320.A1 |
| Stock | 01.1113.B |
| Stock | 01.1225.B |
| Stock | 01.3122.B |
| Stock | 01.1208.A2 |
| Stock | 01.3214.B |
| Stock | 01.1111.B |