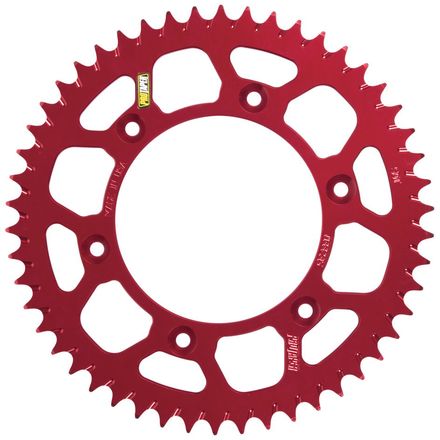 ---
10% Off - Save up to $7.00
---
5 Star
9
4 Star
1
3 Star
0
2 Star
0
1 Star
0
Write a Review
Write your review and you'll automatically be entered in our monthly drawing. Include an image or video to DOUBLE your chances to win!
Write Your Review
3 months 20 days ago
Cedar Rapids, IA, USA
Torque
Bought the blue 53t and is wonderful
Awesome looking sprocket
looks amazing on my drz. time will tell if the aluminum will hold up. i recommend getting a new sprocket bolt kit. all the nuts that screw onto the sprocket bolts were rusted and worn.
1 year 1 month ago
Springfield, OR, USA
Great Durabiility
Works excellent with our bike.
1 year 1 month ago
Tipton, MI 49287, USA
Easy to replace
While changing my rear tire it was very easy to replace the chain and sprocket the sprocket was an exact fit
1 year 6 months ago
Fargo, ND, USA
Braahahap
Ever since the first time I got Pro Taper XRC chain and sprocket kit I haven't been tempted to try anything else. Longest lasting kit I have ever came in contact with.
1 year 9 months ago
Missouri
Great sprocket
I haven't gotten to abuse it very much yet but seems very well built and stand up to pro taper expectations. Plus it looks great on my yz250f
Sprockets
Great looking sprocket that is very strong and lightweight.
Nice product
The sprocket looks fantastic! It was a fraction of the steel sprocket weight.... exceeded my expectations
Q: Does new bolts and nut come with the sprocket?
MotoSportExpert
2 years 4 months ago
A: No the Pro Taper Sprocket Bolt Kit is sold separately.
Mullet
2 years 4 months ago
A: Nope, have to by the kit separately. Has fit Honda in the past but didn't fit my KTM.
MotoSteve
2 years 4 months ago
A: No. If you need new mounting hardware you would have to buy it separately.
NickNack
2 years 4 months ago
A: nope
See all bikes that this part fits...
| Product Variant | Manufacturer Part # |
| --- | --- |
| Magnesium / 47T | 51-13200-47T |
| Black / 47T | 033230 |
| Black / 50T | 033235 |
| Black / 53T | 033241 |
| Black / 49T | 033247 |
| Black / 50T | 033249 |
| Black / 51T | 033250 |
| Black / 52T | 033251 |
| Black / 54T | 033253 |
| Black / 55T | 033255 |
| Black / 56T | 033257 |
| Black / 57T | 033258 |
| Black / 53T | 033293 |
| Black / 46T | 033263 |
| Black / 47T | 033264 |
| Black / 50T | 033267 |
| Black / 46T | 033278 |
| Black / 47T | 033279 |
| Black / 50T | 033282 |
| Black / 47T | 033188 |
| Black / 49T | 033190 |
| Black / 46T | 033274 |
| Black / 47T | 033275 |
| Black / 48T | 033276 |
| Black / 49T | 033259 |
| Black / 52T | 033262 |
| Black / 48T | 033205 |
| Black / 49T | 033206 |
| Black / 50T | 033207 |
| Black / 51T | 033208 |
| Black / 46T | 033195 |
| Black / 47T | 033196 |
| Black / 48T | 033198 |
| Black / 49T | 033200 |
| Black / 50T | 033202 |
| Black / 51T | 033187 |
| Black / 47T | 033215 |
| Black / 48T | 033216 |
| Black / 49T | 033218 |
| Black / 50T | 033220 |
| Black / 51T | 033222 |
| Black / 53T | 033226 |
| Black / 48T | 033210 |
| Black / 49T | 033211 |
| Black / 50T | 033212 |
| Black / 51T | 033213 |
| Black / 46T | 033214 |
| Black / 45T | 033228 |
| Black / 46T | 033229 |
| Black / 48T | 033244 |
| Black / 40T | 033285 |
| Black / 42T | 033286 |
| Black / 44T | 033287 |
| Black / 49T | 033277 |
| Black / 36T | 033288 |
| Black / 38T | 033289 |
| Black / 40T | 033290 |
| Black / 47T | 033294 |
| Black / 38T | 033388 |
| Black / 39T | 033389 |
| Black / 40T | 033390 |
| Black / 41T | 033391 |
| Black / 42T | 033392 |
| Black / 35T | 033407 |
| Black / 36T | 033409 |
| Black / 37T | 033411 |
| Black / 38T | 033413 |
| Black / 39T | 033415 |
| Black / 45T | 033417 |
| Black / 46T | 033418 |
| Black / 47T | 033419 |
| Black / 48T | 033420 |
| Black / 49T | 033421 |
| Black / 50T | 033422 |
| Green / 48T | 033176 |
| Green / 49T | 033177 |
| Green / 50T | 033178 |
| Green / 51T | 033179 |
| Green / 52T | 033283 |
| Green / 53T | 033284 |
| Green / 50T | 033180 |
| Green / 51T | 033181 |
| Orange / 38T | 033182 |
| Orange / 39T | 033183 |
| Orange / 40T | 033184 |
| Orange / 41T | 033185 |
| Orange / 42T | 033186 |
| Orange / 36T | 033393 |
| Orange / 38T | 033394 |
| Orange / 40T | 033395 |
| Orange / 46T | 033396 |
| Orange / 47T | 033397 |
| Orange / 48T | 033398 |
| Orange / 49T | 033399 |
| Orange / 46T | 033401 |
| Orange / 47T | 033402 |
| Orange / 48T | 033403 |
| Orange / 49T | 033404 |
| Orange / 50T | 033405 |
| Blue / 47T | 033197 |
| Blue / 48T | 033199 |
| Blue / 49T | 033201 |
| Blue / 50T | 033203 |
| Blue / 48T | 033217 |
| Blue / 50T | 033221 |
| Blue / 51T | 033223 |
| Blue / 52T | 033225 |
| Blue / 53T | 033227 |
| Blue / 49T | 033219 |
| Red / 48T | 033232 |
| Red / 49T | 033234 |
| Red / 50T | 033236 |
| Red / 51T | 033238 |
| Red / 52T | 033240 |
| Red / 53T | 033242 |
| Red / 49T | 033246 |
| Red / 50T | 033248 |
| Red / 55T | 033254 |
| Red / 56T | 033256 |