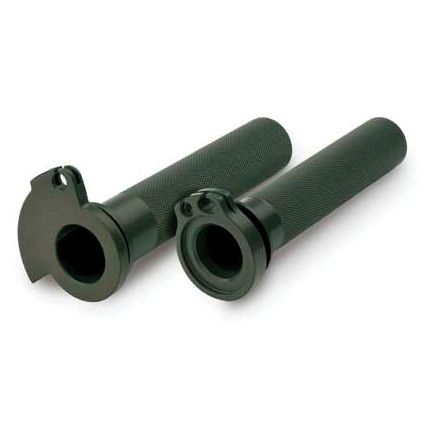 Pro Circuit Throttle Tube
5 Star
42
4 Star
4
3 Star
1
2 Star
1
1 Star
1
Write a Review
Write your review and you'll automatically be entered in our monthly drawing. Include an image or video to DOUBLE your chances to win!
Write Your Review
Over 5 months ago
Augusta,GA
Perfect fit 2018 Kawasaki KX 250 F
Very smooth easy to install
Over 6 months ago
Chicago, Il
Smooth!!
A very smooth throttle but comfortable for titanium!! The response is excellent and easy to use and install!!
Good product
Great throttle tube. Went from plastic oem to this and what a difference. As always pro circuit make quality parts
Over 8 months ago
Hershey, PA
Smooth and durable!
Whenever I buy a new bike I immediately ditch the stock grips, throttle tube, and handlebars. I've grown to love these pro circuit throttle tubes. I've dropped the bike on pavement, wrecked just as hard as anyone else, yet these withstand the beating. I hated ending riding trips prematurely because of a cracked plastic (OEM) throttle tube! This makes the throttle smoother, and gives you the peace of mind of not having to replace it when you fall!
Quality product
Highly recommended over the standard plastic tubes! Well worth the money spent.
PC billet throttle tube
Great replacement throttle tube for someone looking to replace a broken one or just upgrade to something much stronger. Perfect fitment and very good design. Lightweight, and nice textured area for your grip to hold on to.
Over 4 years ago
Wauasu, WI
Solid throttle tube
The tube is defintely more expensive, however, I felt safer with this aluminum machined tube rather than a loose plastic tube. The throttle has less friction and had a tighter fit, better than stock!
Over 4 years ago
Houston, TX, USA
Not for me.
Fits right and easy to install. It doesn't stick but its not smooth like plastic. Metal on metal just isn't as snappy. Not worth the buy in my opinion. I'll replace with OEM.
Over 5 years ago
Pickens, SC 29671, USA
Fair price, excellent quality
I must say that this is a great tube. It has held up well so far and is super smooth and easy to twist!!!!
Awesome replacement tube - one warning
It goes without saying that the Pro Circuit throttle tube is a top notch replacement piece, leaps and bounds better than the stock plastic tubes. The finish is perfect, and the tube is as light as plastic. One note: make sure you leave a tiny bit of space between the end of the tube and the bar end, otherwise (especially if your bars have the small rubber end pieces) the tube and bar will rub together, causing the tube to stick and not turn freely. I struggled with this for a while before realizing that pushing the tube all the way inward on the bar was stopping it from moving freely. Otherwise, very happy with my purchase.
5150Craig
Q: For an 03' KX250, does one need to also purchase a separate reel, or is this throttle tube all inclusive? Thank you
DaveGearhead
4 months 5 days ago
A: The tubes are made with the cams built into the design.
Jesse
Q: Is there a hole in the end of the tube on the right side?
chatty
Q: Can i use this on my kawasaki street bike?
doing a stripped down custom on z1, want just a throttle with no wiring incorporated. i notice the two cable version. Is this my huckleberry?
MotoSportExpert
Over 5 years ago
A: Unfortunately Pro Circuit does not offer one of these throttle tubes for your Z1. These are model specific and unfortunately I do not know if any of them would be a crossover to work with your model. What you may want to do is contact Motion Pro directly as they have complete throttle housings and can offer custom cables for almost any application. This may be your best option to help clean up the controls for your bike. Motion Pro can be reached at 650-594-9600 or you can visit their website at http://www.motionpro.com
Bobby
Q: Does the pro circuit throttle tube reduce the amount of turn you need to receive full throttle
JDub
Over 5 years ago
A: No, it is a standard tube, just better material. There are other systems out there that reduce the amount of throttle turn.
cody
Over 5 years ago
A: yes it is much smoother than stock
MotosportStaff
Over 5 years ago
A: No, this will replicate the pull of your stock throttle tube.
lex420
Q: Will this fit a after market mottion pro thothole housein ?
Drewski
Over 8 years ago
A: I'm assuming you are still running your stock tube with that housing set up and this tube is built to OEM specs so you should be fine.
wonderboytj
Q: Are all throttle tubes 7/8?
Drewski
Over 8 years ago
A: Yes, all bars (stock or aftermarket) taper down to a 7/8th bar where your controls mount. Otherwise you would have to put on all new controls if you bought oversized bars.
nickC54
Q: Will it fit my stock renthal bars on my 06 crf 250r
james718
Over 9 years ago
A: yes this will fit your stock handlebar.
motomaniac2000
Q: Will these fit pro taper bars
Drewski
Over 9 years ago
A: Yes, this should fit pro taper bars no problem.
josh
Over 9 years ago
A: yes they will fit pro taper bars i have a set of pro tapers and a set of renthal bars and this throttle tube fit both bars perfectly
chili
Q: What type of material is it made of? and how much does it weigh
james718
Over 9 years ago
A: These are made of aluminum. We don't have a weight for these at this time.
cody
Over 9 years ago
A: its made of aluminum and it is really light yet really durable
Slimdude
Q: What's the length of this tube?
james718
Over 9 years ago
A: These are sold specifically for year/make/model and are OEM length.
See all bikes that this part fits...
| Product Variant | Manufacturer Part # |
| --- | --- |
| Pro Circuit Throttle Tube | TB02 |
| Pro Circuit Throttle Tube | TB06 |
| Pro Circuit Throttle Tube | TB05 |
| Pro Circuit Throttle Tube | TB03 |
| Pro Circuit Throttle Tube | TB07 |
| Pro Circuit Throttle Tube | TB04 |