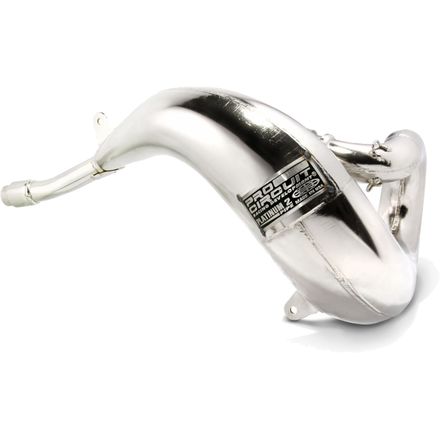 Pro Circuit Platinum 2 Pipe - 2-Stroke
---
10% Off - Save up to $25.00
---
5 Star
14
4 Star
3
3 Star
0
2 Star
0
1 Star
1
Write a Review
Write your review and you'll automatically be entered in our monthly drawing. Include an image or video to DOUBLE your chances to win!
Write Your Review
2 years 5 months ago
Geneva, Ohio
Not surprised...
Works and looks exactly as I had expected.

Fitted on: 2009 KTM 250SX
Over 3 years ago
Nanticoke, PA, USA
04 KX 250 Pro Circuit Platnum 2 pipe
Best pipe available for an 04 KX 250 ran different pro circuit pipes and fmf gnarly, have had many races and extremely hard crashes with this pipe and it still holds up without running any pipe guard or protection while still retaining factory new finish. Same performance and jetting specs as other pro circuit pipes I've ran but way more durability and easier finish to take care of!
Over 3 years ago
Houston, TX, USA
Platinum 2
First pipe I ever bought that actually improved performance in conjunction with a pro circuit 304 silencer. Power delivery better across the board. Buy it !
Over 4 years ago
Canberra ACT, Australia
Great Product Great Quality
I bought this pipe as part of a larger order from MotoSport, and while there were a couple of issues early on the staff at MotoSport handled my hiccups brilliantly and I achieved a great customer outcome. I would not hesitate to order and buy this pipe again from MotoSport if given the chance. It fits and looks and sounds great and has transformed my KDX200. Thanks MotoSport.
Amazing power
I have a kdx 200 it had a stock exhaust, after I added this and the procircuit pipe it rode like a beast.:)
Over 5 years ago
Birmingham, AL
Nice pipe
good looking pipe, fit well. good all around power.
Over 5 years ago
Waynoka, OK
Very good pipe.
My kx500 is rideable again. I have the stealey flywheel weight in addition to the Pro circuit platinum 2. It is the same acoustically as the PC platinum 1. Only now it is as tough as the gnarly from FMF. I have v-force reeds and a moose torque spacer. I also have a scary fast power now in the intake side of the carb. My bike hooks up like a modern 4 stroke mx bike. Very easy to ride now. I had a FMF Gnarley on before. NO FUN. way to abrupt power and ZERO over rev. I have 4 stroke mx power down low and good ole KX500 super blast on top + over rev. Power valve opens up WAMMO!!! Leave em all in dust. thousand smiles! thanks motosport.com
Over 6 years ago
Sacto, CA
PT09300P2 on 09 KTM 300 XCW
Part listed above does not fit the 09 300 XCW. Its not even close. I made several calls to Pro Circuit and was initially told that I had the right part number. However, after more research I was informed, by Pro Circuit, that I may need the older part number. I am very disappointed in Pro Circuit, perhaps to the point of not purchasing their products in the future.

MotoSport handled the return properly.
Over 6 years ago
kennewick, wa
Great pipe
The fit and finish on this pipe were excellent. Nice smooth power and great exhaust sound. I recommend to anyone wanting a good all around pipe.
Over 7 years ago
susanville cali. RIDE FORTSAGE !!!!!
THE PIPE!
WELL i got a good deal on the pipe and sparky. if you order 1 make sure u buy the pipe gasket that fits between the head & the pipe* & also the orings too. you will need those 4er sure. the performence is kool. and the pipe looks great. you got 2 remember that the factory on our machines has pretty much tapd there bikes out !!!! so a fly wheel waight does help along with some reeds and a pipe 4 bolt on performence. remember boyz its all about the ride!!!!!!!
Over 8 years ago
hagerstown md
Good product could have been better
i bought the pipe and it doesnt come with any o rings or springs so if you are planning on buying this be sure to save your old ones from your other pipe. besides that it sounds great and with a lil clean up it looks just as good.
Over 8 years ago
Lompoc, CA
Great pipe.
I purchased this pipe after a trail riding incident. It's a great pipe, and adds a nice bump in power. The finish is good and requires little maintenance to keep it looking new.
Over 8 years ago
Fairfield, CA
Good product
This thing is awesome, It defidently looks cool and is durable. I haven't had a problem with it. And it hooks up great with any other pipe out there in the market.
Over 9 years ago
MILFORD, MI
EXCELLENT. PERFORMES JUST LIKE ADVERTISED
GREAT PIPE FOR THE TIGHTER TRAILS. GREAT LOW TO MID POWER. THE POWERBAND IS NOT AS INSANE AS THE FMF GNARLY. EASIER TO CONTROL ON MY KX 5OO. SMOOTH POWER TRANSFER. NOTE: THIS PIPE RAN SLIGHTLY BETTER ON MY BIKE WITH THE PRO CIRCUIT SPARK ARRESTOR SILENCER INSTALLED OPPOSED TO THE 304 FACTORY SOUND. AWSOME COMBINATION. VERY PLEASED WITH IT.
Over 10 years ago
waterbury ct
Over 10 years ago
Venetia, PA
GREAT
Its an excellent torque pipe with mad bottom end grunt, i can go up hill at extremely low rpms on my kdx 220 without worrying about stalling, it added power over the entire range as well. It woke up my bike and made it almost imposible to not wheel going ful throttle through the gears unless u lean over the front end
Over 10 years ago
lehigh acres,florida
i put this pipe in my yz250 with factory silencer and my bike is a real horse,highly recomended to all
Magnus
Q: Will this fit 2008 Husqvarna Sms 125? Will i need to buy anything separate, ex orings?
Bigfrita
Q: I cant find any pipes for my 85 kx500 so i was wondering if this would work on there?
MotoSportExpert
1 year 7 months ago
A: No sorry this Pro Circuit Platinum 2 Pipe will not fit your 1985 Kawasaki KX500. If one is available through one of our suppliers, we would be happy to order it for you. Please call one of our sales professionals to inquire about special orders and availability.
Dirt Bike / ATV: 1-888-676-8853
BC113
Q: Are there any performance differences with this and the regular platinum pipe, or is it just more durable?
MotoSportExpert
2 years ago
A: The Pro Circuit Platinum 2 Pipe Offers the same performance gains as the Works Pipe with Heavy-duty 18-gauge metal construction.
jason
Q: Am i going to loose top end power with this pipe? And will an fmf shorty titanium 2 fit on it?
MotoSportExpert
2 years 10 months ago
A: No you would not lose any top end with the Pro Circuit Platinum 2 Pipe on your 2003 Yamaha YZ250 and it should match up with the FMF shorty no problem. The Pro Circuit Platinum 2 Pipe is a great pipe for the YZ250.
Jimbo
Q: Hi I'm very interested in buying this pipe for my rm 250 but I'm not 100. % on the year I know it's between 2006 an 2008 I'm just wundin iv it wil fit?
MotoSportExpert
2 years 10 months ago
A: Yes the Pro Circuit Platinum 2 Pipe for the Suzuki RM250 (PS04250P) is the same 2004-2008.
Feel free to give us a call at 888-676-8853 and we would be happy to help you out with your order.
Mohawkman2
Q: Weight?
What is the weight of this exhaust? 5.1 pounds?
MotoSportExpert
Over 3 years ago
A: The approximate weight of the Pro Circuit Platinum 2 Pipe for your 2005 KDX200 is 5.5pounds.
Martyb
Location: Te Puke, New Zealand
Q: I have an FMF Gnarly pipe on my KDX 200 which gives strong bottom and midrange but am after more top end,I dont mind sacrificing bottom end do you?
have a pipe to suit ?
MotoSportRyanT
Over 4 years ago
Location: Portland, OR, USA
A: Both this Pro Circuit pipe and your FMF Gnarly Pipe are made to produce more low to mid-range power. Unfortunately, These are the only aftermarket exhaust systems we carry for the Kawasaki KDX200, so I don't have another pipe for more top end to recommend. If you still have the stock Kawasaki silencer on your KDX you may want to look into getting the FMF Powercore 2 silencer as it should give you a bit more in the top end over the stock silencer. Please note: The FMF Powercore 2 does not have a spark arrestor so it may be limited to closed course riding only. The FMF Turbinecore 2 would be an option with a spark arrestor but it would not quite give the same power gains as the Powercore 2 will.
luke
Location: New Plymouth, New Zealand
Q: Would i need to re jet my rm 250 if i put this product on?
MotoSportExpert
Over 4 years ago
Location: Portland, OR, USA
A: Jetting will depend on your location and how your bike is currently jetted. If you bike is currently jetted perfect, you will need to re-jet it to be perfect with this exhaust installed. Unfortunately I cannot tell you what jets you will need as that will be based on location, elevation, and the average temperature that you are riding in.
Kenny336
Q: Whats the diffrence between the platnium pipe and the platnium 2 pipe?
RCB255
Over 7 years ago
Location: Tualatin, Or
A: The platnum 2 pipe is made out of thicker material. Will not dent as easy
Bogan
Over 4 years ago
Location: Canberra ACT, Australia
A: Check out the manufacturer's website for details like this about Pro Circuit pipes. The Platinum 2 is made from heavier steel: "The Platinum 2 pipe was made for people who ride or race off-road. Constructed from heavy-duty 18-gauge metal, it offers increased protection from rock or crash damage. Like the Platinum and Works pipe, the Platinum 2 offers incredible performance with substantial power gains in the low and midrange part of the powerband."
cordless
Q: Does this pipe take away any over rev or top end?
JesseC
Over 8 years ago
Location: Tualatin
A: well these pipes are designed for more bottom to mid power so you will probably lose a little on the top end.
See all bikes that this part fits...
| Product Variant | Manufacturer Part # |
| --- | --- |
| Pro Circuit Platinum 2 Pipe - 2-Stroke | PH03250P2 |
| Pro Circuit Platinum 2 Pipe - 2-Stroke | PH05250P2 |
| Pro Circuit Platinum 2 Pipe - 2-Stroke | PK95200DP2 |
| Pro Circuit Platinum 2 Pipe - 2-Stroke | PT03250P2 |
| Pro Circuit Platinum 2 Pipe - 2-Stroke | 0951125 |
| Pro Circuit Platinum 2 Pipe - 2-Stroke | PT04300P2 |
| Pro Circuit Platinum 2 Pipe - 2-Stroke | PT09300P2 |
| Pro Circuit Platinum 2 Pipe - 2-Stroke | PK03250P2 |
| Pro Circuit Platinum 2 Pipe - 2-Stroke | PK04250P2 |
| Pro Circuit Platinum 2 Pipe - 2-Stroke | PK05250P2 |
| Pro Circuit Platinum 2 Pipe - 2-Stroke | PK89500P2 |
| Pro Circuit Platinum 2 Pipe - 2-Stroke | PS04250P2 |
| Pro Circuit Platinum 2 Pipe - 2-Stroke | PY05250P2 |
| Pro Circuit Platinum 2 Pipe - 2-Stroke | PY93250P2 |
| Pro Circuit Platinum 2 Pipe - 2-Stroke | 0951130 |