Polisport
Polisport Number Plate and Side Panel Combo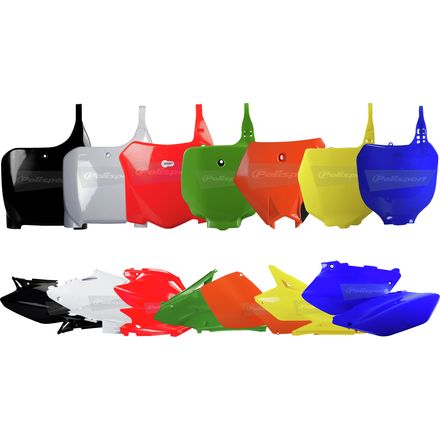 Polisport Number Plate and Side Panel Combo
---
46% Off - Save up to $35.98
---
Enter to Win $500
Write your review and you'll automatically be entered in our monthly drawing. Include an image or video to DOUBLE your chances to win!
Write Your Review
Zb361
Q: On the side plates do these come with the heat tape on the exhaust side ?
MattGearhead
17 days ago
A: Aftermarket plastics do not come with the heat tape on the back of the plastics.
Linc
Q: Why tone of green is this
David
Over 8 months ago
A: Kawasaki green
Nathan
Q: When the drop down bar says white/red for Honda's do they mean white red or is all redit like the picture?
Isaac
Over 10 months ago
A: Unfortunately the model you are working is not included. If you are referring to the side panels stating white/red that means the lower part of the side panel is white and the top is red like the stock side panels used on Honda CRF models 04-08.
See all bikes that this part fits...
Number Plate
| Product Variant | Manufacturer Part # |
| --- | --- |
| Yellow RM 2001 | 8670600001 |
| Red CR 2004 | 8667200001 |
| White KTM | 8665700001 |
| Husq Blue | 8665800001 |
| Blue | 8658100002 |
| White KTM | 8664900002 |
| Yellow | 8659300001 |
| Blue | 8658000003 |
| Orange | 8660900002 |
| Orange | 8660300001 |
| Green | 8656800003 |
| Green | 8659200001 |
| White | 8662900002 |
| Black | 8665800003 |
| White | 8674000001 |
| White | 8662300002 |
| White | 8661700007 |
| White | 8660400001 |
| Flo Yellow | 8666100004 |
| White | 8663200001 |
| White | 8666100002 |
| Black | 8666100003 |
| Yellow RM 2001 | 8666100001 |
| Flo Yellow | 8666000004 |
| White | 8666000002 |
| White | 8657000001 |
| White KTM | 8666200001 |
| White | 8673000002 |
| White | 8666300001 |
| White | 8656700001 |
| Clear 1999 | 8667200004 |
| White | 8677000001 |
| Clear 1999 | 8678400005 |
| White | 8667000001 |
| Black | 8657000002 |
| White | 8658100001 |
| Black | 8661900002 |
| White | 8659200002 |
| Black | 8657500002 |
| White | 8665900002 |
| Black | 8656700002 |
| Black | 8667200003 |
| Black | 8661700008 |
| White | 8661900001 |
| Black | 8660800001 |
| White | 8662200001 |
| Black | 8656800001 |
| White | 8657500001 |
| Black | 8660900001 |
| White | 8661500010 |
| Black | 8660400003 |
| White | 8660800002 |
| Black | 8659300003 |
| White | 8656800002 |
| Black | 8658000002 |
| White | 8675000001 |
| Black | 8658100004 |
| White | 8659300002 |
| Black | 8678400002 |
| White | 8658000001 |
| Black | 8659400003 |
| White | 8678400001 |
| Black | 8659200003 |
| White | 8659400002 |
| Black | 8662900003 |
| White | 8665500001 |
| Black | 8664900003 |
| White | 8665800002 |
| Red | 8656700003 |
| Red | 8659400001 |
| Blue YZ 1998 | 8666000001 |
Side Panel
| Product Variant | Manufacturer Part # |
| --- | --- |
| Black | 8601500002 |
| Black | 8603000002 |
| Black | 8602800002 |
| White | 8416300001 |
| White | 8601300002 |
| White | 8603800003 |
| White | 8602200001 |
| Black | 8421200003 |
| Red/White | 8602800001 |
| Clear 1999 | 8607500004 |
| Black | 8607100003 |
| Black | 8602900002 |
| White | 8603100001 |
| Green/White | 8604800004 |
| White | 8600400001 |
| Yellow RM 2001 | 8421200001 |
| White | 8605200003 |
| Blue | 8600600003 |
| White | 8600600001 |
| Flo Yellow/Black | 8419900004 |
| White | 8602400001 |
| White/Black | 8604400001 |
| White | 8418200002 |
| White/Black | 8419900002 |
| Black | 8601100001 |
| Green 2005 | 8608200001 |
| Black | 8416100002 |
| OEM White | 8418400002 |
| White | 8604800001 |
| Flo Yellow | 8418600005 |
| White | 8416100001 |
| White | 8416000001 |
| White | 8413000002 |
| White | 8602100001 |
| White | 8603700003 |
| White | 8604000001 |
| White | 8602700003 |
| White | 8602800008 |
| White | 8600000001 |
| White | 8606500001 |
| White | 8415000001 |
| White | 8600900001 |
| White | 8602300001 |
| White | 8602600001 |
| White | 8606800002 |
| White | 8601400004 |
| White | 8607100002 |
| White | 8600500003 |
| Black | 8600700002 |
| White | 8601100002 |
| Black | 8603900002 |
| White | 8419000001 |
| Black | 8600200003 |
| White | 8600200001 |
| Black | 8604800002 |
| White | 8601900003 |
| Black | 8600300002 |
| Black | 8600400002 |
| Black | 8605200002 |
| Black | 8604400002 |
| Black | 8600600002 |
| Black | 8416300002 |
| Black | 8605600002 |
| White/Black | 8607700002 |
| Black | 8606800003 |
| Black | 8604900003 |
| Black | 8607500003 |
| Black | 8608200003 |
| Black | 8418200003 |
| White KTM | 8421400001 |
| Black | 8607000003 |
| Red | 8606800001 |
| Red/White | 8601800001 |
| Green/Green | 8604800009 |
| Red/White | 8603900001 |
| White | 8421200002 |
| Green/Black | 8604800003 |
| Orange | 8600300003 |
| Green/Green | 8416100005 |
| Yellow | 8601500001 |
| Green | 8607100001 |
| White | 8420300001 |
| Yellow | 8603700001 |
| Blue | 8416300003 |
| Yellow/Black | 8605200001 |
| White/Black | 8602900001 |
| Blue | 8605600003 |
| Black | 8419900003 |
| Blue | 8607500001 |
| Husq Blue | 8418200001 |
| White/Black | 8605600001 |
| White KTM | 8606700001 |
| White/Black | 8607000002 |
| Blue YZ 1998/Black | 8419900001 |
| Yellow RM 2001 | 8418400001 |
| White | 8601000001 |
| Blue Yamaha 1998/Black | 8607000001 |
| White | 8600700001 |
| OEM White | 8418600002 |
| White | 8411000001 |
| Red CR 2004 | 8418600001 |
| Clear 1999 | 8418600004 |