Pirelli
Pirelli Scorpion Trail 2 Tire Combo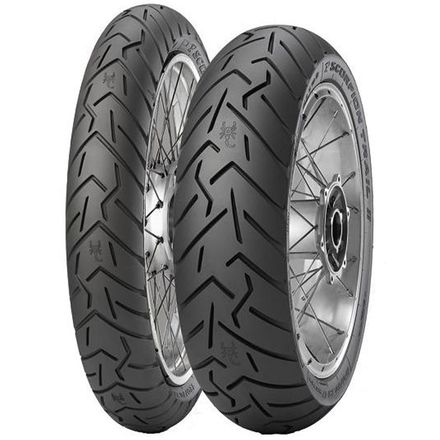 2 Questions
Question asked by

DML10
Question:

Are they tubeless or tubbed ? 

Question asked

1 year 4 months ago

Question answered by

Trevor Gearhead

User's contributor status:

Top 10

Question answered

1 year 4 months ago
Question asked by

scat2me
Question:

What is the speed rating on these tires ?

Question asked

1 year 4 months ago

Question answered by

Trevor Gearhead

User's contributor status:

Top 10

Question answered

1 year 4 months ago

Answer:

The speed rating on the rear tires vary by size. They're either V or W. 149 mph or 168 mph.
# Part Numbers
Front Tire
| Product Variant | Manufacturer Part # |
| --- | --- |
| 100/90-18 | 2526600 |
| 100/90-19 | 2526700 |
| 110/80R-19 | 2526500 |
| 120/70R-19 | 2802800 |
| 120/70ZR-17 | 2526300 |
| 120/70ZR-19 | 2803000 |
| 120/70ZR-19 OE Ducati | 2746700 |
| 90/90-21 | 2526800 |
Rear Tire
| Product Variant | Manufacturer Part # |
| --- | --- |
| 130/80R-17 | 2526900 |
| 140/80R-17 | 2527000 |
| 150/70R-17 | 2527100 |
| 150/70R-18 | 2803200 |
| 160/60ZR-17 | 2527200 |
| 170/60R-17 | 2802900 |
| 170/60ZR-17 | 2803100 |
| 170/60ZR-17 OE Ducati | 2746800 |
| 180/55ZR-17 | 2527400 |
| 190/55ZR-17 | 2527500 |