PC Racing
PC Racing Pro Seal Air Filter Gasket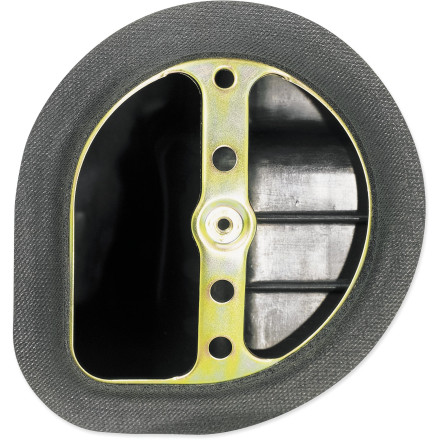 PC Racing Pro Seal Air Filter Gasket
5 Star
53
4 Star
5
3 Star
1
2 Star
1
1 Star
3
Write a Review
Write your review and you'll automatically be entered in our monthly drawing. Include an image or video to DOUBLE your chances to win!
Write Your Review
2 months 24 days ago
Michigan
Convenient/Works.
Love it, well worth $17 bucks, no more rim paste, strong adhesive, seals nice & tight, what's not to like!
Awesome Product!
Just got this today and was hassel free to install! My bike runs better than ever!
Over 7 months ago
Chandler, AZ
Better than grease
Love the Pro Seal! Good packaging, fast delivery. Fit exact to my 2003 CR125. Kind of difficult to install but not the fault of the product just a small air box. Follow the instructions closely to make sure air box surface is clean and the proseal will stick well. I have not had it installed for a long time so as far as durability I have no idea. But so far it is holding up well and doing a great job, better than having to grease the seal point. I would recommend and buy again.
Over 10 months ago
Roseville, OH 43777, USA
Best buy
I clean my air filter before every ride. Always notice some dust and sand has gotten past to the boot. Thats not good so i got this pc racing pro seal and i have not seen anything down in the boot. I brought this last year iv rebuilt my bike twice with around 30 to 40 hours of riding with this pc seal so im buying this product for all my bikes. I got this for my 04 cr250r btw
1 year 4 months ago
New Hampshire
In It For The Long Haul
I just recently pulled my 2001 CR250 out of long term hibernation (8+ years). I bought this bike new in '01, and installed the Pro Seal either in the first, or second year I had it (it was so long ago, I don't remember for sure). The product was brand new at the time, and the thought of not having to grease the rim had me sold. Couple that with using NoToil products, and air filter maintenance became 10 times easier. Anyway, on top of being a great product, this thing is still going strong after 15-16 years.
1 year 6 months ago
Southern Maryland
Works well, eliminates need for grease
This air filter seal works pretty well. It's very important to thoroughly clean the area where the seal contacts your airbox, or the adhesive won't stick. I degreased it and then used rubbing alcohol, and it doesn't show and signs of coming up. The air filter seals tight against it, and after a day of riding with very heavy dust I didn't notice anything in the boot. Also works well for sealing a wash cover when hosing out the airbox.
Easy seal, no grease!
I bought a KN filter for my YZ250 greased and installed it, didn't feel secure with the seal so I tightened a little more and snapped the plastic on the air filter mount. Had to order a new mount from Yamaha and this time I used the Pro Seal tightened it very lightly and got a good seal.
2 years 3 months ago
Mammoth lakes
Not just a gimmick
Not just a gimmick, it really helps seal up your air filter and you don't have to us any rim seal grease on your air filter any more
2 years 4 months ago
Scottsdale, AZ, USA
Old stock
I purchased this product for my 2007 CR250 and I think the product has been sitting on the shelf since Honda stopped making the 2 stroke.
When I went to peel the backing paper off of the product most of the 2 sided adhesive also peeled off. Meaning that the 2 sided adhesive was only 1 sided now, meaning the product would not stick to the surface of my air box. So this product was un-usable, big disappointment.
Pro Seal
Don't wait to buy this product. It is a life saver when it comes to air filter maintenance. Seals just as good as messy grease without the mess. I have one for every bike I own. After using this I would never go back to using grease. I have over 100 Hours on my bike with this and it still seals great. Never had any issues with it sealing.
KJones
Q: Does the gasket work with K&N filters on a 2006 DRZ 400?
benedict251
Q: What if the lip of my airbox where this seal is going around is missing a little chunk would this still work and just go over the little piece?
MotoSportRyanT
Over 4 years ago
A: I don't think this item will solve your problem. You would likely be best off replacing your airbox to prevent any dirt from getting in your engine.
Mick
Q: Will this gasket seal fit 2014 KTM 300
MotoSportExpert
Over 4 years ago
A: Currently PC racing does not have a listing for the filter seal kit on the 2014 KTM 300 Models.
Price113
Q: This will fit any filter as long as it mounts the same as OEM, right?
Samuel
Over 9 years ago
A: Yes it will do.
Bmac2812
Over 9 years ago
A: yes. they make them bike specific
boogie
Q: So how exactly does this work?
i know the question seems stupid, but honestly... u just stick this seal in the airbox around the intake and screw the aifilter on like normal with no sticky stuff? hard to belive, but if thats the case ill try it
james718
Over 9 years ago
A: This is a soft rubber seal that is installed around the lip where the filter seals against the air box. This is used instead of grease.
MotoDad791
Over 9 years ago
A: this is made out of material similar to a wet suit. once installed it gives a cushioned seal for the filter to tighten against. i have installed it on two bikes now and they work perfect!!!!
avilarr
Q: Last????
I understand that all of you think that these are a great product, however how long do they last? Races, days, washings? Thanks.
bountybob
Over 9 years ago
A: Not everyone, but close. this is a great idea and saves a lot of time and mess of having to greasing your filters to make sure it has a good seal around the intake rim. with this installed due to the adhesives that are used it is not affected by gas and oils, so the Pro-Seal will not separate from the air box once installed.
MotoDad791
Over 9 years ago
A: put one of these on my 2008 crf250. raced 2 entire seasons and many occasional races since. the seal still works as it did from the original day it was installed. never had any leaks into the intake tube after washing.
Ayala395
Q: Will it work with my k&n filter?
my ruber seal on my air box is falling apart. its where the filter rim meets the air box. the seal came with the filter.
james718
Over 10 years ago
A: this will fit your stock OEM airbox. if you had to modify the airbox to accommodate the K&N air filter than you should be fine.
gfroy91
Q: Will this fit with my Uni air filter installed?
My bike is a 2001 KX125
Drewski
Over 10 years ago
A: It should fit with a Uni filter no problem.
See all bikes that this part fits...
| Product Variant | Manufacturer Part # |
| --- | --- |
| PC Racing Pro Seal Air Filter Gasket | PC16 |
| PC Racing Pro Seal Air Filter Gasket | PC1 |
| PC Racing Pro Seal Air Filter Gasket | PC15 |
| PC Racing Pro Seal Air Filter Gasket | PC19 |
| PC Racing Pro Seal Air Filter Gasket | PC71 |
| PC Racing Pro Seal Air Filter Gasket | PC51 |
| PC Racing Pro Seal Air Filter Gasket | PC9 |
| PC Racing Pro Seal Air Filter Gasket | PC6 |
| PC Racing Pro Seal Air Filter Gasket | PC18 |
| PC Racing Pro Seal Air Filter Gasket | PC3 |
| PC Racing Pro Seal Air Filter Gasket | PC8 |