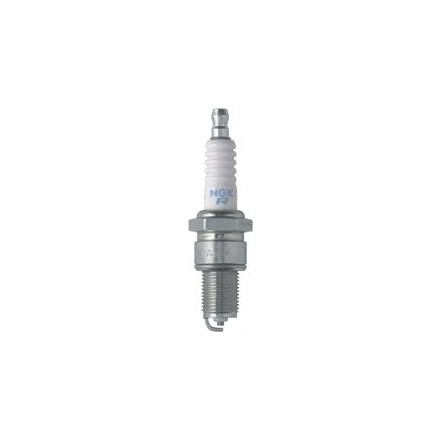 ---
10% Off - Save up to $2.00
---
5 Star
14
4 Star
1
3 Star
0
2 Star
0
1 Star
0
Write a Review
Write your review and you'll automatically be entered in our monthly drawing. Include an image or video to DOUBLE your chances to win!
Write Your Review
Sparks
It provides the spark my gsxr needs to internally combust. The pregap was accurate as well.
Over 9 months ago
Portland, OR, USA
Better bargain than OEM.
I installed these in my Moto Guzzi Stelvio. They're about a quarter of the price of what they would've been from the Dealership.
Gap
I have a question....what is the gap for a 1999 Suzuki marauder vz800?
1 year 9 months ago
Cedar Falls, IA, USA
It's Defenitely A Spark Plug!
Although I haven't installed it yet (there is 2 feet of snow on the ground) I'm sure it will ignite my KTM 450 SXF strongly and carry me to many victories.
They do appear new and un-used.
NGK or Bust (literally)
I've tried all sorts of spark plugs over the years, trying to save a buck here and there... Each time I've done so, I've had to go buy an NGK to get things running properly again. Overheating plugs due to inaccurate heat range rating, galled threads due to cheap metal in the base, insulator crumbling to dust, electrodes eroding extremely fast, and crazy misfires are all issues I've found with other, cheaper brands of plug. Not once have I had an issue with an NGK plug that wasn't caused by my own ham-handedness (socket slips, dropping them onto concrete, etc...). NGK for trouble-free operation.
2 years 6 months ago
Council Bluffs, IA, USA
Great product
I bought these for my 2012 Ninja 250r because upon doing routine checkup at the start of this season, I noticed the spark plugs looked bad. In fact, I think they were the original factory ones by the way they looked. These arrived in three days and were the exact same thing as what was in there and work even better. Make sure you gap them first though! Highly recommended!
Just a spark plug
No frills, a simple spark plug that works as intended.
Bee King
Q: How many spark plugs I need for a 1998 Suzuki GSXR 750
Thumbs
4 months ago
A: You will need 4 total. One per cylinder.
Virago
Q: I have a 1993 Yamaha virago XV535. How many plugs do I need?
MotoSportExpert
Over 3 years ago
A: For your 1993 Yamaha Virago XV535 you would need quantity 2 of the NGK BP7ES spark plugs.
Nwilliams6001
Q: How many should I get for my 2007 R6?
MotoSportExpert
Over 3 years ago
A: You would need 4 of the NGK CR10EK spark plugs for your 2007 Yamaha R6.
Murph
Q: How many would an 07 kx450f take?
MotoSportExpert
Over 3 years ago
A: For your 2007 Kawasaki KX450F you would need quantity 1 of the NGK CPR8EB-9.
Steve
Q: How many plugs does a 07 Suzuki Boulevard M50 SE require?
MotoSportExpert
Over 3 years ago
A: Your 07 Suzuki Boulevard M50 SE requires 2 spark plugs.
Jamar
Q: What size socket do I need for these plugs?
MotoSportRyanT
Over 4 years ago
A: The NGK CR9EIA-9 plug for your 2006 Suzuki Hayabusa would require a 5/8" spark plug socket.
moleman
Q: Is this plug pre gapped or will i have to gap it?
Title says it all, does this plug come pre gapped?
MotosportStaff
Over 5 years ago
A: NGK states that these plugs are pre-gapped, but I suggest always double checking to ensure accuracy. Your spark plug gap will be noted in your bike's service manual.
Gabe
Over 5 years ago
A: It's always ideal to gap it before you install it. Even if it's just to verify that it's gapped properly by the manufacturer, you have to imagine that there are a lot of different types of engines that use this sparkplug, and it's unlikely that they're all gapped the same.
See all bikes that this part fits...
| Product Variant | Manufacturer Part # |
| --- | --- |
| BKR7EKC-N | 2095 |
| J9A | 2170 |
| CPR9EA-9 | 2308 |
| B9ES | 2611 |
| BP8ES | 2912 |
| LMAR8A-9 | 4313 |
| BR8HS | 4322 |
| BPR5ES-11 | 4424 |
| BP6HS | 4511 |
| C7HSA | 4629 |
| BPR6ES-11 | 4824 |
| BR6ES | 4922 |
| DPR9EA-9 | 5329 |
| DR8ES | 5423 |
| B8HS | 5510 |
| B9HS | 5810 |
| CPR6EB-9 | 5958 |
| DP9EA-9 | 6629 |
| LMAR8A-9S | 6817 |
| CPR6EA-9 | 6899 |
| D8HA | 7112 |
| CR7HS | 7223 |
| B6ES | 7310 |
| BP6ES | 7811 |
| BPR6ES | 7822 |
| D7EA | 7912 |
| MAR8B-JDS | 8765 |
| MR7F | 95897 |
| DCPR8E | 4339 |
| DCPR9E | 2641 |
| DP7EA-9 | 5629 |
| DPR5EA-9 | 2887 |
| DPR6EA-9 | 5531 |
| DPR7EA-9 | 5129 |
| DR7EA | 7839 |
| DR8EA | 7162 |
| DR8ES-L | 2923 |
| DR9EA | 3437 |
| IFR9H-11 | 6588 |
| JR9B | 3188 |
| JR9C | 6193 |
| LMAR7A-9 | 4908 |
| LMAR9E-J | 6884 |
| B8ES | 2411 |
| BR8ES | 5422 |
| CR8HSA | 2086 |
| MAR10A-J | 4706 |
| B7ES | 1111 |
| BKR6E-11 | 2756 |
| BP7ES | 1034 |
| BPR7ES | 5534 |
| CR6HSA | 2983 |
| D8EA | 2120 |
| DPR8EA-9 | 4929 |
| C6HSA | 3228 |
| C8EH-9 | 7473 |
| C8HSA | 6821 |
| C9E | 7499 |
| CPR7EA-9 | 3901 |
| CR10EK | 2360 |
| CR6E | 6965 |
| CR6HS | 7023 |
| CR7E | 4578 |
| CR7EH-9 | 3486 |
| CR7EK | 7546 |
| CR8E | 1275 |
| CR8EH-9 | 5666 |
| CR8EK | 3478 |
| CR9E | 6263 |
| CR9EH-9 | 7502 |
| CR9EK | 4548 |
| CR9EKPA | 7785 |
| D9EA | 2420 |
| DCPR6E | 3481 |
| B7HS | B7HS |
| BR10EG | BR10EG |
| CPR8EA-9 | CPR8EA-9 |
| CR7EKB | CR7EKB |
| CR9EB | CR9EB |
| CR9EKB | CR9EKB |
| DCPR7E | DCPR7E |
| CPR8EB-9 | CPR8EB-9 |
| BCPR7ET | BCPR7ET |
| CR8EKB | CR8EKB |
| MAR9A-J | MAR9A-J |
| BR9ECM | BR9ECM |
| DCPR8EKC | DCPR8EKC |
| DR8EB | DR8EB |
| LMAR8D-J | LMAR8D-J |
| LMAR9D-J | LMAR9D-J |