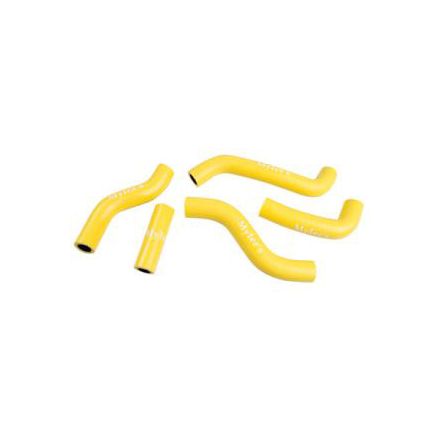 Myler's Silicone Hose Kit
5 Star
3
4 Star
1
3 Star
1
2 Star
0
1 Star
3
Write a Review
Write your review and you'll automatically be entered in our monthly drawing. Include an image or video to DOUBLE your chances to win!
Write Your Review
14 days ago
Albuquerque New Mexico
Well made.
They dressed up the bike. Just a little long. Had to cut them.
3 months 1 day ago
New york
Mylers hose kit
Put this hose kit on my mylers radiator and they've been great so far. American made too. Have quite a few hours on my cr250 and no leaks.
4 months 5 days ago
Louisiana
Perfect Fit
This product was exactly as represented, fit an finish was spot on
Terrible product
Horrible hoses will never buy again wish I had not bought it.
1 year 8 months ago
Winston Salem NC
These are junk. Buy the OEM hoses AND clamps. Tried putting them on my bike. Halfway through I took them off and put the stock hoses and clamps back on. What a waste of money.
2 years 5 months ago
Sweeny, TX 77480, USA
Not happy!
Only two hoses fit my 07 YZ450F. I had to order more so I wouldn't be riding around with black and blue hoses. A couple of them were to short or did not fit any where on the bike.
Over 3 years ago
Alaska, USA
Myler hose
worked like a charm. and bike only runs at 112 F.... SWEET yz250f 2005
Jared
Q: Will the stock hose clamps work with these
MotoSportExpert
2 years 11 months ago
A: Yes the stock clamps will work.
See all bikes that this part fits...
| Product Variant | Manufacturer Part # |
| --- | --- |
| Black | NWH3003 BLACK |
| Black | NWH3011 BLACK |
| Black | M099 BLACK |
| Black | M066 BLACK |
| Black | M039 BLACK |
| Black | M026 BLACK |
| Black | MS-M040 BLACK |
| Black | M055 BLACK |
| Black | M033 BLACK |
| Black | MS-M036 BLACK |
| Black | M042 BLACK |
| Black | M028 BLACK |
| Black | NWH3061 BLACK |
| Black | M075 BLACK |
| Black | M052 BLACK |
| Black | NWH3071 BLACK |
| Black | GM000 BLACK |
| Black | MS-M021 BLACK |
| Black | MS-M018A BLACK |
| Black | M051 BLACK |
| Black | MS-M020A BLACK |
| Black | M059 BLACK |
| Black | MS-M032 BLACK |
| Black | MS-M011 BLACK |
| Black | NWH3064 BLACK |
| Black | NWH3069 BLACK |
| Black | M008 BLACK |
| Black | NWH3043 BLACK |
| Black | M065 BLACK |
| Black | MS-M054 BLACK |
| Black | M004 BLACK |
| Black | NWH3044 BLACK |
| Black | NWH3038 BLACK |
| Black | M006 BLACK |
| Black | M006A BLACK |
| Black | M005 BLACK |
| Black | M037 BLACK |
| Black | MS-M003 BLACK |
| Black | GM008 BLACK |
| Black | MS-M013 BLACK |
| Black | M062 BLACK |
| Black | M025 BLACK |
| Black | GM007 BLACK |
| Black | MS-M041 BLACK |
| Black | 7142BLACK |
| Black | 7056BLACK |
| Red | NWH3003 RED |
| Red | NWH3011 RED |
| Red | M099 RED |
| Red | M066 RED |
| Red | M039 RED |
| Red | M026 RED |
| Red | MS-M040 RED |
| Red | M055 RED |
| Red | M033 RED |
| Red | MS-M036 RED |
| Red | M042 RED |
| Red | M028 RED |
| Red | NWH3061 RED |
| Red | M037 RED |
| Red | 7142R |
| Red | 7058Red |
| Red | 7057 RED |
| Blue | M075 BLUE |
| Blue | NWH3071 Blue |
| Blue | GM000 BLUE |
| Blue | MS-M021 Blue |
| Blue | MS-M018A BLUE |
| Blue | M051 Blue |
| Blue | MS-M020A Blue |
| Blue | M059 Blue |
| Blue | MS-M032 Blue |
| Blue | M006 BLUE |
| Blue | M006A BLUE |
| Blue | M005 BLUE |
| Blue | MS-M003 BLUE |
| Blue | GM008 BLUE |
| Blue | MS-M013 BLUE |
| Blue | M062 BLUE |
| Blue | M025 BLUE |
| Blue | GM007 BLUE |
| Blue | MS-M041 BLUE |
| Blue | 7058Blue |
| Blue | 7057Blue |
| Orange | M052 ORANGE |
| Orange | MS-M011 ORANGE |
| Green | NWH3071 GREEN |
| Green | GM000 GREEN |
| Green | MS-M021 GREEN |
| Green | MS-MO18A GREEN |
| Green | M051 GREEN |
| Green | MS-M020A GREEN |
| Green | M059 GREEN |
| Green | MS-M032 GREEN |
| Green | 7056G |
| Yellow | MS-M021 YELLOW |
| Yellow | NWH3064 YELLOW |
| Yellow | NWH3069 YELLOW |
| Yellow | M008 YELLOW |
| Yellow | NWH3043 YELLOW |
| Yellow | M065 YELLOW |
| Yellow | MS-M054 YELLOW |
| Yellow | M004 YELLOW |
| Yellow | NWH3044 YELLOW |
| Yellow | NWH3038 YELLOW |