69 Reviews
52

reviews

14

reviews

3

reviews

0

reviews

0

reviews
All Reviews
20 days ago
Green Bay, WI
Should have bought this years ago!
I should have bought this years ago. Way better than working on the floor or a 5 gallon bucket.
22 days ago
Cortlandt Manor ny
Can't believe I waited so long!
All the years of struggling on the floor, this made changing the tire a breeze!!
1 month 2 days ago
Arizona, USA
Best tire stand for the price!
Needed to replace my broken 20 yr old tire stand so researched all the current stands on the market. The reviews on the Motosport stand were good and had all the features I was looking for at 1/2 the price of competitors offerings. Using the stand has been great, very easy to use and a big upgrade from my old unit. Free shipping bonus..highly recommend!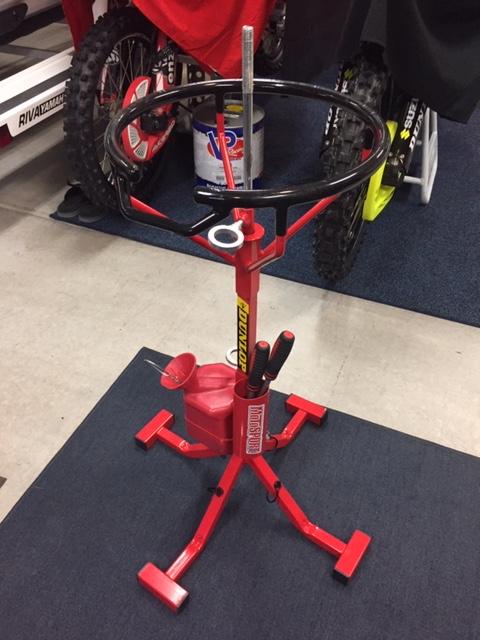 Great price excellent product
Bought this about 4 months ago. This should have been a 3 year ago purchase. Make changing a tire so simple now . Love it.
4 months 2 days ago
Houston, TX
Love it!
So glad I pulled the trigger and bought this stand.
4 months 27 days ago
Missouri
Great stand for us weekend Evel Knievel's!
If you change your own tires, you'll want one of these. Great product!
Over 5 months ago
Canton Ga
Seems ok
Honestly, I've been riding for over 20 years, but I'm new to changing tires, so I'm not even sure I'm using this thing right. It was helpful for bringing the tire up to my level, but I don't know what the notch is for around the outer edge, or what else this stand is capable of. The bead was certainly the most difficult part, so I need to work on my technique. Need some more tools I think... Possibly a bead breaker.
Over 6 months ago
Michigan, USA
Helps making tires a little easier
Recently changed a few tires with it. Much easier than bending over a 5 gallon bucket.
Over 6 months ago
Michigan
Bad*ss Portable Stand
Sweet little set up for the track. At home you can easily rig up a way to mount it more permanent for even better leverage for those hard to do tires. 10/10 would recommend for the price.
Tire Changing Stand
This works well and definitely better than changing a tire on the ground. Only reason for 4 stars is I wish the base was wider and a sturdier. Worth the money and wish i had purchased it sooner.
California Proposition 65
WARNING: This product contains chemicals, including (Di(2-ethylhexyl)phthalate (DEHP)), known to the State of California to cause cancer, and birth defects or other reproductive harm. Wash hands after handling. For more information, go to www.P65Warnings.ca.gov.