Motion Pro
Motion Pro WP Dual Chamber Fork Cap Wrench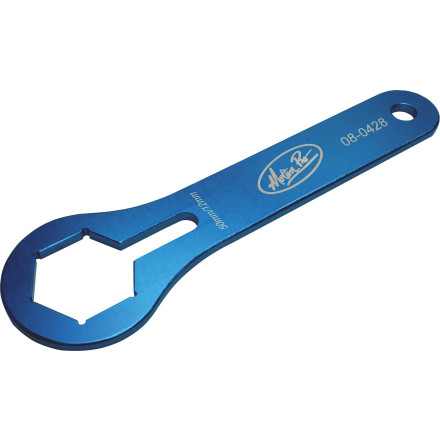 Motion Pro WP Dual Chamber Fork Cap Wrench
6 Reviews
2

reviews

0

reviews

2

reviews

1

reviews

1

reviews
All Reviews
Doesn't fit my Showa 50mm forks
The wrench is indeed 50mm, but my forks have a octogonal shape that this hexagonal wrench doesn't fit.
Some info before purchase
Wrench does not fit if fork tubes are installed. You must push fork tubes up or remove bar mounts to get wrench to fit.
Over 6 years ago
Valencia, Santa Clarita, CA, USA
Motion Pro WP fork cap wrench
Great tool. Easy to use. Motion pro makes great tools.
50mm Not For 2000 CR250 SHOWA Fork Caps
This did not fit my CR250's SHOWA for caps. Make sure you buy the correct SHOWA cap tool, Much better that this piece of cr** aluminium. Makes a nice boomerang though!!!
Over 6 years ago
Phoenix, AZ
Nice tool
It's convenient because the slotted neck eliminates the need to have a separate holder when pulling the damping rods out. One tool does both jobs. I have another cap wrench which is the steel kind with two ends, but prefer this aluminum one for the reason mentioned above.
Over 7 years ago
Beaumont, CA
Good Cap Wrench
Good quality, looks good, perfect fit on 2011/2012 KTM 250SX and SXF fork caps. The slot does not fit the dampening rod on these bikes, though, so you are stuck holding the fork down (or improvising with another tool) while removing the bottom fork leg.
# Part Numbers
| Product Variant | Manufacturer Part # |
| --- | --- |
| Motion Pro WP Dual Chamber Fork Cap Wrench | 08-0428 |