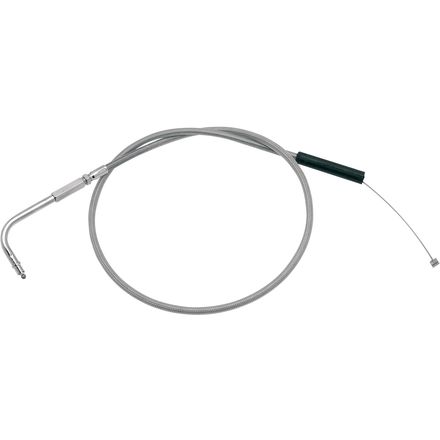 Motion Pro Armor Coat Throttle Cable
---
10% Off - Save up to $4.00
---
5 Star
1
4 Star
0
3 Star
0
2 Star
0
1 Star
0
Write a Review
Write your review and you'll automatically be entered in our monthly drawing. Include an image or video to DOUBLE your chances to win!
Write Your Review
1 year 4 months ago
Massachusetts
Motion Pro Clutch Cable
Great Prices, fast shipping
CIGAR
Q: I have a 2010 Sportster 1200 low does this item and the idle cable fit my bike and do they come with the ferets?
See all bikes that this part fits...
| Product Variant | Manufacturer Part # |
| --- | --- |
| Stock Carb / +9" | 66-0179 |
| Stock Carb / Standard | 66-0181 |
| Most Carbs / -4" | 66-0209 |
| Most Carbs / Standard | 66-0209 |
| Stock Carb / Standard | 66-0209 |
| Stock Carb / -4" | 66-0210 |
| Most Carbs / +6" | 66-0210 |
| Stock Carb / +6" | 66-0210 |
| Most Carbs / +5" | 66-0212 |
| Stock Carb / Standard | 66-0212 |
| Stock Carb / +6" | 66-0213 |
| Most Carbs / +6" | 66-0255 |
| Stock Carb / +6" | 66-0255 |
| Most Carbs / +8" | 66-0255 |
| Most Carbs / +9" | 66-0255 |
| Stock Carb / +9" | 66-0255 |
| Stock Carb / Standard | 66-0255 |
| Most Carbs / +2" | 66-0259 |
| Stock Carb / +2" | 66-0259 |
| Most Carbs / Standard | 66-0259 |
| Stock Carb / Standard | 66-0259 |
| Most Carbs / Standard | 66-0264 |
| Most Carbs / -4" | 66-0270 |
| Most Carbs / Standard | 66-0270 |
| Stock / Standard | 66-0270 |
| Stock / +2.5" | 66-0272 |
| Most Carbs / +3" | 66-0272 |
| Stock / +3" | 66-0272 |
| Most Carbs / -4" | 66-0272 |
| Most Carbs / +6" | 66-0272 |
| Stock / +6" | 66-0272 |
| Stock / +7.5" | 66-0272 |
| Stock / -1" | 66-0276 |
| Most Carbs / +2" | 66-0276 |
| Stock / +2" | 66-0276 |
| Stock / +4" | 66-0276 |
| Most Carbs / +6" | 66-0276 |
| Stock / +6" | 66-0276 |
| Most Carbs / Standard | 66-0276 |
| Stock / Standard | 66-0276 |
| Most Carbs / +5" | 66-0280 |
| Stock Carb / Standard | 66-0280 |
| Stock Carb / +1" | 66-0283 |
| Stock / Standard | 66-0283 |
| Stock Carb / +3" | 66-0289 |
| Stock Carb / Standard | 66-0289 |
| Stock / Standard | 66-0300 |
| Stock / +11" | 66-0304 |
| Stock / +5" | 66-0304 |
| Stock / +5.5" | 66-0304 |
| Most Carbs / +6" | 66-0304 |
| Stock / +6" | 66-0304 |
| Most Carbs / +8" | 66-0304 |
| Stock / +8" | 66-0304 |
| Most Carbs / +9" | 66-0304 |
| Stock / +9" | 66-0304 |
| Most Carbs / Standard | 66-0304 |
| Stock / Standard | 66-0304 |
| Stock / -4" | 66-0324 |
| Stock / Standard | 66-0324 |
| Stock Carb / Standard | 66-0336 |
| Stock / +12" | 66-0346 |
| Stock / +12.5" | 66-0346 |
| Stock / +13" | 66-0346 |
| Most Carbs / +4" | 66-0346 |
| Stock / +9" | 66-0346 |
| Stock / +9.5" | 66-0346 |
| Stock / +11" | 66-0348 |
| Stock / +11.5" | 66-0348 |
| Stock / +12" | 66-0348 |
| Stock / +14" | 66-0348 |
| Most Carbs / +6" | 66-0348 |
| Stock / +6" | 66-0348 |
| Stock / Standard | 66-0350 |
| Stock Carb / Standard | 66-0352 |
| Stock / +6" | 66-0366 |
| Stock / +6" | 66-0370 |
| Stock / +6" | 66-0378 |
| Stock / Standard | 66-0385 |
| Stock / Standard | 66-0394 |
| Stock Carb / -4" | 66-0188 |
| Stock Carb / +4" | 66-0071 |
| Stock Carb / +6" | 66-0071 |
| Stock Carb / +6" | 66-0188 |
| Stock Carb / +6" | 66-0189 |
| Stock Carb / Standard | 66-0070 |
| Stock Carb / Standard | 66-0179 |
| Stock Carb / Standard | 66-0180 |
| Stock Carb / Standard | 66-0182 |