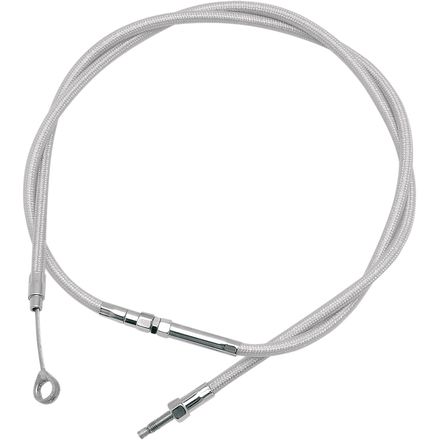 Motion Pro Armor Coat Clutch Cable
---
10% Off - Save up to $9.00
---
5 Star
2
4 Star
1
3 Star
0
2 Star
0
1 Star
0
Write a Review
Write your review and you'll automatically be entered in our monthly drawing. Include an image or video to DOUBLE your chances to win!
Write Your Review
1 month 3 days ago
Atlanta GA
Direct replacement
replaced worn out cable with brand new
3 months 5 days ago
Louisville Ky
Great part
Cable fit perfectly, the armor coat looks great,very smooth feel
1 year 4 months ago
Massachusetts
Motion Pro Armor Coat Clutch Cable
Excellent product, purchased from MoToSport online, they had the best price, and shipping was very fast. At a quick glance MoToSport looks like they just sell Motorcross Bike and ATV accessories, but check them out, this clutch cable was for a 2014 Harley Davidson.
Rick
Q: Part number
I looking for Motion Pro clutch cable part number 65-0358
MotoSportExpert
2 years 1 month ago
A: If 65-0358 is available through one of our suppliers, we would be happy to order it for you. Please call one of our sales professionals to inquire about special orders and availability.
Dirt Bike / ATV: 1-888-676-8853
See all bikes that this part fits...
| Product Variant | Manufacturer Part # |
| --- | --- |
| Standard / CW | 66-0025 |
| +6" / CW | 66-0026 |
| Standard / CW | 66-0029 |
| Standard / CW | 66-0072 |
| Standard / CW | 66-0155 |
| Standard / CW | 66-0156 |
| Standard / CW | 66-0157 |
| +2" / CW | 66-0158 |
| Standard / CW | 66-0158 |
| +2" / CW | 66-0159 |
| +6" / CW | 66-0159 |
| Standard / CW | 66-0159 |
| +3" / CW | 66-0160 |
| Standard / CW | 66-0160 |
| +1" / CW | 66-0167 |
| +3" / CW | 66-0167 |
| +2" / CW | 66-0169 |
| +6" / CW | 66-0169 |
| +9" / CW | 66-0169 |
| +3" / CW | 66-0170 |
| +5" / CW | 66-0170 |
| +6" / CW | 66-0170 |
| +8" / CW | 66-0170 |
| Standard / CW | 66-0170 |
| +6" / CW | 66-0171 |
| +9" / CW | 66-0171 |
| +6" / CW | 66-0223 |
| Standard / CW | 66-0252 |
| +6" / CW | 66-0262 |
| +9" / CW | 66-0262 |
| +3" / CW | 66-0287 |
| Standard / CW | 66-0287 |
| -4" / CW | 66-0326 |
| Standard / CW | 66-0326 |
| +2" / CW | 66-0328 |
| +6" / CW | 66-0328 |
| Standard / CW | 66-0328 |
| Standard / CW | 66-0357 |
| +6" / CW | 66-0368 |
| Standard / CW | 66-0369 |
| +2" / CW | 66-0380 |
| +4" / CW | 66-0380 |
| +6" / CW | 66-0380 |
| Standard / LW | 67-0155 |
| +2" / LW | 67-0158 |
| Standard / LW | 67-0158 |
| +2" / LW | 67-0159 |
| +6" / LW | 67-0159 |
| Standard / LW | 67-0159 |
| +3" / LW | 67-0160 |
| Standard / LW | 67-0160 |
| +1" / LW | 67-0167 |
| +3" / LW | 67-0167 |
| +3" / LW | 67-0170 |
| +5" / LW | 67-0170 |
| +6" / LW | 67-0170 |
| +8" / LW | 67-0170 |
| Standard / LW | 67-0170 |
| +6" / LW | 67-0262 |
| +9" / LW | 67-0262 |
| +3" / LW | 67-0287 |
| Standard / LW | 67-0287 |
| +2" / LW | 67-0328 |
| +6" / LW | 67-0328 |
| Standard / LW | 67-0328 |
| Standard / LW | 67-0357 |
| +6" / LW | 67-0368 |
| Standard / LW | 67-0369 |
| +2" / LW | 67-0380 |
| +4" / LW | 67-0380 |
| +6" / LW | 67-0380 |
| Standard / LW | 67-0390 |
| +2" / LW | 67-0391 |
| Standard / LW | 67-0391 |
| +2.5" / LW | 67-0393 |
| +3" / LW | 67-0393 |
| +4" / LW | 67-0393 |
| +7.5" / LW | 67-0393 |
| Standard / LW | 67-0393 |
| -1" / LW | 67-0394 |
| -4" / LW | 67-0394 |
| Standard / LW | 67-0394 |
| Standard / LW | 67-0395 |
| +6" / LW | 67-0396 |
| +2" / LW | 67-0397 |
| +5" / LW | 67-0397 |
| +6" / LW | 67-0397 |
| Standard / LW | 67-0398 |
| Standard / LW | 67-0399 |
| +4" / LW | 67-0400 |
| +6" / LW | 67-0401 |
| +10" / LW | 67-0402 |
| +12" / LW | 67-0403 |
| +14" / LW | 67-0404 |
| +11" / LW | 67-0405 |
| +4" / LW | 67-0405 |
| +6" / LW | 67-0405 |
| +10" / LW | 67-0406 |
| +6" / LW | 67-0406 |
| +9" / LW | 67-0406 |
| +9.5" / LW | 67-0406 |
| +11" / LW | 67-0407 |
| +11.5" / LW | 67-0407 |
| +12" / LW | 67-0407 |
| +6" / LW | 67-0407 |
| +8.5" / LW | 67-0407 |
| +12" / LW | 67-0408 |
| +13" / LW | 67-0408 |
| +14" / LW | 67-0408 |
| +9" / LW | 67-0408 |
| Standard / CW | 62-0312 |
| +5" / CW | 62-0344 |
| Standard / CW | 62-0344 |
| +6" / CW | 62-0348 |
| Standard / CW | 62-0364 |
| +4" / CW | 62-0405 |
| +6" / CW | 62-0405 |
| +7.25" / CW | 62-0405 |
| +2" / CW | 62-0425 |
| Standard / CW | 62-0425 |
| +6" / CW | 62-0426 |
| +8" / CW | 62-0426 |
| -2" / CW | 62-0429 |
| Standard / CW | 62-0429 |
| +2" / CW | 62-0436 |
| +4" / CW | 62-0436 |
| Standard / CW | 62-0436 |
| Standard / CW | 62-0537 |
| Standard / CW | 63-0274 |
| +6" / CW | 63-0289 |
| +8" / CW | 63-0341 |
| Standard / CW | 63-0355 |
| +6" / CW | 63-0358 |
| +6" / CW | 63-0361 |
| +2" / CW | 63-0364 |
| +8" / CW | 63-0373 |
| +8" / CW | 63-0376 |
| +10" / CW | 63-0382 |
| +6" / CW | 64-0227 |
| Standard / CW | 64-0230 |
| Standard / CW | 64-0253 |
| +3" / CW | 64-0254 |
| +4" / CW | 64-0259 |
| +8" / CW | 64-0260 |
| +12" / CW | 64-0261 |
| Standard / CW | 65-0199 |
| Standard / CW | 65-0262 |
| +6" / CW | 65-0265 |
| Standard / CW | 65-0268 |
| Standard / CW | 65-0276 |
| Standard / CW | 65-0277 |
| Standard / CW | 65-0282 |
| Standard / CW | 65-0286 |
| +2" / CW | 65-0311 |
| +2" / CW | 65-0329 |
| +2" / CW | 65-0330 |
| +2" / CW | 65-0334 |
| +2" / CW | 65-0344 |
| Standard / CW | 65-0344 |
| +2" / CW | 65-0347 |
| -1" / CW | 65-0357 |
| Standard / CW | 65-0357 |
| +6" / CW | 65-0361 |
| +6" / CW | 65-0364 |
| +6" / CW | 65-0370 |
| +6" / CW | 65-0371 |
| +10" / CW | 65-0376 |
| +11" / CW | 65-0376 |
| +12" / CW | 65-0379 |
| +13" / CW | 65-0379 |
| +3" / CW | 65-0382 |
| +4" / CW | 65-0382 |
| Standard / CW | 65-0410 |
| Standard / CW | 65-0413 |
| Standard / CW | 65-0300 |