Moose
Moose Winch Mount Kit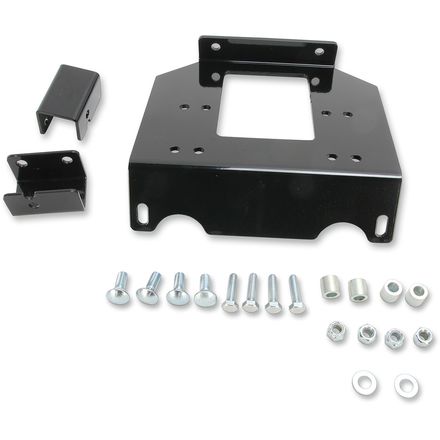 5 Star
3
4 Star
2
3 Star
0
2 Star
0
1 Star
0
Write a Review
Write your review and you'll automatically be entered in our monthly drawing. Include an image or video to DOUBLE your chances to win!
Write Your Review
12 days ago
Albion, Indiana
Exactly what I needed
Perfect fit, bolted right up to existing holes.
Over 3 years ago
Louisiana
Very good product, and easily installed.
Over 3 years ago
Janesville, WI
Great fit,excellent instructions
The mount went in very easily by following the detailed instructions.
Over 4 years ago
Kentucky, USA
This is a great product and I could see this working on a lot of four wheelers. The only issue I had is with the brackets that attach the bottom of the front plastic piece back to the frame, they are not long enough for the type of four wheeler which is 420 Honda 4x4
Over 4 years ago
Western, QLD, Australia
Simple install
I used the Moose Winch mount Kit on my 2012 Polaris Hawkeye 400 4x2 to mount a Terra 35 Superwinch. The holes lined up, as expected, on the frame and the winch. One of the simplest installations one could do.
Q: Will this mount work with a warn vantage 2000 winch?
Q: Terra 45
I have a 2003 Yamaha Wolverine 350 4x4. will this mount work with my terra 45 winch? The other brackets I have seen only work with up to a 3500lbs winch.
MotoSportExpert
Over 3 years ago
A: The Moose Winch Mount Kit accepts Warn, Superwinch and all Moose winches. You should not have an issue mounting the Superwinch terra 45. See instructions below
http://gfx.motosport.com/product/Moose%20Utility/4505-0389.pdf
Q: Is this needed?
I have a superwinch terra 35. Do you need this mounting kit to use the winch on a 2013 polaris ranger 500 efi. I don't want the winch to sit outside the bumper and grill. Wondering if this kit sits on the inside.
MotoSportRyanT
Over 4 years ago
A: According to Moose, this mount kit would keep everything tucked inside behind the front bumper and out of the way.
See all bikes that this part fits...
| Product Variant | Manufacturer Part # |
| --- | --- |
| Moose Winch Mount Kit | N/A |
| Moose Winch Mount Kit | 1505M |
| Moose Winch Mount Kit | 1512M |
| Moose Winch Mount Kit | 1513M |
| Moose Winch Mount Kit | 1516M |
| Moose Winch Mount Kit | 1517M |
| Moose Winch Mount Kit | 1518M |
| Moose Winch Mount Kit | 1521M |
| Moose Winch Mount Kit | 1524M |
| Moose Winch Mount Kit | 1528M |
| Moose Winch Mount Kit | 1536M |
| Moose Winch Mount Kit | 1539M |
| Moose Winch Mount Kit | 1541M |
| Moose Winch Mount Kit | 1542M |
| Moose Winch Mount Kit | 1545M |
| Moose Winch Mount Kit | 1546M |
| Moose Winch Mount Kit | 1547M |
| Moose Winch Mount Kit | 1548M |
| Moose Winch Mount Kit | 1554M |
| Moose Winch Mount Kit | 1555M |
| Moose Winch Mount Kit | 1567M |
| Moose Winch Mount Kit | 1568M |
| Moose Winch Mount Kit | 1570M |
| Moose Winch Mount Kit | 1581M |
| Moose Winch Mount Kit | 1587M |
| Moose Winch Mount Kit | 1591M |
| Moose Winch Mount Kit | 1595M |
| Moose Winch Mount Kit | 1596M |
| Moose Winch Mount Kit | 1599M |
| Moose Winch Mount Kit | 1601M |
| Moose Winch Mount Kit | 1603M |
| Moose Winch Mount Kit | 1604M |
| Moose Winch Mount Kit | 1605M |
| Moose Winch Mount Kit | 1508M |
| Moose Winch Mount Kit | 1532M |
| Moose Winch Mount Kit | 1534M |
| Moose Winch Mount Kit | 1549M |
| Moose Winch Mount Kit | 1552M |
| Moose Winch Mount Kit | 1598M |
| Moose Winch Mount Kit | 1607M |
| Moose Winch Mount Kit | 1610M |
| Moose Winch Mount Kit | 1615M |
| Moose Winch Mount Kit | 1618M |
| Moose Winch Mount Kit | 1620M |
| Moose Winch Mount Kit | 1503M |
| Moose Winch Mount Kit | 1609M |
| Moose Winch Mount Kit | 1612M |
| Moose Winch Mount Kit | 45050530 |
| Moose Winch Mount Kit | 45050524 |
| Moose Winch Mount Kit | 45050505 |
| Moose Winch Mount Kit | 45050521 |
| Moose Winch Mount Kit | 45050592 |
| Moose Winch Mount Kit | 45050531 |
| Moose Winch Mount Kit | 45050561 |
| Moose Winch Mount Kit | 45050591 |
| Moose Winch Mount Kit | 45050575 |
| Moose Winch Mount Kit | 45050478 |
| Moose Winch Mount Kit | 45050585 |
| Moose Winch Mount Kit | 45050529 |
| Moose Winch Mount Kit | 45050580 |
| Moose Winch Mount Kit | 45050466 |
| Moose Winch Mount Kit | 45050506 |