Moose
Moose Universal Oversized Bar Mounts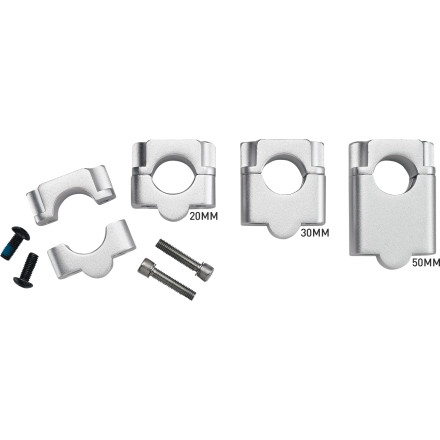 Moose Universal Oversized Bar Mounts
5 Star
8
4 Star
4
3 Star
0
2 Star
1
1 Star
1
Write a Review
Write your review and you'll automatically be entered in our monthly drawing. Include an image or video to DOUBLE your chances to win!
Write Your Review
Good product
I put these on my crf150r and they went on with ease and work well
4 months 5 days ago
Montrose, CO, USA
1 year ago
Middletown, CT, USA
Great Buy
Easy install, quality product. Bolted right onto my 2002 Honda 300EX, zero issues whatsoever
1 year 11 months ago
Grants Pass, OR, USA
Exact fit.
I purchased these with Protaper EVO bars for my 06 Drz400am. I really wanted Protaper replacement clamps, but Motorsport was out. So for the sake of getting back on the road I settled for these. I am pleasantly suprised with the quality of this product. I purchased the smallest rise and they took a bit to get used to. I'm 5'8" and the bars are a little high for agressive riding on the street but very nice for off-road (since I stand more). If you need higher bars these clamps do the trick.
2 years 1 month ago
Valencia CA
Nice product
Very well built piece. Unfortunately it doesn't fit my application which is a 1979 XR80.
Over 5 years ago
Logan, WV 25601, USA
These work, but only after I drilled them out.
Ok, I use these on my 2009 KFX 450R and they have held up just fine.

However, when I bought these, it said that they would fit my 2009 KFX 450R. However, they did not.

I tried different ways to try to get the bolts to line up and they just would not. It may be because the 2009 KFX 450R comes with the oversized Renthal Fat Bar.

However, Moose says that these will accept the oversized bars, but they really do not. I could not get it to work because the bolts only went through the clamp at an angle, which would not allow me to tighten them down.

I literally had to take a drill and drill bit to wallow out the hole to make it bigger so that the bolt could go through all the way and I could put the nut on to clamp it down. After doing so, it did work and they have held up under very extreme racing conditions even after modifying the clamp.

But they certainly did not work as advertised so I rate it as fair because they do hold up even after the mod to it.
Over 5 years ago
kauai hawaii
Great product
got my first moose over size bar mounts for my 03 crf230 and liked it so much, that I got another one for my son's 08 crf230 and we both agree great product motosport
Q: Will they fit my kx100 I have rental bars on?
DaveGearhead
1 month 18 days ago
A: These risers were designed to fit on a 7/8" riser. They should work on your bike with no problems.
Q: Will they bolt on to my 2014 kx85
MotoSportExpert
1 year 11 months ago
A: Yes, this is a Universal mount that bolts into 7/8" mounts allowing you to run oversize (1 1/8") handlebars. Also, feel free to give us a call at 888-676-8853 and we would be happy to help you out with your order.
Q: Will these bolt up to my 2003 xr 100
Will they bolt on to a 2003 xr100 triple clamp?
MotoSportExpert
1 year 12 months ago
A: Yes these Moose Universal Oversized Bar Mounts bolt into the stock 7/8" mounts.
Q: Would these mounts have a wide enough diameter to fit my pro taper evos?
MotoSportGrantK
Over 3 years ago
A: Yes, the Moose Universal Oversized Bar Mounts are for 1 - 1/8" bars which is the diameter of the Pro Taper Evo bars.
Q: Hey will the moose universal oversized bar mounts make bar higthger then stock but will they also take big craches and not bent my claps and is the 50
MotoSportExpert
Over 4 years ago
A: These are available in varying heights depending how much you would like to raise the handlebars. Anytime you are raising the handlebars with these, in the event of a crash, there is more leverage for the handlebar to bend the handlebar mounts. I cannot guarantee that with these installed, you will not bend the handlebar clamps.
Q: How come this wont fit a 07 crf150RBW
MotoSportExpert
Over 5 years ago
A: These will fit your 2007 CRF150RB. Please make sure to profile your bike correctly and then you will be able to select them for purchase. Please keep in mind that these will also require you to purchase a 1 1/8th handlebar if you do not already have a set. These will not work with the stock handlebars.
JBHillbillyKFX450Racer
Over 5 years ago
A: As advertised, these are universal over sized bar mounts. So you would think that they would fit properly to any over sized bar. As I assumed that since they were universal and would fit and over sized bar, I got them for my Renthal Fat Bars on my 09 KFX 450R but the bolts did not align properly. What I had to do was take a drill bit and bore the holes out a bit to get to bolts to line up and tighten properly. Once I did that, they worked fine. I have used them in very aggressive GNCC Races and they have held up perfectly without any problems. Hope this helps.
Q: Will they fit into stock 06 z400 sterring stem holes?
i would like to use the 50mm rise
JBHillbillyKFX450Racer
Over 8 years ago
A: They should fit fine. I do not see any reason these would not fit in your machine's stock handlebar steering stem holes. The bottom of these risers are meant to fit into essentially any steering stem holes.
Drewski
Over 8 years ago
A: These are a universal bar mount and bolt into your existing bottom bar mounts so you should be fine.
| Product Variant | Manufacturer Part # |
| --- | --- |
| 20mm | M918005 |
| 30mm | MS0742 |
| 50mm | MS0762 |