Moose
Moose Stainless Exhaust Clamps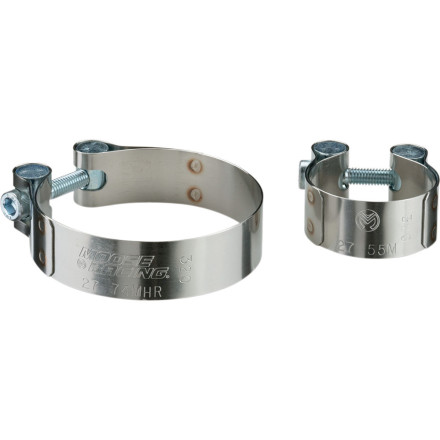 Moose Stainless Exhaust Clamps
5 Star
11
4 Star
1
3 Star
0
2 Star
0
1 Star
0
As expected
Exactly what I needed to tighten the exhaust on my Ultra Classic.
Over 10 months ago
Southern Oregon.
Header exhaust clamp.
Its built stout, and looks good as far as hose clamps go..
Great product!
Exactly what I needed . Worked great !
1 year 3 months ago
HVL, CA
Just what I needed
Was having problems with my slip on til I installed this clamp. No more worries.
They're clamps
Used these as replacement clamps for my rinehart muffler clamps on my Harley. They're clamps, and they work just fine. Make sure you have exact size you need to tighten them or you'll strip the fastening head with a quickness.
2 years 7 months ago
Klamath Falls, OR, USA
Quality Clamp
Works well for slip on mufflers. In My situation it preformed great. I had a fairly large gap and it sealed it up nicely. No leaks.
Clamps
ordered for my grandson....as far as I know they worked great.
Over 3 years ago
New Hampshire, USA
Great Product
Nice clamps......just what I was looking for!!
Emoney
Q:  I have a 2015 YZ 450 F and I recently purchased an FMF 4.1 slip on and a stock clamp is too big and I need to tighten what size do I need to get, thank you 
Michael
Over 6 months ago
A: You will want to reach out to FMF for the correct sized clamp to make that work for your bike.
Buellrider
Q: Hi. I have a 06 bell lightning xb9sx. I've have purchased two different brands of exhaust clamps. I've gotten the 2.30-2.49 sizes, but I keep breaking them. Does anyone have any advise on what size I should be getting? Or what I'm doing wrong.
Trevor Gearhead
Over 10 months ago
A: They could be too loose or too tight? I would also be looking at the material they're made of? Or different style of clamp? Feel free to call!
Blanky
Q: I have a 2001 Yamaha Banshee with FMF Fatty Gold Series Pipes and FMF Powercore II Silencers. Air is coming out on the left side where the pipe is connected to the silencer. Will these clamps fix that?
DonW
1 year 2 months ago
A: I would think that they would work great for you. I bought one to cover up a leak on the exhaust on my buell firebolt.
Camm
Q: Will this be the right part I need
I have a 2004 Yamaha 660 Raptor and the exhaust I have is a white brothers slip on with the stock headers but the exhaust has an air flow leak I was wondering if this part will close the gap between the headers and the slip on exhaust.
Thumbs
1 year 10 months ago
A: I would recommend getting a new exhaust gasket where the header meets the muffler first since those need to be replaced periodically. If that doesn't work then I would get new clamps too. The gasket is #17 on the parts fiche GASKET, MUFFLER (5LP-14714-00-00)
Yz7v
Q: I need a clamp for my muffler on my 78 yz250e,it measures 8 inches in circumference,which clamp do I buy?
Michael
2 years 7 months ago
A: Are you referring to the bracket that supports your muffler? You will need to find that in the OEM parts area of our site.
Jinmyung
Q: What do I need to measure on my current exhaust to ensure fitment?
Do I measure the circumference of the exhaust?
MotoSportExpert
Over 4 years ago
A: You would need to measure the outside diameter of the clamping area.
DonJuan
Q: What Size Clamp Do I need?
I bought a LeoVince Slip On pipe and my clamp broke.. What size clamp do i need?
MotoSportExpert
Over 4 years ago
A: You would need to measure the OD of your exhaust to find the right fit.
Devan
Q: I have a 2010 yz250f and I have a stock pipe but my clamp for the slip on broke what size would I need
MotoSportGrantK
Over 5 years ago
A: You will want to take your slip-on off and measure for the correct diameter. I would recommend taking a look a replacement OEM clamp for your 2010 Yamaha YZ250F which you can find here: http://www.motosport.com/dirtbike/oem-parts/YAMAHA/2010/YZ250F/EXHAUST
| Product Variant | Manufacturer Part # |
| --- | --- |
| 1.44" - 1.58 | 212-2755 |
| 1.56" - 1.70 | 212-2757 |
| 1.69" - 1.87 | 212-2759 |
| 1.81" - 1.99 | 212-2761 |
| 1.94" - 2.12 | 212-2763 |
| 2.06" - 2.24 | 212-2765 |
| 2.19" - 2.37 | 212-2767 |
| 2.31" - 2.49 | 212-2769 |
| 2.44" - 2.62 | 212-2771 |
| 2.63" - 2.81 | 212-2774 |