Moose
Moose OEM Replacement Seat Cover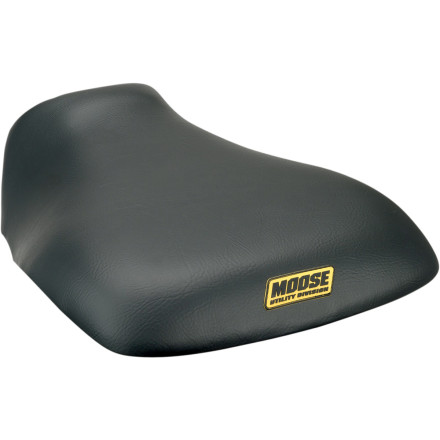 Moose OEM Replacement Seat Cover
---
4.23
5
13
Rating: 4.2 out of 5 stars
---
13 Reviews
8

reviews

3

reviews

0

reviews

1

reviews

1

reviews
All Reviews
Over 10 months ago
Tucson, AZ
Fits Good!!
Took 3 trys to get it all smoothed , but finally fits good.
Cover did not cover as expected
I bought this cover for my brother. And for starters the box it came in was mangled. The UPS person actually reported it as damaged when he arrived at my house. It did not cover as expected. My brother actually brought it to a person who reupholster's seats, chairs, furniture ect. It came back covered but not well as the cut was wrong. In the end he ended up having to take it back off and use a heat gun to streach the material to get it to fit-mind you not well. Just be careful of what you are ordering.
1 year 6 months ago
Colorado
A +
Installed this seat cover a couple of weeks ago. It is a good durable seat cover and stretched over my seat well to provide a tight fit.
Nice seat cover
Bought this for my 05 300ex, fitment was tight so instead of just winging it i took to a nearby upholstery shop and they installed it for me for $20. Looks and feels legit. Time will tell, hopefully it holds up.
1 year 9 months ago
Colorado
Fits perfectly
This cover is well made and fit perfectly. Took some stretching and an extra set of hands helps while stapling it on.
Over 3 years ago
Oklahoma, USA
Seat cover
was not the right cover yet with patience and friend we got cover to fit! and it does look good!
Over 3 years ago
Missouri
Excellent seat cover
Bought this for a 1999 Polaris magnum 500. The cover fit very well. I just took my time, and used a heat gun to warm it up as I stretched it.
One-Size-Fits-All
This was tricky to install in cold weather, and it didn't fit the seat of my 2004 Honda TRX400 perfectly. There was excess material in quite a few areas, and not all of the wrinkles could be smoothed out.
Overall, this cover is good material, fairly easy to install, and just takes some heat and patience to get smooth.
Moose Replacement Seat Cover
I bought this OEM seat cover with OEM foam for my 2000 Honda Foreman. I was able to do a professional looking job. Warming seat cover is recommended before stretching.
Fits good
fits good looks good I hope it will hold up. Seems alittle thinner than the original stock cover on my 2003 wolverine. Overall looks way better than the torn old cover. Motosport is very good to do business with will likely buy from them again.
Fitment
See all bikes that this part fits...
# Part Numbers
| Product Variant | Manufacturer Part # |
| --- | --- |
| Black | POL3250030, POL4000530, TRX2500130, TRX2500530, TRX2500630, TRX2508730, TRX3008830, TRX3500030, TRX3500430, TRX4009530, TRX4009930, TRX4200730, TRX4509830, TRX5000130, TRX5000530, TRX6500330, TRX7000830, YFB2509230, YFM3500430, YFM3509330, YFM3509530, YFM4000030, YFM5500930, YFM6600230, YFZ3508730, YSF2008830, KLF3008930, LTF2500230, LTF5009830, LTZ2500330, LTZ4000330, CAT4000630, KLF2208830, LTA5000230, TRX2509730, KVF6500230, KVF6500530, DEFBS-11, GENBS-11, KMPROFXBS-11, KMPROFXTBS-11 |
| Mossy Oak | POL32500-AUT, POL40005-AUT, TRX30088-AUT, TRX35000-AUT, TRX35004-AUT, TRX42007-AUT, TRX45098-AUT, TRX50005-AUT, YFM35004-AUT, YFM55009-AUT, YFM66002-AUT, CAT40006-AUT, LTA45007-AUT, KVF65005-AUT, CAN40006-AUT, CAN80012-AUT, DEFBS-155, GENBS-155, TRX47512-AUT, TRX50015-AUT, KMPROFXBS-155, KMPROFXTBS-155, POL55009-AUT, POL57014-AUT, YFM70016G-AUT, YFM70016K-AUT |
California Proposition 65
WARNING: This product contains chemicals known to the State of California to cause cancer, and birth defects or other reproductive harm. Wash hands after handling. For more information, go to www.P65Warnings.ca.gov.