Moose
Moose High Performance Plus Drive Belt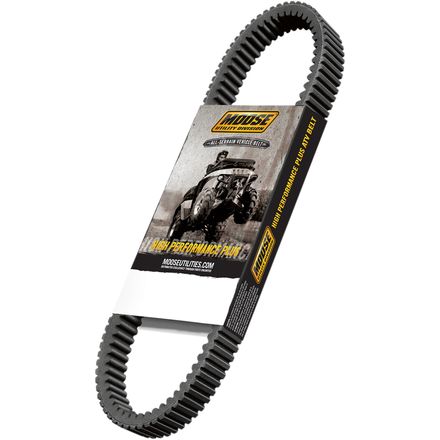 Moose High Performance Plus Drive Belt
5 Star
1
4 Star
0
3 Star
0
2 Star
0
1 Star
1
3 months 5 days ago
Kansas
Perfect fit!
Fit perfect and was delivered on time very fast!!!
2 years 11 months ago
Warsaw, IN
Pure junk
I don't know how such garbage is on the market. I had an OEM belt on my polaris RZR for years, after it slipping a little bit after some long creek rides I decided to replace it with this Moose belt from Motorsport. After riding in the first snow of the year pulling my boys sledding for 2 hours this belt was trashed and half gone. I put the old OEM back on and it's fine. Clearly nothing wrong with the RZR just a cheap horrible product from Moose. I attached a photo of the belt after 2 hours to warn others. Save your 100$, tie a rope around your drive pullys it will last about as long as this product.
There have been no questions asked about the Moose High Performance Plus Drive Belt.
See all bikes that this part fits...
| Product Variant | Manufacturer Part # |
| --- | --- |
| Moose High Performance Plus Drive Belt | XTX2243 |
| Moose High Performance Plus Drive Belt | XTX2217 |
| Moose High Performance Plus Drive Belt | XTX2234 |
| Moose High Performance Plus Drive Belt | XTX2236 |
| Moose High Performance Plus Drive Belt | XTX2240 |
| Moose High Performance Plus Drive Belt | XTX2239 |
| Moose High Performance Plus Drive Belt | XTX2244 |
| Moose High Performance Plus Drive Belt | XTX2249 |
| Moose High Performance Plus Drive Belt | XTX2250 |
| Moose High Performance Plus Drive Belt | XTX2248 |
| Moose High Performance Plus Drive Belt | XTX2251 |
| Moose High Performance Plus Drive Belt | XTX2247 |
| Moose High Performance Plus Drive Belt | XTX2233 |
| Moose High Performance Plus Drive Belt | XTX2241 |
| Moose High Performance Plus Drive Belt | XTX2276 |
| Moose High Performance Plus Drive Belt | XTX2277 |
| Moose High Performance Plus Drive Belt | XTX2278 |
| Moose High Performance Plus Drive Belt | XTX2279 |
| Moose High Performance Plus Drive Belt | XTX2282 |
| Moose High Performance Plus Drive Belt | XTX2253 |
| Moose High Performance Plus Drive Belt | XTX2254 |
| Moose High Performance Plus Drive Belt | XTX2252 |
| Moose High Performance Plus Drive Belt | XTX2256 |
| Moose High Performance Plus Drive Belt | XTX2238 |
| Moose High Performance Plus Drive Belt | XTX2259 |
| Moose High Performance Plus Drive Belt | XTX2263 |
| Moose High Performance Plus Drive Belt | XTX2266 |
| Moose High Performance Plus Drive Belt | XTX2268 |
| Moose High Performance Plus Drive Belt | XTX2269 |
| Moose High Performance Plus Drive Belt | XTX2270 |
| Moose High Performance Plus Drive Belt | XTX2275 |
| Moose High Performance Plus Drive Belt | XTX2264 |
| Moose High Performance Plus Drive Belt | XTX2271 |
| Moose High Performance Plus Drive Belt | XTX2267 |
| Moose High Performance Plus Drive Belt | XTX2205 |
| Moose High Performance Plus Drive Belt | XTX2287 |
| Moose High Performance Plus Drive Belt | XTX2288 |