Moose
Moose E-Line Pipe Guard FMF 2-Stroke Pipe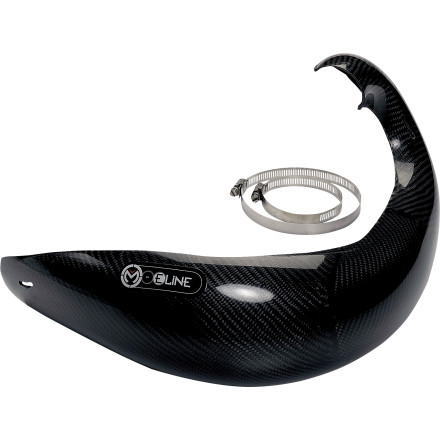 Moose E-Line Pipe Guard FMF 2-Stroke Pipe
5 Star
5
4 Star
7
3 Star
0
2 Star
0
1 Star
1
Write a Review
Write your review and you'll automatically be entered in our monthly drawing. Include an image or video to DOUBLE your chances to win!
Write Your Review
4 months 23 days ago
Greenville, SC
Pipe Guard
Awesome product. Not the best fit for my 2002 KX 125. I got it mounted and it's doing the job.
Over 9 months ago
Indiana, USA
Fitment is an issue
It did fit on my FMF Fatty but not perfectly. I have a 2017 YZ125. There is a noticeable gap between the pipe and the guard but i think it will do its job just fine. Still looks good too.
1 year 2 months ago
Las Vegas, NV, USA
Simple and easy install that added the protection i was looking for my
YZ250. Great product will definitely use it in my other 2 strokes.
MOTO SPORT CUSTOMER SERVICE
Over 3 years ago
Chillicothe, IL 61523, USA
Only looks like a pipe guard
The first E Line guard I used ,around '05, was about .020" thick and it failed. The latest one measures .012" it's more like a carbon fiber decal than a pie guard. I'd say " not worth installing ,especially fort $140
Over 3 years ago
Boise, ID
Good Quality
Product met with my expectations, I would recommend this to a friend using an FMF pipe.

I ended up returning this product as I originally ordered to see if it would fit the Pro Circuit pipes. The difference between the FMF and Pro Circuit series is enough so the guard doesn't fit properly. I would like to thank Motosport.com for there easy return policy and fast return on credit.

Nate
Over 3 years ago
Honolulu, HI, USA
Moose E-Line FMF Fatty
I had this guard on my stock pipe but when I replaced my stock with a Fatty I decided to buy a new one. I had the old one on my bike for 6 years and it held up fairly well and prevented lots of dents . The carbon started to flake but it never really cracked and fell apart. The new one I bought didn't fit the new Fatty pipe very well. I expected it to fit like a glove but it left gaps between the guard and pipe (before ordering I did check with Motorsport to assure I was getting the right guard for the year my Fatty Pipe was built). It also left the bottom and bottom rear portion of the pipe unprotected. If your going to mainly be on the track, the guard is fine, but if you're riding some technical trails and going over rocks and logs, you may want something that provides more protection for the bottom of the pipe.
Over 4 years ago
Menlo Park, ca
Smart money
On a 2 stroke the pipe is sticking way out and easily susceptible to damage. It is by no means perfect protection, but it helps a lot. On my 02 Honda CR250 w/ gnarly, it fit well and lasted through 2 years of weekly abuse. (I ride single track w/ obstacles.)The pipe has been damaged, but it would have happened in months rather than years if not for my pipe guard.
Eline carbon fiber pipe guard
Guard fit great and was easy to install. 2 stroke pipe protection is a must in the Arizona desert areas we ride. Fall on pipe side with a hot pipe on a rock and you WILL have a dented pipe without a guard.
The guard seems expensive for what you get. The hose clamps were not the best. I ruined one of them (the larger one) during installation and had to get a better quality clamp.
Decent fit good protection
It does not fit the pipe as well as i had imagined, otherwise good stuff
Q: Will this fit 2007 sx 250 Fitted with Fmf gnarly pipe
DaveGearhead
26 days ago
A: Yes. We do offer one for that bike, however, there is a special note on this item.

Special Note: FMF pipes for this application were slightly changed in November 2013. A date code is stamped on the lower pipe mount along with the FMF part number. A pipe manufactured in November 2013 will have a date code of "13/11". If you have an FMF pipe for this bike that was manufactured prior to November 2013 then this part is correct for your application. If your FMF pipe for this application was manufactured after November 2013, then you will need Moose E-Line Pipe Guard Stock OEM 2-Stroke Pipe (P/N 1861-0691).
Q: Will this fit a 2003 yz 250 with a narly pipe
Motoexpert
1 month 15 days ago
A: I'm sorry at this time we do not carry this product for your application. Please feel free to give us a call and we would be happy to work on getting a special order placed through moose if they have availability on the product you are referencing.
rknight
1 month 15 days ago
A: Hello,
We do not carry that for your model bike.
Q: Will this fit my 2012 ktm 300xc with fmf gnarly
ExpertJohnB
4 months 23 days ago
A: This one wont but P3 makes a carbon fiber pipe guard for a 2012 300XC with FMF gnarly pipe:
https://www.motosport.com/p3-pipe-guard
Q: Will this fit a 2017 yz250X with a FMF gnarly?
robert
Over 5 months ago
A: Yes this will fit that FMF model exhaust.
Q: Will this pipe guard fit on an aftermarket fmf gnarley pipe for a 2013 KTM 200
MotoSportExpert1
1 year 3 months ago
A: At this time I do not show that we have one that fits your 200. You can check by clicking the fitment boxes (Make, Year, Model) This will make sure it fits your bike if we have it.
Q: I have an FMF Fatty pipe but this says it wont fit my 02 kx250 although it says fits all fmf pipes
Ryan
1 year 5 months ago
A: NO it will not. It says it will fit a 2002 KX125. Listed as well in the manufacture catalog with same part number, but it doesn't even come close. Tested on a new FMF Fatty and the previous design FMF and both the same.
Q: Will this fit my 2016 sx250 with a fmf fatty on it?
MotoSportExpert
1 year 9 months ago
A: No sorry the Moose E-Line Pipe Guard for FMF 2-Stroke Pipe is not available for your 2016 KTM 250SX.
Q: Would this pipe guard fit my kx125?
MotoSportExpert
1 year 10 months ago
A: The Moose E-Line Pipe Guard does fit the KX125. Just be sure to correctly select the Year/Make/Model of your bike before ordering so we can be sure to send you the correct guard for your bike. Also, feel free to give us a call at 888-676-8853 and we would be happy to help you out with your order.
Q: Will this guard fit a stock 2016 Yamaha yz250x pipe? You don't list one for a stock pipe
MotoSportExpert
1 year 11 months ago
A: No it would not fit the stock pipe. Feel free to give us a call at 888-676-8853 and we would be happy to help you out with your order.
Q: Will this fit my 2007 cr 125 with a pro circuit pipe
MotoSportExpert
2 years 6 months ago
A: This Moose E-Line Pipe Guard would fit FMF pipes only.
See all bikes that this part fits...
| Product Variant | Manufacturer Part # |
| --- | --- |
| Moose E-Line Pipe Guard FMF 2-Stroke Pipe | HPGH70 |
| Moose E-Line Pipe Guard FMF 2-Stroke Pipe | HPG006 |
| Moose E-Line Pipe Guard FMF 2-Stroke Pipe | HPGH62 |