Moose
Moose E-Line FMF Megabomb Headpipe Guard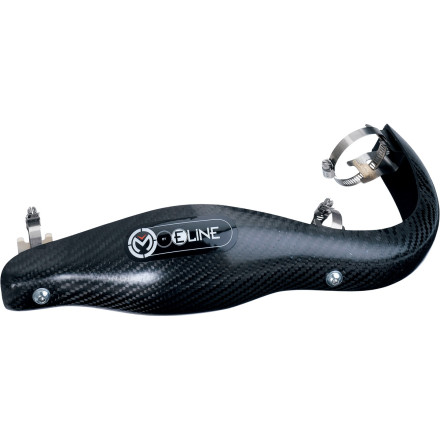 Moose E-Line FMF Megabomb Headpipe Guard
5 Star
7
4 Star
2
3 Star
3
2 Star
1
1 Star
2
Write a Review
Write your review and you'll automatically be entered in our monthly drawing. Include an image or video to DOUBLE your chances to win!
Write Your Review
4 months 22 days ago
San D
Rather put my tongue directly on the exhaust pipe!
A super poor product that guards absolutely nothing and smells horrible like I was inhaling toxic fumes. Do Not Buy.
Does it's job but for a 450x, you have to modify it. Shave the lower part and do yourself a favor, but a smaller oil cap so you don't have to take the shield off to change the gear Oil.
2 years 3 months ago
Airway Heights, WA, USA
Tight Fit
I installed this item and it looks really good. I have yet to really put any miles on it. I started the bike and let it idle for a minute and got quite a bit of smoke off of the area right by the head. The instructions say that it should not be touching any part of the header and there is about two paper widths of clearance on the top and bottom of the bomb part of the header. The shield itself was too hot to touch with a bare hand after a short ride. I am hoping that this product will not melt? I will post some images when i get a chance. I hope that I get the protection for my pants and for my header.
2 years 8 months ago
Vancouver, BC, Canada
'14 350 EXC-F
This header gaurd looks really funky on my bike. It fits well and the two supplied clamps are good quality. The gaurd absorbs just enough heat to tolerate warming my fingers on a cold day here in British Columbia. For a hundred bucks your crazy if you don't protect your expensive FMF header. Get it !
2 years 11 months ago
Murphysboro, IL 62966, USA
No more simple dings and burned pants!
This header guard is a lifesaver for my megabomb header. As soon as I noticed how hot it could get, I contemplated on getting this header guard. But after it melted a hole in my pants without me noticing, I went ahead and got it. Extremely durable and acts somewhat like a heat shield too. I love it! If you love riding (trails especially) and have the megabomb header, this guard is almost a necessity in my mind.
Over 3 years ago
Rincón, Puerto Rico
Good purchase
real protection, no fancy.
Over 3 years ago
wellsville ohio
Durable
withstood a hard hit and only has some scrapes. little bit of a pain to get in the proper position but, well worth the time and money
Over 3 years ago
Redding, CA, USA
Doing its job
The head pipe guard was easy to install and looks good. But most of all no more burned pants. One note on installation: as one other reviewer noted, after installing the guard the kick starter did contact my guard as well. Unbolting the kick starter lever and moving it counter clock wise one tooth on the starter shaft eliminated the interference.
Over 3 years ago
Santa Clara, CA, USA
Great but...
This is a trick little piece, but it simply doesn't fit right. I bought this for my 2006 CRF450X with Megabomb header and no matter HOW I fit this, I can not get it to fit correctly. I called and e-mailed E-Line with not much assistance.

First off, it interferes with the oil fill bolt for the transmission oil, making it EXTREMELY difficult to get off without removing the shield first. I am almost positive it will cause me to strip the bolt sooner rather than later.

Secondly, the instructions say in bold NOT to let it touch the pipe in any location. However, no matter how I try to configure this thing I can not get it not to contact the header in 4 locations on the "bomb" part of the header...right at the weld lines.
Megabomb Guard
Great part, No more dented header, and, no more burns...... wish they would include the mounting bolts though. CRF 450.
Q: Will fit megabomb installed on a 2015 Honda CRF150RB?
Will this fit on a megabomb installed on a 2015 Honda CRF150RB? I see lots of trouble with installation on several bikes. Don't want to spend $100 if I'm not sure it will work properly. Thanks
MotoSportExpert
1 year 9 months ago
A: No sorry it will not fit your 2015 Honda CRF150RB.
Q: Will This fit my dirt bike?
I have a 2012 crf150rb with a megabomb header. Will this fit?
MotoSportExpert
2 years 3 months ago
A: No sorry it will not fit your 2012 Honda CRF150RB.
Q: Does this work on my bike(in the picture)
CRF2009250X FMF
MotoSportExpert
2 years 7 months ago
A: This Moose E-Line FMF Megabomb Headpipe Guard is designed to fit the FMF MegaBomb headpipe only. It appears that you have a FMF powerbomb on your CRF250X.
Q: Will this work with my CRF250L?
I have the Megabomb from FMF part #041485. Will this guard fit it?
MotoSportExpert
Over 3 years ago
A: No unfortunately it will not fit the 2015 Honda CRF250L megabomb.
Q: Hi, i have a ktm 350 excf with a fmf mega bomber header. do you have a head pipe guard that will fit?
MotoSportExpert
Over 4 years ago
A: Yes E-line does list a Guard for the KTM 350s with the Mega Bomb header. E-line list the same part number for the following models:

PIPE GUARD FMF MEGA BOMB KTM 350 SXF/ XCF 2011-2012 350 XCFW/EXCF 2012-2015
Q: I'm looking for a headpipe guard for my 2012 KTM 350EXC-F. Cant find the fit. Will this one for the SXF fit? Moose E-Line FMF Megabomb Headpipe Guard
MotoSportExpert
Over 5 years ago
A: Unfortunately the header pipes are different between the EXC-F and the SXF 350's if you have the Megabomb header. After doing some research, unfortunately I was unable to find a header pipe guard built for the EXC Megabomb model. The SXF model can possibly be adapted to work though. If you have a stock headpipe, then the stock header e-line pipe guard for the SXF will work on the EXC as they share OEM headpipes.
See all bikes that this part fits...
| Product Variant | Manufacturer Part # |
| --- | --- |
| Moose E-Line FMF Megabomb Headpipe Guard | HMB2506 |
| Moose E-Line FMF Megabomb Headpipe Guard | HMB450 |
| Moose E-Line FMF Megabomb Headpipe Guard | MMB250F |
| Moose E-Line FMF Megabomb Headpipe Guard | YMB24 |
| Moose E-Line FMF Megabomb Headpipe Guard | YMB2507 |
| Moose E-Line FMF Megabomb Headpipe Guard | YMB4507 |
| Moose E-Line FMF Megabomb Headpipe Guard | MMB350SXF |