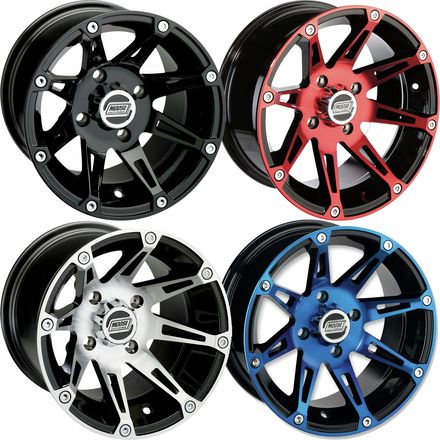 5 Star
2
4 Star
0
3 Star
0
2 Star
0
1 Star
0
Write a Review
Write your review and you'll automatically be entered in our monthly drawing. Include an image or video to DOUBLE your chances to win!
Write Your Review
1 year 8 months ago
Virginia
Moose387x
Very nice wheel looks nice throws mud off really well offset is just right
Over 4 years ago
Michigan, USA
Top notch rim
condition of rim was perfect, no mars or scrathes-motosport did a great job mounting tires on rims!
See all bikes that this part fits...
| Product Variant | Manufacturer Part # |
| --- | --- |
| Blue / Front / 12X7 4B+3N | 02300803 |
| Blue / Rear / 12X8 4B+4N | 02300804 |
| Blue / Front / 12X7 4B+3N | 02300805 |
| Blue / Rear / 12X8 4B+4N | 02300806 |
| Blue / Front / 14X7 4B+3N | 02300807 |
| Blue / Rear / 14X8 4B+4N | 02300808 |
| Blue / Front / 14X7 4B+3N | 02300809 |
| Blue / Rear / 14X8 4B+4N | 02300810 |
| Red / Front / 12X7 4B+3N | 02300811 |
| Red / Rear / 12X8 4B+4N | 02300812 |
| Red / Front / 12X7 4B+3N | 02300813 |
| Red / Rear / 12X8 4B+4N | 02300814 |
| Red / Front / 14X7 4B+3N | 02300815 |
| Red / Rear / 14X8 4B+4N | 02300816 |
| Red / Front / 14X7 4B+3N | 02300817 |
| Red / Rear / 14X8 4B+4N | 02300818 |
| Blue / Front / 12X7 4B+3N | 02300863 |
| Blue / Rear / 12X8 4B+4N | 02300864 |
| Red / Front / 12X7 4B+3N | 02300865 |
| Red / Rear / 12X8 4B+4N | 02300866 |
| Blue / Front / 14X7 4B+3N | 02300867 |
| Blue / Rear / 14X8 4B+4N | 02300868 |
| Red / Front / 14X7 4B+3N | 02300869 |
| Red / Rear / 14X8 4B+4N | 02300870 |
| Black / Front / 12X7 4B+3N | 387MO127156GB4 |
| Black / Front / 12X7 4B+3N | 387MO127136GB4 |
| Black / Front / 12X7 4B+3N | 387ML127110GB4 |
| Machined / Front / 12X7 4B+3N | 387MO127156BW4 |
| Machined / Front / 12X7 4B+3N | 387MO127136BW4 |
| Black / Front / 14X7 4B+3N | 387MO147156GB4 |
| Black / Front / 14X7 4B+3N | 387MO147136GB4 |
| Machined / Front / 14X7 4B+3N | 387MO147156BW4 |
| Machined / Front / 14X7 4B+3N | 387MO147136BW4 |
| Machined / Rear / 12X8 2B+6N | 387MO128110BW2 |
| Black / Rear / 12X8 2B+6N | 387MO128110GB2 |
| Black / Rear / 12X8 4B+4N | 387MO128156GB4 |
| Black / Rear / 12X8 4B+4N | 387MO128136GB4 |
| Black / Rear / 12X8 4B+4N | 387ML128110GB4 |
| Machined / Rear / 12X8 4B+4N | 387MO128156BW4 |
| Machined / Rear / 12X8 4B+4N | 387MO128136BW4 |
| Machined / Rear / 12X8 4B+4N | 387MO128110BW4 |
| Black / Front / 14X7 4B+3N | 387MO147110GB4 |
| Machined / Front / 14X7 4B+3N | 387MO147110BW4 |
| Machined / Rear / 14X8 2B+6N | 387MO148110BW2 |
| Black / Rear / 14X8 4B+4N | 387MO148156GB4 |
| Black / Rear / 14X8 4B+4N | 387MO148136GB4 |
| Black / Rear / 14X8 4B+4N | 387MO148110GB4 |
| Machined / Rear / 14X8 4B+4N | 387MO148156BW4 |
| Machined / Rear / 14X8 4B+4N | 387MO148136BW4 |