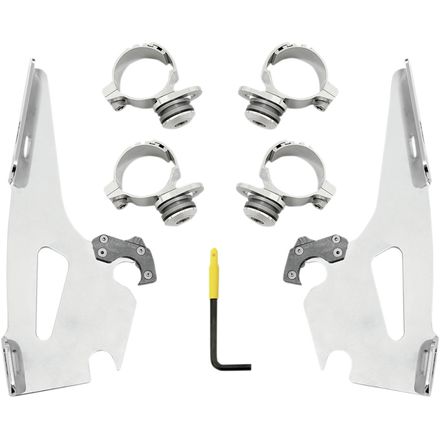 Memphis Shades Trigger-Lock Mounting Kit
5 Star
5
4 Star
0
3 Star
1
2 Star
0
1 Star
0
Write a Review
Write your review and you'll automatically be entered in our monthly drawing. Include an image or video to DOUBLE your chances to win!
Write Your Review
Just ok
The brackets do not allow enough rearward adj. to be behind the headlight. If I rotated the clamps so the adjustment was more towards the rear that would work but clamp brackets hit the tank which I discovered the hard-way! When you remove the windshield the clamps still on the bike hurt the look, not attractive.
Over 6 months ago
Cassadaga, NY 14718, USA
Works as expected
I'll be honest I expected a little difficulty putting these on. But let directions were very very easy. Whoever wrote the directions wrote them as if they were talking to you. They were very clear as to how everything was mounted. Very simple install. Took the concern right out of the job. I love the way it looks and how easy it is to put the windshield on and take it off.
Mounting kit for Memphis windshield in ruby tint
Well I talked to Jesse about not being able to see how the kit worked with that windshield, but dang it HE WAS RIGHT AND i WAS WRONG..IT FIT LIKE GANGBUSTERS..wow dynamite machining on the mounts and being able to just "latch off" the windshield is great..Thanks nice pieces

Steve B
Over 6 years ago
HARTLAND MI
Hartland
memphis shades products are the best . the mounting brackets fit perfect on my bike
Rodz
Q: Fitment
Will this work with the memphis shade bullet fairing on a 2004 honda vtx 1300c?
MotoSportExpert
Over 3 years ago
A: Yes. In the Bullet Fairing description it list:

Custom fit, model-specific mounting kits feature Memphis Shades exclusive Trigger-Lock mounting system - on and off without tools, or swap out with Memphis Fats/Slim windshields, Sportshields or Batwing Fairing.
Roadrunner
Q: Replacement parts
I have n 05 Yamaha and one of the fork mounting brakets is broke is there any chance I can buy that part without having to buy the whole kit
MotoSportExpert
Over 5 years ago
A: We do not offer individual replacement parts from this kit. You may want to contact Memphis Shades directly to see if they can get you taken care of. http://www.memphisshades.com/ Phone # 901-853-0293
See all bikes that this part fits...
| Product Variant | Manufacturer Part # |
| --- | --- |
| Aluminum / Fats And Slim Windshields | N/A |
| Aluminum / Fats And Slim Windshields | N/A |
| Aluminum / Fats And Slim Windshields | N/A |
| Aluminum / Fats And Slim Windshields | N/A |
| Aluminum / Fats And Slim Windshields | N/A |
| Aluminum / Fats And Slim Windshields | N/A |
| Aluminum / Fats And Slim Windshields | N/A |
| Aluminum / Fats And Slim Windshields | N/A |
| Aluminum / Fats And Slim Windshields | N/A |
| Aluminum / Fats And Slim Windshields | N/A |
| Aluminum / Fats And Slim Windshields | N/A |
| Aluminum / Fats And Slim Windshields | N/A |
| Aluminum / Fats And Slim Windshields | N/A |
| Aluminum / Fats And Slim Windshields | N/A |
| Aluminum / Fats And Slim Windshields | N/A |
| Aluminum / Fats And Slim Windshields | N/A |
| Aluminum / Fats And Slim Windshields | N/A |
| Aluminum / Sportshields | N/A |
| Aluminum / Sportshields | N/A |
| Aluminum / Sportshields | N/A |
| Aluminum / Sportshields | N/A |
| Aluminum / Sportshields | N/A |
| Aluminum / Sportshields | N/A |
| Aluminum / Sportshields | N/A |
| Aluminum / Sportshields | N/A |
| Aluminum / Sportshields | N/A |
| Aluminum / Sportshields | N/A |
| Aluminum / Sportshields | N/A |
| Aluminum / Sportshields | N/A |
| Aluminum / Sportshields | N/A |
| Aluminum / Sportshields | N/A |
| Aluminum / Sportshields | N/A |
| Aluminum / Sportshields | N/A |
| Aluminum / Sportshields | N/A |
| Aluminum / Sportshields | N/A |
| Aluminum / Sportshields | N/A |
| Aluminum / Bullet Fairing | N/A |
| Aluminum / Bullet Fairing | N/A |
| Black / Batwing Fairing | N/A |
| Black / Batwing Fairing | N/A |
| Black / Batwing Fairing | N/A |
| Black / Batwing Fairing | N/A |
| Black / Batwing Fairing | N/A |
| Black / Batwing Fairing | N/A |
| Black / Batwing Fairing | N/A |
| Black / Batwing Fairing | N/A |
| Black / Batwing Fairing | N/A |
| Black / Batwing Fairing | N/A |
| Black / Batwing Fairing | N/A |
| Black / Batwing Fairing | N/A |
| Black / Batwing Fairing | N/A |
| Black / Batwing Fairing | N/A |
| Black / Batwing Fairing | N/A |
| Black / Batwing Fairing | N/A |
| Black / Batwing Fairing | N/A |
| Polished / Batwing Fairing | N/A |
| Polished / Batwing Fairing | N/A |
| Polished / Batwing Fairing | N/A |
| Polished / Batwing Fairing | N/A |
| Polished / Batwing Fairing | N/A |
| Polished / Batwing Fairing | N/A |
| Polished / Batwing Fairing | N/A |
| Polished / Batwing Fairing | N/A |
| Polished / Batwing Fairing | N/A |
| Polished / Batwing Fairing | N/A |
| Polished / Batwing Fairing | N/A |
| Polished / Batwing Fairing | N/A |
| Polished / Batwing Fairing | N/A |
| Polished / Batwing Fairing | N/A |
| Polished / Batwing Fairing | N/A |
| Polished / Batwing Fairing | N/A |
| Polished / Batwing Fairing | N/A |
| Polished / Batwing Fairing | N/A |
| Sportshields | MEM8919 |
| Black / Batwing Fairing | MEB2008 |
| Black / Batwing Fairing | MEB2004 |
| Black / Batwing Fairing | MEB1999 |
| Black / Batwing Fairing | MEB2009 |
| Black / Batwing Fairing | MEB2016 |
| Black / Batwing Fairing | MEK1928 |
| Black / Batwing Fairing | MEK1930 |
| Black / Batwing Fairing | MEK1954 |
| Black / Batwing Fairing | MEK1955 |
| Black / Batwing Fairing | MEK1957 |
| Black / Batwing Fairing | MEK1967 |
| Black / Batwing Fairing | MEB1990 |
| Black / Batwing Fairing With Covered Forks | MEM8995 |
| Black / Batwing Fairing With Exposed Forks | MEM8996 |
| Black / Bullet Fairing With Covered Forks | MEB1975 |
| Black / Bullet Fairing | MEB1982 |
| Black / Bullet Fairing | MEB1998 |
| Black / Bullet Fairing With Exposed Forks | MEK1959 |
| Black / Bullet Fairing | MEK1961 |
| Black / Bullet Fairing | MEK1965 |
| Black / Bullet Fairing | MEK1963 |
| Black / Bullet Fairing | MEK1974 |
| Black / Bullet Fairing | MEK1972 |
| Black / Bullet Fairing With Exposed Forks | MEB1977 |
| Black / Bullet Fairing With Covered Forks | MEB1979 |
| Black / Bullet Fairing | MEB1991 |
| Black / Bullet Fairing | MEB2010 |
| Black / Bullet Fairing With Covered Forks | MEB2011 |
| Black / Bullet Fairing With Exposed Forks | MEB2012 |
| Black / Cafe Fairing | MEB1994 |
| Black / Cafe Fairing | MEB1995 |
| Black / Cafe Fairing | MEB1997 |
| Black / Cafe Fairing | MEB1996 |
| Black / Cafe Fairing | MEB2007 |
| Black / Cafe Fairing | MEB2003 |
| Black / Cafe Fairing | MEB2015 |
| Black / Fats And Slim Windshields | MEK1914 |
| Black / Fats And Slim Windshields | MEB8977 |
| Black / Fats And Slim Windshields | MEB1943 |
| Black / Fats And Slim Windshields | MEB8962 |
| Black / Fats And Slim Windshields | MEB8982 |
| Black / Fats And Slim Windshields | MEB8980 |
| Black / Fats And Slim Windshields | MEB8969 |
| Black / Fats And Slim Windshields | MEB8981 |
| Black / Fats And Slim Windshields | MEB1949 |
| Black / Fats And Slim Windshields | MEB1960 |
| Black / Fats And Slim Windshields | MEB1968 |
| Black / Fats And Slim Windshields | MEB8966 |
| Black / Fats And Slim Windshields | MEB1989 |
| Black / Fats And Slim Windshields | MEB8967 |
| Black / Fats And Slim Windshields | MEB8968 |
| Black / Fats And Slim Windshields | MEB8974 |
| Black / Fats And Slim Windshields | MEB8975 |
| Black / Fats And Slim Windshields | MEB8976 |
| Black / Fats And Slim Windshields/Batwing Fairing Without Lightbar | MEK1952 |
| Black / Fats And Slim Windshields | MEB1986 |
| Black / Fats And Slim Windshields | MEB2005 |
| Black / Fats And Slim Windshields | MEB2001 |
| Black / Fats And Slim Windshields | MEB2013 |
| Black / Fats And Slim Windshields | MEB2017 |
| Black / Fats And Slim Windshields With Covered Forks | MEB8963 |
| Black / Fats And Slim Windshields With Exposed Forks | MEB8973 |
| Black / Fats And Slim Windshields/Batwing Fairing | MEB8965 |
| Black / Fats And Slim Windshields/Batwing Fairing | MEB8964 |
| Black / Fats And Slim Windshields/Batwing Fairing With Lightbar | MEM8988 |
| Black / Gauntlet Fairing | MEB1981 |
| Black / Gauntlet Fairing | MEB1984 |
| Black / Gauntlet Fairing | MEB1993 |
| Black / Gauntlet Fairing | MEB2006 |
| Black / Gauntlet Fairing | MEB2002 |
| Black / Gauntlet Fairing | MEB2014 |
| Black / Sportshields | MEB8919 |
| Black / Sportshields | MEB8920 |
| Black / Sportshields Without Lightbar | MEB8922 |
| Black / Sportshields With Lightbar | MEB8923 |
| Black / Sportshields | MEB8926 |
| Black / Sportshields | MEB8927 |
| Black / Sportshields | MEB8928 |
| Black / Sportshields | MEB1985 |
| Black / Sportshields | MEB2000 |
| Black / Sportshields | MEB8929 |
| Black / Sportshields | MEB1922 |
| Black / Sportshields | MEB1944 |
| Black / Sportshields | MEB8914 |
| Black / Sportshields | MEB8934 |
| Black / Sportshields | MEB8932 |
| Black / Sportshields | MEB1917 |
| Black / Sportshields | MEB8933 |
| Black / Sportshields | MEB1950 |
| Black / Sportshields | MEB8921 |
| Black / Sportshields | MEB1969 |
| Black / Sportshields | MEB8918 |
| Black / Sportshields | MEB8917 |
| Black / Sportshields | MEB8916 |
| Black / Sportshields | MEB1992 |
| Black / Sportshields | MEB1988 |
| Black / Sportshields With Covered Forks | MEB8915 |
| Black / Sportshields With Exposed Forks | MEB8925 |
| Polished / Batwing Fairing | MEK1983 |
| Polished / Batwing Fairing | MEK2008 |
| Polished / Batwing Fairing | MEK2004 |
| Polished / Batwing Fairing | MEK1999 |
| Polished / Batwing Fairing | MEK2009 |
| Polished / Batwing Fairing | MEK2016 |
| Polished / Batwing Fairing | MEK1927 |
| Polished / Batwing Fairing | MEK1929 |
| Polished / Batwing Fairing | MEK1953 |
| Polished / Batwing Fairing | MEK1956 |
| Polished / Batwing Fairing | MEK1970 |
| Polished / Batwing Fairing | MEK1966 |
| Polished / Batwing Fairing | MEK1990 |
| Polished / Batwing Fairing With Covered Forks | MEK1903 |
| Polished / Batwing Fairing With Exposed Forks | MEK1904 |
| Polished / Bullet Fairing | MEK1939 |
| Polished / Bullet Fairing With Covered Forks | MEK1975 |
| Polished / Bullet Fairing | MEK1998 |
| Polished / Bullet Fairing | MEK1958 |
| Polished / Bullet Fairing | MEK1964 |
| Polished / Bullet Fairing | MEK1973 |
| Polished / Bullet Fairing | MEK1971 |
| Polished / Bullet Fairing With Exposed Forks | MEK1976 |
| Polished / Bullet Fairing With Covered Forks | MEK1978 |
| Polished / Bullet Fairing | MEK2010 |
| Polished / Bullet Fairing With Covered Forks | MEK2011 |
| Polished / Bullet Fairing With Exposed Forks | MEK2012 |
| Polished / Cafe Fairing | MEK1994 |
| Polished / Cafe Fairing | MEK1995 |
| Polished / Cafe Fairing | MEK1997 |
| Polished / Cafe Fairing | MEK1996 |
| Polished / Cafe Fairing | MEK2007 |
| Polished / Cafe Fairing | MEK2003 |
| Polished / Cafe Fairing | MEK2015 |
| Polished / Fats And Slim Windshields | MEK1913 |
| Polished / Fats And Slim Windshields | MEM8977 |
| Polished / Fats And Slim Windshields | MEK1960 |
| Polished / Fats And Slim Windshields | MEK1968 |
| Polished / Fats And Slim Windshields | MEK1989 |
| Polished / Fats And Slim Windshields | MEM8967 |
| Polished / Fats And Slim Windshields | MEM8968 |
| Polished / Fats And Slim Windshields | MEM8971 |
| Polished / Fats And Slim Windshields | MEM8974 |
| Polished / Fats And Slim Windshields | MEM8976 |
| Polished / Fats And Slim Windshields | MEM8975 |
| Polished / Fats And Slim Windshields With Covered Forks | MEK1951 |
| Polished / Fats And Slim Windshields | MEK1986 |
| Polished / Fats And Slim Windshields | MEK2005 |
| Polished / Fats And Slim Windshields | MEK2001 |
| Polished / Fats And Slim Windshields | MEK2013 |
| Polished / Fats And Slim Windshields | MEK2017 |
| Polished / Fats And Slim Windshields With Covered Forks | MEM8985 |
| Polished / Gauntlet Fairing | MEK1981 |
| Polished / Gauntlet Fairing | MEK1984 |
| Polished / Gauntlet Fairing | MEK1993 |
| Polished / Gauntlet Fairing | MEK2006 |
| Polished / Gauntlet Fairing | MEK2002 |
| Polished / Gauntlet Fairing | MEK2014 |
| Polished / Sportshields | MEM8920 |
| Polished / Sportshields Without Light Bar | MEM8922 |
| Polished / Sportshields With Light Bar | MEM8923 |
| Polished / Sportshields | MEM8926 |
| Polished / Sportshields | MEM8928 |
| Polished / Sportshields | MEM8927 |
| Polished / Sportshields | MEK1985 |
| Polished / Sportshields | MEK2000 |
| Polished / Sportshields | MEM8929 |
| Polished / Sportshields | MEK1969 |
| Polished / Sportshields | MEK1992 |
| Polished / Sportshields | MEK1988 |
| Polished / Sportshields With Covered Forks | MEM8935 |
| Polished / Sportshields With Exposed Forks | MEM8930 |
| Black / Sportshields | MEB2018 |
| Black / Fats And Slim Windshields | MEB2019 |
| Polished / Sportshields | MEK2018 |
| Polished / Fats And Slim Windshields | MEK2019 |