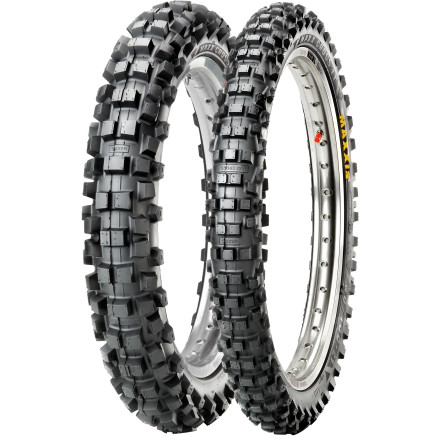 ---
30% Off - Save up to $64.50
---
5 Star
35
4 Star
6
3 Star
0
2 Star
0
1 Star
0
Great handling and durability
Used these tires for a 880 mile trip
In Baja. Very happy with durability and traction when wore down
2 months 28 days ago
La Mirada, CA, USA
Best desert tire
These tires really hook up in Rocky and Sandy conditions.
Excellent durability!
I've been riding 4 times now with these tires and they're showing very minimal wear and they have great traction. My previous tires would have shown way more wear and tear. These things rock in the Arizona desert!
The best woods tires there is.
i have raced these tires for 2 years. they have been the best tire i have used. i give away my take offs. most everyone switches to maxxis permanently after using my old ones. maxxis tires' greatest trait is how well they corner. maxxis also has a great contingency program . "fresh treads keep you off the hospital beds."
2 years 8 months ago
01201
Maxxis tires
thies tires are great they hook up through out the life of the tires but the tread wears down way faster than they should.
Over 3 years ago
North Alabama
Good for the woods
Been on a handful of rides, tires show minimum wear-should last a while. This is a tough carcass tire, rookies might want to seek professional installation.( but that's where the long life comes from)
I ride in rocks, (lots of rocks) roots, and red clay. I avoid mud but what lve been in the back tire churned right through, front corners good. I haven't dropped the bike because of tires yet.
ConanRehm838
Q: What is the difference between the Maxx Cross IT and the Maxx Cross Dessert IT?
Trevor Gearhead
Over 11 months ago
A: Maxx Cross IT-
Known as a very long-wearing intermediate motocross tire that performs exceptionally well in common intermediate to hardpack conditions.

Maxx Cross Dessert IT-
Tall knob design improves traction when racing in sandy conditions.
Tread compound optimized for longevity and to perform in a wide variety of desert terrains.
ryan
Q: I ride lots of hard pack with slick mud or gravel on top, also heavy rocks which would cause chinking. I also wouldn't want to get stuck in deep mud of course. what tires would work best? I heard the michelin starcross 5 last. would these do the same?
KawaFreekinSaki
Q: I am trying to decide between the maxxis maxcross desert IT, the maxcross IT and the maxcross SI. I ride a KLX450R, and I mainly ride hard pack but spend a good amount of time in creeks and varying soil density in the woods, What do you recommend?
rknight
1 year 4 months ago
A: Hello,

It sounds like a IT(intermediate terrain) tire will work best for your riding conditions.
Treal
Q: Is the yellow maxxis word on both tires or on just the front tire?
Motoexpert
1 year 7 months ago
A: Yellow lettering will be on both front and rear tires.
Bandits450
Q: Can i fit a 120/90/19
I have a 2002Crf450r its stock is 110/90/19 can I fit a 120/90/19 without tire rub
rk150
Q: Can the tread on the maxcross IT tires break off easy
Nickhonda
Q: Which tire is best for me?
I have a crf450 I right anywhere from hardpack trails and tracks to intermediate mud with occasional gravel roads. What do you suggest?
MotoSportExpert
Over 4 years ago
A: I would suggest the Maxxis Maxxcross IT.
Banger
Q: How do i pick my own size tire?
hello i have a yz 250 that i swapped out the stock 19 rim for an 18, i guess this is more of a general question. but how can i pick from 18 inch rim tires?
MotoSportExpert
Over 4 years ago
A: Good question, you can choose the WR450F model and that will bring up 18" tire options. Just remember to switch back to your YZ250 when searching for other parts. Also, feel free to give us a call at 888-676-8853 and we would be happy to help you out with your order.
loneida
Q: Can you get the Deseret IT in a 140-90/18. That is what I am running on my 200 with the TuBliss system
I would use a 120/90/18 if needed
MotoSportExpert
Over 4 years ago
A: The largest size rear tire Maxxis makes in the Desert IT is the 120/100-18 for you. More than likely the stock size is closer to a 120/90-18 size on the KTM as many of them come with michellin tires that use a metric sizing. The 120/90-18 would be the standard sizing.
Darayvn
Q: Best middle ground tire?
I have a 2010 RMZ 450 that I need to replace the tires on. I usually run dunlops but I keep hearing people praise maxxis tires. What would be the best maxxis tire for trail riding and some dune riding? And what sizes? It would be more so for trails but I want something that will do ok in beach sand other than a paddle tire.
MotoSportExpert
Over 4 years ago
A: Your Best all around tires would be the IT models. It is an intermediate terrain tire that will do well in most all different terrains. A paddle is always going to be best in the sand dunes. You may consider purchasing a separate paddle tire and wheel combo for when you ride there.
See all bikes that this part fits...
Front Tire
| Product Variant | Manufacturer Part # |
| --- | --- |
| 80/100-21 | TM88187100 |
| 90/100-21 | TM89948100 |
| 80/100-21 | TM88193000 |
| 4.00-18 | TM66650000 |
| 90/90-21 | TM91609000 |
| 80/100-21 | TM88180000 |
| 80/100-21 | TM88176100 |
| 80/100-21 | TM88185000 |
| 80/100-21 | TM88192500 |
Rear Tire
| Product Variant | Manufacturer Part # |
| --- | --- |
| 110/100-18 | TM73514000 |
| 100/90-19 | TM87918000 |
| 100/90-19 | TM87916000 |
| 120/80-19 | TM78790000 |
| 120/100-18 | TM76951000 |
| 110/90-19 | TM78728000 |
| 110/100-18 | TM73518100 |
| 100/90-19 | TM87921000 |
| 110/80-19 | TM78460000 |
| 120/90-19 | TM79108000 |
| 110/90-19 | TM78725000 |
| 110/80-19 | TM78405000 |
| 120/90-19 | TM79106100 |
| 110/90-19 | TM78718000 |
| 110/80-19 | TM78411000 |
| 110/90-19 | TM78719000 |
| 110/90-19 | TM78724000 |
| 140/80-18 | TM76828000 |
| 120/100-18 | TM76946000 |
| 110/90-19 | TM78729000 |
| 110/100-18 | TM73517000 |
| 110/90-19 | TM78701000 |
| 100/100-18 | TM52612000 |
| 4.00-18 | TM66650000 |
| 100/100-18 | TM52614000 |