Maxima
Maxima SC1 Silicone Detailer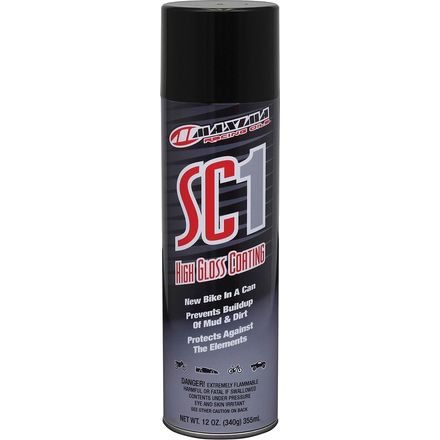 Maxima SC1 Silicone Detailer
5 Star
100
4 Star
3
3 Star
0
2 Star
0
1 Star
1
Write a Review
Write your review and you'll automatically be entered in our monthly drawing. Include an image or video to DOUBLE your chances to win!
Write Your Review
New Bike in a CAN !! Excellent Bike Shine....
After I wash our Race Bikes they get sprayed down with SC-1... Keeps them looking GREAT !!
1 month 2 days ago
Beaverton, OR
Smells great
works awesome, makes my bike look brand new. it also smells great and not super chemically.
1 month 5 days ago
Fallston,md
Amazing
Love this stuff and use it on a daily basis. The smell of this is a nice added bonus.
1 month 12 days ago
Blanchard, OK
Awesome Product
I have previously used a similar product called Pig Spit and was looking for something here on Motosport that served the same purpose. The reviews were good, so I gave the SC1 a shot. I have to say that it fulfilled my expectations and better. The product is great for reviving weathered plastic such as trim pieces that don't get replaced as often as body plastic. I use it on anything that has a matte finish and also use it on my autos for stuff like the trim below the windshield wipers, etc. It does a great job of restoring the deeper color. It also has some water repellent qualities. I don't thin kit adds much shine to already scuffed mx plastic, but it does help with washing mud off the bike. It also smells fragrant - the odor is pleasant and hung around the shop for several hours. haha. I'm definitely adding this to my list of favorite cleaning products.
1 month 15 days ago
Florida
Great product poorly shipped so nozzle broken off.
2 months 18 days ago
SAN DIEGO, CA
Great for MTB stanchions
This is awesome on MTB stanchions, quick spray and no stiction. Leaves plastics looking good after washing, quick spray and a wipe looks good. I also use this on towing balls a quick spray on top of ball to lube it up a little when towing. It smells very good like bubble gum. Also good to spray on ruber hoses and metal areas of bike to stop/prevent rust. Leave under fenders or on plastics do not wipe it down if riding in muddy conditions.
2 months 25 days ago
Indiana
Whoop A in a Can
Borrowed some of this from a friend at the track because I was out of my regular silicone. This stuff is awesome! It dries and leaves a nice clear coating on the plastic. Mud, water, grime literally falls off when it dries thanks to this. Makes cleaning up after a moto so easy. Not buying standard silicone again, this stuff Rocks!
2 months 26 days ago
Negaunee, MI
Great product
nothing beats SC1
it is a new bike in a can!
The best
Cant beat this round make your bike look new again. Also SC1 smell wonderful !!
4 months 29 days ago
Example: New York, NY
Excellent Product to keep your Bike Looking Great
New Bike Look in a Can !! This stuff Works !
motorestore
Q: Will it make dull plastics shiny?
I have dull plastics that I sanded and I was wondering if I apply this will it give the plastics a shine again?
Isaac
Over 10 months ago
A: Since the plastic is sanded we would suggest you try PC Racing Plastic Renew. Unfortunately the SC1 would not make sanded plastic shine.
David
Over 10 months ago
A: Most likely with not.
Farez
Q: Can i buy per caton? how much it is if i buy per caton?
Jakeext3453
1 year 6 months ago
A: It is sold by the can, there is no cost saving to buy it by the case.
hw731
Q: Does this work for metal surfaces?
MotoDad
Top 50
Verified Purchaser
2 years 3 months ago
A: It works great for painted surfaces, but not so great for non-painted surfaces like an aluminum frame.
Redrider
Q: Is this product safe to use on sportbikes? Looking for product to use on black plastic trim and black swingarm on cbr1000.
JayBug
2 years 10 months ago
A: My dad and I have tried many waxes. From Maxima, Turtle Wax, 210 Plastic polish. From my experience I have found that Maxima kind of faded away on the black plastics, however it does an amazing job on red. What I do is I put Maxima on my seat. I know that it is silicon based and people say don't put it on anything that you want to be grippy but I don't find my seat to be any less grippy. This product definitely keeps the black on my seat looking better than any product I have used. Now what I have found is that Pledge furniture polish (I use the lemon scented stuff) keeps black plastics looking nice and shiny. I would recommend you try the Maxima and Pledge and see what you like best.
MotoSportExpert
2 years 10 months ago
A: Yes the Maxima SC1 Silicone Detailer will work on sportbikes.
Ontario72
Q: I want a case of this - is it a one time shipping charge or per can?
MotoSportExpert
Over 3 years ago
A: Chemicals do have to be shipped ground but it would be a flat rate of $8 or if your order is over $49 it will ship ground for free.
http://www.motosport.com/about/shippingpolicy
Bru42
Q: Is this safe to use on carbon Bike frames and carbon wheels?
MotoSportExpert
Over 3 years ago
A: Yes, the Maxima SC1 Silicone Detailer is safe on carbon fiber.
Dabraapman
Q: What exactly does this do?
GeeMo
Over 3 years ago
A: Puts a protective coat on the body parts and allows for easy cleaning afterwards.
TX248
Verified Purchaser
Top 100
Over 3 years ago
A: It's a silicone details spray so it puts a thin layer of silicone on your plastic. It brings back the luster and helps prevent major dirt/mud buildup making the cleaning process easier and keeping the bike lighter while you ride.
Bobb
Over 3 years ago
A: Shines bike brings plastic back to life. If you like your bike to shine and stand out this is the stuff that will do it
MotoSportExpert
Over 3 years ago
A: Maxima SC1 cleans, shines and protects your plastic. It works great and keeps your bike looking fresh!
Maxx
Q: Is this product safe for my lexan windshield?
MotoSportExpert
Over 4 years ago
A: No, I would not recommend it on your windshield. It leaves behind an oily protective film. Works great on everything else!
LRRS38
Verified Purchaser
Top 250
Over 4 years ago
A: I use this and Honda Polish on my Arai shields with no issues
| Product Variant | Manufacturer Part # |
| --- | --- |
| Maxima SC1 Silicone Detailer | 78920 |
California Proposition 65
WARNING: This product contains chemicals known to the State of California to cause cancer, and birth defects or other reproductive harm. Wash hands after handling. For more information, go to www.P65Warnings.ca.gov.