Maxima
Maxima Clean Up Degreaser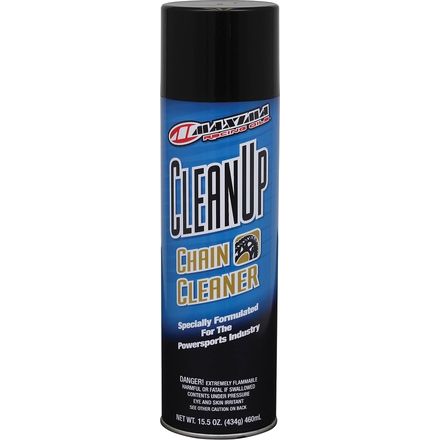 Maxima Clean Up Degreaser
---
Rating: 4.9 out of 5 stars
---
15 Reviews
13

reviews

2

reviews

0

reviews

0

reviews

0

reviews
All Reviews
Over 8 months ago
Bolingbrook Illinois
Quick and easy chain cleaning
This stuff works quickly and easy. My chain is much cleaner than when using just kerosene.
Over 10 months ago
Arvada, CO
Awesome for Cleaning Chains
This has done an aswome job of cleaning all the grime out of the chain and cleans the chain and sprocket and everywhere that gets chain lube on.
1 year 4 months ago
Fallston,md
Amazing stuff
Does an amazing job at breaking down grease. Spray a little on and rinse right off. Really like to use in air box and filter cages.
1 year 5 months ago
Texas
Must Have For Gold Chains!
This works great! This is a must have if you have a gold or colored chain!
1 year 9 months ago
Overbrook, KS
Quick and Easy!
Super easy to use and works amazingly! Just spray on when you're setting up to wash your bike and by the time you have your power washer hooked up it'll be nice and soaked in and, boom! Spray it right off and your chain looks brand spankin new! Great stuff!
2 years ago
Leavittsburg, Ohio
2 years 5 months ago
Millboro va
Great product
Works great. Spray it in your chain let it set and spray it off comes out looking great. Would highly recommend this product. Nice to have laying around in the shelf
Over 3 years ago
Las Vegas, NV, USA
Maxima Clean Up Degreaser
I love this stuff, just spray on before washing and let set for a few minutes then spray off. Awsome
Works better than i thought it would
this stuff really gets a chain clean with minimum hassle. good buy.
Best chain cleaner.
None of the other products I've tried come even close in comparison to the maxima chain cleaner. This stuff really gets everything off. I'm a woods rider and my chain looks brand new after cleaning my chain from playing in the creek bottoms all day plus any previous chain lube. Awsome stuff!!!!
1 Question
Question asked by

Callum
Question:

Is this safe on painted and anodised surfaces. I would like to use it to clean my engine but don't want to ruin my frame, anondised or painted surfaces surrounding.

Question asked

1 year 4 months ago
# Part Numbers
| Product Variant | Manufacturer Part # |
| --- | --- |
| 15.5oz Maxima Clean Up Degreaser | 75920 |
California Proposition 65
WARNING: This product contains chemicals known to the State of California to cause cancer. Wash hands after handling. For more information, go to www.P65Warnings.ca.gov.