Maxima
Maxima Air Filter Cleaner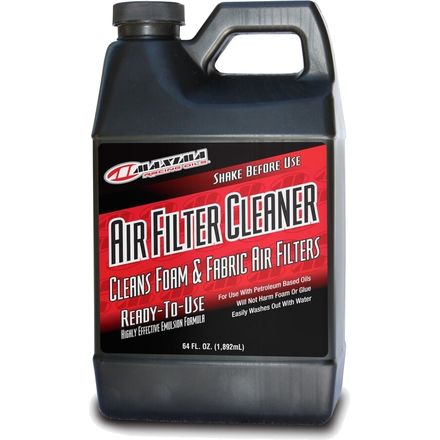 Maxima Air Filter Cleaner
---
Rating: 4.6 out of 5 stars
---
18 Reviews
13

reviews

4

reviews

0

reviews

1

reviews

0

reviews
All Reviews
Best cleaner
best cleaner. love that it comes in big jugs
1 year 1 month ago
Wisconsin
Cleans great
Use it to clean all my filters for multiple years now, not hard on the foam but gets them clean, easy to apply
1 year 3 months ago
Cleveland Ohio
Works great
I purchased this product to clean my K&N filter in my motorcycle. You actually need a large amount of cleaner to submerge the entire filter to properly clean it. The product works very well and completely cleaned the filter.
1 year 4 months ago
port st lucie florida
Maxima Air filter cleaner
Works well, Maxima Quality product. However I do prefer The Twin Air Filter cleaner Better,Just my preference You can't go wrong with either
1 year 5 months ago
Virginia
The spray is the bomb
great product. usually can clean 5 filters per spray can. cuts the oil easy. rinses out easy
1 year 10 months ago
Ohio
Great Product
I tried this cleaner, because the previous cleaner I was using didn't seem to be working and Maxima cleaner works great! There is no more having to clean the filter twice, this stuff works the first time. I would highly recommend this, it make cleaning filters so much easier!
2 years ago
Michigan, USA
Worked great
Worked wonders on the filter in the used bike I bought. Looks brand new.
2 years 10 months ago
Ft Worth ,tx
Maxima air filter cleaner
The directions say that you have to soak the filter in this cleaner for a period. This entails another container and enough cleaner to soak the filter. It doesn't clean as fast or as well as other spray cleaners. Having to transfer the cleaner to and from the container is a pain. Will stick with spray cleaners. They work better and much faster to get the filter clean
Over 3 years ago
South East Kansas
Worth the money
This stuff actually works better than I expected. And for what it cost it is cheap insurance to make sure your air filter gets cleaned. The oil I use on the filters is like honey and will not come off unless you use harsh solvents that destroy the filter after a couple washes. With this stuff you don't have to worry about filter damage and it cuts the most stubborn of air filter oils with ease.
Ask a Question
There have been no questions asked about the Maxima Air Filter Cleaner.
# Part Numbers
| Product Variant | Manufacturer Part # |
| --- | --- |
| 64oz Maxima Air Filter Cleaner | 70-79964 |
California Proposition 65
WARNING: This product contains chemicals known to the State of California to cause cancer. Wash hands after handling. For more information, go to www.P65Warnings.ca.gov.