K&L
K&L Carburetor Repair Kit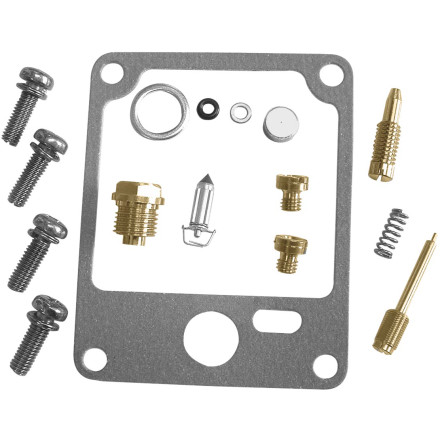 K&L Carburetor Repair Kit
5 Star
3
4 Star
0
3 Star
0
2 Star
0
1 Star
1
Write a Review
Write your review and you'll automatically be entered in our monthly drawing. Include an image or video to DOUBLE your chances to win!
Write Your Review
Right part right price
Fast service, right part the first time.
Just what the bike needed
I was impressed with the person at Motorsport . Very informative. I will shop again at Motorsport . All the parts on the kit worked for the bike.
It runs great now!
Thanks
K&L carb rebuild kits
I installed 4 ea kits in 1981 Honda CB 650 this past weekend.What I found somewhat shocked me.The K&L kits were inconsistent and incomplete in that parts that should have been supplied were not.Tapered needles were not supplied as the advertised picture would indicate.Two kits supplied the required #120 main jets while the other two supplied #112 main jets forcing me to use the original jets.O-rings for the bowl drain screws were incorrectly sized as they were too small.An unnecessary set of extra set of pilot air screw o-rings and washers were supplied,but no o-ring for the accelerator pump to bowl was supplied.Overall,poor execution of a rebuild kit and price for these exact kits much cheaper on other vendor sites.
Over 6 years ago
Louisiana
Perfect
This kit has everything you need to get carbs in great shape.
See all bikes that this part fits...
| Product Variant | Manufacturer Part # |
| --- | --- |
| K&L Carburetor Repair Kit | 18-2409 |
| K&L Carburetor Repair Kit | 18-2412 |
| K&L Carburetor Repair Kit | 18-2414 |
| K&L Carburetor Repair Kit | 18-2416 |
| K&L Carburetor Repair Kit | 18-2417 |
| K&L Carburetor Repair Kit | 18-2418 |
| K&L Carburetor Repair Kit | 18-2419 |
| K&L Carburetor Repair Kit | 18-2420 |
| K&L Carburetor Repair Kit | 18-2421 |
| K&L Carburetor Repair Kit | 18-2422 |
| K&L Carburetor Repair Kit | 18-2429 |
| K&L Carburetor Repair Kit | 18-2433 |
| K&L Carburetor Repair Kit | 18-2436 |
| K&L Carburetor Repair Kit | 18-2445 |
| K&L Carburetor Repair Kit | 18-2447 |
| K&L Carburetor Repair Kit | 18-2448 |
| K&L Carburetor Repair Kit | 18-2449 |
| K&L Carburetor Repair Kit | 18-2451 |
| K&L Carburetor Repair Kit | 18-2453 |
| K&L Carburetor Repair Kit | 18-2461 |
| K&L Carburetor Repair Kit | 18-2462 |
| K&L Carburetor Repair Kit | 18-2464 |
| K&L Carburetor Repair Kit | 18-2465 |
| K&L Carburetor Repair Kit | 18-2466 |
| K&L Carburetor Repair Kit | 18-2554 |
| K&L Carburetor Repair Kit | 18-2555 |
| K&L Carburetor Repair Kit | 18-2559 |
| K&L Carburetor Repair Kit | 18-2570 |
| K&L Carburetor Repair Kit | 18-2571 |
| K&L Carburetor Repair Kit | 18-2572 |
| K&L Carburetor Repair Kit | 18-2573 |
| K&L Carburetor Repair Kit | 18-2574 |
| K&L Carburetor Repair Kit | 18-2575 |
| K&L Carburetor Repair Kit | 18-2576 |
| K&L Carburetor Repair Kit | 18-2577 |
| K&L Carburetor Repair Kit | 18-2578 |
| K&L Carburetor Repair Kit | 18-2579 |
| K&L Carburetor Repair Kit | 18-2581 |
| K&L Carburetor Repair Kit | 18-2582 |
| K&L Carburetor Repair Kit | 18-2583 |
| K&L Carburetor Repair Kit | 18-2584 |
| K&L Carburetor Repair Kit | 18-2589 |
| K&L Carburetor Repair Kit | 18-2590 |
| K&L Carburetor Repair Kit | 18-2591 |
| K&L Carburetor Repair Kit | 18-2592 |
| K&L Carburetor Repair Kit | 18-2596 |
| K&L Carburetor Repair Kit | 18-2599 |
| K&L Carburetor Repair Kit | 18-2606 |
| K&L Carburetor Repair Kit | 18-2608 |
| K&L Carburetor Repair Kit | 18-2610 |
| K&L Carburetor Repair Kit | 18-2611 |
| K&L Carburetor Repair Kit | 18-2662 |
| K&L Carburetor Repair Kit | 18-2685 |
| K&L Carburetor Repair Kit | 18-2688 |
| K&L Carburetor Repair Kit | 18-2689 |
| K&L Carburetor Repair Kit | 18-2690 |
| K&L Carburetor Repair Kit | 18-2900 |
| K&L Carburetor Repair Kit | 18-2902 |
| K&L Carburetor Repair Kit | 18-2907 |
| K&L Carburetor Repair Kit | 18-2910 |
| K&L Carburetor Repair Kit | 18-2911 |
| K&L Carburetor Repair Kit | 18-4345 |
| K&L Carburetor Repair Kit | 18-5112 |
| K&L Carburetor Repair Kit | 18-5230 |