JT
JT 520 Steel Sprocket And Chain Kit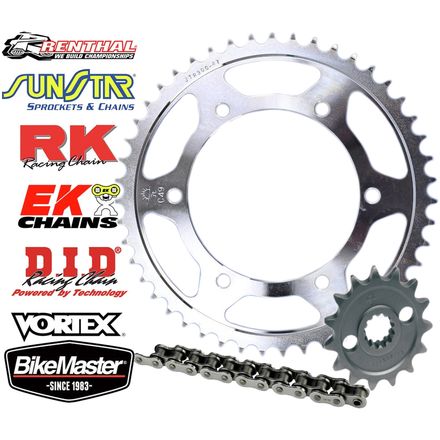 JT 520 Steel Sprocket And Chain Kit
---
23% Off - Save up to $26.85
---
Enter to Win $500
Write your review and you'll automatically be entered in our monthly drawing. Include an image or video to DOUBLE your chances to win!
Write Your Review
Teddy
Q: I have a 2000 ZX6R. How much top speed will I lose going to a -1 +3 sprocket kit?
DaveGearhead
3 months 21 days ago
A: Roughly you would lose 3-5 mph off the top end.
See all bikes that this part fits...
Chain
| Product Variant | Manufacturer Part # |
| --- | --- |
| Red / 120 Links | 520MVXZ2-120R |
| Yellow / 120 Links | 520MVXZ2-120Y |
| Black/Gold / 120 Links | 520ZVX3-120KG |
| Green / 120 Links | 520MVXZ2-120N |
| Metallic Purple / 120 Links | 520ZVX3-120AP |
| Chrome / 120 Links | 520ZVX3-120C |
| Metallic Red / 120 Links | 520MVXZ2-120AR |
| Metallic Green / 120 Links | 520ZVX3-120AN |
| Metallic Blue / 120 Links | 520MVXZ2-120AB |
| Metallic Orange / 120 Links | 520MVXZ2-120AO |
| Orange / 120 Links | 520MVXZ2-120/O |
| Natural / 120 Links | 520MVXZ2-120 |
| Black/Gold / 120 Links | 520GP3D-120KG |
| Gold/Black / 120 Links | 520VX2G120 |
| Blue / 120 Links | 520MVXZ2-120B |
| Metallic Blue / 120 Links | 520ZVX3-120AB |
| Gold / 120 Links | 520MVXZ2-120G |
| Metallic Orange / 120 Links | 520ZVX3-120AO |
| Black Nickel / 120 Links | 520MVXZ2-120K |
| Metallic Red / 120 Links | 520ZVX3-120AR |
| Pink / 120 Links | 520MVXZ2-120ME |
| Gold / 120 Links | 520ZVX3-120G |
| Gold / 120 Links | G520SX3-120 |
| Chrome / 120 Links | 520GP3D-120C |
| Black / 120 Links | 520SX3-120 |
| Gold / 120 Links | G520RRX3-120 |
| Gold / 120 Links | 520GP3D-120G |
| Black/Chrome / 120 Links | 520BMXR-120/BC |
| Natural / 120 Links | 520BMXR-120 |
| Gold/Gold / 120 Links | 520BMXR-120/GG |
| Black/Gold / 120 Links | 520BMXR-120/BG |
| Green / 120 Links | 197454 |
| Blue / 120 Links | 197453 |
| Pink / 120 Links | 197457 |
| Orange / 120 Links | 197456 |
| Yellow / 120 Links | 197455 |
| Red / 120 Links | 197452 |
| Gold / 120 Links | 520ERV3 G&G X 120 |
| Gold / 120 Links | N/A |
| Gold / 120 Links | C377 |
| Gold / 120 Links | C328 |
| Gold / 120 Links | GB520GXW |
| Gold / 120 Links | GB520XSO |
| Natural / 120 Links | SS520RDG-120 |
| Gold / 140 Links | GB520GXW |
| Black / 120 Links | 520RX3-120 |
| Gold / 120 Links | SS520RTG1-120 |
| Black / 120 Links | 520RRX3-120 |
| Gold / 120 Links | G520RX3-120 |
Front Sprocket
| Product Variant | Manufacturer Part # |
| --- | --- |
| 520 / 15T | JTF1579.15 |
| 520 / 15T | JTF736.15 |
| 520 / 16T / OEM Rubber Cushion | JTF565.16RB |
| 520 / 12T / Self Cleaning | JTF565.12SC |
| 520 / 17T | JTF402.17 |
| 520 / 15T | JTF402.15 |
| 520 / 13T | JTF402.13 |
| 520 / 12T | JTF1902.12 |
| 520 / 17T | JTF1581.17 |
| 520 / 16T | JTF1581.16 |
| 520 / 14T | JTF1581.14 |
| 520 / 17T | JTF1579.17 |
| 520 / 16T | JTF1579.16 |
| 520 / 15T | JTF270.15 |
| 520 / 14T | JTF283.14 |
| 520 / 13T | JTF1902.13 |
| 520 / 14T | JTF402.14 |
| 520 / 14T | JTF1902.14 |
| 520 / 16T | JTF402.16 |
| 520 / 15T | JTF1902.15 |
| 520 / 16T / OEM Rubber Cushion | JTF516.16RB |
| 520 / 16T | JTF1902.16 |
| 520 / 15T / OEM Rubber Cushion | JTF565.15RB |
| 520 / 17T | JTF1902.17 |
| 520 / 14T | JTF736.14 |
| 520 / 15T / OEM Rubber Cushion | JTF1538.15RB |
| 520 / 14T | JTF1538.14 |
| 520 / 14T / OEM Rubber Cushion | JTF1539.14RB |
| 520 / 14T | JTF1536.14 |
| 520 / 15T | JTF1538.15 |
| 520 / 16T | JTF1516.16 |
| 520 / 16T / OEM Rubber Cushion | JTF1536.16RB |
| 520 / 14T | JTF1516.14 |
| 520 / 17T | JTF1516.17 |
| 520 / 16T | JTF1423.16 |
| 520 / 15T | JTF1516.15 |
| 520 / 16T | JTF1381.16 |
| 520 / 17T | JTF1423.17 |
| 520 / 15T | JTF1381.15 |
| 520 / 16T / OEM Rubber Cushion | JTF1381.16RB |
| 520 / 16T | JTF1373.16 |
| 520 / 15T / OEM Rubber Cushion | JTF1381.15RB |
| 520 / 14T | JTF1321.14 |
| 520 / 17T | JTF1373.17 |
| 520 / 12T | JTF1321.12 |
| 520 / 15T | JTF1373.15 |
| 520 / 13T | JTF270.13 |
| 520 / 13T | JTF1321.13 |
| 520 / 12T | JTF270.12 |
| 520 / 15T / OEM Rubber Cushion | JTF1307.15RB |
| 520 / 14T | JTF1269.14 |
| 520 / 16T | JTF516.16 |
| 520 / 16T | JTF565.16 |
| 520 / 14T | JTF516.14 |
| 520 / 15T | JTF516.15 |
| 520 / 14T | JTF569.14 |
| 520 / 15T | JTF569.15 |
| 520 / 12T | JTF569.12 |
| 520 / 13T | JTF569.13 |
| 520 / 14T / Self Cleaning | JTF565.14SC |
| 520 / 15T | JTF565.15 |
| 520 / 17T | JTF512.17 |
| 520 / 13T | JTF565.13 |
| 520 / 14T | JTF270.14 |
| 520 / 15T | JTF512.15 |
| 520 / 14T | JTF512.14 |
| 520 / 15T | JTF1539.15 |
| 520 / 15T | JTF1581.15 |
| 520 / 16T | JTF1536.16 |
| 520 / 14T | JTF1539.14 |
| 520 / 15T | JTF1307.15 |
| 520 / 14T | JTF1307.14 |
| 520 / 16T | JTF512.16 |
| 520 / 15T | JTF1536.15 |
| 520 / 17T | JTF569.17 |
| 520 / 16T | JTF1269.16 |
| 520 / 15T | JTF1269.15 |
| 520 / 16T | JTF582.16 |
| 520 / 11T | JTF569.11 |
| 520 / 16T | JTF569.16 |
Rear Sprocket
| Product Variant | Manufacturer Part # |
| --- | --- |
| Standard / 520 / 42T | JTR897.42 |
| Standard / 520 / 45T | JTR897.45 |
| Standard / 520 / 47T | JTR486.47 |
| Standard / 520 / 38T | JTR478.38 |
| Standard / 520 / 49T | JTR5.49 |
| Standard / 520 / 38T | JTR735.38 |
| Standard / 520 / 45T | JTR1308.45 |
| Standard / 520 / 30T | JTR279.30 |
| Standard / 520 / 32T | JTR279.32 |
| Standard / 520 / 35T | JTR279.35 |
| Standard / 520 / 51T | JTR897.51 |
| Standard / 520 / 49T | JTR897.49 |
| Standard / 520 / 47T | JTR897.47 |
| Standard / 520 / 46T | JTR897.46 |
| Standard / 520 / 40T | JTR857.40 |
| Standard / 520 / 45T | JTR857.45 |
| Standard / 520 / 33T | JTR273.33 |
| Standard / 520 / 36T | JTR1478.36 |
| Standard / 520 / 30T | JTR273.30 |
| Standard / 520 / 47T | JTR245/3.47 |
| Standard / 520 / 45T | JTR245/3.45 |
| Standard / 520 / 45T | JTR486.45 |
| Standard / 520 / 43T | JTR245/3.43 |
| Standard / 520 / 40T | JTR1486.40 |
| Standard / 520 / 41T | JTR486.41 |
| Standard / 520 / 39T | JTR1303.39 |
| Standard / 520 / 44T | JTR897.44 |
| Standard / 520 / 38T | JTR897.38 |
| Standard / 520 / 41T | JTR857.41 |
| Standard / 520 / 43T | JTR857.43 |
| Standard / 520 / 40T | JTR897.40 |
| Standard / 520 / 46T | JTR823.46 |
| Standard / 520 / 40T | JTR735.40 |
| Standard / 520 / 45T | JTR823.45 |
| Standard / 520 / 39T | JTR857.39 |
| Standard / 520 / 45T | JTR735.45 |
| Standard / 520 / 38T | JTR279.38 |
| Standard / 520 / 42T | JTR735.42 |
| Standard / 520 / 44T | JTR735.44 |
| Standard / 520 / 43T | JTR1490.43 |
| Standard / 520 / 41T | JTR735.41 |
| Standard / 520 / 48T | JTR897.48 |
| Standard / 520 / 52T | JTR897.52 |
| Standard / 520 / 42T | JTR1490.42 |
| Standard / 520 / 39T | JTR735.39 |
| Standard / 520 / 50T | JTR897.50 |
| Standard / 520 / 40T | JTR1490.40 |
| Standard / 520 / 38T | JTR1857.38 |
| Standard / 520 / 44T | JTR1486.44 |
| Standard / 520 / 42T | JTR857.42 |
| Standard / 520 / 42T | JTR1486.42 |
| Standard / 520 / 42T | JTR1308.42 |
| Standard / 520 / 40T | JTR1478.40 |
| Standard / 520 / 34T | JTR1478.34 |
| Standard / 520 / 42T | JTR1793.42 |
| Standard / 520 / 38T | JTR1478.38 |
| Standard / 520 / 37T | JTR735.37 |
| Standard / 520 / 42T | JTR1478.42 |
| Standard / 520 / 43T | JTR478.43 |
| Standard / 520 / 45T | JTR1793.45 |
| Standard / 520 / 46T | JTR478.46 |
| Standard / 520 / 33T | JTR279.33 |
| Standard / 520 / 47T | JTR5.47 |
| Standard / 520 / 45T | JTR478.45 |
| Standard / 520 / 47T | JTR855.47 |
| Standard / 520 / 44T | JTR486.44 |
| Standard / 520 / 46T | JTR245/3.46 |
| Standard / 520 / 39T | JTR823.39 |
| Standard / 520 / 45T | JTR5.45 |
| Standard / 520 / 48T | JTR855.48 |
| Standard / 520 / 41T | JTR1316.41 |
| Standard / 520 / 41T | JTR1486.41 |
| Standard / 520 / 43T | JTR1303.43 |
| Standard / 520 / 43T | JTR1478.43 |
| Standard / 520 / 42T | JTR486.42 |
| Standard / 520 / 40T | JTR1308.40 |
| Standard / 520 / 36T | JTR1220.36 |
| Standard / 520 / 41T | JTR1303.41 |
| Standard / 520 / 38T | JTR486.38 |
| Standard / 520 / 38T | JTR1220.38 |
| Standard / 520 / 39T | JTR486.39 |
| Standard / 520 / 46T | JTR735.46 |
| Standard / 520 / 42T | JTR478.42 |
| Standard / 520 / 46T | JTR5.46 |
| Standard / 520 / 48T | JTR735.48 |