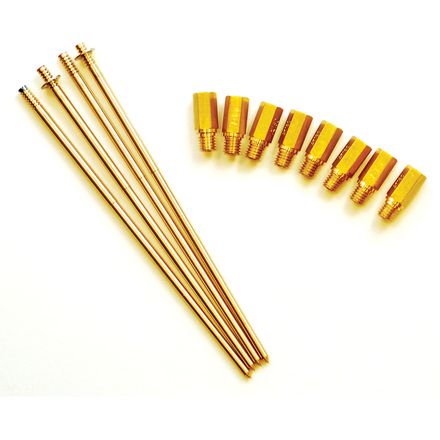 5 Star
162
4 Star
19
3 Star
2
2 Star
4
1 Star
5
Write a Review
Write your review and you'll automatically be entered in our monthly drawing. Include an image or video to DOUBLE your chances to win!
Write Your Review
Jet right
Good kit with everything added, no worries!
25 days ago
Baton Rouge, LA
Great so far
Bought a little over a month ago. Has performed flawlessly in the 6 hours I've put on the kit.
1 month 10 days ago
Michigan
2018 tx300
Works great 32.5 pilot 3rd blue needle and I believe 450 main works great in Michigan
Didn't work
bike wouldn't run with 30 pilot, had to put on choke. stay with stock settings on 2018 KTM 300 XCW and follow chart and the bike ran well.
1 month 15 days ago
Portland OR.
Best Mod for a DRZ
As most DRZ 400 folks will tell you, the 3x3 air box mod is needed to get the full potential out of the engine. There are other kits out there but this is the one with the clearest directions and the widest options for altitude and exhaust types. The difference in power and throttle response is huge. Very happy with my purchase, it came fast and was easy to install
1 month 21 days ago
Maine
Works great!
Bought for an RM250 and it works great.
1 month 24 days ago
Aculco de Espinoza, Mexico
Easy install.
JD puts out a quality product.
2 months 10 days ago
Vinton, La.
Awesome
I just got this kit installed on my bike today (07 crf250r) and it sure woke it up. I'm very satisfied and would recommend this kit to anyone!
2 months 29 days ago
South carolina
Great buy
Went by the guide still had to fine tune it.
Samshep
Q: Bike builds up if im not in powerband alot, it has stock carburetor but has fmf fatty with fmf silencer and v force reeds. What should i use out of the jd jet kit to make bike run better?
DaveGearhead
17 days ago
A: Sounds like you could be running a bit too fat on the pilot jet, but you should have a professional technician in your area assist you. They would have a better idea of proper jetting for your location.
Whitspeak
Q: I have a YZ250 2017, what size jets comes in the pack?
JamesGearhead
25 days ago
A: The manufacturer does not specify what jets come with. Generally, it comes with numerous sizes with a wide range for your motorcycle.
Chris
Q: I just order a brand new exhaust and the pipe but I never got it jetted so would I have to ?
noblea99
Q: What size jetting would I need for my pilot and main on my 2004 Artic Cat DVX 400 with a big bore kit and slip on pipe?
rknight
1 month 19 days ago
A: The jet kits come with a chart as to what jet sizes you will need with the elevation and modifications. If you want specifics you would have to call JDjetting.
Noah
Q: Would this work to reject my yz 125 after adding a fmf  exhaust system and vforce reeds
BillyEXT3407
2 months 8 days ago
A: Yes, the JD jet kit will help you correct the fuel ratio after performance modifications have been performed.
Josh
Q: Does this come with pilot jets?
Paul
2 months 24 days ago
A: The JD Jetting Jet Kit is model-specific. It includes main jets, but not pilot jets.
Tyguy
Q: Hi. do you guys have kit JDKH41? thats the kit that i need. thanks
robert
Over 5 months ago
A: These are sold by make, model and year specific options. We do carry them for pwk 38mm carbs.
JCole
Q: Are these jets compatible with low temperatures?
David
Over 8 months ago
A: Yes they will.
Olesen
Q: Does the JD Jetting kit work on the 2018 DRZ400 SM?
All the research I have done shows that the 2017-2018 (besides plastic color) are the same ike. before I purchase this kit I would like conformation that the kit will work for "2018 models" thank you
Alex
Over 9 months ago
A: Yes it will!
Smitty
Q: What parts are included in the kit for a 2008 WR450F?
Jakeext3453
Over 10 months ago
A: This really would depend on the model as to what comes in the kits. They do not give us the spec information for each kit.
See all bikes that this part fits...
| Product Variant | Manufacturer Part # |
| --- | --- |
| JD Jetting Jet Kit | N/A |
| JD Jetting Jet Kit | JDB001 |
| JD Jetting Jet Kit | JDB002 |
| JD Jetting Jet Kit | JDB003 |
| JD Jetting Jet Kit | JDB004 |
| JD Jetting Jet Kit | JDB005 |
| JD Jetting Jet Kit | JDHQ16 |
| JD Jetting Jet Kit | JDHQ19 |
| JD Jetting Jet Kit | JDHQ20 |
| JD Jetting Jet Kit | JDHQ28 |
| For SX Head | JDK021 |
| For Bored Carburetor | JDK022 |
| JD Jetting Jet Kit | JDK037 |
| JD Jetting Jet Kit | JDK038 |
| JD Jetting Jet Kit | JDKH06 |
| JD Jetting Jet Kit | JDH012 |
| JD Jetting Jet Kit | JDH013 |
| JD Jetting Jet Kit | JDH005 |
| JD Jetting Jet Kit | JDK011 |
| JD Jetting Jet Kit | JDK008 |
| JD Jetting Jet Kit | JDK006 |
| JD Jetting Jet Kit | JDK005 |
| JD Jetting Jet Kit | JDK009 |
| JD Jetting Jet Kit | JDK014 |
| JD Jetting Jet Kit | JDK001 |
| JD Jetting Jet Kit | JDK002 |
| JD Jetting Jet Kit | JDK013 |
| JD Jetting Jet Kit | JDK015 |
| JD Jetting Jet Kit | JDK012 |
| JD Jetting Jet Kit | JDK016 |
| JD Jetting Jet Kit | JDK020 |
| JD Jetting Jet Kit | JDKA01 |
| JD Jetting Jet Kit | JDS002 |
| JD Jetting Jet Kit | JDKA04 |
| JD Jetting Jet Kit | JDKA02 |
| JD Jetting Jet Kit | JDS004 |
| JD Jetting Jet Kit | JDS007 |
| JD Jetting Jet Kit | JDS003 |
| JD Jetting Jet Kit | JDY011 |
| JD Jetting Jet Kit | JDY002 |
| JD Jetting Jet Kit | JDY005 |
| JD Jetting Jet Kit | JDY004 |
| JD Jetting Jet Kit | JDY003 |
| JD Jetting Jet Kit | JDY009 |
| JD Jetting Jet Kit | JDY015 |
| JD Jetting Jet Kit | JDY006 |
| JD Jetting Jet Kit | JDY001 |
| JD Jetting Jet Kit | JDH009 |
| JD Jetting Jet Kit | JDH002 |
| JD Jetting Jet Kit | JDH011 |
| JD Jetting Jet Kit | JDH003 |
| JD Jetting Jet Kit | JDH001 |
| JD Jetting Jet Kit | JDH008 |
| JD Jetting Jet Kit | JDH006 |
| JD Jetting Jet Kit | JDS001 |
| JD Jetting Jet Kit | JDS005 |
| JD Jetting Jet Kit | JDKA05 |
| JD Jetting Jet Kit | JDKH01 |
| JD Jetting Jet Kit | JDH018 |
| JD Jetting Jet Kit | JDH014 |
| JD Jetting Jet Kit | JDH015 |
| JD Jetting Jet Kit | JDH016 |
| JD Jetting Jet Kit | JDH017 |
| JD Jetting Jet Kit | JDH007 |
| JD Jetting Jet Kit | JDK023 |
| JD Jetting Jet Kit | JDK025 |
| JD Jetting Jet Kit | JDK018 |
| JD Jetting Jet Kit | JDHQ13 |
| JD Jetting Jet Kit | JDHQ14 |
| JD Jetting Jet Kit | JDHQ11 |
| JD Jetting Jet Kit | JDHQ07 |
| JD Jetting Jet Kit | JDHQ12 |
| JD Jetting Jet Kit | JDHQ10 |
| JD Jetting Jet Kit | JDHQ06 |
| JD Jetting Jet Kit | JDHQ04 |
| JD Jetting Jet Kit | JDHQ03 |
| JD Jetting Jet Kit | JDHQ05 |
| JD Jetting Jet Kit | JDKA16 |
| JD Jetting Jet Kit | JDKA07 |
| JD Jetting Jet Kit | JDKA10 |
| JD Jetting Jet Kit | JDKA13 |
| JD Jetting Jet Kit | JDKA14 |
| JD Jetting Jet Kit | JDKA03 |
| JD Jetting Jet Kit | JDKA15 |
| JD Jetting Jet Kit | JDKA08 |
| JD Jetting Jet Kit | JDKA09 |
| JD Jetting Jet Kit | JDS006 |
| JD Jetting Jet Kit | JDKA11 |
| JD Jetting Jet Kit | JDKA12 |
| JD Jetting Jet Kit | JDKA06 |
| JD Jetting Jet Kit | JDS008 |
| JD Jetting Jet Kit | JDS011 |
| JD Jetting Jet Kit | JDS012 |
| JD Jetting Jet Kit | JDS013 |
| JD Jetting Jet Kit | JDY017 |
| JD Jetting Jet Kit | JDY008 |
| JD Jetting Jet Kit | JDY014 |
| JD Jetting Jet Kit | JDY013 |
| JD Jetting Jet Kit | JDY012 |
| JD Jetting Jet Kit | JDY007 |
| JD Jetting Jet Kit | JDY016 |
| JD Jetting Jet Kit | JDP001 |
| JD Jetting Jet Kit | JDHB01 |
| JD Jetting Jet Kit | JDHB02 |
| JD Jetting Jet Kit | JDK026 |
| JD Jetting Jet Kit | JDK027 |
| JD Jetting Jet Kit | JDK028 |
| JD Jetting Jet Kit | JDK029 |
| JD Jetting Jet Kit | JDK030 |
| JD Jetting Jet Kit | JDHQ15 |
| JD Jetting Jet Kit | JDHQ17 |
| JD Jetting Jet Kit | JDHQ18 |