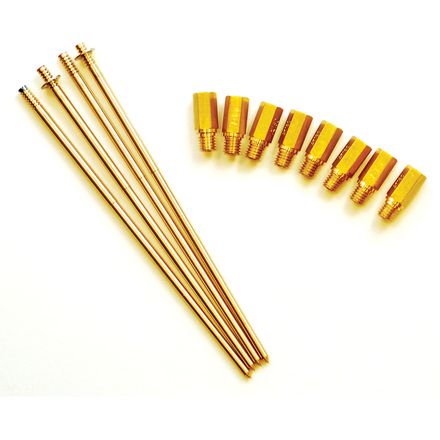 5 Star
167
4 Star
19
3 Star
2
2 Star
4
1 Star
5
Write a Review
Write your review and you'll automatically be entered in our monthly drawing. Include an image or video to DOUBLE your chances to win!
Write Your Review
Awesome
JD jetting totally change my bike it is now a beast
Different Bike
The performance difference is amazing. Get one !
1 month 5 days ago
Columbia, TN
So quick and easy!!
I recently uncorked my WR250 and ran into some stumbling and blogging issues as well as a lack of quick torque. I bought the JD kit, and man has it turned this into a new bike. I can now easily lift the bike over rough terrain and logs with confidence! The instructions are very thorough and it makes it super easy. Comes with plenty of jetting options to make the perfect tune.
Big improvement!
Put this on my 2006 crf250r made a positive improvement over all. Comes with two needles main jets and two O-rings. Currently running red needle 5th clip with 185 main and the thicker O-ring of the two. Took that dreaded off idle bog away for the most part. Overall highly suggest this to anyone looking to tune up their carb with performance in mind.
2 months 3 days ago
California
My DRZ runs better after I installed the kit.
Jetting kits cost a lot for what they give you but they are a bargain for what they accomplish. Removing and reinstalling the carburetor on a DRZ 400 is kind of a pain and it is better to spend your money on a JD kit, follow the instructions one time and have a great running bike than to figure out the jetting variables yourself.
2 months 15 days ago
Bend, Oregon
Jet right
Good kit with everything added, no worries!
2 months 25 days ago
Baton Rouge, LA
Great so far
Bought a little over a month ago. Has performed flawlessly in the 6 hours I've put on the kit.
3 months 11 days ago
Michigan
2018 tx300
Works great 32.5 pilot 3rd blue needle and I believe 450 main works great in Michigan
Didn't work
bike wouldn't run with 30 pilot, had to put on choke. stay with stock settings on 2018 KTM 300 XCW and follow chart and the bike ran well.
3 months 15 days ago
Portland OR.
Best Mod for a DRZ
As most DRZ 400 folks will tell you, the 3x3 air box mod is needed to get the full potential out of the engine. There are other kits out there but this is the one with the clearest directions and the widest options for altitude and exhaust types. The difference in power and throttle response is huge. Very happy with my purchase, it came fast and was easy to install
See all bikes that this part fits...
| Product Variant | Manufacturer Part # |
| --- | --- |
| JD Jetting Jet Kit | N/A |
| JD Jetting Jet Kit | JDB001 |
| JD Jetting Jet Kit | JDB002 |
| JD Jetting Jet Kit | JDB003 |
| JD Jetting Jet Kit | JDB004 |
| JD Jetting Jet Kit | JDB005 |
| JD Jetting Jet Kit | JDHQ16 |
| JD Jetting Jet Kit | JDHQ19 |
| JD Jetting Jet Kit | JDHQ20 |
| JD Jetting Jet Kit | JDHQ28 |
| For SX Head | JDK021 |
| For Bored Carburetor | JDK022 |
| JD Jetting Jet Kit | JDK037 |
| JD Jetting Jet Kit | JDK038 |
| JD Jetting Jet Kit | JDKH06 |
| JD Jetting Jet Kit | JDH012 |
| JD Jetting Jet Kit | JDH013 |
| JD Jetting Jet Kit | JDH005 |
| JD Jetting Jet Kit | JDK011 |
| JD Jetting Jet Kit | JDK008 |
| JD Jetting Jet Kit | JDK006 |
| JD Jetting Jet Kit | JDK005 |
| JD Jetting Jet Kit | JDK009 |
| JD Jetting Jet Kit | JDK014 |
| JD Jetting Jet Kit | JDK001 |
| JD Jetting Jet Kit | JDK002 |
| JD Jetting Jet Kit | JDK013 |
| JD Jetting Jet Kit | JDK015 |
| JD Jetting Jet Kit | JDK012 |
| JD Jetting Jet Kit | JDK016 |
| JD Jetting Jet Kit | JDK020 |
| JD Jetting Jet Kit | JDKA01 |
| JD Jetting Jet Kit | JDS002 |
| JD Jetting Jet Kit | JDKA04 |
| JD Jetting Jet Kit | JDKA02 |
| JD Jetting Jet Kit | JDS004 |
| JD Jetting Jet Kit | JDS007 |
| JD Jetting Jet Kit | JDS003 |
| JD Jetting Jet Kit | JDY011 |
| JD Jetting Jet Kit | JDY002 |
| JD Jetting Jet Kit | JDY005 |
| JD Jetting Jet Kit | JDY004 |
| JD Jetting Jet Kit | JDY003 |
| JD Jetting Jet Kit | JDY009 |
| JD Jetting Jet Kit | JDY015 |
| JD Jetting Jet Kit | JDY006 |
| JD Jetting Jet Kit | JDY001 |
| JD Jetting Jet Kit | JDH009 |
| JD Jetting Jet Kit | JDH002 |
| JD Jetting Jet Kit | JDH011 |
| JD Jetting Jet Kit | JDH003 |
| JD Jetting Jet Kit | JDH001 |
| JD Jetting Jet Kit | JDH008 |
| JD Jetting Jet Kit | JDH006 |
| JD Jetting Jet Kit | JDS001 |
| JD Jetting Jet Kit | JDS005 |
| JD Jetting Jet Kit | JDKA05 |
| JD Jetting Jet Kit | JDKH01 |
| JD Jetting Jet Kit | JDH018 |
| JD Jetting Jet Kit | JDH014 |
| JD Jetting Jet Kit | JDH015 |
| JD Jetting Jet Kit | JDH016 |
| JD Jetting Jet Kit | JDH017 |
| JD Jetting Jet Kit | JDH007 |
| JD Jetting Jet Kit | JDK023 |
| JD Jetting Jet Kit | JDK025 |
| JD Jetting Jet Kit | JDK018 |
| JD Jetting Jet Kit | JDHQ13 |
| JD Jetting Jet Kit | JDHQ14 |
| JD Jetting Jet Kit | JDHQ11 |
| JD Jetting Jet Kit | JDHQ07 |
| JD Jetting Jet Kit | JDHQ12 |
| JD Jetting Jet Kit | JDHQ10 |
| JD Jetting Jet Kit | JDHQ06 |
| JD Jetting Jet Kit | JDHQ04 |
| JD Jetting Jet Kit | JDHQ03 |
| JD Jetting Jet Kit | JDHQ05 |
| JD Jetting Jet Kit | JDKA16 |
| JD Jetting Jet Kit | JDKA07 |
| JD Jetting Jet Kit | JDKA10 |
| JD Jetting Jet Kit | JDKA13 |
| JD Jetting Jet Kit | JDKA14 |
| JD Jetting Jet Kit | JDKA03 |
| JD Jetting Jet Kit | JDKA15 |
| JD Jetting Jet Kit | JDKA08 |
| JD Jetting Jet Kit | JDKA09 |
| JD Jetting Jet Kit | JDS006 |
| JD Jetting Jet Kit | JDKA11 |
| JD Jetting Jet Kit | JDKA12 |
| JD Jetting Jet Kit | JDKA06 |
| JD Jetting Jet Kit | JDS008 |
| JD Jetting Jet Kit | JDS011 |
| JD Jetting Jet Kit | JDS012 |
| JD Jetting Jet Kit | JDS013 |
| JD Jetting Jet Kit | JDY017 |
| JD Jetting Jet Kit | JDY008 |
| JD Jetting Jet Kit | JDY014 |
| JD Jetting Jet Kit | JDY013 |
| JD Jetting Jet Kit | JDY012 |
| JD Jetting Jet Kit | JDY007 |
| JD Jetting Jet Kit | JDY016 |
| JD Jetting Jet Kit | JDP001 |
| JD Jetting Jet Kit | JDHB01 |
| JD Jetting Jet Kit | JDHB02 |
| JD Jetting Jet Kit | JDK026 |
| JD Jetting Jet Kit | JDK027 |
| JD Jetting Jet Kit | JDK028 |
| JD Jetting Jet Kit | JDK029 |
| JD Jetting Jet Kit | JDK030 |
| JD Jetting Jet Kit | JDHQ15 |
| JD Jetting Jet Kit | JDHQ17 |
| JD Jetting Jet Kit | JDHQ18 |